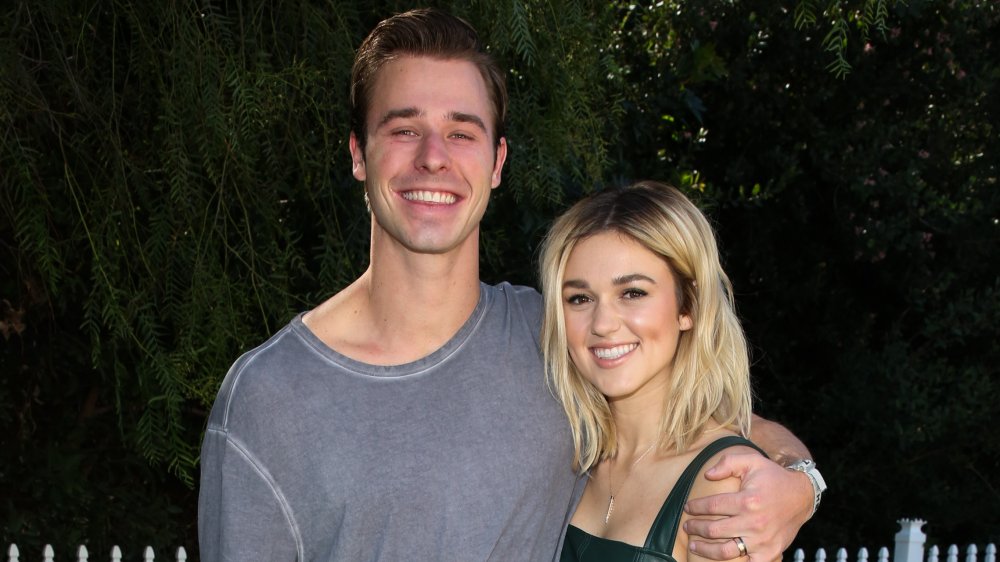 What's the truth about Sadie Robertson and Christian Huff's relationship? Sadie of Duck Dynasty and Dancing with the Stars fame is loving life with hubby Christian by her side. "It's honestly so great to now be married and have a partner doing this with me," she told Entertainment Tonight, following their romantic Louisiana nuptials in 2019 — one year after they met. This young couple isn't shy when it comes to expressing their love, especially on Instagram, where Sadie is always posting cute photos of the two vacationing somewhere or enjoying downtime at home.
Things may look extra rosy on social media, but Sadie and Christian's relationship hasn't always been easy. They've had their ups and downs just like any other couple, especially early on in the relationship when Sadie had her doubts, as she admitted to fans on her YouTube channel. But the two persevered, and even have a little bundle of joy on the way, according to People. Though Sadie and Christian are an open book about their relationship on social media and YouTube, there's a lot you may not know about their whirlwind romance.
Sadie Robertson avoided Christian Huff the first time they met for this reason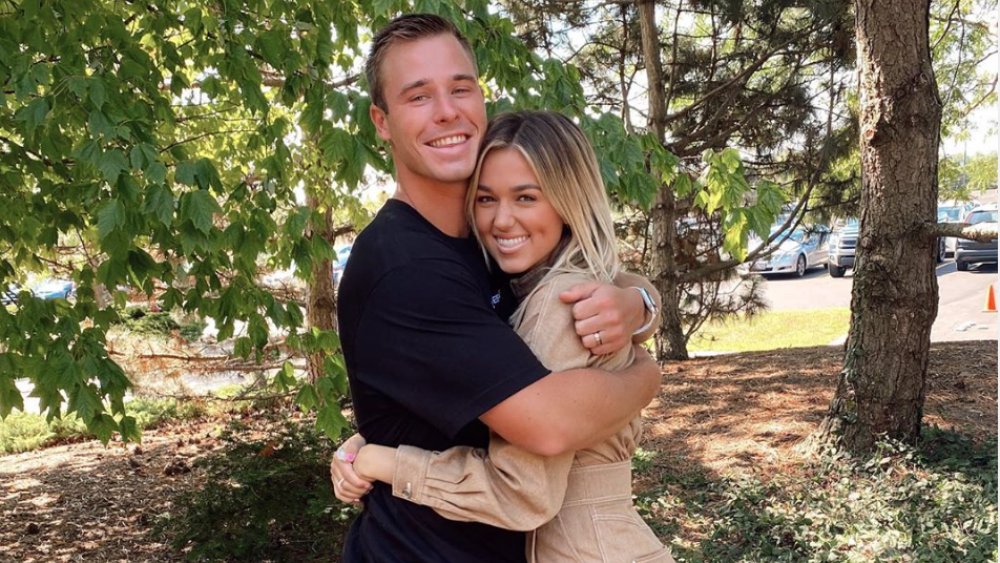 Sadie Robertson and Christian Huff's first meeting didn't necessarily play out like one of the most romantic movie scenes in history. On that fateful day in 2018, Sadie tried to avoid Christian at all costs when they met through mutual friends on a crab hunting trip in Florida. "I was like 'oh shoot, he's really, really, really cute, and I really, really don't need a boyfriend,'" she admitted in a joint video with Christian on her YouTube channel. At the time, Sadie was focused on her work and didn't want to be distracted by a boy. Though she found Christian attractive, she didn't tell him as much, even giving him a side hug when they first met.
Even though she went out of her way to avoid Christian, he didn't let her go that easily, and made it a point to stand close to her on the trip. "I was trying to play it cool," Christian responded. "I thought you were the most beautiful person I'd ever seen."
Christian must've made quite a first impression because the two have been inseparable ever since.
Sadie Robertson and Christian Huff eventually hit it off on social media
Following the crab hunting trip in Florida in 2018, Sadie Robertson and Christian Huff went their separate ways, but kept in touch on social media. Before meeting, Christian was already following the reality TV star on Instagram. According to an interview with People, Sadie had yet to push the follow button on Christian's account. Fortunately, at the time, she was following his brother and cousin since they were mutual friends of her sister.
After meeting Christian in person, Sadie hit follow back on the cute stranger — and discovered a sweet message he'd sent to her two years prior. "I don't get messages on my Instagram unless I follow that person, and when I followed him a message popped up that he had tried to send me two years ago that I never saw," she explained. "I kind of jokingly responded and was like, 'Sorry for the late response. Haha.'"
That's when Sadie and Christian began to DM regularly. "I guess you can say it started in the DMs but more so started crab hunting on the beach," Sadie continued. How romantic!
Sadie Robertson didn't think things were going to work out with Christian Huff for this reason
After two months of talking, mind you long distance, Sadie Robertson and Christian Huff went on their first date together in Nashville, where Sadie lived at the time (via People). They spent the day playing at Topgolf, making pottery, and even dancing in a parking lot. "It was the best day ever," they both gushed, as they reminisced about that day a year later in a video on Sadie's YouTube channel.
Despite how great things were when they were together, that didn't stop Sadie from having her doubts early on in the relationship. "I like him so much that it's just not going to work…if we start dating now, this is the worst timing ever," she explained about her thought process at the time. At the time, Sadie was writing a book and going on a speaking engagement tour, and thought her busy schedule would get in the way of her and Christian's new relationship. Clearly they found a way to push through it.
Sadie Robertson knew she was going to marry Christian Huff after this happened
Christian Huff supported Sadie Robertson's career from the very beginning. When Sadie expressed her doubts early on to Christian and confessed that she may not have much time to devote to the relationship because of work, Christian quickly calmed her fears. In a video on Sadie's YouTube channel, Sadie told fans that Christian was supportive from the get-go — and that's when Sadie knew she was going to marry Christian.
Sadie also told fans that she hadn't had that much love and support from a man before, and the fact that he was willing to stand by while she achieved her goals was huge. At the time, Christian was also pursuing his bachelor's at Auburn University per People, so he was busy too. "I didn't have to apologize or feel bad for the things God was doing in my life," she continued. "I didn't even have to feel like 'oh like if I get this or if I do this' he's gonna feel less than or he's gonna feel insecure."
Sadie Robertson put out all the stops before things were official with Christian Huff
It's only natural to want to impress your new beau, and Sadie Robertson is no exception. In an interview with Hallmark's Home & Family, the reality TV star admitted to working extra hard to impress Christian Huff in the early days, before making things official. "I was like making sure I looked really cute, getting my nails done," she said. "I was putting on my A game."
All Sadie wanted was for Christian to like her, but she also admitted to pressuring herself to keep the momentum going once he did. However, Sadie quickly realized she didn't need to pull out all the stops to impress her beau; Christian loved her just the way she was, Sadie revealed, especially "once we really started to get to know each other, like our hearts connected." That's when she knew what real love was, and realized it was more important to be loved than liked.
Christian Huff popped the question to Sadie Robertson on her family farm
Sadie Robertson and Christian Huff are both close to their families, so it's no surprise that Sadie's family farm in Louisiana was the venue for Christian's marriage proposal in 2019. According to People, after nine months of dating, Christian got down on one knee and asked Sadie to marry him in a romantic outdoor setup replete with champagne, candles, and chocolate covered strawberries. Talk about a wedding proposal guaranteed to make you cry!
Sadie, who was wearing a bridal-esque dress, later told People the engagement itself wasn't a surprise. "I knew that we were getting engaged soon because I knew he had talked to my dad [Willie Robertson] and we had talked about it," she explained.
What did come as a surprise was the timing of it all; Christian picked the day of their joint birthday party bash (the two share a birthday week in June) to shower her with extra love in front of loved ones. The duo took to Instagram soon after to share the happy news with fans, and even posted a beautiful video of the intimate proposal.
Sadie Robertson and Christian Huff's wedding was a family affair
Sadie Robertson and Christian Huff's wedding day was the ultimate family affair. The young lovebirds tied the knot at Sadie's family home in West Monroe, Louisiana (via E! News). Sadie's dad, Willie Robertson, walked her down the aisle, and even shared a prayer with the more than 600 wedding guests (via People). The nighttime ceremony was held on the property's tennis court, which was transformed into a glamorous garden with roses, greenery, and even Christmas lights. After all, the wedding was held in late November of 2019.
Sadie looked timeless in a Kleinfeld Bridal dress as she stood at the altar with Christian. Her sisters were beside her as bridesmaids — here's the real reason bridesmaids all dress the same — as well as her brothers, who stepped in as some of her husband's groomsmen.
Though Sadie loved everything about the wedding and the honeymoon, she was more excited about the future with Christian by her side. "We're excited to be married and live together, do life fully together and just become one," she gushed. "We're pumped! We cannot wait."
Sadie Robertson's famous family loves Christian Huff
If you've watched Duck Dynasty at all, you know how protective Willie Robertson can be of his daughters, including Sadie Roberston. Luckily, her dad and the rest of her famous family approved of Christian Huff from the beginning. "It's a big clan with a lot of love and [Christian] has an amazing family too," Sadie shared on the Hallmark Channel's Home & Family. She also explained that during the rehearsal dinner before her big day, her dad showed just how much he approved of Christian by mentioning in a speech that he considered his son-in-law a friend as well.
Prior to the wedding festivities, Sadie told US Weekly she knew her family would fall in love with Christian like she did. "He's a sweet guy," she said. "You can't not like Christian. He's just kind of one of those people." She added that her sister knew Christian before she did, which reassured her family.
Sadie Robertson loves married life with Christian Huff
Sadie Robertson is loving married life with her hubby, Christian Huff. "Being a wife is so fun," she told Entertainment Tonight. "[You] wake up, go to sleep, do life together, share the stories together."
This young couple is giving us all the feels, especially after watching their gorgeous wedding video; it showcases all the nuptial highlights, from the marriage vows to the "first look" during their romantic ceremony at Sadie's Louisiana family farm (via People).
We can't forget about their romantic honeymoon to Cabos San Lucas, Mexico, either. The duo soaked up newlywed life in style with their toes in the sand, with plenty of margaritas and chips and guac on hand, according to US Weekly. Finally, if you scroll through Sadie's Instagram feed, you'll notice that this couple is never too far from one another, always enjoying some type of adventure together, typically outside. Looks like married life suits the two well.
Sadie Robertson feels completely accepted by Christian Huff
Christian Huff loves Sadie Robertson just the way she is. That's according to Sadie herself, who shared with fans on Instagram that while honeymooning in Mexico, Christian noticed the stretch marks his new wife unsuccessfully hid while wearing a bathing suit — and thought they were great. "I'm finding it's pretty cool that the things I was insecure about my husband thinks are the best," she wrote in the caption.
Sadie has spoken up about her struggles with body confidence in the past. In an interview with Entertainment Tonight, Sadie Robertson shared the sad reason she developed an eating disorder following her stint on Dancing with the Stars in 2014, when she was attempting to be a model.
It wasn't until she found her faith in God and met a good man, Christian, that she was able to accept her body for what it was. "Now that I'm married to Christian, who is just the most affirming and encouraging person ever, [I realized] finding your voice in those times will save you from a long couple of nights of crying," she said.
Religion is a major part of Sadie Robertson and Christian Huff's relationship
When Sadie Robertson left her Louisiana home for the glitz and glamour of Hollywood, she leaned on her faith to survive and thrive. Following her appearance on Dancing with the Stars, her struggles led Sadie to find God, and eventually create Live Original ministry. "The Lord said something so sweet to my heart," she revealed in an interview with Entertainment Tonight. "I just felt like God was saying, 'I'm not calling you to be this perfect person. I'm actually just calling you to be a sister and a friend to those who don't have a sister and a friend.'"
Luckily her hubby, Christian Huff, is also a man of faith. He and Sadie often talk about religion on Sadie's YouTube channel, in hopes of inspiring others. In fact, it was actually faith that brought these two lovebirds together; Sadie got on Christian's radar when he saw her speaking at a faith-based youth conference (via People). They eventually met in person through mutual friends in 2018 at a crab hunting trip in Florida.
Sadie Robertson and Christian Huff love playing sports together
Sadie Robertson and Christian Huff are one active duo; they both work out and play tennis together. They love sports so much so they integrated a tennis court into their 2019 wedding at Sadie's family farm in Louisiana. "Christian and I both love to play tennis and every time we're home, we play tennis on this court," Sadie told People prior to the big wedding day. "So we're like, 'Well, what if we transformed the court?'" Thanks to AstroTurf, string lights, and greenery, the tennis court was transformed into a dreamy wedding venue (via People).
But if Sadie could play any sport with Christian it would be basketball — that is, if she's on his team, according to a joint video interview on her YouTube channel. "I don't like playing one-on-one," Sadie told Christian on camera. "It's not really fair because you're like 6'2"."
It is worth mentioning Sadie was a pro basketball player in high school, however (via Max Preps).
Sadie Robertson and Christian Huff love sharing their love with the world
Sadie Robertson and Christian Huff are clearly smitten with one another. If you scroll through Sadie Robertson's Instagram feed, you'll find that Christian Huff is a regular guest on there just like she is on his. The couple really isn't shy when it comes to sharing their love with the world, as well as their many romantic adventures across the globe together.
Sadie and Christian also gave fans a glimpse into their relationship on Sadie's YouTube channel, which features relationship advice, motivational speeches, and sermons from Sadie herself. In one of the videos, Sadie and Christian gave fans an in-depth summary about their relationship following their engagement in 2019. Towards the end of the video, Sadie asked Christian how happy he was, and he had this perfect response: "Like the happiest person in the world." Here's to hoping all of us find our Christian some day!
Sadie Robertson and Christian Huff are expecting a bundle of joy
Love and marriage quickly turned into a baby for Sadie Robertson and Christian Huff. The two lovebirds announced they were expecting in late 2020, not even a year after tying the knot, People reported. The two shared the news with fans on Instagram with a photo of the happy parents-to-be embracing on a couch holding up ultrasound photos. Sadie wrote in the caption: "Baby we already adore you. What I've learned from you already — God has still been creating."
Prior to tying the knot, Sadie told People she wasn't looking to start a family with Christian anytime soon, even hinting at it being "probably years down the road." Clearly things have changed since then. However, Sadie did say when the time came to have kids she wanted a lot of children. "I grew up with six in our family and Christian just has one brother, but he has so many cousins," she shared. Looks like this baby will probably be the first of many for this happy couple.