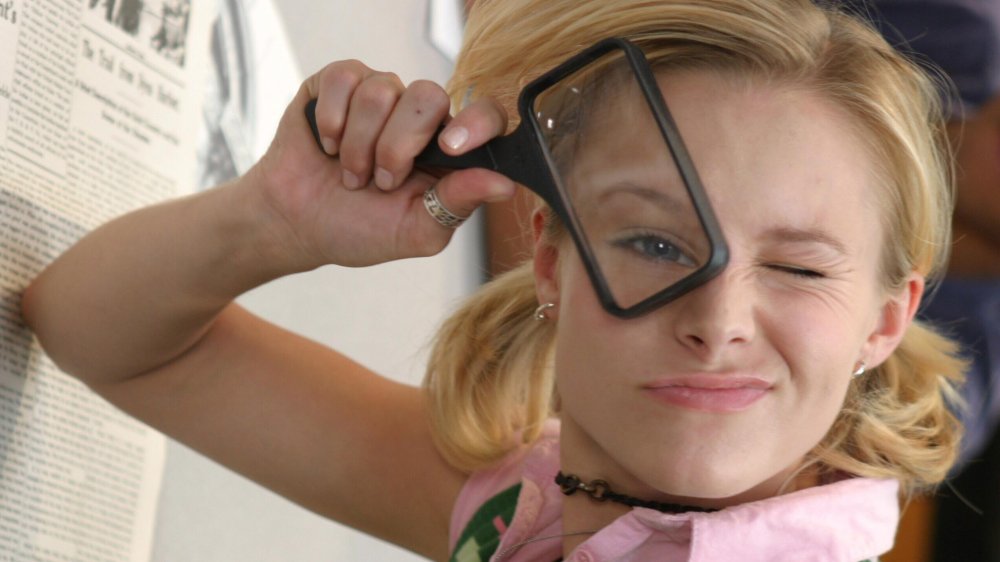 More often than not, when you're watching a television show with teenagers, you're watching adult actors playing those roles. This isn't just for the sake of aesthetics, or to make TV characters seem older than they are — it pretty much comes down to labor laws. As casting director Todd Thaler told Vice, "The number of hours that children are allowed to work are highly restricted, which limits the amount of time that producers can actually have adolescents on set. Within those limited hours that children can work, part of that time includes education, rest, and meals … In the end, many casting directors choose to go with an 18-year-old because they can be on set and working for say 16, 18 hours."
As a result, some of the most popular teen series out there actually have adults playing their main characters — though there are occasions when someone younger than 18 lands the role. From small screen fare like Gossip Girl and Pretty Little Liars to silver screen productions like Clueless, The Breakfast Club, and Mean Girls, Hollywood is full of grown-ups playing high-schoolers. Here are some of the most popular and prominent examples of this phenomenon.
Beverly Hills 90210: Andrea Zuckerman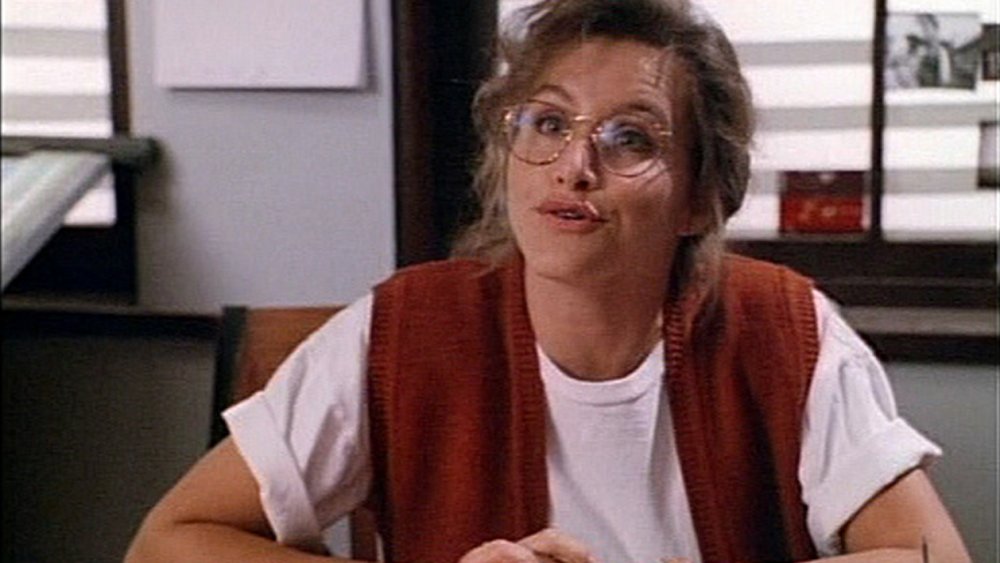 Beverly Hills 90210's cast was a mixed bag of teens and adults when the show first premiered in 1990. The characters were supposed to be sophomores in high school during the first season, so a range of about 15 to 17 would have been realistic. But most of the cast members were already in their upper teens when the show began. Tori Spelling was 17 when she started out as Donna Martin, as was Brian Austin Green, who was actually playing a freshman as David Silver. Shannen Doherty and Jason Priestley, who played fraternal twins, Brenda and Brandon Walsh, were 20 and 21 years old, while bad boy Dylan was played by Luke Perry, who was a whopping 25 at the time.
But the most egregious casting was that of Gabrielle Carteris as Andrea Zuckerman. The character is supposed to be super smart and way more mature than her peers: Andrea focuses on getting ahead academically instead of partying. But Carteris was a whopping 29 years old when she signed on to play 16-year-old Andrea. According to reports, Carteris lied about her age and simply told the casting folks she was "over 21" when she auditioned. But in the show's fifth season, Carteris' real-life pregnancy forced the writers to incorporate the pregnancy into Andrea's storyline, which led to Andrea's relatively young pregnancy and eventual exit from the show.
Party of Five: Bailey Salinger
When Party of Five premiered in 1994, the main characters consisted of 24-year-old eldest brother Charlie (Matthew Fox), 16-year-old Bailey (Scott Wolf), 15-year-old Julia (Neve Campbell), 11-year-old Claudia (Lacey Chabert), and baby Owen, age one. Chabert was obviously in the same age range as her character, as was baby Owen. Campbell was actually 21 when the series began, and Fox was 28, a few years older than Charlie's stated 24.
But Scott Wolf was the actor most egregiously playing a teen as a full-fledged adult on Party of Five. At 26 years old, Wolf was a full 10 years older than his character Bailey is supposed to be. Bailey is a formerly rebellious teen who takes a little more responsibility onto his own shoulders after the Salinger parents die suddenly in a car accident. But his character later deals with alcoholism, and pulls away from his family. Bailey's arc is defined by his relationship with his on-again-off-again girlfriend Sarah, played by Jennifer Love Hewitt. In the end, perhaps Wolf's maturity helped him capture the seriousness of Bailey's issues.
Dawson's Creek: Andie and Jack McFee
Good old Dawson's Creek actually had quite a few teenagers among its main original cast members when it first started out in 1998. Many of the characters are supposed to be sophomores, but as is the case with so many teen-fave shows, most of their actors were older than that. Michelle Williams was 17 when she played the 16-year-old Jen Lindley, 15-year-old lead guy Dawson was played by 20-year-old James Van Der Beek, and 15-year-old Pacey and 16-year-old Joey were played by a 19-year-old Joshua Jackson and 18-year-old Katie Holmes. Not so bad, right? Those aren't just reasonable age gaps — they're reasonable age gaps in aggregate. Seriously, how often does a teen show get that many actual teenagers in its core cast? An actual majority of those starring roles went to actors of the right age range! And really, a single 20-year-old isn't exactly far off.
But then the McFee siblings arrived and threw off Dawson's age-appropriate groove. In season two, Jack and Andie McFee join the gang and all those teenage hormones are interrupted by 20-something shenanigans. Kerr Smith was 26 when he joined the cast of Dawson's Creek as Jack, but the record goes to Meredith Monroe, who was a whopping 28 years old when she first started playing Andie. Both siblings are supposed to be 16 years old. A 28-year-old playing a teen is noticeable enough on its own — it's outright jarring when it happens beside actual teen actors.
Glee: Finn Hudson
On Fox's musical high school comedy Glee, it might as well have been a requirement to be an adult playing a teenager. Most actors were significantly older than the teenage characters that they were playing: Lea Michele was 23 when she took on 15-year-old Rachel Berry, as were Mercedes actor Amber Riley and Quinn actor Dianna Agron. Heather Morris and Naya Rivera were both 22 when the show began. The only one whose age still ended in -teen was 19-year-old Chris Colfer, whose character Kurt is supposed to be 16.
But the biggest age gap goes to Cory Monteith, who was 27 years old when he was cast as the 15-year-old Finn Hudson. Sure, Monteith seemed young, but not as young as an actual 15-year-old. But with the incredible shooting and rehearsing demands of a show like Glee, it's not surprising that the studios and producers went with actors who were all over 18, so that they didn't have to deal with any minor-centric acting laws. Monteith's age afforded him a unique wealth of life experience, especially when compared to some of his castmates, who had only ever been actors. Before he broke into Hollywood, Monteith had worked as a Walmart greeter, a roofer, a cab driver, and a school bus driver.
Gilmore Girls: Lane Kim
As is the case with so many shows, all of the kids on Gilmore Girls were played by adults. When the show started out, Rory (Alexis Bledel) and her pals are sophomores in high school — why all these shows start their characters out as sophomores, we'll never know. Regardless, Bledel was 19 while playing the 16-year-old Rory, by far the show's most reasonable age match. Her main love interests are 16-year-old Dean, played by an 18-year-old Jared Padalecki, and 15-year-old Jess, played by a then 23-year-old Milo Ventimiglia. Rory's 16-year-old nemesis Paris was played by 23-year-old Liza Weil.
You might think those 23-year-old actors are pushing it. You're not wrong: Someone who's 23 is old enough to have a college degree under their belt, putting them in an entirely different life stage than a young teenager of the sort Ventimiglia and Weil portrayed. But the president of the "too old for school" club on Gilmore Girls has to be Rory's BFF Lane Kim, who was played by Keiko Agena. At the time, Agena was 27. With Lorelai Gilmore being 32 (played by a 33-year-old Lauren Graham), the actor playing Lane was closer in age to her best friend's mom than she was to her best friend. We can't say Agena didn't pull it off — her Lane is full of youthful exuberance. But there's something undeniably funny about Graham and Agena being real-world peers, yet playing a mom and a young girl on TV.
Buffy the Vampire Slayer: Cordelia Chase
1997's Buffy the Vampire Slayer begins with main characters who are supposed to be sophomores in high school. Main character 16-year-old Buffy is played by Sarah Michelle Gellar, who at the time was 19. Willow, her witchy best-friend-forever, is 16, and was played by 19-year-old Alyson Hannigan. Nicholas Brendon was much older, at 26, than his sophomore character, Xander. The oldest member of the cast was David Boreanaz, who, at 35, was playing vampire-with-a-soul Angel, who is supposed to be about 20 … or like 250, depending on how you look at it. Whether that makes his casting more or less of a stretch is up to the fans to decide.
But the oldest actor playing an actual teenager was Charisma Carpenter, who at 27 took on the role of Cordelia Chase, another sophomore. Reminder for the old: Sophomores are 15 or 16. You might feel terribly grown up at that age yourself, but dig up your school photo from that year (or, for the truly brave, your old social media accounts) and you'll soon realize you were practically a baby. When Cordelia leaves the Scooby gang in season three for the cast of Angel, they bumped her up in age a bit, so that it didn't feel so awkward.
Riverdale: Josie
We'll give you one guess as to how old the characters in Riverdale are supposed to be. If you guessed sophomores in high school, you win! What do you win? Nothing! Almost all teen shows start out with the characters as sophomores, for some reason. Maybe it's because having freshmen involved in sexual situations and things like drugs and drinking feels like a little too much for an audience to take, while writing juniors or seniors demands the show deal with college and careers in a timely fashion. Sophomores are the sweet spot, apparently — but when a viewer stops and takes heed of just how young a sophomore actually is, it makes the gap between actors and characters all the more obvious.
The cast of Riverdale features a whole gang of actors in their early 20s playing characters who are supposed to be 15 or 16 years old. The only actual teen is KJ Apa, who was 19 when the show started out. The other actors — Lili Reinhart, Ross Butler, Camila Mendes, Ashanti Bromfield, Madelaine Petsch, Cole Sprouse, and Casey Cott — all range in age from 20 to 26. But the eldest member of the Riverdale gang is Ashleigh Murray, who was 30 when she started playing teen rocker Josie, of Josie and the Pussycats. Some perspective: This means that Murray is old enough to have been the target audience for the 2001 Josie and the Pussycats movie.
The Walking Dead: Beth Greene
Zombie apocalypse drama The Walking Dead isn't a teen show, though a lot of teens probably count themselves as fans. It's a show full of grown adults fighting for their lives. Occasionally, however, kids and teens become entangled in the violent, bloody fight for survival. One character of note is Carl, lead character Rick Grimes' son, who grows from being a kid to a teen throughout the series. But aside from Carl's actor, Chandler Riggs, there aren't many teen actors on the show. Much like other shows in which adults are cast as teens, The Walking Dead probably did so because of the series' super-demanding shooting schedule.
The most popular teen on The Walking Dead has likely been Beth Greene, fan-favorite Hershel's youngest daughter. Beth appears in seasons two through five, and is supposed to be about 16 years old. In reality, Beth was played by Emily Kinney, who was 26 years old when she started out on the series. Beth's death is a sad one, since the character is so sweet and kind, but hey — them's the breaks on The Walking Dead.
Smallville: Clark Kent
Smallville tells the story of Superman's high school days in the titular Kansas town. Though the young Clark is supposed to be 14 years old when the show begins, the lead actor, Tom Welling, was 24 years old at the time. But hey, he's Superman, right? If he looks super fit and fully grown, it isn't really surprising. Those are some powerful Kryptonian hormones, after all — he's got a pituitary gland of steel. And really, does age matter when aliens and superheroes are at play?
All of these excuses work well enough, but a little perspective is called for. Superman Returns, starring Brandon Routh, debuted in 2006 — smack in the middle of Smallville's run. Returns centers around a grown-up Superman, well into his cape-wearing years, dealing with mature issues of romance and career. Yet Routh was three years younger than Welling, then playing Clark Kent as a high schooler. By the time the show wrapped up, Welling was 34 years old — that's a super MAN. Throw in a 29-year-old Michael Rosenbaum playing a 21-year-old Lex Luthor, and you've got one creaky cast.
The O.C.: Ryan
Of the four main characters on The O.C., only one started out the show as an actual teenager. Mischa Barton was 17 years old when the series began, only a blip older than her character Marissa, who is, you guessed it, a sophomore in high school. Other leads like Seth and Summer were played by 23-year-old Adam Brody and 21-year-old Rachel Bilson, respectively.
The oldest member of The O.C. cast was Ben MacKenzie, who was 24 when he started playing Ryan Atwood. Bad boy Ryan is supposed to be the new guy in town who shows the rich kids of The O.C. how to misbehave and have a good time. Something tells us the show kind of gets this a bit backward, as rich kids usually know how to break all the rules, and get away with it. But at least MacKenzie's age gave his bad-boy vibe a little more believability.
Veronica Mars
Veronica Mars premiered in 2004 with Kristen Bell playing high school private detective Veronica. In a major departure from teen-show tradition, Veronica Mars is actually a junior when the show begins. At last, a lead who isn't a sophomore! The second season follows her senior year, while the third chronicles Veronica's freshman year at the fabulously named Neptune's Hearst College.
Bell was already well into her 20s when the show began. In 2004, she was 24 years old, making her about seven years older than the titular character. By the time the series wrapped, she was 27. The Veronica Mars film that debuted in 2014 sees the Neptune High gang attend their 10-year high school reunion, even though their graduation was in 2006. The fourth season, which hit Hulu in 2019, is set in that year, with Veronica presumably supposed to be around 32, played by Bell at the age of 39. All things considered, Veronica Mars should be proud of itself. Few teen shows could have handled such a disjointed, decade-spanning existence with as much smoothness as it has mustered.
Happy Days: Fonzie
Fonzie isn't exactly a high-schooler on Happy Days, but he does start out as a teenager. The 1970s series created by Garry Marshall is set in the 1950s, starring Ron Howard as Richie Cunningham, an average high school kid in the Midwest. His best friend (and the Cunningham's tenant, who lives above the garage) is Arthur Fonzarelli, AKA Fonzie or The Fonz, played by Henry Winkler.
Fonzie starts out the show at 19 years old, but Winkler was already way into his 20s when the show began. At 29, Winkler was a full decade older than his character, a high school dropout who is seen as the bad boy of the very traditional 1950s setting. Fonzie, however, proves them all wrong and eventually goes on to earn his high school diploma via night school, becoming a teacher. By the time the show ended, Winkler was 39, and didn't have to stretch to play a teacher at all!