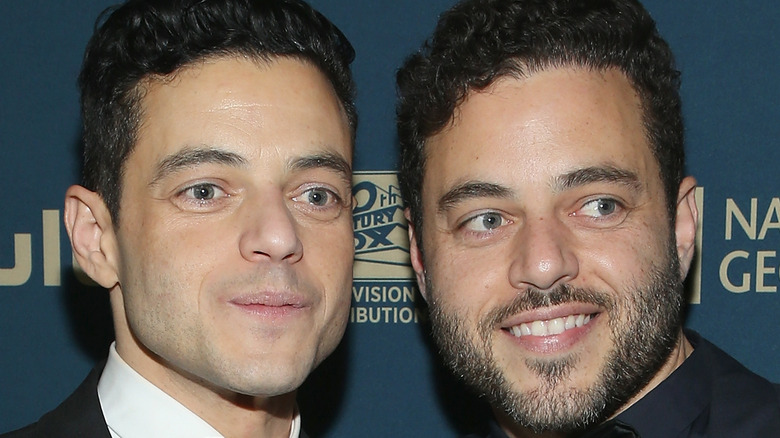 The entertainment industry is a welcoming place for twins, including identical ones, many who have shared success together and on their own. Some have last names so famous that they are brands unto themselves.
Mary-Kate and Ashley are simply known as the Olsen twins, and need no further introduction. Fans of "Sister, Sister" knew that Tia and Tamera Mowry share DNA. "Zack & Cody" led a "Suite Life," but so did their real life players, Dylan and Cole Sprouse. Jeremy and Jason London were fixtures in '90s movies, and the Ashmore boys, Shawn and Aaron, have made their mother proud two times over.
But there are famous actors out there who haven't made a habit of starring opposite their siblings. Ones that you may not know have an identical twin. Some work with them in the industry — even stealing parts — while others keep the connection on the down-low. In some cases, mistaken identity is common — which can be comical, stressful, and in one case tore two twins apart. Read on for all the doubly-interesting details.
Jill Hennessy & Jacqueline Hennessy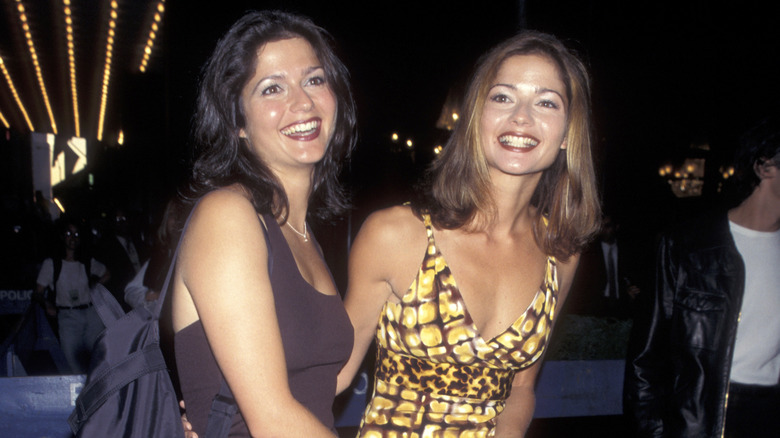 In 2009, Jill Hennessy spoke with Contact music about the burdens her identical twin Jacqueline often faces.
"She gets stalked by people who don't believe she's my twin," she said. "She'll very kindly say, 'I'm Jack, her sister,' and they'll think she's lying. They think it's really Jill Hennessy just being really bitchy!"
While Jacqueline and her younger sister Jill (by 3 minutes) have each carved out separate accomplished careers on their own — the former has a Ph.D. in French literature, is a journalist and TV host, and the latter was Claire Kincaid on "Law & Order" and the titular character on "Crossing Jordan" — the sisters have collaborated several times in film and music. They once had a duo called Jack and Jill, and were buskers in Toronto's subways (which they did again for fun a decade ago), and still sing together to this day.
They made their film debut together, playing twin hookers calling on dual Jeremy Iron johns in David Cronenberg's 1988 film "Dead Ringers." In the 1996 "Law & Order" episode "Corpus Delicti," Jacqueline literally stood in for her sister for courtroom scenes, while Jill was simultaneously off shooting a crossover episode with "Homicide: Life on the Street." When Jill wrote and directed 2000's "The Acting Class," she was sure to include her older sister in the roll call.
While they may not be the most famous twins of all time, the two did grace the cover of the book "Twins."
Rami Malek & Sami Malek
While Rami Malek hit the big time with TV's "Mr. Robot" and as Freddie Mercury in the biopic "Bohemian Rhapsody" (and soon as the villain in the next James Bond installment, "No Time To Die"), his younger identical twin brother (by 4 minutes) Sami has been handing out grades, and will soon enter his 18th year as a teacher in Los Angeles.
Sami currently teaches ESL at a middle school. The only time Sami gets into character and costume is to protest and demand changes for schools. He's very passionate about his vocation, in fighting for both teachers and students alike.
The closest Sami gets to the limelight is to celebrate his brother's success, particularly at the 2019 Academy Awards when Rami took home the Best Actor statuette. "My boy had it in the bag. He killed it," Sami said. Rami joked that the newer attention from women has helped his brother to get some of his "'Mr. Robot' shrapnel."
When he appeared on "Jimmy Kimmel Live!" Rami told a switcheroo story where he came to Sami's aid when he needed to do a Greek monologue in order to complete his college degree at UCLA. Sami's teacher was floored by the performance, asking Rami (but unaware it was him): "Where in the hell did you come up with that?" to which he replied, "Ah, it's just a hobby."
Laverne Cox & M Lamar
The first transgender person to be nominated for an Emmy, Laverne Cox broke out with "Orange is the New Black." When it came time for flashback scenes with Cox's character before transition, however, it was easy to find the perfect fit: Laverne's twin brother.
Going by the name M Lamar, the avant-garde artist is not normally an actor, however. He is instead an operatic countertenor/pianist whose vocals and piano work are frequently blended with film, sculpture, installation and performance.
The twins had a difficult time growing up and being different in a place like Mobile, Alabama. They were constantly bullied at school, but their mother Gloria impressed upon them the importance of education, telling the local paper in 2019: "I groomed them for success."
Success they both have had, on their own terms. M Lamar is a multimedia performance artist, composer and musician that Laverne describes as "punk-rock Negro goth," while Cox is a prominent actress and advocate for the transgender community.
While Laverne is very out and proud, brother Lamar takes a different approach, as he told World of Wonder in 2016. "What I do is not designed to cross over to the mainstream. That's not my goal," he said. "I'm not looking for that sort of fame or recognition."
However, Lamar did step into the mainstream when he played the pre-transgender surgery version of Sophia Burset in the "Orange is the New Black" episode "Lesbian Request Denied." Cox originally wanted to play that role, but she told the Huffington Post in 2013 that the episode's director, Jodie Foster "didn't think I looked masculine enough to play a guy."
Ann B. Davis & Harriet Stott Davis Norton
As Harriet Norton told the Louisville Courier-Journal in 1971 about her famous sister: "We used to say we'd both be in the theater, me on Broadway and her in the operating theater. But she's the one who got into show business."
In case you haven't figured it out yet, Norton's twin sister was Ann B. Davis, the lovable and ever-dependable housekeeper Alice on "The Brady Bunch."
Ann found early success on "The Bob Cummings Show" in the role of Schultzy, which won her back-to-back Emmy awards in 1958 and 1959. After the second win, Harriet wired her sister the message, "One of us was bound to have twins." Harriet was given the chance to join Ann in a Schultzy "double" episode, but couldn't handle the lines, so the idea was scrapped all together. That probably explains why Harriet wasn't enlisted to play Alice's identical cousin "Sergeant Emma" on the "Brady Bunch" episode of the same name, where Ann ended up doing double role duty. The two did share a revealing appearance on television, however, in a 1958 episode of "I've Got a Secret."
Harriet was a homemaker, and after her children left the nest, she worked in public relations at a publishing company. When she first settled into her New Jersey home, Harriet's "first phone call was to the Leonia Players Guild," where she would go on to star in many local productions. In 1993, Ann came to town to help raise funds for the Guild.
"People are always asking us what it's like to be twins, and we are always answering that we don't know what it's like not to be," Harriet said.
Ann died in 2014, at age 88. She never married and is survived by Harriet, who currently resides in Tucson, Arizona.
Conrad Bain & Bonar Bain
"He's 20 minutes older than I am and he looks every minute of it," Bonar Bain told the Ottawa Citizen in 1974, taking a swipe at his "older" brother Conrad, star of TV's "Maude" and "Diff'rent Strokes."
The two Bain boys were dedicated to the dramatic arts program while attending high school, taking turns each year at playing the lead in the play. When Conrad headed to New York to advance his acting career, Bonar chose a different, more stable path back in Edmonton, having a successful career in the airline, rental car and parking businesses. However, that didn't stop Bonar from taking an occasional part.
When the writers of "Maude" drummed up an episode involving the escaped-convict twin of Conrad's character Arthur, Conrad lamented, "I knew we were in trouble. The scriptwriters had my brother as a sex maniac." In the end, Conrad played both parts and Bonar "only came in for two lines at the end when he gets caught, but everybody thought it was him the whole time."
A similar experience happened on the "The Van Drummonds" episode of "Strokes," where Conrad played their female Dutch cousin Anna Van Drummond, and in the scenes where Philip appeared alongside her, Bonar acted as a stand-in.
Bonar went solo a few other times, most memorably spoofing Conrad as alien double agent "Hank Bain" on "SCTV," appearing in a sketch called "Different Folks." Back in the 1940s, Conrad was to be an extra in a Canadian war propaganda film, but fell ill. Bonar stepped in for his brother, and remembered: "The casting director took one look at me and said, 'What difference does it make?'"
Bonar passed away in 2005, at age 82. Conrad followed in 2009, at age 89.
[Fun fact: Bonar once had a radio show in Edmonton with Robert Goulet.]
Linda Hamilton & Leslie Hamilton Freas
"People don't believe me when I say I'm her twin," Leslie Hamilton Freas told New Jersey's Courier-Post in 1991. "They either think I'm impersonating Linda Hamilton, or I am her."
Before Linda Hamilton was trying to escape from "The Terminator," she was performing in community children's theater back in Salisbury, Maryland, alongside her younger sister Leslie, who was born 6 minutes after she was. Linda recalled in 1987: " We would be cast in the same role and work alternate performances. It was a real gimmick."
While the older sister made the jump to Hollywood, Leslie was "the practical one. She's got the kids and a nice house in the suburbs," Linda said. Leslie "thought of all those struggling actors. I wanted more guarantees. I'm not the risk-taker Linda is." She followed her passion, and in her grandmother's footsteps as a nurse and caretaker.
However, Leslie does have one credit to her credit, and it's in one of the greatest action films of all time. She played a cyborg version of Sarah Connor in "Terminator 2: Judgment Day," and was paid $1,000; presumably, her sister made a few dollars more.
Being on set gave Linda's little sister "a glimpse of how tough it can be to do this stuff," but also a taste of the fun too, even fooling Arnold Schwarzenegger into thinking she was Linda. One film was enough for Leslie, however.
After vowing to never return to the franchise, Linda changed her tune and suited up as Sarah Connor in 2019's "Terminator: Dark Fate." Leslie passed away in 2020 at age 63.
Deidre Hall & Andrea Hall Gengler
"Did anyone ever tell you that you look just like the girl on 'Days of Our Lives?' Marlena?" are questions Andrea Hall Gengler fields, when mistaken for her older sister (by two minutes) Deidre, who played the role for over 40 years.
The writers for "Days of Our Lives" asked Deidre if there were any storylines she'd like to pursue. Soon after saying, ""It would be fun to work with my twin sister," Andrea took a break from being a special education teacher for a "summer job" to play Marlena's jealous twin Samantha. The job spilled beyond the summer, and lasted several seasons.
The first time they acted together was in 1977, on the Deidre-starring Krofft brothers cult classic "Electra Woman and Dyna Girl," where Andrea played her clone. Andrea returned to "Days of Our Lives" in 2000 when she showed up as Hattie Adams, a woman with a strong resemblance to Marlena. She later retired from acting, and when Hattie returned to the soap, Deidre took over the role her sister left behind, in addition to continuing to play Marlena.
The pandemic turned into a mixed blessing for the twins, who got to spend over 9 weeks together for the first time since their youth, often finishing each other's sentences. Andrea gushed, "It's like finding your best friend again. It's been grand. And painting is so much fun, but we just mostly laughed."
Jon Heder & Daniel Heder
In 2007, Jon Heder told Elle magazine that his relationship with twin Daniel is like a marriage. "My brother and I think alike, know everything about one another, and when we get together, we block everything else out. Nothing exists in our world except for us."
The Heder boys were "always into art," and followed their brother Doug to BYU to study animation, a "more of a tangible skill I could take out of college," Jon had said. Jon found everlasting fame playing the title role in 2004's "Napoleon Dynamite," then went on to star in such films as "Blades of Glory" and "The Benchwarmers."
Daniel is a visual artist who has worked on such big films as Marvel's "The Avengers" and the "X-Men" series. He worked on 2006's "Monster House,"' where his brother Dan provided a voice over. The two have acted together in a few short films, and Daniel got Jon in a 2005 "Punk'd" episode. Along with brother Doug, they formed Greasy Productions and have several projects in the works — including, naturally, some animated ones.
As for being twins outside of work? Jon told LDS Living in 2012 that in the sixth grade they had switched classrooms for a day — which backfired when Daniel took a pop quiz he obviously wasn't prepared for. "But what did it matter to him?" Jon said. "It was my records the poor scores were put onto."
In public, fans often assume that Daniel is Jon. Fearful of disappointing them, in 2008 Jon told W magazine that "Most of the time he just pretends he's me."
Efren Ramirez & Carlos Ramirez
Jon Heder wasn't the only twin to star in "Napoleon Dynamite," as Efren Ramirez got a "vote" of confidence as our hero's friend Pedro.
Efren and his identical twin Carlos were discovered on the street by Robert Blake (yes, that Robert Blake), who got them roles in his series "Hell Town." Others bit parts followed, in films such as "La Bamba." Carlos took a break from acting in 1991 and joined the United States Air Force, but when Efren's career skyrocketed, he returned to the craft. The two appeared together in the short film "Gettin' Some Jail Time," as well as "Potheads: The Movie," both from 2006. They shared screen time and many good times, even throwing raucous dual birthday bashes.
Unfortunately, the story of the Ramirez brothers doesn't have the happiest of endings. In a move that echoed both the infamous Gallagher battle of the late '90s and the Ozzie Canseco boxing fiasco, the Ramirez twins had a falling out over Carlos making public appearances as Efren … without his brother's consent. According to a 2013 TMZ report, Efren threatened to sue his brother for 10 million dollars in 2008, and they hadn't spoken since. Carlos told TMZ at the time, "I think it's safe to say the magnitude of 'Napoleon Dynamite' and everything that has come along with it has ruined my relationship with my twin."
As of 2020, both Ramirez brothers are still appearing in films and TV series — just not together.
Alexandra Paul & Caroline Paul
As firefighter Caroline Paul detailed in her 2015 book "Almost Her: The Strange Dilemma of Being Nearly Famous," looking exactly like one of the lead characters in a massively-successful, massively-cheesy worldwide phenomenon can be pretty strange. "The possibility of an identical twin never crossed anyone's mind. It was easier to believe that the 'Baywatch' star had decided to swaddle herself in a turnout coat and helmet, grab that ax and jump on a fire engine for the day,"
Caroline's older twin sister (by 2 minutes) is actress Alexandra Paul, and although they both report liking chocolate chip cookie dough ice cream, they have traveled very different paths in life.
Alexandra made a splash on TV as Stephanie Holden for 5 seasons of "Baywatch," and appeared in films like "Christine," "8 Million Ways to Die," and "Dragnet." Caroline didn't star in anything, but did work on "Christine" as Alexandra's stand-in on set, confusing director John Carpenter in the process.
Caroline is a San Francisco firefighter-turned-activist, as well as a New York Times bestselling author. In addition to the aforementioned "Almost Her," she's written inspirational books for young girls. She officiated Alexandra's wedding to Ian Murray back in 2000, but as an openly gay person, had to wait herself until it was legal to marry. She eventually did tie the knot with her longtime love, Wendy MacNaughton.
Alexandra told the Ohio News-Journal in 1999 how deep her bond runs with Caroline: "I'll always have her, even if everything else goes badly. It's like having your left arm or something. She means everything to me."
Tasha Smith & Sidra Smith
As you may have seen on YouTube, Sidra Smith "is not the lady from the Tyler Perry movie." That's because identical twin sister Tasha is, having starred in Perry's "Why Did I Get Married?" and its sequel.
"I'm the oldest twin," Sidra teased in a 2017 Instagram post. "I always say that I came out first because she KICKED me OUT so she could be in our mothers belly ALONE for 2 minutes."
The sisters overcame a tough upbringing and both escaped Camden, New Jersey for greener pastures. Tasha went on to become a star on screens big ("The Whole Ten Yards," "Couples Retreat") and small ("Boston Common," "Empire"), while Sidra became a casting director (Dr. Dre music videos, "Daredevil"). They have since added additional positions in the entertainment industry. "My sister is my business partner, my twin. She's an amazing producer, writer. You know, we're just grinding and trying to make my mother proud as well as God," Tasha told NPR in 2008.
The two did appear onscreen together once, as "glorified extras" in the film "Twin Sitters." Tasha said it was "probably the only time me and my twin sister @sidrasmithofficial dressed alike." Which was disproved recently when they met up during the pandemic wearing the same clothing print.
While they have confused many fans in public, they also have fooled the technology of Apple, proving that identical twins can pass for the other when using iPhone's face activation security feature.
Nicholas Brendon & Kelly Donovan
Nicholas Brendon had dreams of playing for the Dodgers, but an arm injury took him off the baseball diamond and onto a TV set. Younger brother Kelly (by 3 minutes) had similar ambitions for a career in acting, but knowing that they'd be competing for similar roles, decided to work behind the scenes as a set decorator. Nicholas found early success playing the role that would ultimately define his life: Xander Harris on the hit series "Buffy The Vampire Slayer."
When Kelly finally jumped into the same profession, he landed a part on the show in the episode "The Replacement" as a Xander double. The brothers appeared together again in four episodes of "Hollywood Squares," as well as in the 2013 horror film "Coherence."
In 1999, Nicholas told Teen People that the duo have a very special relationship: "There's this unexplained twin phenomenon that even we can't understand."
They have so much in common, in fact, that they've been known to spontaneously belt out the same song at the exact same time, and have even had similar recurring dreams.
Luna Lauren Vélez & Lorraine Vélez
"My sister is part of my journey, but not all of it," Lorraine Vélez once told Latin Heat.com. "I exist as an individual."
Lorraine's younger twin sister, Luna Lauren, is also an actress and dancer.
The Vélez twins both attended the Alvin Ailey Dance school, then studied acting at The Acting Studio. Lorraine headed to the West End of London where she starred in shows like "Miss Saigon" and "Rent," and later returned to the States to perform on stage and screen.
Luna became a recognizable face to audiences on the TV shows "New York Undercover" (as Detective Nina Moreno), "Oz" (as Dr. Gloria Nathan), "Dexter" (as María LaGuerta), and "Ugly Betty" (as Elena).
The twins have only shared one screen credit to their names: the 2002 "Hitman" episode of "Law & Order"
The two remain very close and Luna constantly shares photos of the two of them together on Instagram, especially on #TwinTuesday.
Matthew Laurance & Mitchell Laurance
Being identical was particularly rough going on the Laurance (née Dyckoff) brothers, who both decided to become actors at the same time.
"If you have to pick a business not to go into with an identical twin, this is it. We didn't talk for a long time," said Matthew, best known for cleaning teeth as David Silver's dad Mel on "Beverly Hills, 90210," Born four minutes earlier, Mitchell (Peter Kimelman on "Not Necessarily the News") had mutual feelings, saying "At times I hate the fact that Matthew's here. We have moments of closeness and a lot of times of conflict."
The two were able to get past their differences and collaborated several times, including for a margarine commercial, a pair of "Cop Rock" episodes, and popping up on "The Commish." On "Saturday Night Live," Matthew was a featured player in Season 6, while Mitchell held various roles, eventually becoming an associate director. In the memorable "Outer Limits" episode "In Another Life," Mitchell played a man trapped in an alternate reality, surrounded by MANY different versions of himself, which were played by both he and Matthew. When Mitchell needed to leave the soap opera "Santa Barbara" for the show "Reasonable Doubts," his brother replaced him on the show.
The two have since moved away from collecting IMDb links to focus more on their love of a different kind of links: golf. Matthew hosts the "Backspin Golf" radio show and podcast for ESPN, while Mitchell is a Team Partner at GolfTripX.com and Co-Host/Co-Producer of "Talking GolfGetaways with Mitch & Darin" podcast.