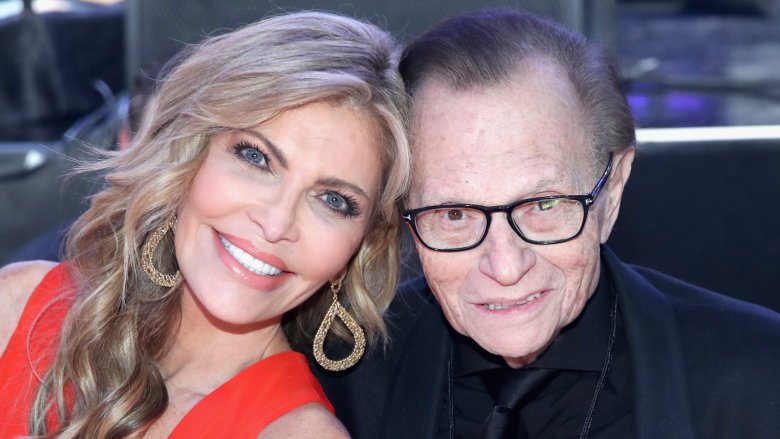 Age is just a number for celebs (unless it comes to landing jobs when you're a woman creeping into the latter half of her 30s). The red carpet doesn't discriminate in the romance department, and young stars have notoriously shacked up with men old enough to be their fathers. The age-old trope of a middle-aged movie star dating a young, pretty blonde is older than the aging celebrities who make it a cliché, but are these relationships actually meant to last?
For many, ultra-young wives are a second, third, fourth, or eighth try at love (sorry, Larry King!). Celebs such as Steve Martin and Michael Douglas have formed tight-knit relationships with their younger spouses, while other young stars, such as Amber Heard, have struggled to deal with the dynamics of a partner in another peer group. There's only one thing the relationships in this story all have in common: all these men married women young enough to be their daughters.
Clint Eastwood and Dina Ruiz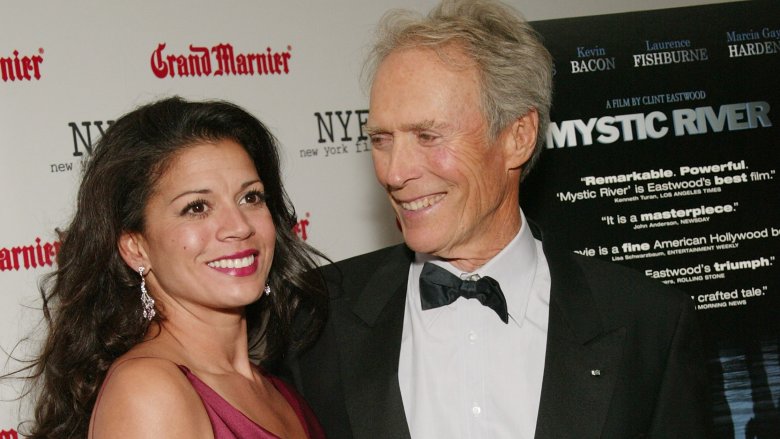 Clint and Dina Eastwood (formerly Ruiz) had a really long run — 17 years to be exact. The couple wed in 1996 and hid from the Hollywood spotlight in the seaside town of Carmel, Calif. Somewhere along the line, their 35-year age difference may have gotten the best of them, because according to People, a fundamental difference in values prompted the couple to call it quits.
Eastwood, who was 65 at the time of his second wedding in 1996, is notoriously private. This was reportedly at odds with Dina's reality show, Mrs. Eastwood and Company, which raked in an average of 1 million viewers per episode. Eastwood occasionally appeared on the show, which also featured his daughters, Morgan and Francesca Eastwood, but he was reportedly furious that Dina put the kids on TV. Halfway through the first season, Clint reportedly stopped wearing his wedding ring, and the couple allegedly moved into separate rooms in their home.
During this rough patch, Dina reportedly turned to high school friend Scott Fisher for emotional support. Fearing their relationship wasn't platonic, Erica Fisher (Scott's wife) reached out to Clint. Erica and Clint sparked a romance, and Dina went to rehab for a broken heart — or so say some sources. In the following months, Dina hooked up with Scott and eventually married him in 2016. Basically, the Eastwoods and Fishers played out a really dramatic episode of Wife Swap.
Doug Hutchison and Courtney Stodden
Courtney Stodden is one of those celebs whose career is perplexing. The former beauty pageant queen is seemingly famous for being famous — or maybe she's famous because she married middle-aged Lost actor Doug Hutchison when she was just 16 years old and he was 51. They share a whopping 35-year age gap. Stodden's unconventional marriage led her to reality fame on shows including Couples Therapy and Celebrity Big Brother. Her relationship has also been tabloid fodder, especially when you consider the fact that her parents had to cosign on her nuptials since she was legally too young to consent.
Stodden proceeded to give the nation heebie jeebies by regularly sharing uncomfortable tidbits about their controversial union, including calling the then-51-year-old a "tiger" in bed. Following their disastrous split in 2017, Stodden momentarily issued a public Instagram plea begging Hutchison to take her back, but then allegedly changed her mind again. They were married for a short six years, but to be totally fair, that was a huge chunk of Stodden's young life.
In 2017, her mother allegedly admitted the union was a total mistake. It was a few years too late, but what do you expect from the woman who allegedly had an emotional affair with her daughter's husband.
Rod Stewart and Penny Lancaster
Despite their 26-year age difference, Rod Stewart and Penny Lancaster truly seem like the real deal. In 2017, the lovebirds celebrated their tenth wedding anniversary by renewing their vows in a quaint ceremony at their 45-acre Essex home. They were joined by their two sons, as well as five of Stewart's children from other relationships. Though the ceremony was joyful, that's not to say the couple hasn't had tough times throughout their decade-long marriage.
There was that time Lancaster mourned the tragic death of her Louboutin wedding shoes after she snapped a heel in Paris. Stewart also made Lancaster eat at Subway on one occasion, despite his estimated $235 million net worth. If she was willing to endure a $5 footlong for her man, then you know it's meant to last.
Most importantly, Lancaster, who had a brief stint on Strictly Come Dancing, helped Stewart reach a major life milestone. At the age of 66, he became a father for the eighth time. According to reports, he's the kind of dad who picks his kids up from school in a Ferrari.
Richard Gere and Alejandra Silva
Richard Gere, the Pretty Woman legend, and Alejandra Silva, a gorgeous Spanish activist and publicist, secretly wed in a 2018 civil ceremony. Gere was 68 and Silva was 35, but those decades didn't make much of a difference for the couple who'd been dating since 2014.
This marriage is Gere's third and Silva's second, so it's understandable they'd want to keep the ceremony under wraps. Word on the street is they planned to celebrate their nuptials with family and friends at a later date in New York.
"I have found the quiet and happy life that I have always sought," Geere told HOLA! (via US Weekly). Silva has a son, Albert Friedland, from her previous married to mining industry bigwig Govind Friedland from 2012 to 2015. Gere has a son, Homer, with his second wife, actress Carey Lowell.
Eddie Murphy and Paige Butcher
As of this writing, legendary funnyman Eddie Murphy and Australian model and actress Paige Butcher, who is 18 years younger than him, aren't married yet. However, the couple started dating in 2012, got engaged in 2018, and welcomed a son that December. The bouncing baby boy was Butcher's second with Murphy, and Murphy's 10th — yes, you read that right. The Shrek star has eight other kids with fourth other women, which should go a long way in answering the question, "Why isn't Eddie Murphy in more movies?" The guy's been busy.
Of his large brood, Murphy told Entertainment Tonight, "The brightest part of my life is my kids. My world revolves around them — even the old, gray bald ones." The feeling is apparently mutual, at least, according to a "source" close to the couple, who told People, "They are all about family. Paige is very close with Eddie's kids. …. They vacation and spend holidays together. Paige loves being a mom and is very involved."
Of course, it's great that Butcher and Murphy's kids from other relationships get along so well, but we have to wonder how awkward it was when everyone realized she was nine years old when Murphy's oldest son Eric was born.
William Shatner and Elizabeth Martin
Star Trek star William Shatner has endured a rather dark love life. He's been married four times, but his third wife, Nerine Kidd, tragically drowned in the couple's swimming pool in 1999 after battling alcohol addiction.
According to the Daily Mail, Shatner learned the magnitude of Kidd's alcohol problem hours after their wedding. Though she reportedly promised him sobriety when they tied the knot, she was allegedly drunk the morning after their reception. They were married just two years before she passed away. Shatner did manage to recover from that tragedy, undoubtedly with the love and support of horse trainer Elizabeth Shatner (formerly Martin), who was also a widow. They wed in 2001, when she was 42 and he was 69.
"I was attracted by her beauty first of all, which was an old syndrome for me," he told The Guardian. "…and I think I lucked out because she had so many other qualities as well."
Larry King and Shawn Southwick
Larry King knows his way around a marriage. The late night TV host has been married eight times, and it sounds like his marriage to Shawn Southwick, who's young enough to be his daughter, may be as troubled as the rest.
In 2016, rumors emerged that Southwick, who's 26 years younger than the TV host, had been carrying on a year-long affair with public-speaking guru Richard Greene. King brushed off the rumors in public, but behind the scenes, he was allegedly torn about whether or not to stay with his wife of 19 years. The couple was allegedly sleeping in separate bedrooms, and family members were reportedly pressuring King to end it. Rumors even floated around claiming King agreed to have an open marriage.
This isn't the first time King and Southwick's union has been the target of the tabloids. According to People, they filed for divorce in 2010, but reconciled three months later. Despite all this, the couple has looked pretty happy on the red carpet in recent years, so perhaps all this bad press is much ado about nothing.
In fact, King has even joked about their highly-publicized age. "When people look at Shawn and me, the first thing they notice is the age difference," he told a crowd at a Vegas casino in 2010. "But I'm here to say, if she dies, she dies." However, King officially filed for divorce from Southwick again in August 2019.
Steve Martin and Anne Stringfield
Funnyman Steve Martin married former New Yorker staff writer Anne Stringfield in a private ceremony in 2007. Though Stringfield is 26 years younger than the Saturday Night Live star, that didn't stop them from starting a family. Martin became a first-time father to a baby girl at the age of 67 in 2012; Stringfield was 41.
Martin said he felt like this was the perfect time to have kids because he would have been a bit too selfish about his career if it had happened earlier in life. "Oh, it's fantastic — you have all the time in the world," he later told The Daily Telegraph (via Vanity Fair). "You're all set and secure in life, and you're not building your career, so you have a lot of time."
Kelsey Grammer and Kayte Walsh
Kayte Walsh may not be proud of the way her marriage to Frasier star Kelsey Grammer began, because it reportedly had a role in ending his 13-year marriage to TV personality Camille Grammer.
Kelsey and Camille's marriage was far from private. It played out on cable TV during the first season of The Real House Wives of Beverly Hills. Camille admitted to ABC News that she felt like her "whole life was falling apart" because Kelsey was allegedly having an affair with another woman. That woman was apparently Walsh. They got married in 2011, just two weeks after he finalized his divorce from Camille. Walsh was just 29 years old, while Kelsey was 55 at the time.
Camille slammed her ex for his younger wife, claiming, "He changes marriages like he changes characters, you know, for movies or shows."
Johnny Depp and Amber Heard
At one time, Johnny Depp and Amber Heard's relationship was the type of PR movie studios dream about. The couple fell in love on the set of The Rum Diaries, where Depp played a journalist obsessed with Heard's free-spirited young character. Despite their 22-year age difference, the actors began dating in 2012, and Depp was showing off his engagement ring and talking about having 100 kids by 2014. The couple wed in 2015, when he was 51 and his bride was 28.
But this seemingly rosy love story had a dark side. A text message conversation obtained by Entertainment Tonight indicated that the relationship may have turned abusive as early as 2014. What followed was a nasty divorce and some terrifying video footage of Depp's violent outbursts, followed by a $7 million settlement that Heard donated to charity and a joint statement that seemed a little off considering all the accusations that preceded it. "Our relationship was intensely passionate and at times volatile, but always bound by love," the statement said. Fortunately, they did not have 100 kids to fight over in court.
Anthony Bourdain and Ottavia Busia
The late Parts Unknown host Anthony Bourdain certainly had a type: strong, talented, and young. Bourdain's second wife, Ottavia Busia, was 22 years his junior, and their relationship was anything but conventional.
According to People, the MMA fighter abruptly moved to America with just $300 in her pocket and worked her way up in NYC's restaurant scene. From the moment she chowed down on a lobster during her first date with the celebrity chef, he was completely enamored. "Within a few dates, they had matching chef's knife tattoos. Over the course of two weeks in 2007, Bourdain was divorced from his first wife, he and Ottavia were married, and he became a father" to he and Busia's daughter, Ariane.
Initially, it seemed age wasn't an issue for two people with so much in common. "We used to meet after my shift was over and we would stay up for hours drinking beers, talking about my day at work. Anybody else would have been bored to death, or horrified, but for him it was enjoyable…" she told Married to a Chef in 2011. But unfortunately, Busia struggled with Bourdain's fame and admitted that she hated being on TV. Instead of travelling with him during filming, she focused on MMA training at Renzo Gracie Academy.
The couple reportedly grew apart and eventually split after nine years of marriage. Bourdain passed away in June 2018. At the time, he was dating Italian actress Asia Argento, who was 19 years younger than the chef.
Alan Ferguson and Solange
Let's face it, Solange Knowles' music career exists in Beyoncé's shadow. But there's one arena where Solange has Beyoncé beat: marrying older dudes. Queen Bey, of course, is married to Jay-Z, who is 12 years older than her. But Solange bested that May-December age gap when she hooked up with music video director Alan Ferguson, who is 23 years her senior. For those who struggle with math, that's double-digits over Bey. Is that even legal?
It didn't matter to Solange, who was so crazy in love with Alan that they tied the knot in New Orleans in 2014, when she was 28 and he was 51. Part of Solange's attraction to her much older beau could be attributed to her previous marriage. According to Harper's Bazaar, she wed her high school sweetheart after becoming pregnant with his child when she was 17. They divorced in 2006, but the experience left Solange feeling "emotionally and mentally … far older."
Perhaps that's also why Solange didn't hesitate to go for Alan after the pair was introduced by rocker Pete Wentz and R&B star Janelle Monae. "I have always sort of historically been one of those girls that goes after something that I'm into," Solange told interviewer Bianca Golden. "I'm not very old school … like, I'm gonna wait on you — wait for you to approach me type of situation." Dang. Who run the world?
Rupert Murdoch and Jerry Hall
Vanity Fair once named billionaire Rupert Murdoch the "greatest romantic of our time," and that very well may be true. In 2016, the News Corp. mogul announced that he'd be walking down the aisle for the fourth time at the age of 84. It really never is too late to find love. Murdoch's woman of choice was supermodel-turned-rock star muse Jerry Hall, who famously wed The Rolling Stones frontman Mick Jagger in a controversial Balinese ceremony in 1990.
Murdoch popped the question to the then 59-year-old model after just four months of dating. Why waste any time when you're an octogenarian? The pair tied the knot at Princess Diana's townhouse in central London, and despite Murdoch's riches, the couple reportedly kept it casual. Hall didn't wear white, opting instead for a blue, below-the-knee skirt. Her 20-carat engagement ring was the icing on the cake.
It's unclear how many women who dated Jagger would find common ground with the same person who owns The Wall Street Journal, especially considering the enormous age gap. Regardless, theirs must be a pretty happy union because Murdoch closed out his Twitter account with the wedding news and pledged to never tweet again.
Nicolas Cage and Alice Kim
Nicolas Cage has been known for a few half-hearted attempts at stealing the Declaration of Independence, but he's also known for dating a woman young enough to be his daughter. Though his previous wives, Lisa Marie Presley and Patricia Arquette, are close to the National Treasure star in age, his third wife, Alice Kim, is two decades his junior.
According to Today, Cage met Kim, a sushi waitress, at the Los Angeles restaurant where she worked. The romance was a whirlwind, perhaps as urgent as Gone in 60 Seconds or any other of Cage's suspenseful cinematic adventures. They got engaged after two short months and wed in 2004, when he was 40 and she was 20. Alas, things eventually went south. After 11 years of marriage, which we can only assume was tested by so many action movie premieres that they started blending together, Kim reportedly split from her movie star beau.
Despite the breakup, Cage never gave up on love, just like he'll never give up on saving the world. Rumor has it, the actor has attempted to pick up more women at Sushi restaurants around Los Angeles. As they say, there's plenty of sashimi in the sea.
Kevin Costner and Christine Baumgartner
Kevin Costner's second wife, Christine Baumgartner, may be nearly 20 years younger than the star, but Costner was reportedly willing to do anything to make it work, even if that meant being a stay-at-home dad. A 49-year-old Costner wed his 30-year-old flame in a private ceremony at his home in Aspen, Colo. in 2004. Six years later, the star found himself taking an extended break from Hollywood to help raise their three babies.
Costner admitted to The Telegraph that he had doubts about growing his family so late in life. He was 55 years old by the time his youngest was born, but he was also at a place in his career where he could pick and choose his roles. Now, he says he only takes the projects he really wants and spends the rest of his time and energy on his family. "I see [my children] making steps every day, and the one thing I pray for in life is not success but being able to raise my children and that nothing happens to me in the next 20 years," he explained. "I want it to be me who tells them about the secrets, the beauty, the treachery and everything that is in life. I don't want them to learn from someone else."
Hugh Hefner and Crystal Harris
It's surprising to think that the late great Hugh Hefner ever settled down. Before his passing at the old age of 91, the Playboy founder claimed to have slept with more than 1,000 women, but as he aged, his taste in women did not.
Hef's relationship with Playboy Bunny-turned-realty personality Holly Madison practically defined the early aughts. Though Madison may have been vying for marriage when she moved into the mansion at age 22, they split after seven years. The media mogul was devastated, admitting, "I expected to spend the rest of my life with her." He claimed their relationship was strained when he couldn't provide her with children.
However, Hefner did manage to find love again. After briefly dating a 19-year-old set of twins, he met his third wife, Crystal Harris. She was 24 years old at the time of their engagement — a whopping 60 years his junior. Despite the fact that Harris was young enough to be Hef's granddaughter (and called off their initial engagement), the couple appeared to be truly in love once they finally tied he knot. Hef told the press that he "saved the best till last."
Just days after the notorious ladies' man was laid to rest, Harris told People, "He changed my life, he saved my life." And before you assume the 20-something was in it for the money, an iron-clad prenup reportedly prevented Harris from inheriting much of the Playboy fortune.
Vincent Cassel and Tina Kunakey
French actor Vincent Cassel was married to Italian bombshell Monica Bellucci for 14 years before their divorce in 2013. The international superstars are two years apart in age. Cassel eventually rebounded with Tina Kunakey, a French model who was born when he was 30 years old, and just eight years ahead of the birth of his first daughter with Bellucci. Casel and Kunakey wed in August 2018, but not before Cassel offered some eyebrow-raising thoughts on the dynamics of their age gap.
Speaking with The New York Times a few weeks before his second nuptials, Cassel opined, "At any age, men have this ability to start a new life. Women do not." Yeesh. But wait, there's more! "It's not always fair," he continued. "I'm 52, and I'm getting married with a 21-year-old girl. I'm very much in love and sure we are going to make babies." Super.
The Times interview wasn't Cassel's first expression on the disparity of the sexes, and how men have the ability to "reinvent [themselves] again and again." Speaking with The Telegraph in 2016, Cassel said that "most women are looking for security" while "men look for adventure." He then quoted what he described as a popular french saying, "N'avoir que la bite et le couteau," which he roughly translated as: "To go around the world with your d**k and a knife."
Here's hoping he left that out of his wedding toast.
David Foster and Katharine McPhee
David Foster and Katharine McPhee share a 35-year age difference, but this couple's love was practically written in the stars — or in the very least, written in reality TV. According to People, McPhee first met Foster on the set of American Idol when she was a contestant in 2006. Despite the fact that he's racked up 16 Grammys in his career as a producer, the future starlet had no idea who he was when he served as her mentor. It wasn't love at first sight for him, either.
"She didn't catch my eye on the first day because I was so busy trying to do my job," he told People. "But the reality is that in the last 12 years I've always had a connection with her."
McPhee is actually about two years younger than Foster's daughter Erin, who commented "Mommmyyy" on their Instagram engagement announcement (via Us Weekly). Though the couple announced their engagement in the summer of 2018 and tied the knot in June 2019, this is hardly the pair's first rodeo. Foster has four ex-wives, and weirdly enough, already saw McPhee as a blushing bride. According to People, the Grammy-winner played piano at her 2008 wedding to Nick Cokas.
Bob Saget and Kelly Rizzo
Bob Saget's house got a little fuller. According to People, the sitcom dad tied the knot with TV host Kelly Rizzo in October 2018. The pair share a 23-year age gap, and though Saget can claim a senior discount at more than a few restaurants, that doesn't mean he can't party hard. Actor Jonathan Silverman officiated the ceremony, which ultimately led to a huge dance party later on at the reception. It even included a serenade from John Mayer, who is somehow the comedian's very close friend despite the fact that he's young enough to be his son. Saget's Fuller House co-stars — including Dave Coulier and John Stamos — were reportedly in attendance, and there's no word on if the best man's speech escalated into The Aristocrats, but we're guessing (and hoping) not.
Despite the massive party that was Saget's wedding, the proposal was far more ho-hum. "We were watching Stranger Things on the iPad," Saget told People. "And then I got up to go to the restroom, and I opened the safe and I took out a ring that I had been hiding for four days and I got on one knee. And she said 'What are you doing?' and she got very emotional and so did I."
That's one serious Netflix and Chill. Tinder dates everywhere are sweating just thinking about the commitment.
David Hasselhoff and Hayley Roberts
David Hasselhoff was taking things slow with his younger beauty, Hayley Roberts. According to The Sun, it took seven years for the Hoff to pop the question to the Debenhams store clerk-turned-model. Why the wait? The age difference was apparently a major factor: Hasselhoff is nearly 28 years older than Roberts. The Baywatch star reportedly opened up about the age gap in 2015.
"To be honest, the reason I haven't got married yet is because I know it's not going to be a perfect relationship. We're not going to grow old together, let's face it," he reportedly said (via The Sun). "Sometimes I think I love her enough to say, 'Go and find a man of your age and have a life."'
According to the Daily Mail, Roberts also had her reservations about the age gap, but the Hoff's charms were more than enough to overcome her reservations. "David acts so much younger, he doesn't see his age," Roberts told OK! Magazine (via the Daily Mail). "I'm probably older than my years. I don't feel like he's that much older than me."
The pair tied the knot in a small Italian ceremony in July 2018. The Hoff's two daughters from a previous marriage, Taylor and Hayley, were reportedly part of the ceremony.
David Schwimmer and Zoe Buckman
Celeb David Schwimmer's TV characters have not exactly been painted as ladies men, and that might actually be true in real life. Schwimmer got married for the first time when he was 43 years old. His girlfriend, British photographer Zoe Buckman, was just 25.
In some ways, Schwimmer and Buckman's romance was similar to that infamous TV romance of Ross and Rachel on Friends. Buckman was reportedly waitressing at a club in London's West End, and Schwimmer was a customer. She later moved to Los Angeles in order to be with her beau, and they eventually got married in a secret wedding ceremony.
Schwimmer may have found his real-life Rachel, but it allegedly caused some drama with co-star Jennifer Aniston. Apparently Schwimmer ended his friendship with Aniston after she went on national TV and said she "didn't know" who Schwimmer was planning to marry. According to the Daily Mail, an insider claimed, "David was not impressed … He has been with Zoe for a couple of years and was offended Jen couldn't remember her."
Sadly, Schwimmer and Buckman called it quits in 2017.
Jerry Seinfeld and Jessica Sklar
According to a 2007 interview with The New York Times, Jessica Sklar met legendary comedian Jerry Seinfeld at a gym in New York City in 1998. Despite their 20-year age difference, the pair hit it off. There was only one problem: Sklar was about to get married to theatrical producer Eric Nederlander. Shortly after their honeymoon, Sklar left her husband for Seinfeld.
"I was manipulated, misled and completely caught off guard by Jessica's infidelity," Nederlander told the New York Post in 1998 before filing for divorce (per People). "Jerry and Jessica have no respect for decent values. They deserve each other."
Allegedly cheating with your new husband might not be the best way to start a relationship, but it appears to have worked out for Sklar and Seinfeld. The couple married in 1999, have been together ever since, and share three children. "From the day I met her, that was really our connection," Seinfeld told Closer Weekly in 2019. "We always have fun and we laugh and she's got a great sense of humor. She's very quick and sarcastic and all the qualities that I like. She's very sharp. She catches all the wrongness."
Sylvester Stallone and Jennifer Flavin
In 1988, Sylvester Stallone (who was 42 years old at the time) met 19-year-old model Jennifer Flavin at restaurant in Beverly Hills. Flash forward to 2019, and the couple have been married for 22 years and share three daughters.
Although Stallone is known for his '80s action star machismo and testosterone-filled movies, it's a totally different story at home. "Everything in the house is female. The toys, the housekeeper, all the dogs. The one dog I have that's male is neutered. I'm next," he told The Telegraph in 2010 (via Yahoo! Entertainment). "But I've never had more fun. I learnt that from my wife … It took me 19 years to realize she's always right."
The Rocky star continued, "I realized that women have a knack, at least Jennifer, for making incredibly erudite, wise, smart decisions. I always leap without looking. She always looks and never leaps. She's incredibly safe." Stallone added, "So now finally, I say: 'Honey, you make all the decisions. Done, done, done. I trust you.' I never had that before. Ever."
Humphrey Bogart and Lauren Bacall
Humphrey Bogart and Lauren Bacall's love story literally inspired song lyrics and has long-been dubbed "Hollywood's greatest romance." The couple first met when Bacall was just 19 and Bogart was 44. They married a year later in 1945, and enjoyed a 13-year marriage until the legendary Casablanca star sadly died of esophageal cancer in 1957.
The Old Hollywood icons made four films together during their marital union, and the chemistry between them was palpable to anyone watching. Film historian Leonard Maltin told Vanity Fair that their relationship was "one of these instances where it's quite possible that we are eyewitnesses to an actor or actress falling in love, and while good actors make us believe that all the time, there has to be some extra kick when it's real."
A widow at just 32 years old, Bacall later had a brief marriage with actor Jason Robards and a fling with Kirk Douglas, but she never forgot her first and only true love. "All the men were mistakes," she once reportedly uttered during an interview (via Medium). "Except for Bogart."
Robert Duvall and Luciana Pedraza
You might want to sit down for this one. Are you sitting down? Okay, good. Robert Duvall's wife, Luciana Pedraza, was born in the same year The Godfather actor celebrated his, wait for it, 41st birthday. You read that right. Duvall and Pedraza have a whopping 41-year age difference between them.
The couple married in 2005, and it appears fate brought them together. "I met my wife in Argentina," Duvall told Esquire in 2010. "The flower shop was closed, so I went to the bakery. If the flower shop had been open, I never would've met her." At first, he was hesitant to be with a much younger woman, so he turned to his old friend and fellow actor Wilford Brimley for advice. Brimley's words of wisdom? "Let me tell you something, my friend, the worst thing in the world for an old man is an old woman!" Okay, then.
Warren Beatty and Annette Bening
Silver screen icons Warren Beatty and Annette Bening have been married since 1992. Despite their 21-year age difference, sparks flew when they met during a production meeting for the 1991 film Bugsy.
"I remember losing interest in the garlic chicken I was eating within 20 seconds," Beatty told People in 2016. "And the garlic chicken had been very good." Once shooting had neared completion, Beatty asked his co-star-turned-wife out to dinner. The Bonnie & Clyde star admitted that there was "a moment of hesitation" on Bening's part, but she thankfully ultimately agreed. Beatty went on to say that their four children are "biggest thing that's ever happened to me — and their mother," and claimed that his family is "bigger than fame."
During a 2019 interview with Us Weekly, Bening discussed her nearly three decades of marriage with the former Hollywood heartthrob. "There is no secret as anyone who's been married knows," she said. "We have an incredible family, we have beautiful children. We've been through a lot. It's the center of life. It's the most important thing. It's everything."