Jamie Lynn Spears' children are now facing a new threat: Their aunt's stans.
Jamie Lynn, 30, took to Instagram Friday in an attempt to end threats she claims she and daughters Maddie, 13, and Ivey, 3, have received in the wake of Britney Spears' bombshell testimony about her conservatorship last week.
"Hi, I respect that everyone has the right to express themselves, but can we please stop with the death threats, especially the death threats to children. – JLS," she posted.
While the former Nickelodeon star doesn't specify where the vitriool is coming from, fans of the "Womanizer" singer seemingly have an issue with how long it took Jamie to issue a public statement of support for her sister. Fans have also raised the question of whether Jamie Lynn knew just how bad Britney's conservatorship was, and chose to remain silent for 13 years.
On Monday, the former "Zoey 101" star broke her silence, claiming she had good reason to allow her pop star sibling to tell her own story.
"The only reason I haven't [spoken] before is because I felt like until my sister was able to speak for herself and say what she felt she needed to say publicly, that it wasn't my place and it wasn't the right thing to do," the actress began.
"I think it's extremely clear since the day I was born that I've only loved, adored and supported my sister. I mean, this is my freaking big sister, before any of this bulls–t. I don't care if she wants to run away to a rainforest and have a zillion babies in the middle of nowhere, or if she wants to come back and dominate the world the way she has so many times before, because I have nothing to gain or lose either way," Jamie Lynn said.
"This situation does not affect me either way because I am only her sister, who is only concerned about her happiness."
Britney made her first address to the court regarding her conservatorship on June 23, alleging — among other things — that she was prevented from having children by the conservatorship and calling it "abusive."
"It's my wish and my dream for all of this to end," she added.
Since Britney's testimony, a number of celebs have shown their support, including Jamie Lynn's former "Zoey 101" co-stars.
The Los Angeles Superior Court has yet to make a ruling based on Spears' latest testimony but did deny a previous request she filed in November to have her father removed from her conservatorship.
Selena Gomez already runs a makeup empire, and now, she's poised to become a fashion mogul too.
The "Rare" singer, 28, teamed up with BFF and former manager Theresa Mingus and business partner Morgan Brutocao to create a capsule collection of swimwear for La'Mariette, featuring a trippy tie-dye print perfect for the summer.
"It was really fun for us to play around with creating swimsuits because Theresa, Morgan and I love being outside so much," Gomez said of the process in a statement.
"After going through swatches, my favorite color was purple. I wanted to stay away from colors I'm used to like red and white," she added.
"Purple felt different for me and we added pops of color like green and neons here and there; it really becomes your own suit however you wear it."
The collection, which will be available to purchase at 9 a.m. PT on July 3 on lamariette.com, features six new styles: two tops, two bottoms, a one-piece and a sarong that can also be tied as a top, all in the "Aura" print.
The collection will be available in sizes XS-XXL and priced from $49 to $119.
"The Aura print is inspired by Selena. Her aura shines through in everything she does and we want everyone else to feel that sort of transformative feeling of being their most authentic self," said Brutocao.
"Selena's confidence is unmatched and being able to design a print with her which embodies that is so rewarding."
This isn't the first time Gomez has designed a bathing suit with the newly-relaunched La'Mariette brand. Mingus launched her swimsuit line in 2019 under the name Krahs, tapping Gomez to design a bestselling style that hid the scars from her kidney transplant surgery.
One year later, Gomez helped kick off the rebrand, finally revealing her scar in a blue zippered suit.
Julianne Moore is often told she's "aging gracefully" — and she's had enough.
"There's so much judgment inherent in the term," Moore, 60, told As If magazine for her new cover story.
"Is there an ungraceful way to age? We don't have an option of course. No one has an option about aging, so it's not a positive or a negative thing, it just is."
Added Moore, "It's part of the human condition, so why are we always talking about it as if it is something that we have control over?"
The iconic Hollywood redhead also pointed out that the term is typically directed at women and seems to place value on appearance over talent or life experience, making it "totally sexist."
"Shouldn't aging be about inner growth?" Moore asked.
"We have all this life left to live. How do we continue to challenge ourselves, to interest ourselves, learn new things, be more helpful to other people, be the person that your friends and family need or want? How do we continue to evolve? How do we navigate life to have even deeper experiences? That's what aging should be about."
Moore has certainly committed to inner growth of her own; on Instagram, the Academy Award winner often posts about gun violence, voting and systemic racism; she even attended a Black Lives Matter protest in Montauk last summer.
Staunchly anti-gun (she even hates handling firearms in films), Moore has hosted live chats and regularly shares infographics connected to the cause.
She's also spoken out about the sexism and racism pervasive in the entertainment industry, and was among the many women who came forward to accuse filmmaker James Toback of sexual harrassment in 2017.
"I think it's about time things change," she told As If. "It's fantastic that these behaviors are no longer being tolerated. The old hierarchy is being disassembled."
Jersey City artist Misha Japanwala was making her 26th birthday cake last week when her phone rang.
On the other end of the line was Kollin Carter, stylist for Cardi B, asking her to create a custom piece of art for the hip-hop star. Less than 48 hours later, Japanwala was on a flight to Los Angeles to make a mold of Cardi's pregnant belly and breasts.
"It was really a wonderful experience," said Japanwala, who specializes in creating molds of the human body — especially the female form — using silicon, plaster, and resin.
"[The] pregnant body is something that's really special because it's this time in your life when your body's a certain way … [but] it's going to go away soon."
This past Sunday, Cardi posted a photo to Instagram wearing the white plaster art piece — and nothing else — to announce to her 98.4 million followers that she and longtime flame Offset are expecting their second child. "#2 heart emoji @offsetyrn," the caption read.
Born and raised in Karachi, Pakistan, Japanwala moved to New York at age 19 to attend the Parsons School of Design. Her thesis project, a series of castings of nude bodies titled "Azaadi" (Urdu for "freedom"), ended up getting a six-page spread in Vogue Spain in 2018, with model Cindy Bruna wearing the work.
That caught the attention of Gigi Hadid, who asked Japanwala to collaborate on a special project she was doing for V magazine in 2020. Earlier this year, the artist scored a spot on Forbes' 30 Under 30 Asia list.
But Japanwala's work isn't all glamour and pretty people. She divides her time between Karachi and Jersey City and sees her nudes as having a political, feminist message.
"It's an outpouring of anger from the way women, especially women of color, are seen as second class citizens … There's a lot of women [especially in Pakistan] that could never think to discuss the things that I do, and still feel safe," she said. "That's something that I recognize at every point in creating my work and feel extremely lucky."
She also feels quite fortunate to have gotten to work with Cardi, whom she's long admired.
"She's just a trailblazer," Japanwala said. "I'm still finding myself sitting on the couch being like, 'Wait, did that just really happen?'"
One of Princess Diana's iconic styles is now set in stone.
Prince William and Prince Harry unveiled a new statue of their late mother on Thursday, reuniting to honor her on what would have been her 60th birthday.
The artwork depicts Diana standing with three children to represent her "generational impact," dressed in a belted pencil skirt and blouse that nod to one of her many memorable outfits.
The style seems to be based on the ensemble the late royal wore for her 1993 Christmas card, which marked her first official holiday card following her separation from Prince Charles.
Diana stood alongside her sons in the sweet photo, with Harry staring up at her adoringly while William posed for the camera.
Although her hair is slightly longer in the sculpture, the intricate likeness replicates detail down to her eye-catching belt buckle and the unfastened buttons on her blouse.
Kensington Palace announced that "the portrait and style of dress was based on the final period of her life as she gained confidence in her role as an ambassador for humanitarian causes and aims to convey her character and compassion."
Midi-length skirts and blouses were staples of Diana's wardrobe, which has often been reimagined for TV shows and films. Her daughter-in-law Kate Middleton also regularly pays homage to her iconic looks, sometimes sporting similar pieces.
The sculpture's unveiling ceremony at Kensington Palace marked a rare reunion for William, 39, and Harry, 36, amid their ongoing rift, although sources told Page Six the pair was unlikely to meet privately.
"We remember her love, strength and character — qualities that made her a force for good around the world, changing countless lives for the better," the brothers said in a joint statement honoring their mother.
The public ceremony was limited to 15 attendees due to COVID protocols, with sources previously telling Page Six that Middleton's absence would be "telling on so many levels."
The meaningful statue, sculpted by Ian Rank-Broadley, also includes a paving stone engraved with the words, "There are the units to measure the worth of this woman as a woman regardless of birth. Not what was her station? But had she a heart? How did she play her God-given part?"
Kate Middleton wore her summery best Friday to Wimbledon, where she had a front-row seat to the action.
The Duchess of Cambridge, who is Patron of the All England Lawn Tennis Club, toured the London facility before sitting courtside for the third-round match of the women's singles, with Tunisia's Ons Jabeur defeating Spain's Garbiñe Muguruza.
Wearing Smythe's navy "Duchess Blazer" ($695) — a style named after her, of course — and an Alessandra Rich pleated polka-dot midi skirt ($618), Middleton accessorized with white heels and her favorite blue floral face mask from Amaia, which retails for just $20.
Middleton, 39, also honored her children during Friday's engagement, pairing her white blouse with a personalized necklace from Daniella Draper ($1,400).
The special piece is inscribed with the initials of her three kids with husband Prince William: sons Prince George, 7, and Prince Louis, 3, and daughter Princess Charlotte, 6.
In addition to checking out the court, Middleton also arranged cakes for a cream tea in the Wingfield Kitchen and took in a new Maggie Hamblin portrait featuring UK tennis player Andy Murray.
Murray, who is set to play Friday against Canada's Denis Shapovalov, is the Cambridges' "unbiased" prediction to win this year's tournament.
"Unbiased to win it: @andy_murray and @EmmaRaducanu #Wimbledon," the Kensington Royal account tweeted Friday, with a nod to fellow British athlete, Emma Raducanu.
A courtside fixture, Middleton has enjoyed various Wimbledon matches over the years but was unable to attend in 2020, as the tournament was cancelled due to the COVID-19 pandemic.
Middleton's visit to Wimbledon comes one day after William, 39, and his brother, Prince Harry, unveiled a statue in honor of their late mother, Princess Diana, at Kensington Palace.
The royal siblings, whose relationship has been fractured in recent years, reunited on what would have been Diana, the Princess of Wales' 60th birthday.
Middleton did not attend Thursday's engagement — nor did Harry's wife Meghan Markle, who recently gave birth to daughter Lilibet Diana in California.
Harry, 36, and Markle, 39, moved stateside in 2020 after quitting the royal family.
Iris Law is showing off the "liberating" new chop she made by choice.
The 20-year-old daughter of Jude Law and Sadie Frost debuted a fresh buzz cut in British Vogue — part of her prep to play Soo Catwoman in "Pistol," FX's upcoming limited series about the Sex Pistols and London's punk scene.
"I wanted to do something that felt liberating. The day I shaved my head, I changed my life. I've never done anything like that before," Law shared.
After hairstylist Anthony Turner ridding the young star of her long locks, Law popped a bottle of Moët to celebrate.
"I looked in the mirror and thought it was going to be emotional but it wasn't. It felt so positive," she recalled.
Though her new 'do received mixed reactions from her inner circle, Law added, "I'm just so confident in it that I don't care." She unveiled the bold look in an Instagram post on Thursday, sharing photos and a video of the life-changing moment.
"The day has come!" the starlet — who's modeled for Dior and Miu Miu, among others — captioned her post. "So many wigs and secret hiding my head moments! Which only makes this day more special. Couldn't think of a better team to do it with!"
"Beautiful girl," commented Lila Moss, the daughter of Law's godmother Kate Moss. "I can get to stroke your head now more," joked Law's mom.
Law's "Pistol" co-star Maisie Williams and fashion designer Marc Jacobs also dropped approving emojis in the comments.
Law also told British Vogue that upon being cast in her debut acting role, she was initially worried it might call for a major chop, but that "when the wig became a possibility, I was almost disappointed that I didn't have to."
So the budding actress decided to fully commit to play punk icon Soo Catwoman, who's known for her distinct blond buzz cut with gelled-up, cat ear-like sides.
"I want to earn my position as an actress," Law said, reflecting what her father previously said about roles won through nepotism, "and I never want to do something in my life that I feel like I've been given because of where I came from. I think that'd be a disappointment to myself."
She's not bad, she's just posing that way.
Iggy Azalea covers the July 2021 of Harper's Bazaar Vietnam, channeling the sexy Jessica Rabbit.
The "Fancy" rapper, 31, showed off her curves in a red velvet Lia Stublla dress with attached gloves, finishing the look with fiery red hair and matching lipstick.
The color must be a favorite of the star's, as she wore a nearly identical shade (and debuted her strawberry 'do) last month to celebrate her 30th birthday.
Inside the pages of the magazine, Azalea also wears a dramatic zebra-printed Pajtim Raci coat and multiple sultry little black dresses from Abyss by Abby, Dolce & Gabbana and Jean Paul Gaultier.
Azalea loves to make major statements with her style; she previously wore the same Pepsi-inspired crop top made famous by Britney Spears, and often pulls out all the stops with her elaborate Halloween costumes.
"If I have a chance, I will do my hair and makeup properly and professionally every day of my life. Not because I like vanity, but I want to be transformed into different personalities," she told the magazine.
True to form, on Friday, she released a new music video for her song "I Am the Stripclub," in which she wears a long black wig and the same hypnotic Jean Paul Gaultier look previously worn by Kim Kardashian, Lizzo and Bebe Rexha.
The latest Hollywood beauty trend has all eyes on stars' brows.
In sharp contrast to the bushier arches that have long been in fashion, celebrities like Kim Kardashian and Maisie Williams are bleaching their way to barely-there brows.
Lizzo was the most recent A-lister to experiment with a dramatic dye job, enlisting makeup artist Alexx Mayo to transform her eyebrows earlier this week.
"We constantly have this 'parking lot' of ideas and this was something I have been wanting to do for a while," Mayo told Page Six Style of the "Truth Hurts" singer, who paired her pale arches with a matching platinum pixie cut.
"A few days before, I found this image of a '90s supermodel … I showed it to her and she loved it, so I told her, 'I think it's time.'"
Mayo used L'Oréal Quick Blue bleach ($5.39) and Salon Care 10 Volume Creme Developer ($2.69) to achieve the transformation, which took 20 minutes to process.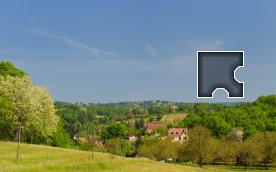 When it came time to take in her new look, the pop star couldn't believe her eyes — or her brows.
"Her first reaction was, 'WOW! I have no brows!,'" joked Mayo, adding that the star "immediately felt very editorial."
Lizzo isn't alone in dabbling with almost-invisible arches, as Katy Perry experimented with the ethereal look in May to complete her Tinker Bell costume on "American Idol."
As with most beauty trends, Kim Kardashian was also among the first to try the treatment. The reality star, 40, sported blond brows for a recent Skims campaign, surrounded by models sporting the same shocking look.
Although the eye-catching choice is often seen as highbrow — with stars like Taylor Hill, Kristen Stewart and Hailey Baldwin previously trying it out for fashion shows — Maisie Williams is rocking the lighter look full-time. She debuted the pale blond hue at the 2021 Brit Awards, and has yet to switch back to her natural brunette brows.
"In beauty, I think we are getting to a point of self-expression and blurring the lines of the standards of beauty," Mayo said of the "daring" style's growing appeal among A-listers. "It's a bold statement."
The drama-filled trend previously raised eyebrows in 2016, when the Met Gala theme "Manus x Machina: Fashion in An Age of Technology" inspired several stars to reach for the bleach.
Perry and Kardashian really seem to see eyebrow to eyebrow on the style: They joined Lily Aldridge in sporting platinum-hued brows at the futuristic fête — perhaps foreshadowing a new age of brow transformations in 2021.
If you're thinking about trying the trend this time around, Mayo warned us that things could get hairy.
"I wouldn't recommend doing it multiple times, and [instead] allowing the hairs to grow completely out before processing again," he explained.
But while the platinum dye job is a big style shakeup, it pairs perfectly with a range of equally bold makeup looks.
"When you soften such a dominant feature on the face, it really opens a new perspective," Mayo said, adding that he loves combining "more graphic or smokey looks" with bleached brows.
"The point of this was to be experimental," he added. "And with this new perspective, the limit does not exist."
Just call her Madame Ovary.
Kim Kardashian boldly tested the limits of the Vatican's dress code earlier this week, showing up for a tour of the sacred site in a sheer, off-the-shoulder white lace Barragán dress ($439) with curiously placed cutouts atop her pelvis.
And the Skims founder isn't the only star who's been showing off slivers of hip recently.
The day before Kardashian's scantily clad visit to the home of the pope, Bella Hadid stepped out in Paris wearing some truly puzzling I.Am.Gia pants ($80), whose duo of teardrop-shaped cutouts were bound together beneath her belly button with a silver O-ring.
Other celebs playing peekaboo with their pelvises include Vanessa Hudgens — whose Cult Gaia dress ($630) at an April hotel opening was more like a crop top-and-skirt combo tethered by chains — as well as Dua Lipa and Alessandra Ambrosio, both of whom have modeled the same multi-cutout gown by Monot ($1,430) in recent months. (Lipa even teamed hers with an exposed thong for added impact.)
Kendall Jenner, meanwhile, showed off a haute take on the hot trend in Versace's Spring 2021 campaign, posing in an embellished bustier and slinky asymmetrical cutout midi skirt ($795) that dangled precariously from her pelvic bones.
Of course, no skin-baring trend would be complete with Rihanna weighing in — and that she did in May, dining at Nobu in a white knit bra and matching Maximilian miniskirt ($820) with sexy slashes.
After a year spent sequestered at home in sweatpants, the celebrity set is baring all in a big way. From the single-buttoned tops recently sported by Kim Kardashian and Kendall Jenner to the bursting-at-the-seams styles endorsed by Lipa and Kylie Jenner, skin's never been more in.
And with the long-threatened return of low-rise jeans seemingly upon us at last — at least according to Irina Shayk, who flashed her hips in a corset and baggy denim earlier this month — this particular trend seems a natural next step.
But ovary cutouts? We're already over it.
Joan Rivers had an especially unique morning routine to get ready for her red carpet roasts on "Fashion Police."
According to former co-host Margaret Cho, the late, great comedian sipped on wine instead of coffee to get her day started.
"She would take her giant Starbucks cup and then empty it, and fill it with Chardonnay. And just drink her Chardonnay out of her Starbucks cup, which I thought was genius," Cho, 52, revealed on the "People in the '90s" podcast this week.
She also shared that "Fashion Police" shot at "really weird" hours — and that when she showed up at 4 a.m. to film, Rivers "would already be there."
Cho described working alongside her mentor Rivers, who died at age 81 in 2014, as some of her "favorite times."
"She loved doing 'Fashion Police' and she was really excited about it," she recalled.
Cho said she first met Rivers at an awards dinner in the '90s, shortly after the comedian had launched a new jewelry line with QVC. When offered pieces from the collection, Cho responded that she didn't wear jewelry — sparking a two-year period of iciness between the pair, she recalled.
Cho also reflected on how co-host Giuliana Rancic's harmful joke about Zendaya's dreadlocks at the 2015 Oscars changed how "Fashion Police" covered the red carpet.
At the time, Rancic said the traditional African hairstyle made the "Euphoria" star look like she "smells like patchouli oil or weed."
Zendaya responded to the remarks, calling them "outrageously offensive," and the fashion critic publicly apologized.
"We had to really look at what we're saying about the person. We changed the way that we did our reporting around fashion to having a moment where [we said], this is actually somebody's personality that you're judging as opposed to their outfit," Cho said.
"It was hard to justify 'roasting,' but roasting you have to be a lot more thoughtful. To me, fashion is just funny and fun, but people can be very hurt by it, too."
MEGA/BACKGIRD; MEGA/BACKGRID
When in Rome, cover up.
On Monday, Kim Kardashian toured Vatican City in style with supermodel Kate Moss and her 18-year old daughter, Lila Grace.
Always one to turn heads, the 40-year-old fashion mogul wore a sheer, off-the-shoulder white lace Barragán dress with sexy hip cutouts.
Her outfit was met with criticism from fans and foes alike, with many claiming the A-lister had no respect for the religious site's strict dress code.
The Vatican prohibits low-cut and sleeveless clothing, two rules that Kardashian appeared to break.
But the reality star took to Instagram Thursday to assure fans that she "adhered to the dress code and fully covered up while inside St. Peter's Basilica and the Sistine Chapel."
As a show of respect, Kardashian layered a long leather coat over her curve-hugging gown while inside the holy venue.
The post included photos of the superstar and her friends inside the Basilica and various chapels, which draw millions of tourists per year. Along with 47-year-old Moss and her daughter, Kardashian's hairstylist Chris Appleton joined for the tour, as did her makeup artist, Mario Dedivanovic.
While Moss opted to keep her satin jacket on throughout the visit, the Skims founder shed her coat once the pair stepped out onto the Basilica's terrace.
In the lengthy caption, Kardashian reflected on the visit: "We had the most incredible experience touring Vatican City @vaticanmuseums. It was amazing to be able to view all of the iconic art, architecture and ancient Roman sculptures in person, especially Michelangelo's works."
Added the star, "We even had an opportunity to view their private archive of robes worn by every pope in history, dating back to the 1500's."
Earlier this week, paparazzi photos of Kardashian's daring dress set social media ablaze.
"Kimmy, have you no decency? We understand you are decorum absent, but must you find it necessary to parade your assets in this manner at the VATICAN? Disrespectful…," one person tweeted.
"Uh I had to buy a scarf to go into the Vatican to cover my shoulders because I had a sleeveless shirt on. There is no way they let her in the Vatican without her shoulders covered," another added.
Clearly, while Kardashian has no plans to abandon her signature sexy style, she's also committed to following the rules.
Fashion's finest — and the fiercest faux diva — fêted Vera Wang on her 72nd birthday.
The legendary designer's pals Donna Karan, Calvin Klein, Bridget Foley and Alina Cho were among sixty guests who showed up for her intimate birthday bash at The Jimmy in Soho on Tuesday night. But the biggest surprise was Cher's number-one impersonator: Steven Andrade from "Screaming Queens."
"He's the best impersonator on the East Coast. He's even performed for Cher multiple times and Vera is a huge Cher fan. She's even dressed as her for Halloween. She was so surprised and did not expect it," an insider told Page Six.
The impersonator changed costumes and performed as the singer from different eras while lip-synching "If I Could Turn Back Time" and "Believe" from the '80s and '90s.
We're told Wang was aware of the birthday party, but she did not know the specifics. The senior sex symbol arrived to the venue and, "It was literally like walking into a club. Everyone was dancing, drinking, eating food and having a great time," another guest said.
A model, dressed as Marie Antoinette, served Wang's new Vera Wang Prosecco from atop her generously skirted medieval gown. "It was like a moving table," the source said.
The venue brought out a birthday cake shaped as an ice bucket with Wang's Chopin vodka and Party Prosecco bottles in it. Wang, who looked literally radiant in a neon dress, blew out the candles as the crowd sang Stevie Wonder's version of "Happy Birthday."
Wang's actual birthday was on Sunday, but she wanted to celebrate and close out Pride Month at the same time, according to the insider.
Meghan McCain is putting in one last request before leaving "The View."
On Thursday, the talk show host announced that her fourth and final season on the ABC talk show will come to an end later this month.
The 36-year-old said that she plans to live full-time in Washington, DC — where she, husband Ben Domenech and their baby girl Liberty spent much of their time during the pandemic, though "The View" films in New York.
Before the end of Thursday's episode, McCain put in one last request for her going-away gift: a pair of bedazzled Crocs, designed by co-host Sunny Hostin.
Hostin showed off multiple pairs of platform Crocs she'd customized with glitter, jewels and Chanel-inspired Jibbitz during the show, saying, "People think Crocs are ugly? Not if you bedazzle them, they're not. Not if you hook them up; they are quite cute."
"It's beautiful," McCain said after putting in a request for a black pair. "I actually like those!"
The news of her departure comes shortly after Page Six revealed that ABC had pleaded with McCain to stay on the show — and even offered her a different gig at the network.
Perhaps the host would reconsider if the network were able to provide her with limited-edition clog designs from the likes of Justin Bieber or Post Malone.
Beyoncé's onstage pregnancy reveal at the 2011 VMAs was an unforgettable moment in pop culture history — but it created some "stressful" moments for the superstar's mom.
Tina Knowles-Lawson, who famously designed performance outfits for her daughter (and her Destiny's Child bandmates) for years, opened up about the fashion feat on Instagram Wednesday.
"Well this was a stressful night, at least it began that way!!!," the stylish matriarch, 67, began her lengthy caption.
"Two hours before the performance we realized that the pants that I had gotten made were too tight and uncomfortable; the panel that I had put in them was not stretchy enough."
With no time to spare, Mama Tina headed to the nearest maternity store.
"Two hours before the performance I was at A Pea in the Pod," she continued. "I bought two sizes in maternity pants but wound up taking the panel off of one of them and putting it in the ones that I had made!"
Luckily, the last-minute DIY worked flawlessly.
"When she opened that jacket and showed her stomach it was the biggest relief ever," Knowles-Lawson recalled.
"We didn't have to keep the secret anymore. I didn't have to design with the first priority being to camouflage the growing belly! … It was the best feeling in the world to [see] her show the whole world that tummy."
To belt out "Love On Top" at the VMAs a decade ago — and show everyone she was pregnant with daughter Blue Ivy — Beyoncé paired the stretchy pants with a purple sequined Dolce & Gabbana blazer, a white button-down shirt and platform heels.
Commenters were in awe of Knowles-Lawson's story: "Creator of surprise pregnancies!!!" one fan quipped, while another wrote, "I loooveee the BTS commentary Mama Tina keep it coming."
"One of the most iconic nights in music history. I remember this vividly," a third added.
Knowles-Lawson also recently shared a fun fact about the purple-and-green Versace dress Beyoncé wore to perform "Crazy in Love" at the 2003 BET Awards: She hacked off the look's long hemline herself.
The fashion moment came full circle on the red carpet at Sunday's 2021 BET Awards, when Zendaya turned heads in the same dress (in original gown form).