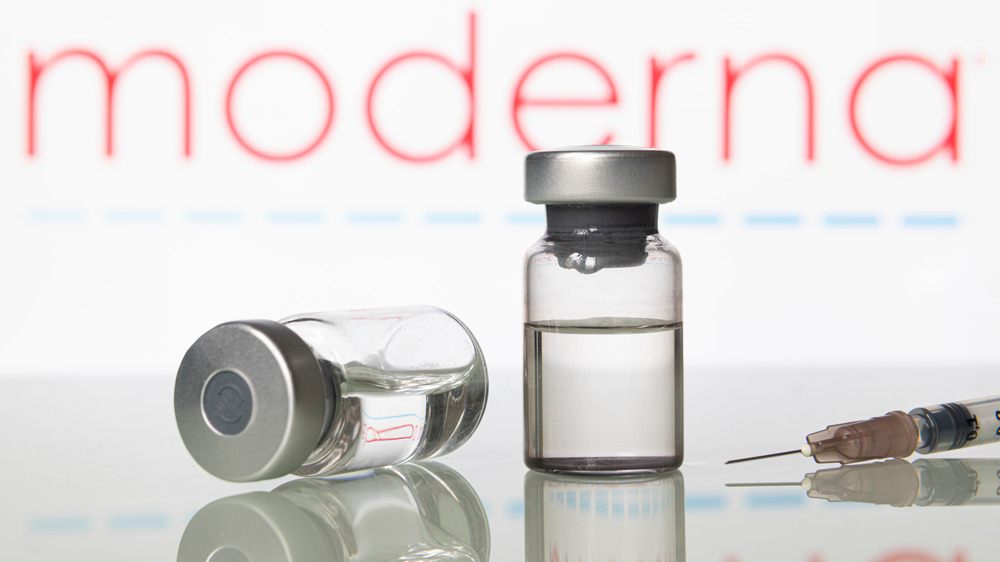 Congratulations! You've made the monumental decision to get vaccinated against COVID-19. That's a fine choice, public health experts would undoubtedly agree. It is also very much in keeping with President Joseph R. Biden's goal of "200 million shots by day 100" of his administration, which helps ensure the United States can celebrate Independence Day in a way that is far "closer to normal" (via The White House).
"Eligibility for the COVID-19 vaccine has rapidly expanded in recent weeks," NPR confirmed in early April 2021. If you've already scheduled your vaccination appointment, you may have found out which vaccine you're slated to receive. Although the CDC confirms that "all currently authorized and recommended COVID-19 vaccines are safe and effective" and "does not recommend one vaccine over another," there are some differences in the vaccines available. If you are getting Moderna's COVID-19 vaccine, here's just what you can expect to happen to you.
This is how long your Moderna COVID-19 vaccine appointment may take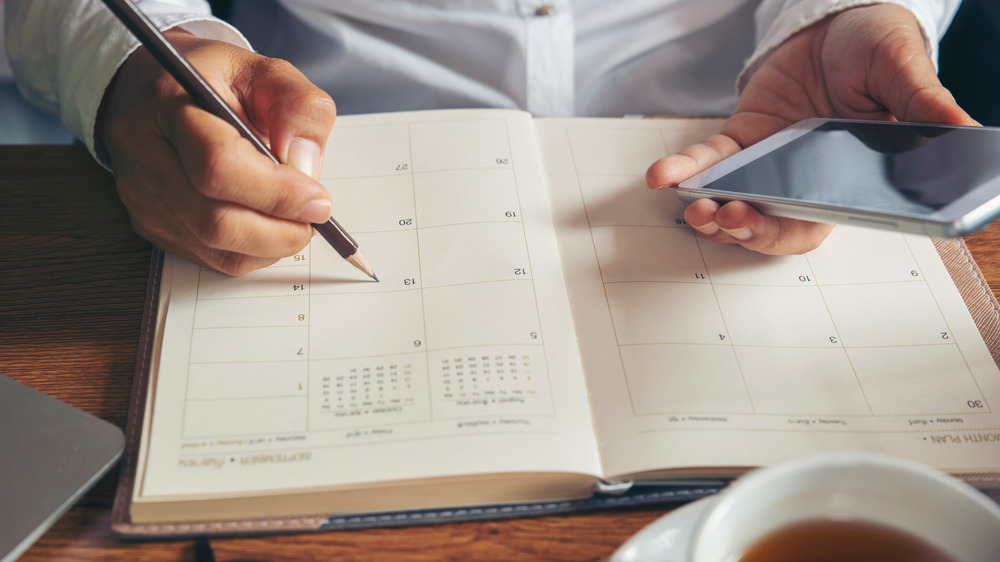 It takes mere seconds to administer the COVID-19 vaccine, but when you are scheduling your vaccine appointment, you'll want to budget a minimum of 30 minutes for it. Pulmonologist Jafar Abunasser said when he got the vaccine, it took less than a half-hour, including wait time and post-vaccine observation time (via Cleveland Clinic).
Of course, it's impossible to know how many people were in line ahead of Dr. Abunasser or how efficiently the clinic where he received his vaccination was operating that day. Also, although all FDA-authorized COVID-19 vaccines are given free of charge in the U.S. — having been paid for by the federal government — vaccine centers reserve the right to ask for your insurance information so they can be compensated (via The Washington Post). If the clinic where you will be getting your vaccine is taking insurance information, the process may take slightly longer.
In addition, if you have any drug allergies, you should probably budget at least 15 extra minutes because your vaccine clinic may wish to extend your post-injection observation time to 30 minutes (via Johns Hopkins Medicine).
Immediately after your first dose of the Moderna vaccine, your body will begin manufacturing an immune response to COVID-19
The Moderna vaccine is what's known as an "mRNA" vaccine. MRNA vaccines are a new type of vaccine that works by teaching our immune cells to make a harmless piece of protein known as "spike protein," which is found on the surface of the coronavirus that causes COVID-19, according to the Centers for Disease Control and Prevention (CDC).
Our immune systems immediately recognize that this new piece of protein shouldn't be there and gets to work building an immune response by making antibodies. This is what your body would do if you actually caught COVID-19, except you are not catching COVID-19. And that's the whole point.
"At the end of the process, our bodies have learned how to protect against future infection," the CDC explains. "The benefit of mRNA vaccines, like all vaccines, is those vaccinated gain this protection without ever having to risk the serious consequences of getting sick with COVID-19."
Your first dose of the Moderna COVID-19 vaccine will give you a great deal of protection
A CDC study released on March 29, 2021 demonstrated in a real-world setting that within two weeks of receiving the first dose of Moderna's COVID-19 vaccine, the risk of COVID-19 infection is lowered by 80 percent. These results "validate earlier studies that had indicated the vaccines begin to work soon after a first dose," according Reuters.
The study, which also evaluated the effectiveness of Pfizer's COVID-19 vaccine, followed nearly 4,000 people across six different states for a total of 13 weeks. These people included health care personnel, first responders, and other essential workers, all of whom are "more likely" than members of the general population to be exposed to COVID-19 as a result of their occupations, per the CDC.
The CDC was able to conclude that two weeks after receiving the first dose of Moderna's vaccine, people are "partially vaccinated." While that's great, of course, experts urge everyone to get "fully vaccinated." As Baptist Health put it, "Receiving a first shot and not a second shot essentially wastes a vaccination opportunity" — not to mention supplies.
After receiving the second dose of the Moderna vaccine, your risk of getting COVID-19 lowers an additional 10 percent
A March 2021 study by the CDC confirmed that within two weeks of receiving your second dose of Moderna's COVID-19 vaccine, your risk of getting COVID-19 drops by 90 percent. The study, which also evaluated the effectiveness of Pfizer's vaccine against COVID-19, followed 3,950 health care workers, first responders, and other essential workers. The two-week waiting period is due to the length of time the body needs in order to create the necessary antibodies against infection.
"This study shows that our national vaccination efforts are working," Rochelle P. Walensky, CDC director, explained. "These findings should offer hope to the millions of Americans receiving COVID-19 vaccines each day and to those who will have the opportunity to roll up their sleeves and get vaccinated in the weeks ahead. The authorized vaccines are the key tool that will help bring an end to this devastating pandemic."
You may experience side effects within a couple days of getting the Moderna COVID-19 vaccine
You might want to think twice about making celebratory plans for the night after you receive either of your two doses of Moderna's COVID-19 vaccine. This is because some of the more common side effects, which include fatigue, headache, and muscle aches, tend to set in pretty quickly after the jab (whether the first or second). According to the CDC, "the median onset of systemic reactions was 1 to 2 days after either dose." Less common systemic reactions include joint pain, fever, chills, nausea, and vomiting.
Side effects of the Moderna COVID-19 vaccine tend to be worse after the second dose compared to the first. However, for all systemic reactions, the median duration is between two to three days, which is not even in the same ballpark as the average duration of COVID-19 symptoms (via Johns Hopkins Medicine). And rest assured that when you experience side effects, you're feeling your immune system learning how to fight COVID-19 (via CDC).
You'll more than likely experience this side effect after receiving the Moderna COVID-19 vaccine
Some people say that getting the COVID-19 vaccine is a real "shot in the arm," but for those who have gotten Moderna's COVID-19 vaccine, this may have yet another meaning. In fact, for Moderna vaccine recipients, the feeling of being socked in the arm is almost a near certainty.
According to Moderna's "What To Expect Card," which vaccine centers hand out to Moderna vaccine recipients, over 90 percent (92 percent, to be exact) of all people who get the Moderna vaccine experience some level of arm pain as a side effect. This sort of side effect is known as a "local reaction," according to the CDC. In addition, another 14.7 percent of Moderna vaccine recipients have reported "swelling at the injection site." Another 10 percent have reported a localized rash. This rash may have a delayed onset, and has been termed "COVID arm" or "Moderna arm." Additionally, nearly 20 percent (19.8 percent) have reported swelling or tenderness in the armpit.
But as Dr. Francisco Albert, Lexington Medical Center hospitalist, told WIS News 10, "I think we have to realize that a little bit of inconvenience for a day or two far outweighs the benefits of returning to a life of normalcy and really mitigating the number of deaths that we're seeing."
Here's what you can do about any other side effects you may have after getting Moderna's COVID-19 vaccine
After you receive either the first or second dose of the Moderna COVID-19 vaccine, you're likely going to feel it in some way, whether a sore arm or malaise or other effects identified on Moderna's "What to Expect Card." Nevertheless, you might not actually mind all that much. That is, after you consider that the side effects are your body's way of saying your immune system is stockpiling its ammunition in the event it's confronted with the SARS-CoV-2 virus (via CDC).
That said, the CDC condones the taking of "ibuprofen, acetaminophen, aspirin, or antihistamines" to relieve post-vaccination side effects, as long as you have no other medical reasons that prevent you from taking these medications normally. Just be sure to take it after, and not before, your vaccination, the CDC cautions. This is because, as the CDC explained, it's "not known how these medications might affect how well the vaccine works."
To reduce local pain and discomfort, you can also use a cool compress, and it also may help to move or exercise your arm. To relieve symptoms of malaise, it can help to stay hydrated (via CDC).
You may not experience any side effects, but don't assume the Moderna vaccine isn't working
By now, you have probably heard it said again and again that the presence of side effects means your COVID-19 vaccine is working. Is it true? Yes, says the CDC, it is. But is the converse also true? In other words, if you don't experience side effects after receiving the Moderna vaccine, should you be concerned that the vaccine isn't working? No, definitely not, according to multiple experts (via Healthline).
"[Public health] messaging didn't address those who didn't have side effects, leading some to wonder if they were also protected," Brian Castrucci, an epidemiologist and president of the public health nonprofit de Beaumont Foundation, told Healthline. However, he continued, "When you look at the [Pfizer and Moderna] trial data, a little more than half of the participants didn't have any side effects but they were still more than 90 percent protected after receiving the vaccine."
While it's common to experience side effects, that doesn't mean it's necessarily uncommon to experience no side effects after receiving your shots. "Either way, just like the trial participants, you can expect to be protected from the virus," the epidemiologist confirmed.
You may still be able to transmit the coronavirus after getting your Moderna vaccine
After you get the Moderna vaccine, your chances of developing COVID-19 will be significantly reduced, according to the CDC, which pointed out that "COVID-19 vaccines are effective at protecting you from getting sick." What they may not be able to do, however, is prevent you from catching and then transmitting the novel coronavirus that causes the disease known as COVID-19. That virus, SARS-CoV-2, is distinct from the illness it causes, COVID-19. It's important to understand the distinction because it helps explain why even after many have gotten the COVID-19 vaccine, masking and social distancing are still being recommended by public health experts.
"The clinical trials demonstrated that these vaccines protect people against disease," Dr. Katherine O'Brien, epidemiologist and vaccinologist, explained in a video for the World Health Organization. "What we don't know yet from the clinical trials is whether or not the vaccines also protect people from just getting infected with the SARS-CoV-2 virus and whether or not it protects against transmitting to somebody else."
After you've been fully vaccinated, you can visit other people who've been fully vaccinated in a private setting sans masks, according to the CDC. However, you should not "visit indoors, without a mask, with people at increased risk for severe illness from COVID-19" nor "attend medium or large gatherings."
After you get Moderna's COVID-19 vaccine, you may have some surprising feelings
You may feel a spring in your step as you walk out of the clinic after getting the Moderna COVID-19 vaccine. Mixed in with that feeling, you may also feel "survivor's guilt," since many people have died of COVID-19 (via NBC News). Although this feeling is natural, please know that your decision to get vaccinated is contributing to the herd immunity that will halt the pandemic and ultimately save lives.
It's also possible you may feel a bit complacent after the initial elation wears off and you realize it's going to take time before we can remove our masks for good and stop social distancing. "With vaccines, there's hope," President Joe Biden confirmed in a March 29, 2021 statement (via The White House). But it's not the time to let up on precautions, he added. "If we let our guard down now, we could see a virus getting worse, not better."
CDC director Dr. Rochelle Walensky shared a similar message. "We are just almost there, but not quite yet," she explained. "And so I'm asking you to just hold on a little longer to get vaccinated when you can — so that all of those people that we all love will still be here when this pandemic ends" (via WBUR News).
There's a slim chance you could contract COVID-19 after receiving the Moderna vaccine
"Our progress on vaccination is a stunning example that there is nothing — nothing this country cannot do if we put our minds to it and we do it together," President Joe Biden stated on March 29, 2021 (via The White House). And as The Washington Post reported on April 8, 2021, roughly 20 percent of Americans have been fully vaccinated. This is great news, to be sure. However, you may be wondering if these 66 million people can still contract COVID-19 despite being vaccinated.
As of this writing, no vaccine against COVID-19 is 100 percent effective. That said, the Moderna vaccine comes incredibly close at 94.1 percent, and that's pretty much as good as it gets. In addition, there is reason to believe that Moderna's vaccine greatly helps to minimize the risk of developing severe COVID-19 should one become infected (via FDA).
If you test positive for COVID-19 after getting the Moderna vaccine, it does not mean the vaccine gave it to you
Moderna's COVID-19 vaccine is highly effective at preventing COVID-19 (via CDC). But if you happen to get COVID-19 after being vaccinated, should you assume you got it from the vaccine? No, that's actually impossible as no live virus is used in any FDA-authorized COVID-19 vaccines, including the Moderna vaccine (via Mayo Clinic).
If you do test positive right after being vaccinated, "you might have been infected before you even got your shot," according to Healthline. In fact, that happened during clinical trials; people who were unwittingly exposed to COVID-19 before receiving their vaccines ended up testing positive for COVID-19 post-injection, infectious disease specialist Dr. William Schaffner told Healthline.
In addition, there is also lag time between receiving each shot and achieving the full immunity it can confer. That, of course, is a really excellent reason to get that second shot. In fact, pulmonologist Jafar Abunasser told the Cleveland Clinic that testing positive a few days after receiving your first dose should not prevent you from going back and getting your second dose, as long as you were not treated with Regeneron's monoclonal antibody drug and as long as your symptoms have gone away by your second appointment.
The Moderna COVID-19 vaccine protects your body from a number of variants
When the COVID-19 vaccines were first being developed, the novel coronavirus had a specific genetic code, and the mRNA vaccines were designed to address that code (via Prevention). That code has since mutated. As of March 30, 2021, though, Moderna's COVID-19 vaccine has proven effective against three of the variants to varying degrees, according to WebMD.
However, until the coronavirus that causes COVID-19 has been defanged through herd immunity, we can expect variants to continue cropping up, according to Norman Baylor, a former director of the FDA's Office of Vaccines Research and Review (via JAMA). And so the question becomes: Will the existence of more variants mean that COVID-19 vaccines will be rendered less effective? Scientists are addressing this possibility with further research, and Moderna announced in early April 2021 that it expects to have a booster shot to address new variants by the end of 2021 (via Reuters).
You could be mostly immune to COVID-19 for months or even years after getting the Moderna vaccine
One of the-unknowns about the COVID-19 vaccines, including Moderna's vaccine, is how long the immunity it confers against COVID-19 should be expected to last. As of this writing, experts can reasonably estimate immunity will last for at least three months, which is the length of time that has been studied in clinical trials thus far (via The Washington Post). Of course, it is hoped that immunity will last much longer, and some experts have reason to believe that it will (via Verywell Health).
For example, Dr. Anthony Fauci, the United States' leading expert on infectious diseases, told CNBC that antibodies can last anywhere from six months to even several years. "There are also other forms of immunity that kick in, like T-cells, that may help with more extended immunity, but that is currently being studied," CNBC noted.
Starting in July 2021, Moderna will be trialing an extra shot (known as a booster). "The booster-shot study aims to assess the safety of an extra shot given a year after the second dose and the additional immune response it elicits," FDA News revealed.