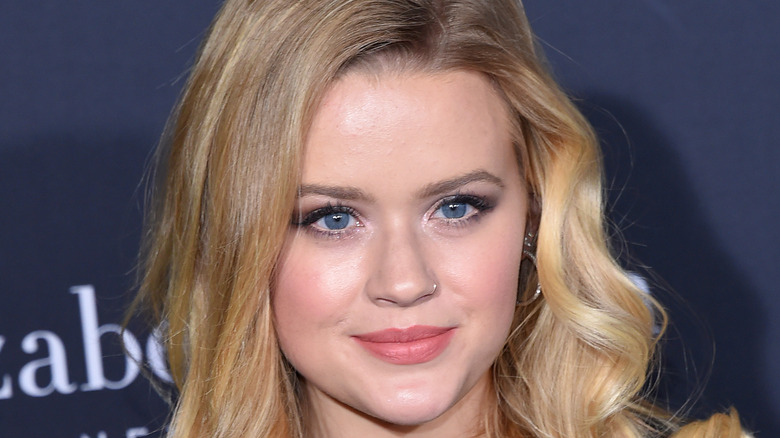 Ava Phillippe, the daughter of "Cruel Intentions" co-stars Reese Witherspoon and Ryan Phillippe, could have easily followed in the footsteps of her famous parents by pursuing a career in Hollywood. However, she's chosen to forge her own path.
Ava Elizabeth Phillippe was born on September 9, 1999, three months after her parents tied the knot. During a 2008 appearance on "The Tonight Show with Jay Leno," Ryan shared the Old Hollywood inspiration for his daughter's palindromic name. "My daughter's name is Ava … [like] Ava Gardner, because to me she was the only woman who could break Sinatra. So the idea of that name to me is very classy and strong," he said, per People. Her middle name is a tribute to Witherspoon's mother Betty.
During an interview with Cinema, Reese revealed that her pregnancy with Ava was unplanned, and it's what made her and Ryan decide to get married. She confessed that she wasn't totally prepared for motherhood at age 23. "Suddenly I was faced with the prospect of becoming a mother and I had never even held a newborn in my arms before!" she said. Luckily, Ryan was a hands-on dad, and the young parents raised an incredible daughter who has led an interesting, enviable life.
Ava Phillippe joined Reese Witherspoon on the Legally Blonde set as a baby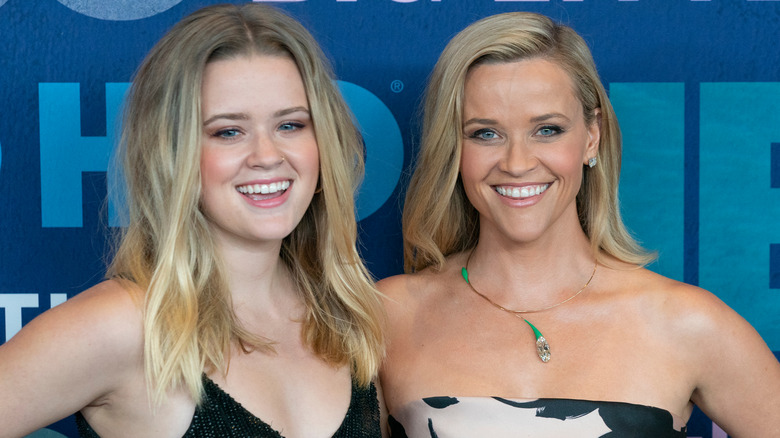 Ava Phillippe got her first taste of what working in Hollywood is like when she was still in diapers. Just six months after her daughter was born, Reese Witherspoon went to work playing "Legally Blonde" heroine Elle Woods, a sorority girl whose focus was on college and her love life, not motherhood. Witherspoon told Vogue that she has photos of Phillippe as a baby on the set of "Legally Blonde," but her daughter couldn't always join her at work. While speaking to Cinema, she revealed that Phillippe was "sick quite often during the shoot," and long nights caring for the infant made it difficult for Witherspoon to play a "bubbly and energetic" character. "Some nights Ava would wake up screaming because she had the flu and I would spend most of the night trying to rock her back to sleep and then have to be on the set at 7 in the morning for make-up!" she recalled.
Witherspoon said she was worried that she was "never going to make it" through the shoot, but she persevered and created an enduring romcom that her daughter would grow up to be a fan of. In 2019, Phillippe told InStyle that she wished her mother had saved a specific outfit from the movie to pass down to her. "There is a pink halter dress my mom wore on a date in 'Legally Blonde' that I think is so fun and cute," she said.
Ava Phillippe gives her mom makeup advice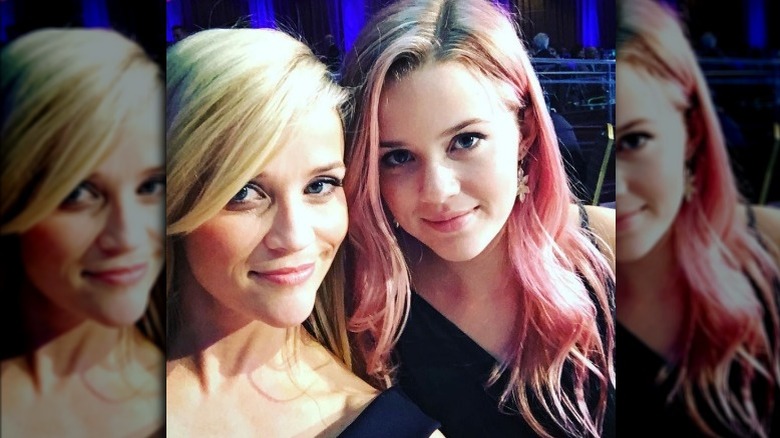 Ava Phillippe might not have any of Reese Witherspoon's iconic "Legally Blonde" outfits, but she can thank her mom for providing her with her pick of stylish apparel to borrow. "She's really generous with her closet, and I've borrowed everything from socks to fancy dresses from her," Phillippe told InStyle. So how does one return such a priceless fashion favor? By sharing expert beauty advice, of course.
Reese Witherspoon might have the goods when it comes to designer garb, but she has admitted that her daughter is more knowledgeable about makeup. "I learn a lot from my daughter [about makeup]," Witherspoon told People in 2019. "Her understanding of how to apply it is so extensive." She revealed that Phillippe learned the art of makeup application by watching YouTube videos, and she's become so skilled that Witherspoon sometimes asks her to help her with her eyeshadow. The proud mom also boasted that her daughter was just 17 years old when she became talented enough to execute "a beautiful red carpet look."
During a 2016 interview with Us Weekly, Witherspoon confessed that Phillippe is "so much cooler" than her when it comes to her sense of style, but this isn't necessarily a bad thing. "We try to kind of confer about new styles," she said. "She tells me whether or not I can wear things."
Ava Phillippe was mistaken for her mother at an event
Much ado has been made about how much Ava Phillippe resembles her mother. Ava has been described as Reese Witherspoon's "lookalike daughter" and her "twin," and their appearances are so similar that Ava has been mistaken for her mom. "I had a premiere for that movie 'Sing!' over Christmas, and the head of the studio went up to Ava and congratulated her on the movie," Witherspoon told Entertainment Tonight in 2017. There are certainly things far worse than being mistaken for a beloved Oscar winner, but apparently, Ava doesn't always like twinning with her mom. In a 2020 Instagram post, Witherspoon wrote that she "had to beg her to wear a matching Holiday sweater" for a cute Christmas photo.
In 2017, Ryan Phillippe told ET that he finds it "weird" that people are so obsessed with how much Ava looks like her mom. He revealed that the comparisons make him want to remind people that his daughter's features are still unique to her. "I feel like saying, 'She has her own face,'" he said. "Let her have her own face, you know." Luckily, Ava has devised one way to differentiate herself from her mom. They usually rock nearly identical blonde locks, but Ava has experimented with funky hair colors like pink, blue, and even neon rainbow highlights. She's also teamed up with the brand Hally to create her own purple hair dye in a shade called Ava-Lanche (via InStyle).
Why Ava Phillippe was wished a Happy Mother's Day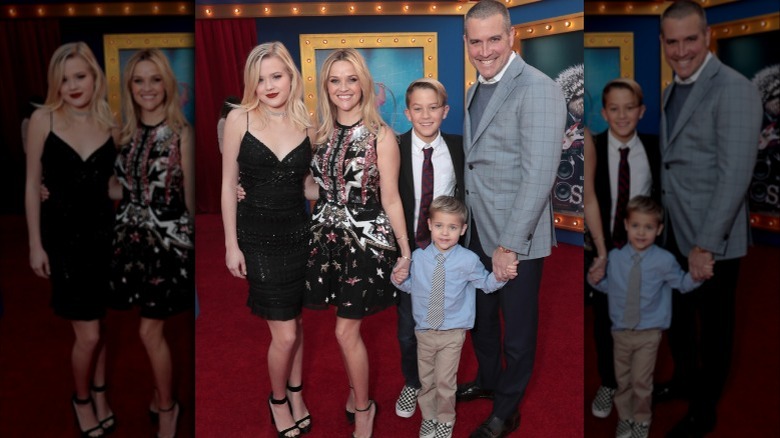 Ava Phillippe's siblings probably don't mistake her for Reese Witherspoon, but her younger half-brother, Tennessee Toth, does view Phillippe as his "other mother." "I think sometimes he even gets confused—he told Ava 'Happy Mother's Day!'" Witherspoon recalled to Southern Living in 2017. It wasn't the only time she spoke about Ava acting like a parent to her younger siblings, who also include Witherspoon and Ryan Phillippe's second child Deacon and Ryan's daughter Kai, whom he shares with ex-girlfriend Alexis Knapp. During a 2015 appearance on "The Today Show," the "Big Little Lies" star said that Ava and Deacon were both helping her take care of Tennessee because they were "so in love with their baby brother."
Ava began acting maternal when she was just a child. During a 2005 appearance on "Late Night with Conan O'Brien," Witherspoon revealed that Ava already had her motherly scold down pat. She recalled what Ava said to get Deacon to behave when he threw a temper tantrum because he didn't want his mom to leave their hotel: "Deacon, Mommy has to go to work so she can make money so she can pay the bills so you can keep your pillow & your blanket!" Ava learned her parenting skills from the best. In her 2021 Mother's Day tribute to Witherspoon, she described her mom as her "best friend, role model, cheerleader, confidante, and so much more."
Ava Phillippe was her mother's maid of honor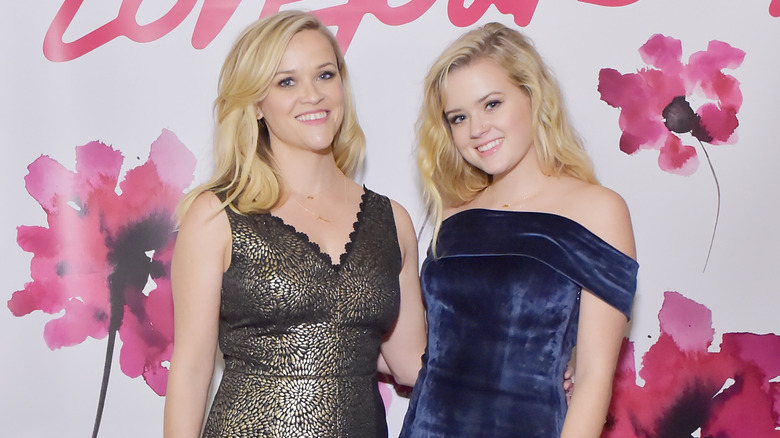 Reese Witherspoon and Ryan Phillippe finalized their divorce in 2007. Witherspoon remarried in 2011, and she later told Marie Claire that she felt "so much relief" after tying the knot with talent agent Jim Toth. She confessed that she didn't realize just how stressed out she was as a single parent until her kids gained a stepfather. Ava was 11 years old at the time, and the tween showed her support for her mother's union by serving as her maid of honor, per HELLO!. During an appearance on "Live with Regis and Kelly," Witherspoon revealed that her daughter also helped her pick out her wedding gown (via The Hollywood Reporter). They both wore designs by Monique Lhuillier.
Witherspoon told Marie Claire that a friend warned her that she would never find a man who would be okay with her having kids, which she described as "the most horrifying thing someone has ever said to me in my entire life." However, instead of giving up on love, she became dead set on proving her pal wrong, and she did exactly that. "I got very lucky, and he's wonderful," she said of Toth. "And so wonderful with the children. I'm very blessed."
Ava Phillippe bonded with Jake Gyllenhaal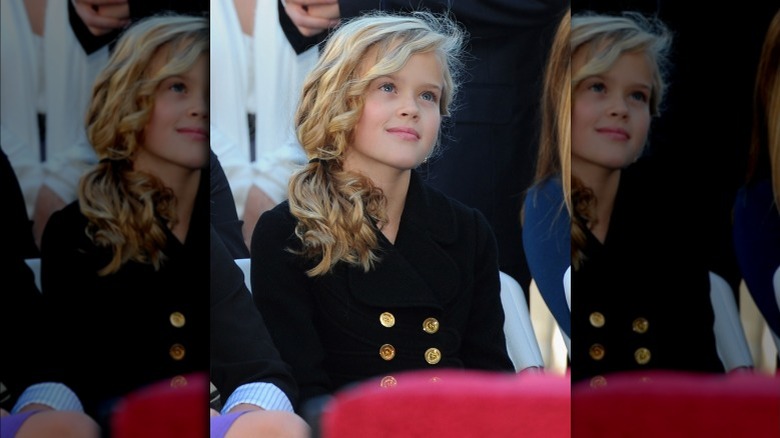 Ava Phillippe occasionally attends the glitzy and glamorous Hollywood events that her parents get invited to, but it's unlikely that she gets too starstruck, considering celebrities have been a part of her day-to-day life for years. And let's also not forget that she's one of the few 11-year-olds who didn't have Bieber fever. "She'd prefer to listen to the Beatles over Justin Bieber, which I'm kind of proud of," Ryan Phillippe told E! of his daughter's musical taste in 2011.
One celebrity Ava did appear to be fond of was "Brokeback Mountain" actor Jake Gyllenhaal. He met Witherspoon while they were filming the movie "Rendition," and they began dating in 2007. During their relationship, he spent quite a bit of time with her kids. In 2009, he took Ava and Deacon to a 5K race in Martha's Vineyard. In a photo published by Just Jared, Gyllenhaal can be seen smiling as he uses a camera to snap a photo of Ava. She was also pictured sitting on the actor's shoulders while watching a Bastille Day fireworks show during a 2008 trip to Paris.
While Gyllenhaal's relationship with Witherspoon's kids seemed picture-perfect, Ava and Deacon reportedly played a part in the couple's 2009 breakup. "When she was giving all of her energy to Jake, she felt like she wasn't giving her kids enough," an insider told Us Weekly.
Ava Phillippe had a surprising summer job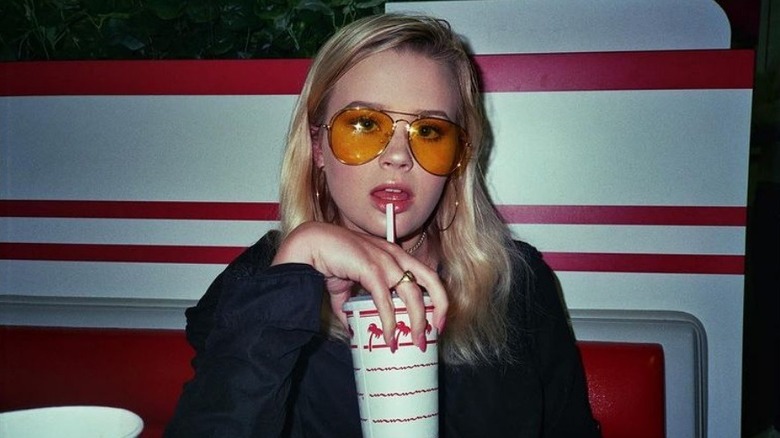 One of the perks of being the child of a celebrity couple is having parents with connections to a lot of powerful people. However, when Ava Phillippe decided to get a summer job, her mother didn't pull a few strings and get her employment doing something glamorous. In 2017, the Daily Mail published photos of the then-17-year-old working as a hostess at a pizzeria in Hollywood. She was dressed casually in a white T-shirt, dark blue slacks, and white sneakers, but she added a bit of '90s-era flair to her workwear that her mother would surely approve of: a black choker necklace.
Phillippe further proved that she's not the type of celebrity spawn who likes to flash their family's wealth when she picked out her first vehicle. In 2016, an insider told Us Weekly that her choice was a used Volkswagen Jetta. "She's so down-to-earth," the source said. "Even the nanny has a Lexus to drive, but Ava desperately wants to be unassuming." Her desire to be low-key could extend to what she wants to do for a living because it looks like she hasn't caught the acting bug. As of June 2021, she's made no appearances in a film or scripted TV series.
Ava Phillippe has done some modeling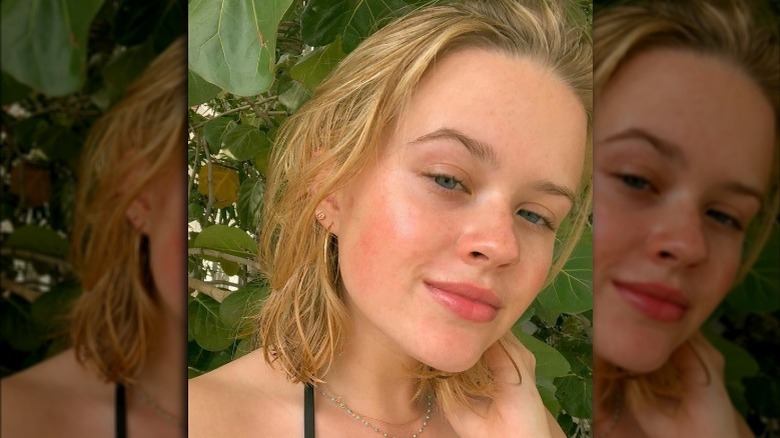 While plenty of Ava Phillippe's experiences growing up were not unlike those of the typical teen, her life was still far from ordinary. One example? Her attendance at the 2017 Bal des Debutantes in Paris. Phillippe looked the part of the quintessential debutante as she twirled around a ballroom in a gold Giambattista Valli Haute Couture ball gown. Reese Witherspoon told People that she helped her daughter pick out the dazzling dress. It was just one of Phillippe's many standout style moments, which include her modeling debut for Rodarte. As reported by Elle, she appeared in the brand's fall/winter 2018 portrait series. One of the two looks she rocked was a strapless pink gown that could have been Elle Woods' prom dress.
Phillippe also scored a modeling gig from her mom. In 2018, she and Witherspoon celebrated their mother-daughter bond while rocking pieces from Witherspoon's clothing label, Draper James. In a photo shoot for the brand's Spring 2018 collection, they hugged and laughed in vibrant looks that vibed with their joyous demeanor. "I love being around my mom, and this shoot was an opportunity to have fun and support her work as a female entrepreneur," Phillippe said in a Q&A published on the Draper James blog. While she's been declared "the next Kaia Gerber" by the New York Post and "Fashion Week's New Darling" by Entertainment Tonight, Phillippe hasn't made any moves to pursue modeling full-time.
Ava Phillippe used going to college to up her influencer game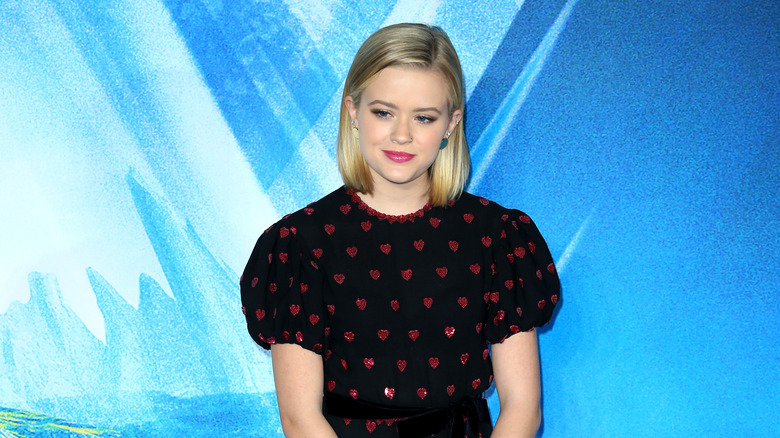 When Ava Phillippe began attending college at the University of California, Berkeley in 2018, it was hard on her mom. Witherspoon told talk show host Ellen DeGeneres that she cried on her daughter's bed after she left. However, Ava's absence would prove to be beneficial for the teen in more ways than one. In addition to getting an education, she was able to score a partnership with Amazon, which was likely thanks in part to her large following on Instagram.
As reported by Extra, Ava replaced Olivia Jade, the daughter of "Full House" star Lori Loughlin, as the face of Amazon's Off to College campaign in 2019. She promoted its storefront aimed at college students by posing for photos inside her dorm room, which was furnished with items available on the e-commerce company's website. "I definitely was very nervous when I arrived at college," Ava told Teen Vogue. "I wasn't sure how to organize my life, and how to do it all on my own." Of course, she got organized with products from Amazon.
Ava's Instagram fame has clearly benefited her, and her father sees another positive side to his daughter's presence on social media. "Something I do like about social media is you can kind of share some facets of yourself, your personality or your art in a more intimate way so people have a better picture of who you are," Ryan Phillippe told People in 2020.
Fans think Ava Phillippe's Berkeley boyfriend looks like her dad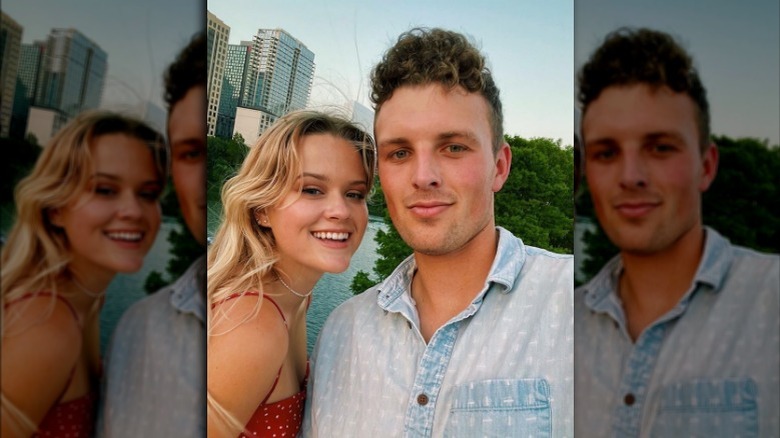 Ava Phillippe has been able to keep her love life on the down-low for the most part, although she did get the rumor mill all cranked up in 2018 when she was photographed with Paul McCartney's grandson Arthur Donald McCartney in London (via Entertainment Tonight). But when she started school at UC Berkeley, Ava met a guy she liked enough to go Instagram-official with. She first shared a now-deleted photo of her beau, Owen Mahoney, with her followers in 2019. Many of them suggested that he bore a striking resemblance to Ryan Phillippe, but one of her pals reassured her that Mahoney didn't look like her father. "Big thx," Ava replied, per Us Weekly.
Ava shared another photo of herself and Mahoney in June 2021. It was taken during a trip to Austin, where they were hoping to see the city's famed bats. Unfortunately, the winged creatures failed to materialize. "The bats were feeling shy…so here's a pic of us instead," Ava captioned her post. Her mom responded with a heart-eye emoji and the words "These too."
Some fans commented on how much the couple resembled Ava's parents. "Young Reese and Ryan all over again," wrote one Instagrammer. For the record, Ava does not like it when people suggest that her dad looks the same age as her. In 2017, Ryan told James Corden that it "absolutely repulses her that anyone could mistake me for her brother."
Ava Phillippe has a creative streak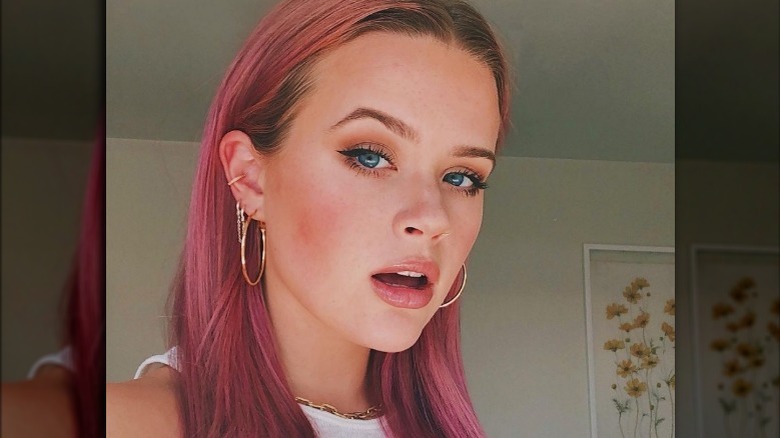 Ava Phillippe is a woman of many talents, so the world is her oyster. However, she learned that she can't be good at everything at a young age. During a 2018 interview with W Magazine, Reese Witherspoon recalled telling Ava that she might be "bad at basketball" when she was in the third grade. "She thought that was mean," she recollected. Hopefully, her admission that she sucked at the sport, too, soothed Ava's feelings somewhat.
When Ava is good at something, her mom is her biggest cheerleader. She boasted about her musical talent during a 2016 interview with Entertainment Tonight. "She plays a lot of different instruments and has been to lots of different music training camps. She can write a song, she can play any song on the guitar or piano or ukulele," Witherspoon said.
In 2015, she told David Letterman that Ava hadn't expressed an interest in acting, but said that she was "very artistic," per People. Her artistic side is on full display on her Instagram page, where fans can see her drawings, paintings, and photographs. She's even painted an amazing "birthday portrait" of her mom. On a website featuring her work, Ava describes herself as "a freelance multimedia artist and influencer." In 2013, Ryan Phillippe told E! that he wants his kids to "do something a little more meaningful or important" than acting, and he could get his wish if Ava chooses to pursue a career as an artist.
Ava Phillippe's father revealed that she suffers from depression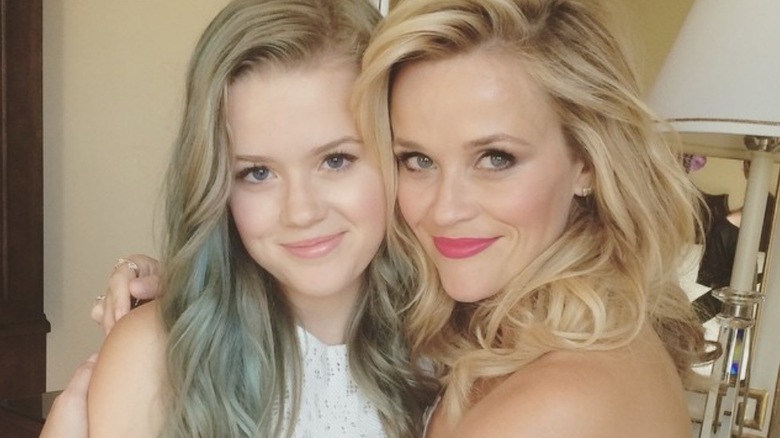 In 2015, Ryan Phillippe spoke to Elle about his battle with depression. According to Entertainment Tonight, he told the publication that he's also seen Ava Phillippe struggle with it. However, his mention of his daughter no longer appears in the interview excerpts on Elle's website. "She has it, and I wish to hell she didn't," he reportedly said. "It's just, some people do have this pervading sort of sadness, or they're so analytical that they can kind of take the fun out of things because they think too much."
Luckily, Ava has two parents who are comfortable talking about depression. In 2016, Ryan told People that he was in a much better place than he was when he was younger and had learned "healthier" ways to cope with the mood disorder and improve his emotional wellbeing. As for Witherspoon, she opened up about her experiences with postpartum depression on "I Weigh with Jameela Jamil," saying that she "felt more depressed than [she'd] ever felt in [her] whole life" after she stopped breastfeeding Ava.
Ava's parents are extremely supportive and full of excellent advice, which has helped them raise a daughter that they can be proud of. "She's a beautiful person inside and out," Witherspoon said of her daughter during a 2017 Vanity Fair interview. "She's just a good soul." We can't wait to see what Ava does next.
If you or someone you know is struggling with mental health, please contact the Crisis Text Line by texting HOME to 741741, call the National Alliance on Mental Illness helpline at 1-800-950-NAMI (6264), or visit the National Institute of Mental Health website.