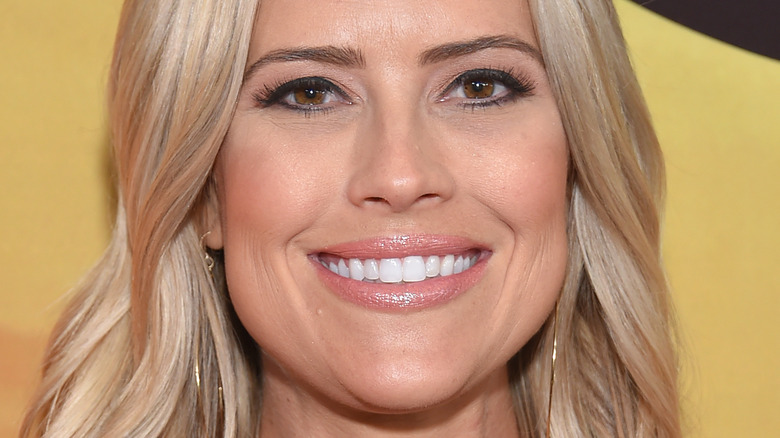 Christina Haack hasn't exactly had the easiest time when it comes to the dating game, and it's safe to say fans of the "Flip or Flop" star are pretty much fascinated by her love life.
The reality TV personality has lived through high-profile marriages and divorces with both Tarek El Moussa and Ant Anstead, and all the ups and downs have been splashed all over the tabloids, on social media, and even on the HGTV show "Christina on the Coast." But while things have no doubt been a little tumultuous for the reality star, Christina still has a whole lot of hope. "I believe that everyone deserves to have love and find love and I hope that happens for me… my goal right now is just to focus on my kids and keeping my private life, as private as it can possibly be," she told E! News in June 2021.
But who has Christina dated and what have her past relationships been like? Read on for a complete timeline of the star's rocky love life.
Christina Haack and Tarek El Moussa didn't wait long before moving in together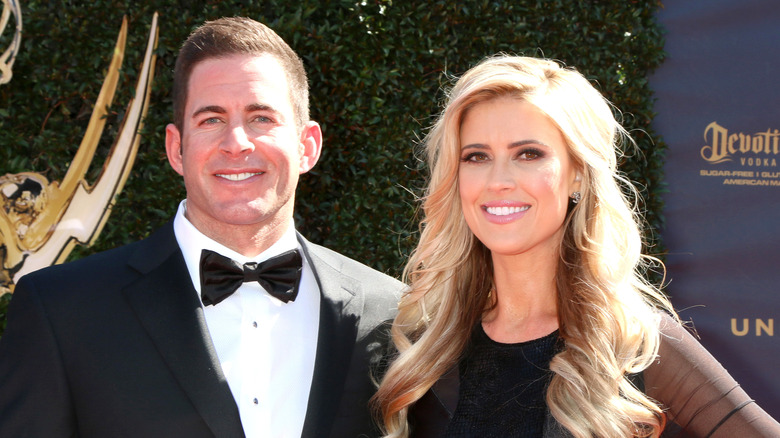 Christina Haack and Tarek El Moussa got pretty serious quickly after things got romantic. As she told Good Housekeeping, the two first got together in 2006, around 14 months after they first met and started working together in the real estate world. Christina had just graduated from college at the time and was put in touch with Tarek by her manager who thought he would make a good mentor for her.
Though they would eventually tie the knot, there was nothing romantic between the two at first; Christina was newly single while Tarek was still in a relationship. But when things did get moving in a romantic sense, the couple didn't waste any time at all. Christina revealed just how quickly things changed for them when they went from friends to something more when chatting with Good Housekeeping in August 2017. "The day Tarek and I officially started dating, which was October 9, 2006, we moved in together," she revealed. Not unlike one of their renovation projects, their relationship moved fast.
Working and living together seemed like a breeze for these two. Christina shared with the publication that they had a dream board they put up at their office which was a mix of both professional and personal goals. As for what those goals were? Well, a wedding was one, as was a private jet and fancy cars.
Christina Haack and Tarek El Moussa tied the knot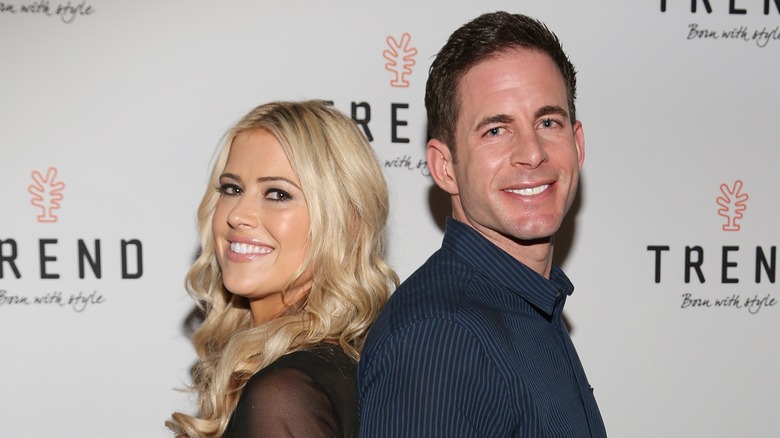 It seems like that mood board definitely worked, as Christina Haack told Good Housekeeping she and Tarek El Moussa had pretty much everything they aimed for by the time she was 31 — including the wedding.
The two, who were still yet to get their big break with "Flip or Flop," got hitched in April 2009 at Coronado Island in San Diego in what photographer Brandon Kidd described as a "beautiful day" while sharing photos from their ceremony on his blog. Christina — who officially changed her name to Christina El Moussa — stunned in a white strapless gown with a long veil and the two appeared to get married outside under a white archway while surrounded by family and friends.
The two didn't wait too long before becoming parents either, which probably isn't too surprising for a couple they moved in the first day they started dating. Christina and Tarek welcomed their first child together, a daughter named Taylor, the following year.
Christina Haack had a miscarriage while trying for a second child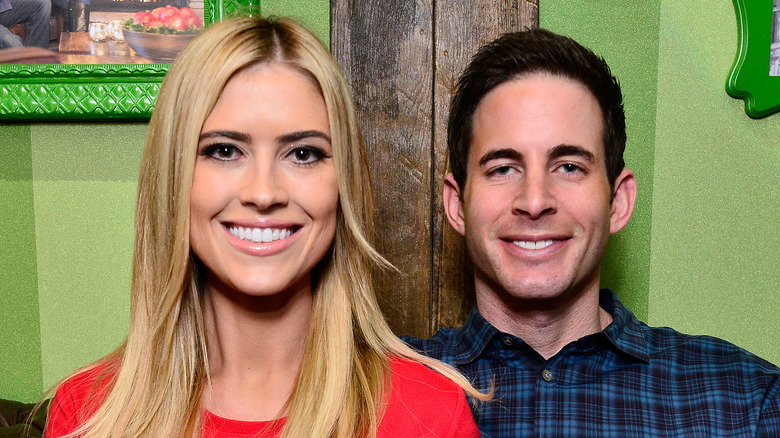 Everything seemed picture perfect for Christina Haack and Tarek El Moussa for the first few years of their marriage. However, the two endured a tough time when Tarek was diagnosed with thyroid cancer in 2013 — the same year "Flip or Flop" premiered on HGTV. As Tarek shared with People, a fan who happens to be a nurse reached out after they noticed a lump on his neck on the show.
With hopes to welcome another baby into the world together, the couple told People that they spoke to a doctor and decided to increase their chances of being able to conceive by banking Tarek's sperm and trying IVF multiple times. After Christina experienced a miscarriage, they "changed doctors and tried one last time to conceive."
Their last attempt to give birth to their second child was successful and the couple announced in April 2015 that they were expecting a baby boy together. "It's exciting to have a son and a daughter. The second he gets old enough, I'm going to step back from work and focus on raising them," Tarek told People. Brayden was born on August 20, 2015 and was delivered via an emergency c-section (via E! News).
Cracks started to show in Christina Haack and Tarek El Moussa's romance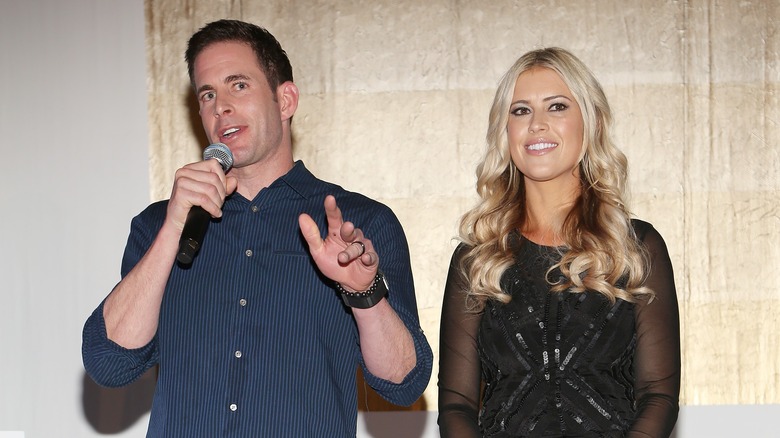 Understandably, the culmination of fertility issues and Tarek El Moussa's cancer diagnosis didn't make for the easiest time for the family of three that grew into a family of four. Christina Haack later admitted to People that their struggles with fertility caused serious "tension" between her and Tarek and also revealed that going back to work four weeks after welcoming Brayden only added to the situation.
"It was too soon for me. I was overwhelmed. Tension between me and Tarek was high," she told the outlet in 2017. "Like any couple we had our share of issues. But we went through a lot in a short amount of time." She shared that things got so bad between the two that they wouldn't even drive to their shared workplace together.
Around the same time, In Touch alleged that Tarek was apparently jealous of Christina's interactions with Gary Anderson, a contractor they hired to work on their home (more on him later). "Tarek saw Christina's phone and [believed] there was some inappropriate texting going on between Christina and Gary," a source claimed. However, both denied the report following their split. "Neither of us was involved in a romantic relationship with any third party prior to our separation, or believes the other was," they said in a statement provided to In Touch.
The reported incident that Tarek El Moussa said was 'blown out of proportion'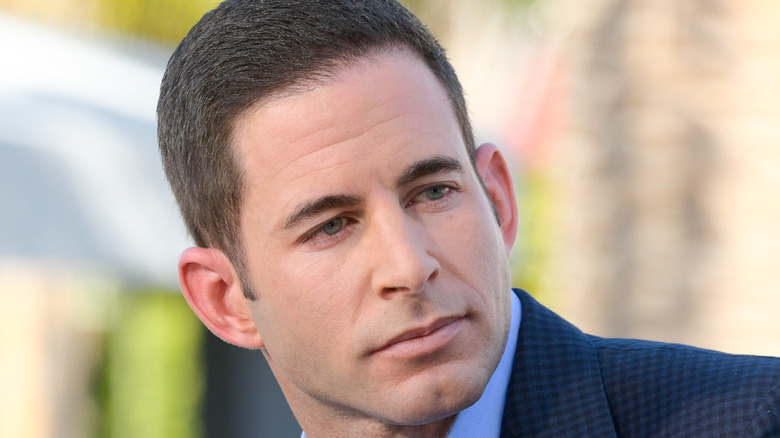 Christina Haack and Tarek El Moussa hit the headlines in a major way in May 2016 after Tarek reportedly took a firearm from their home before heading out on a hiking trail.
People reported that police were called to attend an incident involving a "possibly suicidal male with a gun" alleged to be Tarek after a neighbor saw him leave the house and hop a fence onto the nearby trail while Christina was allegedly "crying and shaking." A police helicopter was called in to find Tarek and reportedly spoke to him over a PA system. Tarek returned home with the police and was reported to be "compliant and cooperated with deputies." Tarek was also said to have told police he took the gun for protection from animals on the trail, something he doubled down on during an interview on "Today" in February 2017.
"There's mountain lions and bobcats and rattlesnakes and, like, big wildlife back there," he said when asked about the incident on the morning show. "I went out for a hike to scout some trails. It wasn't even a big deal. I didn't understand. It got really blown out of proportion."
It's all over for Christina Haack and Tarek El Moussa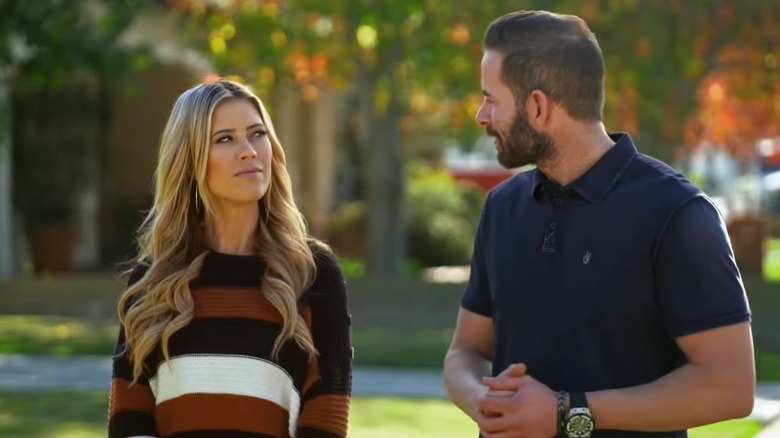 After seven years of marriage, Christina Haack and Tarek El Moussa announced they were going their separate ways in December 2016. The twosome explained in a statement obtained by People that they had tried to "sort out" things between them by attending counseling. "During the process, we are committed to our kids and being the best parents we can be. We will continue to work through this process civilly and cooperatively, and plan to continue our professional life together," they continued.
While Christina and Tarek never said that the aforementioned incident involving the gun was impetus for their split, they did address it in the aforementioned statement. "We had an unfortunate misunderstanding about six months ago and the police were called to our house in an abundance of caution. There was no violence and no charges were filed," they noted, while also pointing out they "had challenges in [their] marriage."
Tarek filed for divorce from Christina in January 2017, and she revealed she'd responded to the filing in an August 2017 interview with Good Housekeeping. "It came as a shock to 99.9 percent of people, including my parents. I wasn't very vocal with them about some of the issues that Tarek and I were having, so all of the sudden it's like, bam — I've moved out, I'm living at my nanny's house," she said.
It wasn't such a shock to the couple themselves though, as People reported they actually quietly ended things in May 2016.
Christina Haack got back into the dating game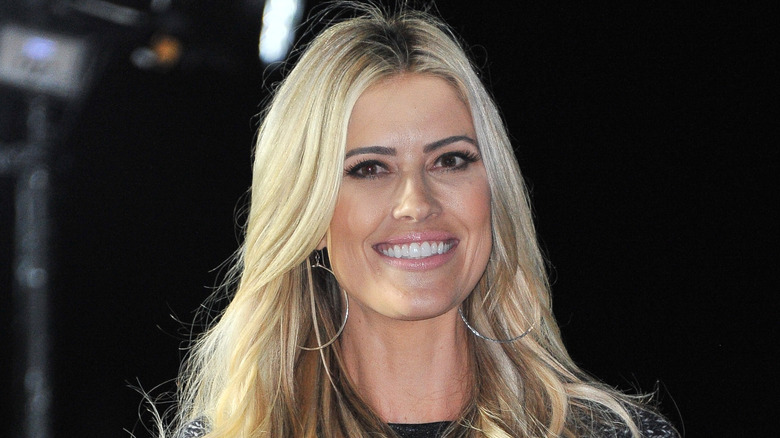 Christina Haack didn't waste much time before hitting the dating scene again, as she and Tarek El Moussa both told People in December 2016 that they'd already started seeing other people but were not "ready to announce anything in terms of another relationship."
In Touch claimed a month later though that Christina was dating Gary Anderson — yep, the contractor who worked for Christina and Tarek El Moussa back in 2015. A source told the outlet that Christina supposedly "grew close to [Anderson]." In Touch also shared photos of the two out and about on a walk together later that month when an onlooker claimed the two "seemed so relaxed and comfortable together" and were apparently "totally in sync" after previously being seen together at Anderson's home. According to the tipster, "Christina looked adoringly at him" and it was obvious there was a spark between the two. "She likes that Gary is so much more mature than Tarek. It's a safe relationship, and she's happy with him," a source added, claiming that Gary had been by Christina's side as she went through her divorce with Tarek.
This one didn't last too long though. One month later in February 2017, Us Weekly reported the two had split. "Christina is single and being in a relationship is the last thing on her mind. She is taking this time to focus on her children and herself," a rep for the star said.
Did Nate Thompson catch Christina Haack's eye?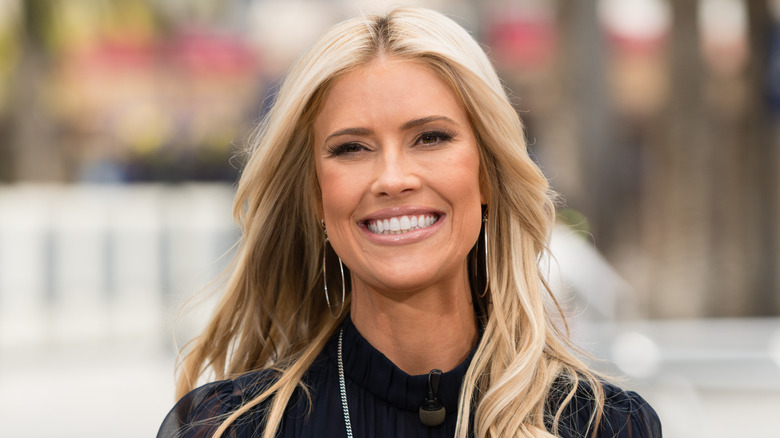 In March 2017, three months after announcing her separation from Tarek El Moussa, Christina Haack was romantically linked again, this time to hockey player Nate Thompson. E! News reported Christina was spotted on a hockey match date with an unknown man, who ET identified as Thompson. However, a rep claimed the star was not on a date, telling E! News, "She is single and not dating anyone. He is just a friend."
But it seemed like things may have turned a little more romantic between the two, as ET reported in April 2017 that the two had been dating but had since split. "Nothing dramatic happened — it was super casual from the start, and they were never an official couple to begin with," claimed a source. "Bad timing on both their ends never really let it evolve into something serious. They remain friends and there are no bad feelings between them at all."
Christina Haack reportedly reconnected with an old flame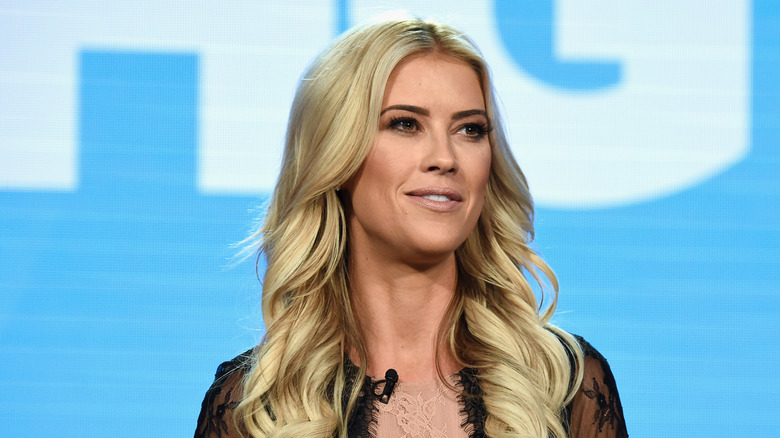 Undeterred, Christina Haack carried on with the dating game in July 2017 when she was reported to have reconnected with an old flame. Rumors began to swirl that Christina had reconnected with her ex-boyfriend, Doug Spedding.
A source told People that the two were "just taking it slow and enjoying their time together" but revealed that their kids had already met. "Their children are only a few years apart, so they've been doing a lot of activities with the kids: ice skating, swimming, BBQs, just low-key stuff at home," they continued, noting Christina reportedly liked that Spedding, who she dated before she married Tarek El Moussa, was such a good dad.
Christina and Spedding's romance was all over by October 2017 though when In Touch reported the two had called it quits. According to the outlet, Spedding reportedly "cheated on her and has entered in-patient rehab for addiction issues" around the time of the split. "Christina encouraged him to go back to rehab. Christina is the type of person who sees the best side of others, and that's how she was with [Anderson]," a source said. "Caring about someone does not save someone and Christina knows that. She just wanted to help him."
If you or anyone you know is struggling with addiction issues, help is available. Visit the Substance Abuse and Mental Health Services Administration website or contact SAMHSA's National Helpline at 1-800-662-HELP (4357).
Christina Haack officially moved on with Ant Anstead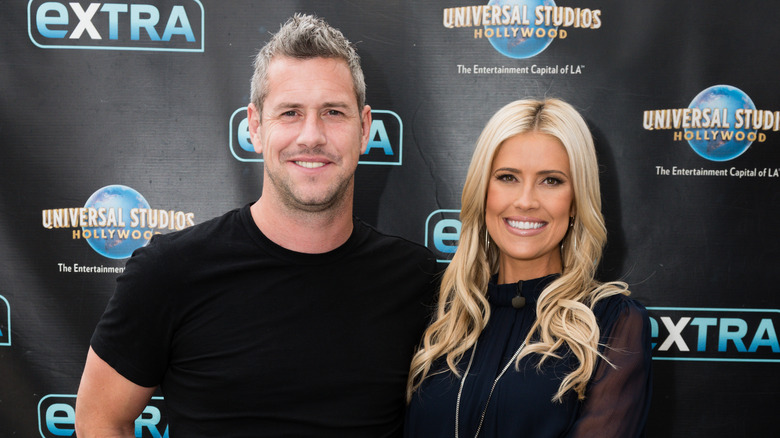 After an eventful few months of dating, Christina Haack found love again when she got together with British TV personality Ant Anstead. The "Flip or Flop" star didn't spend too much time on the market, as the twosome were first romantically linked the same month of her apparent split from Doug Spedding (Haack confirmed on Instagram in October 2018 that they were celebrating their one-year anniversary in a since deleted post, per House Beautiful).
The two kept things on the down low for around three months before making things Instagram official. Christina introduced the world to her new man on January 1, 2018 when she shared a photo — which has since been deleted — of them on a bike ride while congratulating Ant on his new show, "Wheeler Dealers" (via People).
Christina also hinted that she'd started something new romantically by posting an inspirational quote. "And suddenly you know… It's time to start something new and trust the magic of a new beginning. New year, New beginnings!!" the message read (via People). "2018 is going to be a great year filled with new experiences, challenges and blessings. Excited for the next chapter."
Christina and Tarek El Moussa finalized their divorce later that month, with People confirming the two's marriage was officially done on January 22, 2018.
Things started to get serious for Christina Haack and Ant Anstead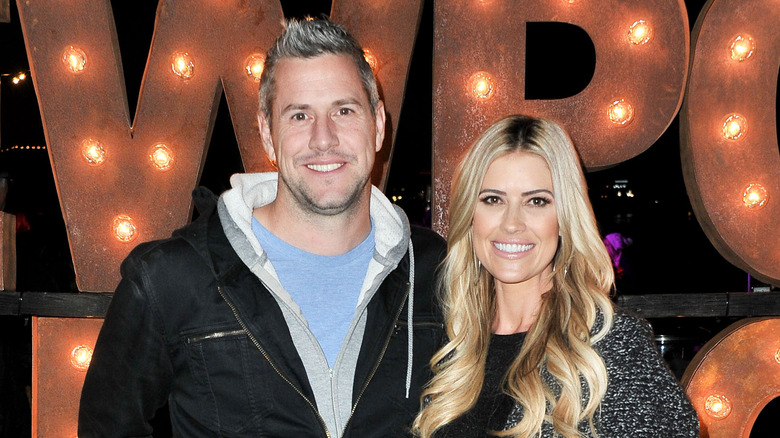 It seemed like Ant Anstead was The (new) One for Christina Haack, as things seemed to progress well for twosome. In March 2018, the pair proved they were pretty serious about one another when Ant took Christina to his home country of England to show her where he grew up. The two posted plenty of photos from their trip on social media (via People) but have since deleted the content.
Christina wasn't afraid to make her feelings for Ant public knowledge, either. The star opened up about her new romance in a July 2018 cover story for People where she indicated they were serious about one another. "I can see myself getting married to him. He's so down-to-earth, and we have so much in common. We basically do the same thing, so he gets what my world is like, and he's just rolled with the punches and handled everything so well," she revealed.
Christina also shared how she met Ant, confirming they were introduced one another by mutual friends. The two weren't actually able to walk down the aisle at the time though, as Ant was still married to his estranged wife who he was in the process of divorcing.
Christina Haack and Ant Anstead sparked engagement rumors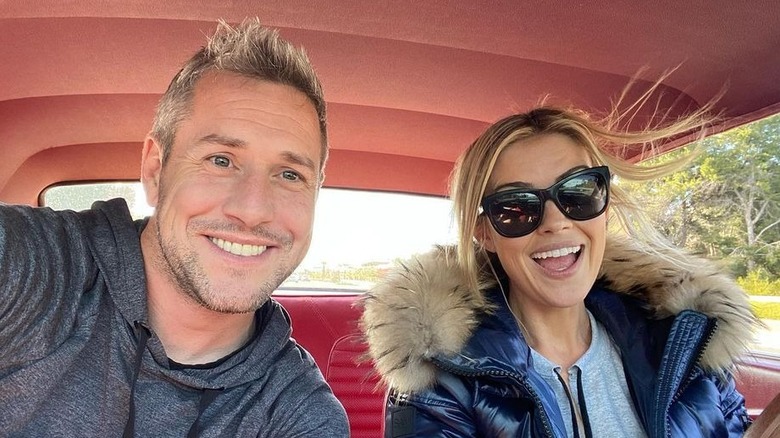 After Christina Haack very publicly gushed about her boyfriend, it was only a matter of time before the engagement rumors started to swirl. Whispers of an impending wedding really hit the headlines in December 2018 when the couple posted a curious photo to Instagram. "Celebrating something special tonight with some steak and wine ….aaaaannndddd…. this epic cinnamon/caramel/ice cream/cholesterol on a plate desert #blessed x x," Ant Anstead captioned a December 17, 2018 photo of the two together, which he's since removed from his account (via E! News).
Christina's hand wasn't visible in the shot, so it wasn't clear if she was wearing an engagement ring, though fans went wild with speculation in the comments section suggesting a wedding was on the way. And they were right. Christina and Ant got married in a secret ceremony a few days later on December 22, 2018. They had a lavish event at their California home, with Christina telling People of their "I do's," "We pulled off the perfect surprise wedding. Seeing the happy tears of friends and family was priceless."
Even their nearest and dearest didn't know about the nuptials, as the couple told 70 of their closest friends and family that they wanted them to come over to watch a boat parade. The following month, Christina changed her name to Christina Anstead on Instagram.
A happy update for Christina Haack and Ant Anstead's family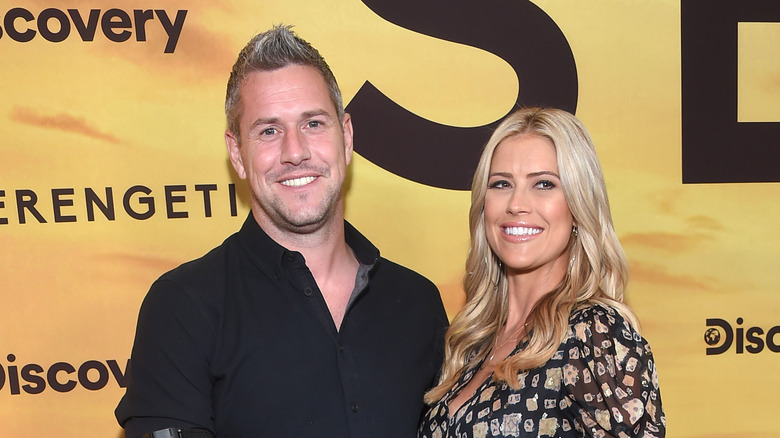 Three months after their wedding, Christina Haack and Ant Anstead confirmed they were expecting their first child together. Christina shared the news with fans on Instagram in March 2019 as she shared a snap of herself and Ant hugging while she held the ultrasound photo up to the camera. "@ant_anstead and I are so excited to announce #babyanstead coming this September!! The kids are all so excited to meet their new sibling," she wrote in the caption alongside a red heart (via People). The photo has since been taken down from her account.
Ant also shared the exciting news on his Instagram account when she shared a snap to his Instagram account of four framed photos of the couple's children with the ultrasound photo in the center. "And then…… there were FIVE!!! (Well …. four and a half! Will be Five in September)!!" he wrote.
In addition to Christina's two children with Tarek, Ant also shares two kids, son Archie and daughter Amelia, with his first wife, Louise Anstead.
Christina Haack and Ant Anstead welcomed their first child together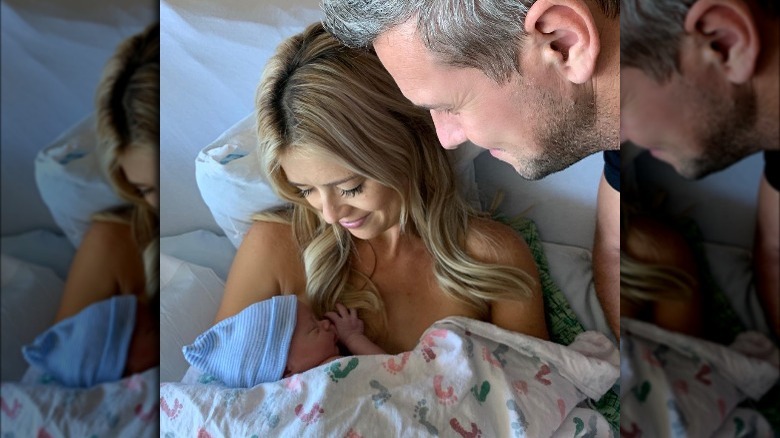 Christina Haack and Ant Anstead welcomed their son, Hudson, into the world in September 2019. The British TV personality confirmed Hudson's birth on Instagram when he shared two photos with fans from the delivery room. The first showed Christina and Ant doting over their newborn as the former held him, while the second shot showed the third time dad holding the baby as he looked down at him.
"Welcome to the world!" Ant captioned the photo alongside a red heart and heart eye emoji, announcing his full name, Hudson London Anstead. The star continued, "I am in awe! Mummy and baby are simply perfect!"
Christina also confirmed the news on her own Instagram account. "Ant and I are so excited to welcome Hudson London Anstead into the world. Our hearts are SO full of love and joy!" she wrote alongside a blue heart emoji (per E! News), but has since deleted the upload. "Our healthy baby boy was born this morning- 9/6/19 – 7 lbs 7 oz 19.5 inches long."
Christina Haack and Ant Anstead head to splitsville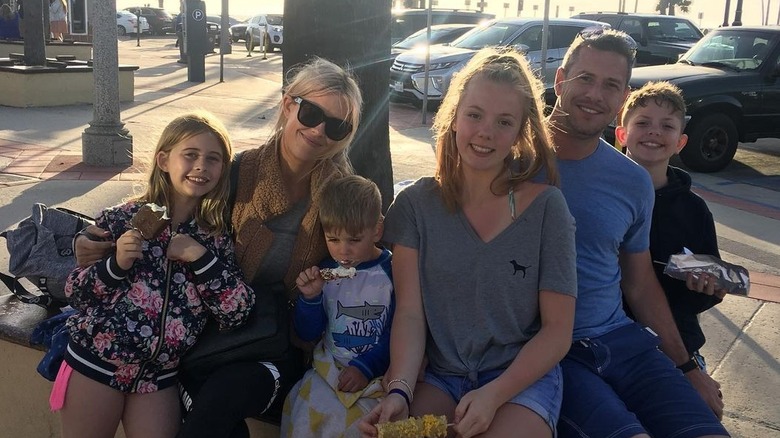 Sadly for the couple who once seemed so happy in love, Christina Haack and Ant Anstead called it quits only a year after welcoming their son together. In September 2020, Christina and Ant confirmed their relationship was done.
In a now deleted post on Instagram, Christina told fans (via People), "Ant and I have made the difficult decision to separate. We are grateful for each other and as always, our children will remain our priority. We appreciate your support and ask for privacy for us and our family as we navigate the future."
Ant also addressed the split on his own Instagram by posting a black and white photo of himself and Christina smiling together while suggesting his estranged wife made the call. "Anyone who really knows me knows that I don't like to share private matters publicly. I have remained silent while holding on to hope," he wrote in the caption. "I never gave up on us. I pray Christina's decision brings her happiness."
As optimistic as Ant tried to stay, the two did not get back together. In January 2021, Christina changed her name back to her maiden name of Christina Haack on Instagram. That June, TMZ shared a scoop that suggested Ant might've moved on with actor Renée Zellweger. As USA Today reported, Ant and Christina's divorce was officially finalized in July 2021.