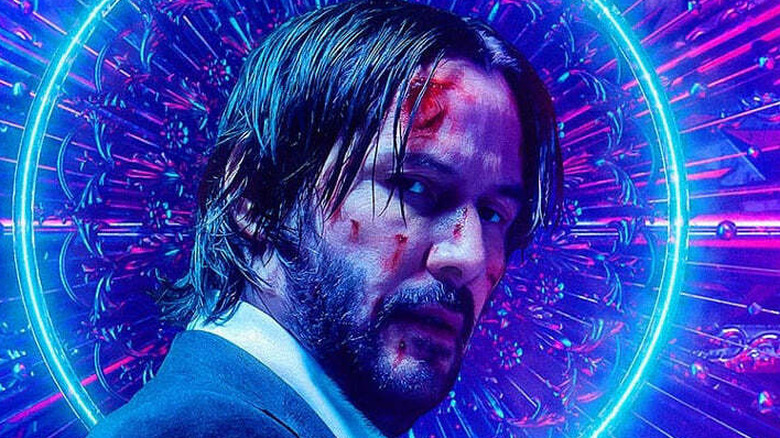 The "John Wick" franchise has been a juggernaut since the first film came out in 2014. The massive critical and audience hit meant star Keanu Reeves, writer/creator Derek Kolstad, and director Chad Stahelski could continue Wick's story if they wanted, and they did, adding "John Wick: Chapter 2" in 2017, and "John Wick: Chapter 3 – Parabellum" in 2019. While there were plans to film the fourth and fifth chapters back-to-back, unforeseen circumstances led to a change in schedule. The fourth installment is expected to be released in 2022, while the fifth's release is yet to be announced. A TV prequel, "The Continental," is reportedly being developed for Starz.
In addition to Reeves, the franchise features Ian McShane, Lance Reddick, and John Leguizamo in recurring roles. The story is simple: A legendary assassin comes out of retirement when the son of a mobster attacks him, murders his puppy, and steals his car. Okay, it's a little more complicated: The puppy was a gift from his now-deceased wife and the car is, well, freaking awesome. What sets the actioner apart from others is the detailed world-building. The Continental has counterparts worldwide and is neutral, sacrosanct ground. The office handing out assignments uses old-fashioned telephone switchboards. There are specialized markers, tickets, and other touches that fully immerse the audience in the assassin's world.
If you like your action pictures with self-contained worlds and a bit more flair, here are 17 other movies like "John Wick" you need to watch before you die.
Crank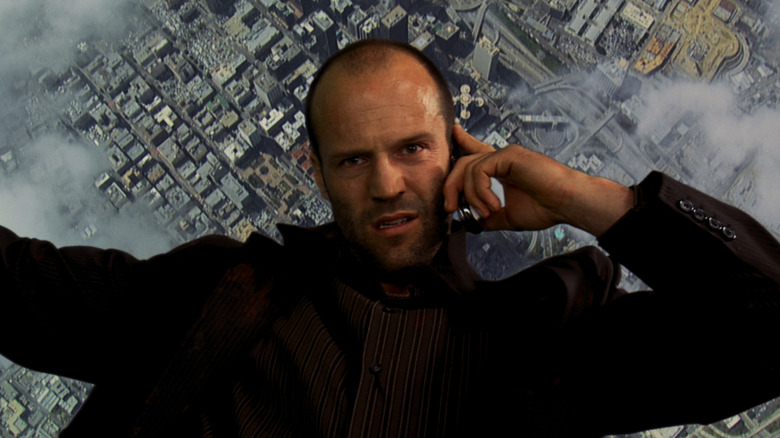 Released in 2006, "Crank" stars action stalwart Jason Statham as Chev Chelios, an assassin who is betrayed by an upstart hitman who wants to take his place. While sleeping, Chelios is injected with a poison that affects the production of adrenaline, gradually killing him. Chelios must keep his adrenaline running high in order to survive long enough to find an antidote or at least get revenge. Anything less than hard-charging activity and his heart will stop for good.
Statham was already an expert at this type of role, and it's fun to watch him basically rampage across Los Angeles doing everything he can to keep his heart pumping, including a very public sexual encounter with his girlfriend, Eve, played by Amy Smart. There are fights galore as Chelios seeks out the man who poisoned him, and each one tops the next as Chelios must up the stakes himself in order to stay alive.
First-time directors Mark Neveldine and Brian Taylor, who also wrote the script, pace the film like a wild video game, with each action more outrageous than the next. A cute after-credits scene puts a nice button on the whole film. A sequel called "Crank: High Voltage" was released in 2009.
Kill List
The 2011 film "Kill List" adds psychological horror to its crime tale for a creepily intense experience. Directed by Ben Wheatley, who co-wrote the script with Amy Jump, "Kill List" stars Neil Maskell as Jay, an ex-soldier who's become an assassin and is haunted by a past mission. Jay unwittingly winds up in a blood contract for a mysterious client with a list of people he wants Jay and his friend, Michael Smiley's Gal, to murder. Things do not go according to plan.
More twisted than twisty, "Kill List" layers on occult symbolism and darker themes than the usual tale of a hitman pursuing a target — or in this case, multiple targets. Neither Jay nor Gal seem to notice the strange behavior of Gal's girlfriend, nor do they seem to realize something's seriously amiss — beyond the usual "client is unhappy with the service" trope of hitman dramas — when they decide to bail out of the contract and bizarre things begin happening. "Kill List" starts like a crime thriller and ends more like "The Wicker Man." Fans of Wheatley's latest slice of cosmic horror, 2021's "In the Earth," will definitely want to seek out this under-seen gem.
Collateral
Director Michael Mann's stylish thriller from 2004, "Collateral," casts Tom Cruise against his usual heroic type as a hitman named Vincent with a job to do and no transportation to finish it. He commandeers a cab driven by Jamie Foxx's mild-mannered Max and forces him to drive all over Los Angeles so he can complete his kills.
At first, Max thinks he's got a rich fare, as Vincent offers him a lot of money to make several stops; since Max wants to open his own driving service, he agrees. It only takes one body dropping for Max to realize he's made a terrible error in judgment, but it's too late, as Vincent forces Max at gunpoint to continue being his driver. The interaction between the two is filled with tension, all bathed in neo-noir lighting and exhibiting Mann's interest in what makes men tick. The conversations between the two are significant and layered, as Vincent's intelligent-but-cold demeanor comes up against Max's warmer personality, even though both men share the trait of being detail-oriented. Both Cruise and Foxx stretch as actors, making "Collateral" well worth a view. Jason Statham has a cameo in the beginning as well.
The Mechanic
Although Charles Bronson already had a long and varied career as a supporting actor, it was his output in the 1970s that cemented him as a lead action star. In 1972's "The Mechanic," Bronson stars as Arthur Bishop, a well-regarded mechanic — slang for assassin — who suffers anxiety and depression because of his stressful life. Michael Winner, with whom Bronson would frequently collaborate, directed. Bronson's real-life wife, Jill Ireland, also appears in the film.
As in "John Wick," Bishop works for a secret society with its own rules that must be followed lest he face dire consequences. After killing Keenan Wynn's Harry McKenna, one of the organization's bigwigs, Bishop meets McKenna's son, Steve, played by '70s heartthrob Jan-Michael Vincent. Bishop realizes that Steve has the right temperament to be a mechanic, what with him being rather sociopathic, and begins taking him along on assignments without the organization's permission. Turns out Steve is a very good learner, so much so that Bishop may not only have the organization to worry about.
"The Mechanic" was remade in 2011 with Jason Statham and Ben Foster in the Bishop and Steve roles, respectively, which was successful enough to yield a sequel, "Mechanic: Resurrection," in 2016. It's hard to beat the original, though, for both its portrayal of the mechanics of assassination and its human elements.
Léon: The Professional
Written and directed by French filmmaker Luc Besson, "Léon: The Professional" was originally released in 1994 as just "The Professional" in the US. The film is in English and stars Jean Reno as Léon, a "cleaner" who winds up teaching the tools of his hitman trade to 12-year-old Mathilda, played by Natalie Portman. It's a little problematic, yes, but the revenge action aspects of the film are top notch.
Mathilda and her family live in the same apartment complex where Léon resides. Mathilda's father runs afoul of Gary Oldman's DEA agent, Norman Stansfield, and she returns home one day to find her family slaughtered. Léon takes her in before she's discovered and she is the one who requests murder lessons so she can avenge her family. The pair form an odd bond as he schools her in weaponry and tactics, and she plots to take on Stansfield all by herself.
Portman is a tiny powerhouse of emotion and magnetism, and her performance augurs the greatness to come in her adult career. Reno is also quite good, and any time Oldman plays evil it's worth seeing.
The Accountant
In 2016's "The Accountant," Ben Affleck plays Christian Wolff, an intensely quiet man with "high-functioning autism" who is good with numbers. He uses his special set of skills performing internal audits to uncover embezzlement, usually for unsavory types involved in criminal enterprises. "The Accountant" also features Anna Kendrick, J.K. Simmons, Jean Smart, and John Lithgow.
Wolff goes about his business and manages his triggers the way his father taught him. Unfortunately, his father, who was in the military, believed the best way to protect Wolff from the world was to expose him to sensory overload in order to numb him to it, and to teach him and his brother, played as an adult by Jon Bernthal, martial-arts and other forms of self-protection, making Wolff rather deadly when crossed.
"The Accountant" spurred conversation around representation of neurodiversity in film, but the action in this thriller is above-average and Affleck's steely-yet-vulnerable portrayal of a man with a brutally strict moral code deserves to be seen.
Atomic Blonde
Charlize Theron stars in director David Leitch's high-octane feature, "Atomic Blonde," which was released in 2017 and is based on the graphic novel series "The Coldest City" by Antony Johnston. Theron plays Lorraine Broughton, a deadly MI6 agent sent to Berlin in 1989 to retrieve The List, a stolen compendium of names of all the spies operating there, before everyone is exposed. James McAvoy, Sofia Boutella, and John Goodman also star.
"Atomic Blonde," with its saturated hues and exceptional stunt work, drew many comparisons to "John Wick" when it was released — which makes sense, given that Leitch worked on that film, too. Though set in the world of spies, there's plenty of fighting and bullets flying, along with cat-and-mouse interactions between Broughton and McAvoy's spy, Percival, as Broughton tries to figure out who, if anyone, she can trust. Anchored by Theron's killer performance and boasting a pulsating soundtrack, "Atomic Blonde" makes a good double-feature with any of the "Wick" films.
The Killer
When director/writer John Woo's "The Killer" was released in 1989, one of its taglines was "One vicious killer. One fierce cop. Ten thousand bullets." Though we can't verify the veracity of that last part, there are certainly plenty of shell casings littering the scenes in Woo's hard-boiled tale of a killer named Ah Jong, played by Chow Yun-Fat. Jong's own moral code dictates he take one last assignment in order to secure funding to help a woman he accidentally hurt during one of his hits. On his tail is Inspector Lee Ying, played by Danny Lee.
"The Killer" is filled with Woo's trademark sentimentality, shoot-outs galore, and white doves moving in slow motion, which would become a recurring motif in Woo's other films. Though "The Killer" contains gnarly action and gore, there's also Woo's preoccupation with spirituality and humanity. Jong may be a hitman, but he also only kills his targets and other criminals, going out of his way to protect children and other bystanders. Ying notices this and the two men bond after an ambush in which the Triad gang is attempting to eliminate Jong. Jong may be a vicious killer, but his morality sets him above the other gangsters Ying seeks to arrest. The ballet-like action sequences alone make "The Killer" worth seeing, but the connection between Jong and Ying move it up to another level, not to mention its influential place in the action movie pantheon.
Nobody
Written by "John Wick" scribe Derek Kolstad and directed by Ilya Naishuller of "Hardcore Henry" fame, 2021's "Nobody" is a wild ride filled with mayhem, murder, and a kitty-cat bracelet. Starring Bob Odenkirk as seemingly mild-mannered Hutch Mansell, "Nobody" wastes no time getting to the good stuff, i.e., fighting, shoot-outs, and stuff blowing up real good. Clocking in at a lean 92 minutes, the film is fast-paced and even a bit touching.
Mansell lives a quiet life with his wife, Becca, played by Connie Nielsen, and two kids. He's bored with his job — just like an ordinary nobody. Even when his home is invaded by two robbers, Mansell does nothing but give them what they want. However, he hunts them down and after an unrelated altercation on a bus, is targeted by a Russian mobster for revenge. The problem? Mansell is no ordinary man. For that matter, neither is his father, who's played by Christopher Lloyd.
During a Twitter watch party for the premiere of "Nobody," Naishuller tweeted, "If you approach the character as if he's addicted to violence and has kept himself in check for 15 years, then the film will really click for you." Odenkirk's Mansell is wound up tightly and once he's unleashed, there's no stopping him, just like Wick. "Nobody" is a film "John Wick" fans will enjoy.
El Mariachi
Released in 1992, "El Mariachi" is Robert Rodriguez's feature film debut. He wrote and directed the tale of an unnamed man, played by Carlos Gallardo, who is the victim of mistaken identity. At the same time as he's come to town with his guitar to pursue his dreams of becoming a mariachi, a criminal named Azul, played by Reinol Martinez, with a similar guitar case — albeit one full of guns and other weapons — breaks out of jail to get revenge on a drug kingpin. The hitmen sent after Azul don't know what he looks like, only that he has a guitar case and wears black. Uh oh.
The young mariachi-to-be manages to escape, only to wind up at a bar where the drug lord's love interest, Consuelo Gómez's Dominó, works. The mariachi also falls in love with her, unwittingly becoming part of a love triangle. You could almost write a ranchera about it.
Rodriguez's kinetic style and dramatic flair propel the tragic tale of a man who wanted nothing more than to be a musician, only to have his dreams shattered in the worst way. The Spanish-language "El Mariachi" was made on an ultra-low budget — $7,000. Two sequels featuring Antonio Banderas taking over the role of El Mariachi, 1995's "Desperado" and 2003's "Once Upon A Time in Mexico," comprise Rodriguez's Mexico Trilogy. A TV show based on the original film was also produced in 2014. It had one season of 71 episodes.
Kill Bill: Volume 1
Originally intended as one four-hour film, Quentin Tarantino's "Kill Bill" was split into two features, with the first chapter, "Kill Bill: Volume 1," released in 2003. "Kill Bill: Volume 1" stars Uma Thurman as The Bride, an assassin left for dead at her wedding after her former associates massacre everyone in the church. She proceeds to wreak harrowing revenge on everyone involved on that fateful day. Lucy Liu, Vivica A. Fox, Daryl Hannah, Michael Madsen, and David Carradine also star.
Tarantino's love of Asian action films, rapid-fire dialogue, and bloody, bloody violence are on full display as the Bride rehabilitates herself after her terrible ordeal and methodically hunts down the assassins who destroyed her happiness. As in "John Wick," the society of assassins has a code they follow, which the Bride apparently violated. The first "volume" is highly stylized and focuses on the Bride's rehabilitation after lying in a four-year coma, and how she finds and dispatches two of the other Deadly Viper Assassination Squad members. "Kill Bill: Volume 2" was released in 2004, wherein the Bride finishes what she started.
In Bruges
While most of these films are deadly serious, "In Bruges" proves it's possible to have an action film that's hilarious as well as propulsive. Released in 2008 and written and directed by Martin McDonagh, "In Bruges" is a pitch-black comedy that features Colin Farrell as hitman Ray, Brendan Gleeson as Ray's fellow hitman and mentor, Ken, and Ralph Fiennes as Harry, their boss. Ray and Ken are in hiding because Ray botches a hit, accidentally killing a child. Harry is absolutely livid about it — killing a child violates the hitman's code.
Ray and Ken cool their heels in Bruges, a city in Belgium, where Ray is bored and Ken is delighted. Harry wants Ken to dispatch Ray because of the violation of the code, but Ken's not keen on that plan. Harry doesn't appreciate Ken's disobedience, so he heads to Bruges himself. It's only a matter of time before things come to a bloody head.
The humor comes from Harry's intransigence in deviating from the code, despite acknowledging that what happened with the child and Ray was a complete accident, as well as some of the characters Ken and Ray meet while hiding out. McDonagh, also known for 2012's dark comedy, "Seven Psychopaths," as well as 2017's "Three Billboards Outside Ebbing, Missouri" — which nabbed acting Oscars for Frances McDormand and Sam Rockwell — is able to tease the humor from Ray's bleak predicament, infusing the story of a bunch of killers and reprobates with heart as well.
La Femme Nikita
Not all contract killers do it by choice. Some are forced into the life, as happens to Nikita in "La Femme Nikita." The French film, released in 1990, stars Anne Parillaud in the title role, and was written and directed by Luc Besson.
Parillaud's Nikita is a debauched teen who murders a police officer during a botched robbery. After being jailed, however, she is chosen by "the Centre" to be reborn as an assassin or they will kill her. Nikita chooses life as a contract killer. Turns out she is very good at it, too. Legendary French actress Jeanne Moreau plays Nikita's handler/mentor, Amande, while Jean Reno plays Victor, a "cleaner."
"La Femme Nikita" is worth seeing for Parillaud's performance, as Nikita is transformed from a junkie to a femme fatale, not to mention a female assassin who's both a little terrifying but also sympathetic. The film has been remade twice, once as "Black Cat" in 1991 and again as "Point of No Return" in 1993. The latter remake stars Bridget Fonda in Parillaud's role. The film has also been adapted twice as a television series, 1997's "Le Femme Nikita" and 2010's "Nikita."
Hanna
Mathilda from "Léon: The Professional" is not the only young assassin on this list. In 2011, Saoirse Ronan played the title role in "Hanna," about a 15-year-old girl whose father teaches her the ways of the hitman. Seems Hanna's father, Eric Bana's Erik, used to be in the CIA and is being hunted by the agency because he knows too much. Erik wants to ensure Hanna's safety, and schooling her on being an assassin is apparently the only way he knows how. He does have one ulterior motive, though — he wants her to kill Marissa Wiegler (Cate Blanchett), the CIA agent who is after him. Well, he has another motive, and it has to do with the dangerous secret he knows about Hanna.
"Hanna" twists and turns as the young assassin decides to go after Marissa herself and winds up discovering just what it is her father has been hiding from her all those years. The film marries action with coming-of-age drama. Ronan shows her early promise as an actress, and is very good as Hanna comes into her own, while Blanchett is full of menace. Director Joe Wright keeps the tension up and the pacing tight as Hanna avoids the CIA while heading straight into a reveal that shakes up everything. A TV series based on the film, also called "Hanna," had its first season in 2019 and is expected to begin its third season in 2021.
The Assassination Bureau
"The Assassination Bureau Limited," known as "The Assassination Bureau" in the US, was released in 1969 and is a darkly comedic look at assassins, but without the bleakness of "In Bruges." The film, which is based on an unfinished novel by Jack London, stars Oliver Reed as Ivan Dragomiloff, Diana Rigg as Sonya Winter, and Telly Savalas as Lord Bostwick.
Winter is a journalist and women's rights activist who discovers a secret organization of assassins, aptly titled The Assassination Bureau Limited. Instead of exposing them in her capacity as a journalist, Winter decides to have the head of the Bureau, Dragomiloff, killed, thinking this will dismantle the whole enterprise. This is a comedy, after all. An exposé would be too simple.
Dragomiloff, like others on this list of films, has a strict moral code he feels the Bureau should follow and which it most certainly has not. So he decides to play into Winter's plan by modifying it. If the Bureau can assassinate him, so be it, but he will be gunning for them first.
Unfortunately for Dragomiloff, there's another layer to this tidy conspiracy, as Lord Bostwick also wants the other Bureau elders eliminated for his own financial gain, not to mention the power he would have by taking over the Bureau himself. It's intentionally ridiculous and complicated, and a fun watch as well.
Oldboy
Chan-wook Park's "Oldboy," released in 2003, is a Korean rumination about vengeance and the toll it takes. Done in the neo-noir style, the film follows Oh Dae-su, played by Choi Min-sik, who is held captive for 15 years, never knowing the why of his imprisonment nor the who behind it. After he is just as mysteriously released, he finds he's still imprisoned in a way. He's lost years of his life, his family is dead or missing, and his captor can still torment him. It takes a while for him to figure out that the inciting event occurred deep in his past, and that the past has a way of haunting everyone involved.
The story is complex and very twisted, pointing out how ultimately hollow revenge is. Unlike other films where revenge is coded as something to cheer for, it is deeply sad and empty here. Park's neo-noir trappings are a perfect fit for the material, which is based on a Japanese manga by Garon Tsuchiya, and the ending hits hard. "Oldboy" has been remade twice: a Bollywood version in 2006 called "Zinda" and an American version in 2013 with its original title. The latter was directed by Spike Lee, but did not enjoy the same critical success as Park's film.
A Better Tomorrow
Director John Woo's groundbreaking 1986 Hong Kong action film, "A Better Tomorrow," is considered the film that turned Chow Yun-Fat into a superstar in Asia. Chow plays Mark, a member of the criminal Triad along with his friend, Sung Tse-Ho, played by Ti Lung. This version of the Triad are counterfeiters, and both Mark and Tse-Ho are in the Triad's upper echelon. Tse-Ho's brother, Kit, played by Leslie Cheung, is a cop, however. Tse-Ho wants to go straight, but as usually happens when a criminal says they will do one last job, things go haywire and Tse-Ho goes to prison. Once released, Tse-Ho discovers Mark is no longer a Triad bigwig and that Tse-Ho's former apprentice, Waise Lee's Shing, is the boss. Tse-Ho is estranged from Kit, who is obsessed with bringing down the Triad.
Woo mines the tension between Tse-Ho's dedication to his brother and his allegiance to his best friend while meditating on what makes a family, albeit with a healthy dose of his trademark bloodshed. The relationships between Tse-Ho, Kit, and Mark are the emotional heart of the film. One sequel, "A Better Tomorrow 2," was released in 1987, and a prequel, "A Better Tomorrow III: Love & Death in Saigon," in 1989. The latter was directed by Tsui Hark after he and Woo had a falling out. A Hindi version, "Aatish," was released in 1994. There's also a 2010 Korean version and a 2018 Chinese remake, "A Better Tomorrow 2018."