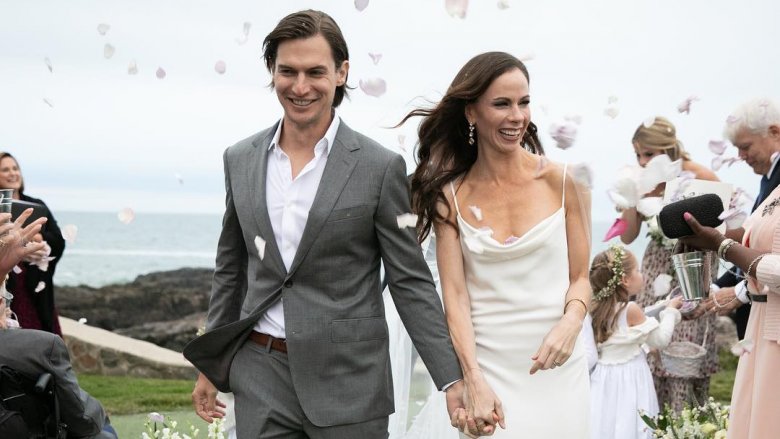 Congratulations to Barbara Bush! On October 8, 2018, AP News reported that the former first daughter married her fiancé, 37-year-old Craig Coyne. The two wed at the Bush family's home in Kennebunkport, Maine on Sunday, October 7.
After the wedding, Barbara's twin sister, Jenna Bush Hager, divulged some details about the intimate wedding on her personal Instagram, writing: "My heart exploded last night as I watched my dearest sissy get married in Maine. It was just like her: private (only family!) and full of love (and yes lots of tears!)." Father of the bride (former President George W. Bush) also took to Instagram to share a sweet photo of himself walking his daughter down the aisle.
Barbara's small and private wedding seemed to come out of nowhere and, upon hearing who the groom was, you may have been scratching your head, thinking, "Who in the world is Craig Coyne?" Don't worry — we've got you covered. Here's everything you need to know about this mystery groom.
He graduated from this university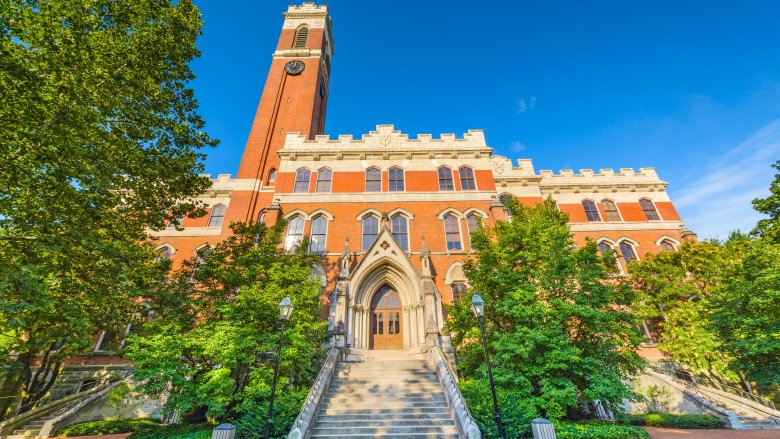 In 2004, Barbara Bush graduated from Yale University with a degree in humanities. From there, she went on to work at the Smithsonian Institution's Cooper-Hewitt National Design Museum in educational programing. In subsequent years, she worked at the Red Cross Children's Hospital in South Africa, interned with UNICEF in Botswana, and participated in the United Nations' World Food Programme. And this was all before becoming the CEO and cofounder of an organization called Global Health Corps. Phew.
So, Barbara must've met her now-husband while in college or during her time at any of these various organizations, right? Nope. They actually traveled in vastly different circles. Coyne graduated from Vanderbilt University, which is in Nashville, Tennessee and is not an Ivy League school like Yale. Of course, that doesn't mean it's not a good school. To the contrary, U.S. News & World Report named the private institution the 14th best university in the nation in 2018. So, what did Coyne do with his degree? You'll want to keep reading.
He dabbled in acting
According to Coyne's profile created by his agent on Independent Talent, "Craig got his first taste of the entertainment industry when cast by Sam Mendes in Jarhead." The movie, which features A-list actors Jake Gyllenhaal and Jamie Foxx, examines military operations during the Gulf War through the perspective of a United States Marine sniper. Although Coyne's role in the film is decidedly small, it opened up plenty of opportunities for him.
Coyne decided to move to Los Angeles where he continued to pursue acting. Between 2007 and 2008, Coyne was cast as Carl in 14 episodes of Lonelygirl15, which was, as Coyne's agent put it, "the most-watched web series of all time. In 2009, Coyne went on to star as Logan in the comedy feature film I Hope They Serve Beer in Hell and, in 2012, he played Nick in the drama Look at Me. By 2015, he had also acted in seven short films.
He started "shifting his focus" away from acting
Although Coyne could rightfully be called an actor, that's not necessarily his claim to fame these days. When AP News reported that Barbara and Coyne had married, the groom was introduced as "37-year-old screenwriter Craig Coyne." This is because, as his agent explained, he started "shifting his focus to writing." In doing so, Coyne has already sold — and developed —a "live action half hour" show called Doin' Good for Comedy Central. That's no easy feat. According to his agent, Avalon Entertainment is already on board to produce. But, that's not all.
As of this writing, Coyne's own original series for Funny or Die is in post-production. The series, which is titled Ask Play, will star Parks and Recreation's hilarious Jim O'Heir. And, if that weren't enough, Coyne also wrote the play Delusions of Grammar. Though it was his very first play, it was named "an official selection to the 2016 William Inge Theatre Festival," according to Coyne's agent. This guy's got some serious talent.
He had a small role in politics
Okay, okay, I know we said Barbara and Coyne traveled in vastly different circles, but one commonality is that they were both involved in politics — kind of. In 2001, when George W. Bush was inaugurated as president, Barbara became a first daughter. As a young adult, Coyne also took up a small role in politics. According to his agent, he worked as a Page for the United States House of Representatives. House Pages date back some two centuries in American history, but the "History of the House Page Program" (via History, Art, & Archives) explained that the goal of the job has remained much the same: "to assist in the smooth functioning of the legislative process."
There's also said to be a link "between Page service and a person's decision to be civically engaged or to pursue a life in public service." Hmm. Does this mean Coyne will one day run for office?
When Coyne met Barbara
For the most part, Coyne and Barbara's lives seemed to be headed down different — but equally notable — paths. With Barbara working as a CEO of her leadership development organization and Coyne busily pursuing screenwriting, it's hard to imagine how these two people's lives would ever intersect. Thankfully, Barbara decided to spill the tea in an interview with People.
As it turns out, Barbara and her now-hubby met on a blind date that was arranged by her and Coyne's friends. Although we didn't know anything about her relationship with Coyne until the big day, Barbara also revealed that they'd met back in November 2017 — around the time she and her sister were promoting their book — and they didn't waste any time getting to know each other. By New Year's Eve, they were officially a couple. And, believe it or not, the bride and groom had only been engaged for five weeks before they walked down the aisle. Well, when you know, you know, right?
Wait, they were long distance for how long?
It wasn't just difficult to imagine Barbara and Coyne's paths intersecting because of their different interests, it was also quite hard for their literal paths to come together. When speaking with People, Barbara admitted, "It's just been a very sweet romance. And we've been long-distance for most of it — he's been in LA and I've been in New York — but we've gotten to spend a lot of time together." The odds may have been stacked against this couple, but kudos to them both for making it work.
If you're wondering just when Coyne moved to New York, the answer may surprise you. When Barbara told People "most of" their relationship was long-distance, she wasn't kidding. During their incredibly fast-paced romance, Coyne only just left Los Angeles and moved to Manhattan during the very same week he and Barbara said "I do."
This just proves that he's super romantic
Coyne isn't just ridiculously good-looking — oh come on, we were all thinking it! — he's also pretty stinkin' romantic. In Barbara's interview with People, she revealed all of the details about Coyne's marriage proposal.
During a family gathering at the Bush family's Kennebunkport, Maine home — the very location where the couple would later wed — she and Coyne went for a walk down by the ocean. During the walk, Coyne "suddenly dropped to his knee" and proposed to his girlfriend of some seven months. While an oceanside walk is surely romantic in and of itself, he actually proposed in the very spot where Barbara's grandfather, George H.W. Bush, proposed to her grandmother and namesake, Barbara Bush, some 75 years prior in August 1943. All the feels.
Although Barbara's grandmother passed away just four months before the proposal, Jenna Bush Hager posted a photo on Instagram of their grandfather attending Coyne and Barbara's wedding. Adorbs.
The bush family approves of him
Barbara isn't the only one that's taken a liking to Coyne. He has managed to win the approval of the rest of the Bush family as well. After the wedding, Coyne's father-in-law shared a wedding photo to Instagram praising his daughter for being a "unique and strong woman" just like her grandmother. George W. Bush went on to write that he and his wife, Laura Bush, are "so proud of our compassionate, daring, fierce, kind, intelligent, loving daughter." And then came the good news for Coyne: "And we're thrilled to welcome Craig Coyne to our family." Woot woot!
Coyne's mother-in-law echoed her husband's sentiment when she, too, took to Instagram. Under a group wedding photo, Laura wrote, "It was a wonderful day in Maine when Barbara married her love and Craig joined our family." As Coyne is no doubt well aware, it's no small honor to be welcomed into the home — and family — of a former United States president.
Keep an eye out for Coyne in this film
Craig Coyne relocated to New York, yes, but does that mean he's given up his entertainment career? While we may have to wait to find out the answer to that for sure, we can at least take comfort in knowing that we'll get to see him act at least one more time in 2018. According to IMDb, he is in the comedy-drama Unlovable, a feature film centered around a sex and love addict who "learns what real intimacy is when she starts making music with a reclusive man." Although not exactly a true story, the film's writer Charlene deGuzman divulged on #TwitterHouse that she wrote the pilot "based on [her] experiences with recovery from sex and love addiction."
The movie is set to hit theaters on November 2, 2018 and, when it does, keep your eyes peeled for an appearance by Coyne, who IMDb credits as "Chad." We have a feeling he won't be unlovable.