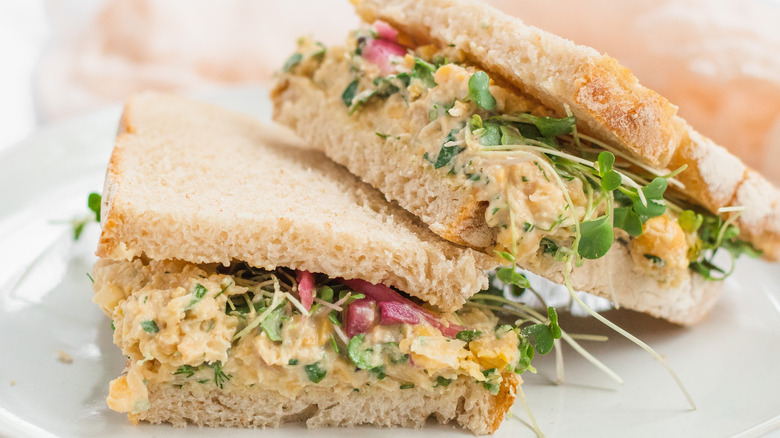 When you think about it, chickpeas are chock-full of amazingness. These humble little legumes, also known as garbanzo beans, of course, can be eaten whole in salads, soups, wraps, and more. They can be blended into hummus, cooked into falafels, made into flour, processed into pasta … and the list goes on. They're healthy, they can be kept canned in the pantry for when you need them, and to top it all off, they're delicious, too. One bite of this chickpea salad sandwich will have any doubter firmly sold on that front.
"This chickpea salad is a great plant-based option in place of egg, tuna, chicken salad, [and so on]," says recipe developer and registered dietician Jaime Bachtell-Shelbert of Wholly Nourished. And the sandwich can be the centerpiece of a great meal, too. To fill out a fine lunch or brunch, Bachtell-Shelbert says, "Salad and fruit is great [to enjoy alongside this sandwich]! Or, [it goes well with] a side of roasted potatoes or sweet potatoes!"
For the record, while we're discussing a chickpea salad sandwich recipe today, don't think that the only way to enjoy this tasty creation is between two pieces of bread. Bachtell-Shelbert says that the chickpea salad can be used as a salad topping itself, or "as a cracker topping for a snack." And while you need to eat an assembled chickpea salad sandwich ASAP so it doesn't get soggy, she adds, "You can store the chickpea salad in the fridge for up to four days."
The health benefits of chickpeas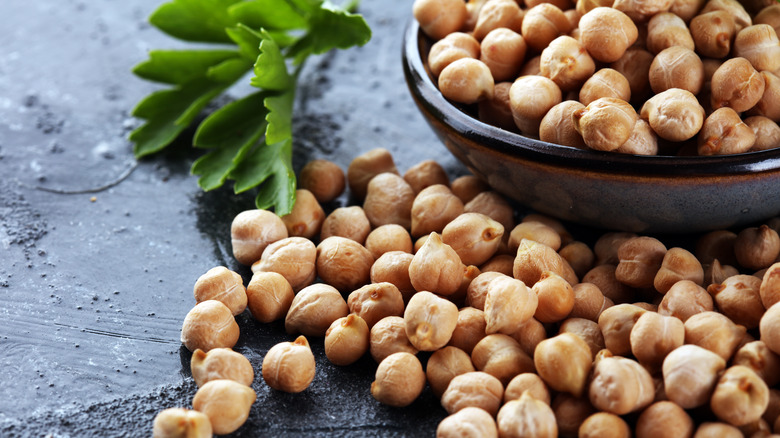 Not only are chickpeas tasty and versatile, but as noted, they're healthy. Let's look at a few of the specifics in that regard. According to Healthline, if you're looking for something high in protein, chickpeas are a great option to use as your "meat" when you're sticking to a vegan or vegetarian diet.
They also have a ton of awesome nutrients, and are chock-full of vitamins and minerals, including folate, manganese, and fiber. Chickpeas are pretty low in calories, meaning that for the nutrients chickpeas deliver, they come with a relatively small caloric content per serving. The glycemic index is also low in chickpeas, which may help in balancing blood sugar (via Healthline).
When something is as delicious as chickpeas and has this many amazing health benefits, it's a no-brainer that any recipe as delicious as this chickpea sandwich is a fun one to have on hand for any lunch, brunch, or light meal.
Gather the ingredients to prepare a chickpea salad sandwich
To make chickpea salad, you'll need to get a few items together from your cupboard or the store. The list of ingredients includes: canned chickpeas, rinsed and drained, hummus (and do consider garlic flavor), rice vinegar, chopped fresh dill, chopped fresh parsley, and salt and pepper to taste. Now, that's just for the salad, but if you want to make this into a chickpea salad sandwich? This is not going to be difficult at all. All you need to do is just add slices of sourdough bread. And in either case, for the salad or the salad on a sandwich, optional topping ideas include sprouts, greens, and pickled onions.
But there's no need to stop there. "This recipe is so customizable," says Bachtell-Shelbert, adding, "You can change up the herbs or hummus flavors to suit your taste. For instance, use roasted red pepper hummus and stir in pine nuts and basil! So much fun to play around with this one." The options are truly endless, so go to town and make this salad or sandwich completely your own with all of your favorite flavors and extra ingredients.
Smash the chickpeas, and blend in the other ingredients
First things first: Empty the canned (or boxed) chickpeas into a strainer and thoroughly rinse them off. Next, you are going to place said rinsed and drained chickpeas in a bowl, and mash them lightly using a fork, spatula, or dedicated mashing tool. Be careful, and keep at least half of the chickpeas intact. (Alternatively, you can add them to a food processor and process them with a series of pulses, leaving half of the chickpeas intact that way.) The variety of mashed chickpeas in the salad makes for a really great overall texture.
Now, stir in the remaining ingredients, which include the hummus, vinegar, dill, parsley, salt, and pepper. Mix all of these together until everything is evenly incorporated. Right about now, your salad is going to be looking pretty amazing!
Toast the slices of sourdough bread, and assemble the sandwiches
Before you put the sandwiches together, go ahead and give the chickpea salad a good taste test and adjust the seasoning with salt as necessary. You know you're dying to do this, and obviously you want to make sure that the salad is seasoned to perfection. Next, toast your slices of sourdough bread, and then lay the slices of bread out flat.
Now it's time to evenly distribute the chickpea salad among the sourdough slices. Next, you're going to top each of the sandwiches with your desired toppings, such as sprouts, fresh leafy greens, pickled onions, fresh onions, or whatever else sounds great to you. And note that while the volume of ingredients used in this specific recipe will make three sandwiches, you can, of course, scale it up or down as needed to make more or to prepare a serving just for yourself.
Obviously, it would be great if you had some chickpea salad leftover to enjoy the next day for another sandwich or even for just a salad. But hey — if you do finish it all in one meal, this recipe is easy enough to whip up again as often as you'd like. Now that you know how to make it, be sure to have all of the ingredients on hand so it will be an easy meal to add to your rotation.
How to serve your chickpea salad sandwiches
When you're ready to serve your delicious sandwiches to your family or guests, you can place them on a platter in the center of your table, or you can make individual plates. Add a few items to accompany your sandwich, such as all-natural potato chips, pickles, olives, carrots, cucumbers, or grapes. Each of your guests or family members will have themself a very colorful plate to enjoy.
This chickpea salad sandwich is a tasty plant-based treat you can enjoy for lunch or a light snack.
1 can chickpeas, rinsed and drained
⅓ cup hummus
1 tablespoon rice vinegar
1 tablespoon fresh dill, chopped
2 tablespoon fresh parsley, chopped
salt, to taste
pepper, to taste
6 slices sourdough bread
sprouts
greens
pickled onions
Place your rinsed and drained chickpeas in a bowl, and mash lightly, keeping at least half of the chickpeas intact. (Alternatively, you can add them to a food processor and process, leaving half of the chickpeas intact.)
Stir in the hummus, rice vinegar, chopped fresh dill, chopped parsley, salt, and pepper, mixing until evenly incorporated. Adjust the seasoning with salt as necessary.
Toast the six slices of sourdough bread.
Evenly distribute the chickpea salad among the sourdough slices, and add desired toppings.
Serve, and enjoy!