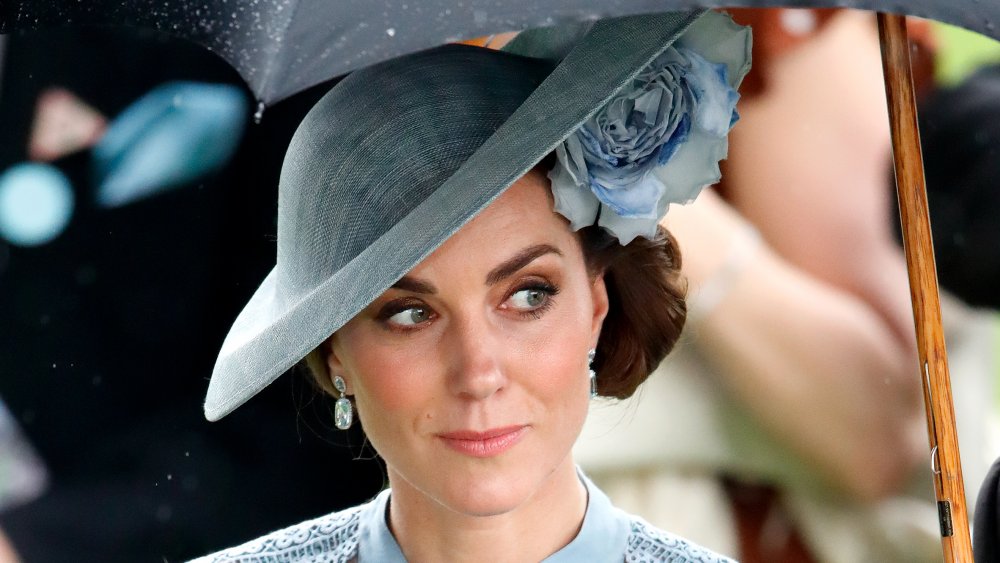 From the moment Kate Middleton was first pictured with Prince William in the British press, the public has been seriously obsessed with her stunning wardrobe, and we totally understand why. From her famous see-through fashion show outfit to her stunning lace wedding dress, Kate's clothes have always gotten people talking (via Marie Claire). One woman even spent over $5,000 trying to replicate her style (via The Daily Mail).
In terms of fashion, Kate has generally preferred to keep her wardrobe classic, simple, and professional, much like her iconic bouncy blowout that we all love. But just because the Duchess of Cambridge likes classic styles doesn't mean that she's averse to dressing in some pretty pricey designer items every now and then. In fact, it turns out, Kate has a few go-to designers that she always comes back to, such as Alexander McQueen, Monica Vinader, Jenny Packham, and Jimmy Choo (via Marie Claire). And as any fashion-savvy royal fan will know, these designers don't come cheap! Here are some of Kate Middleton's most expensive outfits.
Kate Middleton's wedding dress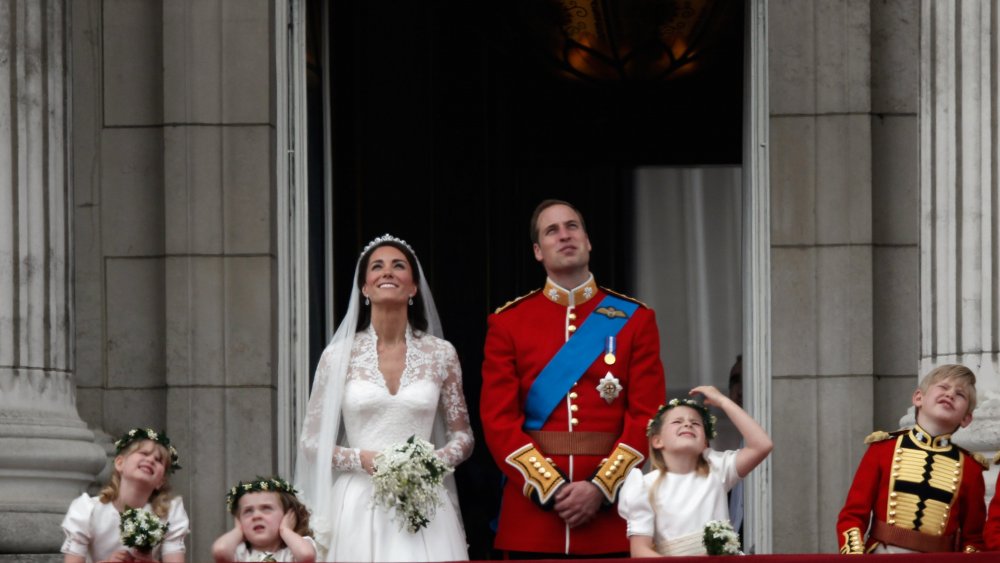 It would be impossible to discuss Kate Middleton's most pricey wardrobe pieces without delving into one of her most famous looks — her wedding dress! Kate's marriage to Prince William in 2011 was a huge event that instantly became one of history's most iconic royal weddings. Kate was marrying the man who could very well become King of England, after all. Therefore, she really went all out when it came to her big day, and she looked incredible.
It's no surprise that Kate pulled no punches on her wedding dress. For her big day, she chose to enlist the help of British designer Sarah Burton, the creative director of Alexander McQueen. The fairytale dress had a voluminous skirt, lace sleeves, and a stunning nine-foot-long train. As Burton told The Daily Mail, the design aimed to "look to the past, yet look to the future as well." She explained the dress had references to Victorian fashions along with the more modern arts and craft movement.
And how much did this unforgettable wedding dress cost? Well, according to The Sun, it was worth was estimated around £250,000 — around $323,732! Apparently, this makes it one of the most expensive dresses ever.
When Kate Middleton wore this pricey Walker & Co dress to Wimbledon
One of Kate Middleton's favorite recurring royal engagements is attending Wimbledon, Britain's famous yearly outdoor tennis tournament (via BBC). The tournament welcomes plenty of familiar faces each year — from both the world of tennis and the world of celebrity. Celebrity-watching at Wimbledon has become almost as important as the sport itself (via Harper's Bazaar). So, it's no surprise that Kate serves up some of her best looks while taking in the tennis from the stands.
In 2017, the duchess stunned fans in a pretty white sundress with a delicate flower pattern decorating the hem — perfect for a sunny day at Wimbledon. According to Hello!, the dress was actually by designer Catherine Walker & Co. While it's unclear what the exact cost of the dress would have been, Quartz estimated that a Catherine Walker dress would cost at least $2,500. She paired the dress with a pair of Cassandra Goad gold earrings, which are reportedly worth £1,685 (or around $2,200).
Kate Middleton has worn this expensive $10,000 Alexander McQueen gown a few times
While most royals don't often recycle their outfits, we can hardly blame Kate Middleton for reusing a few — including this stunning Alexander McQueen dress. After all, it cost her $10,605, according to Harper's Bazaar. According to Insider, Middleton first wore this jaw-dropping tiered, voluminous black and green floral gown to the BAFTA Awards in 2017. The dress featured a pattern of green and white floral bouquets that got larger as they went down the dress, creating a long, lean look on Kate.
She then re-wore the dress in 2019 to the Portrait Gala. On its first outing, the dress had small, off-the-shoulder sleeves that created a romantic look. However, when Kate wore the dress a second time, the dress had been reworked and now sported capped sleeves. Talk about some innovative clothing recycling! We love how Kate managed to transform this dress for two separate occasions — and look stunning both times! She could definitely teach us a thing or two about fast fashion.
When Kate Middleton wore a classic Chanel tweed dress in Paris
Kate Middleton made a decidedly smart fashion choice in Paris in 2017 by opting to wear an entire outfit comprised of pieces by the classic French designer, Coco Chanel. As Express reported at the time, she paired a multi-colored tweed coat dress with a simple black calfskin leather belt and a small burgundy handbag to complete the French look.
The handbag was priced at around £3,000 (or $3,875), and the dress, according to Showbiz CheatSheet, was worth a jaw-dropping $10,891!
Kate was also wearing some pretty pricey French jewelry for the occasion. According to Express, she wore a £1,520 ($1,963) Cartier necklace, along with her £4,850 ($6,263) Ballon Bleu de Cartier 18-carat gold watch. Altogether, this brings the outfit to a staggering $22,992! Talk about an expensive holiday outfit! While Kate's French girl outfit cost a hefty sum, she certainly succeeded in making an impression, with fashion critics and fans alike giving the outfit their seal of approval.
When Kate Middleton donned a gorgeous Dolce & Gabbana coat on Remembrance Day
For Remembrance Day in 2017, Kate Middleton dressed to impress in a classic, chic Dolce and Gabbana coat. Even though Kate was pregnant at the time, under the slimming black coat with gold buttons, it was impossible to tell (via Vanity Fair). The coat retailed for £2,150 (or $2,781). According to the website What Kate Wore, the coat is made of a silk/wool blend.
Apparently, Kate was also wearing a Philip Treacy hat that she had worn for two other ceremonies in 2006 and 2012. While we don't know the exact price of this hat, Philip Treacy hats seem to go on Net-a-Porter for between £1,000 and £2,000 — that's $1,293 to $2,587! At a price like that, it's no wonder the duchess has pulled out this hat multiple times.
According to What Kate Wore, the outfit was completed with a pair of Cornelia James Beatrice gloves, worth $92, and a pair of Oscar de la Renta gold sun-shaped earrings, worth $175. Altogether, the outfit could easily come to around $5,500. And that's not even including the clothes she wore underneath the pricey coat.
Kate Middleton didn't hold back on the dress she wore to Pippa's wedding
For her own wedding, Kate Middleton certainly went all out when it came to her super-expensive dress. It turns out, she also spent a fair amount on her outfit for her sister's wedding too. Pippa Middleton was married in 2017, and even though she wasn't an official bridesmaid at the event, Kate was praised for her stylish, pitch-perfect dress that didn't turn too many heads away from the bride (via Glamour).
According to Vogue, Kate commissioned a dress from the same fashion house that created her famous wedding day dress — Alexander McQueen. The beautiful soft pink silky gown featured slight puff sleeves, a flattering v-neck, and a sophisticated midi-length cut. As Vogue noted, the dress also featured quite a few Middleton fashion staples, "including the peplum at the hip — tailored yet soft — and the figure-flattering drapey pleat work." According to The Telegraph, she accessorized with a pair of Kiki McDonough earrings. Kate also donned a matching pink hat by Jane Taylor for the occasion. According to Harper's Bazaar, the outfit clocked in at around $14,014!
Kate Middleton arrived in Canada in very expensive style in a Jenny Packham dress
For most of us, traveling across the Atlantic Ocean would mean throwing on our sweats, tossing our hair up into a messy bun, and grabbing a pair of very oversized sunglasses to hide the bags. Of course, for Kate Middleton, this wasn't an option. When Kate traveled to Canada in 2016, she stepped off the plane looking like a million bucks — or at least like several thousand bucks.
On her first day in Canada, the duchess reportedly wore a stunning royal blue dress — no pun intended! — worth around $5,000 by Jenny Packham, according to E! News. The lovely, simple blue suit dress had a timeless, classic feel, perfect for the formality of the occasion. Her matching blue hat, embellished with maple leaves as a gesture toward Canada's national tree, was by Sylvia Fletcher for Lock and Company and cost around $4,000. She also wore Gianvito Rossi pumps worth $675, a maple leaf broach, and earrings by G. Collins & Sons worth $12,000, and she carried an LK Bennett clutch worth $240. Altogether, this means Kate's plane outfit cost around $21,915.
Kate Middleton wore a pricey floaty white lace dress to the Royal Ascot
When it comes to fancy British outings, it doesn't get more iconic than the Royal Ascot. The Royal Ascot is what W Magazine called "Kentucky Derby but extra fancy." Basically, it's all about big, ridiculous hats, champagne flutes, and very expensive dresses. You may remember it from that legendary scene in My Fair Lady when Audrey Hepburn debuts her posh accent in what may be the biggest hat ever.
Naturally, Kate Middleton tends to go the extra mile — just like Audrey — when it comes to dressing up for the Royal Ascot. In 2018, the duchess chose an ultra-elegant white lace dress by Dolce & Gabbana worth around £2,415 ($3,121), according to Hello! magazine. She also donned a matching white lace fascinator, sparkly drop earrings, and a stylish beige clutch. Overall, the sophisticated, romantic look struck the perfect tone for Britain's fanciest summertime horse race.
Kate Middleton didn't hold back on this garden party outfit
It's no secret that the Brits love a garden party. To celebrate the queen's 90th birthday, Kate Middleton and Prince William attended a garden party in Berlin in 2017. For the special occasion, Kate chose to wear a bold red maxi dress by one of her favorite designers — Alexander McQueen. The beautiful, floaty dress featured a cinched waist and romantic off-the-shoulder sleeves. Kate wore the dress with a pair of Prada heels.
According to The Daily Mail, the stunning dress cost £2,075, around $2,678. The dress was definitely a hit amongst royals fans and fashion enthusiasts alike. Elle even said it "topped our list of best Bardot dresses this summer." And we have to agree! With its soft chiffon details, its flattering pleated effect, and its feminine lines, this head-turning dress is simply to die for. It's easy to imagine that all eyes would have been on the duchess in red at this garden party.
Kate Middleton poured pints wearing a $2,000 dress
As a member of the royal family, Kate Middleton has done some pretty odd public appearances in her day. In one of the strangest engagements, the duchess ended up behind the bar of a local Irish pub pouring pints. Unlike most bartenders, Kate was dressed to the nines for the occasion. This spot of bartending actually occurred during a party at the Empire Music Hall in Belfast, so it's no wonder Kate and her husband Prince William were so dressed up.
According to Hola! magazine, Kate wore a stunning wrap V-neck dress with a cinched waistline in a sparkly, sheer, light teal fabric. The dress was designed by Missoni and reportedly cost around $2,115. To complete the outfit, the duchess chose a pair of elegant nude heels by Gianvito Rossi worth $670, and a Mulberry clutch bag worth $730. In total, that brings the outfit to a staggering $3,515. We have to admit, that's probably the most expensive outfit to ever travel behind a sticky local pub bar.
Kate Middleton has pulled out this pricey Jenny Packham dress a few times
Anyone who follows Kate Middleton's fashion choices closely will know that the Duchess of Cambridge isn't adverse to recycling a few of her most treasured pieces. It would seem that a certain Jenny Packham dress is one such special item. According to ET, Kate was first seen wearing the beautiful pink gown in 2011, at the ARK Tenth Anniversary Gala Dinner in London. She then pulled out the same dress in 2016 for a charity gala in support of Children's Hospices. Apparently, the dress is worth around $4,500, so it's easy to see why Kate thought it deserved a second outing.
Even though the dress had been worn to a previous function, Kate looked breathtaking. The blush pink gown featured floaty, gauze sleeves, a slinky silhouette, and delicate silver details. On both occasions, Kate looked like — well — a princess!
Kate Middleton wore this super-expensive Gucci blouse — backward!
In one of Kate Middleton's most famous fashion moments, the Duchess of Cambridge actually wore a designer top back to front on an outing to visit the Henry Fawcett Children's Centre in London. As Insider reported in 2019 that the creative look was pretty different from her usual royal style. She wore the long-sleeved purple Gucci blouse backward to show off the beautiful bow at the neck and the buttons. She then paired it with a pair of dark flared trousers from the more affordable high street brand Jigsaw. The top alone was worth $1,300 — pretty pricey for a casual look if you ask us.
Kate's choice to spin the top around garnered plenty of media attention. Harper's Bazaar noted that it was unclear whether the duchess had worn the shirt backward intentionally, but said that "she look[ed] smashing" either way. We totally agree! Good on Kate for breaking a few fashion rules.
Kate Middleton's plane outfit came to over $4,000
It seems that Kate Middleton always goes big when it comes to traveling days. On her way home from Canada in 2016, the duchess made sure she was looking her absolute best for all those pictures of her and the family waving goodbye as they stepped aboard the plane. According to Elle, the Catherine Walker cream coat she chose for the occasion cost a cool $4,000.
In fact, Kate seemed to like the simple cream number so much that she pulled it out for a second outing in 2019. According to Insider, the duchess picked the lovely coat for a surprise visit to a military concert. Even though Kate re-wore the coat, she updated the look by tying her hair back into a chic low bun and wearing a pair of striking pearl earrings — apparently, they actually cost more than the coat. As Express noted, the earrings were worth around £4,000, which is around $5,164.
For St. Patrick's Day, Kate Middleton rocked a stunning Alexander McQueen coat worth a pretty penny
For special occasions, Kate Middleton often pulls out all the stops and shows up to official events looking her absolute best. St. Patrick's Day in 2019 was no different. The duchess paid homage to the Irish with an all-green outfit that was apparently fairly costly. As reported by Insider, Kate wore a beautiful fitted dark green coat worth £3,000, or around $3,976. According to The Daily Mail, the coat was designed by one of Kate's favorites, Alexander McQueen. Apparently, she'd already been spotted wearing the designer that same week! She paired it with a pair of simple black Gianvito Rossi worth £510 ($659). That brings her outfit to well over $4,500.
The Daily Mail commented on the "military-inspired" look of the McQueen coat — and we have to say, the coat's fit and color really were perfect for the military occasion.