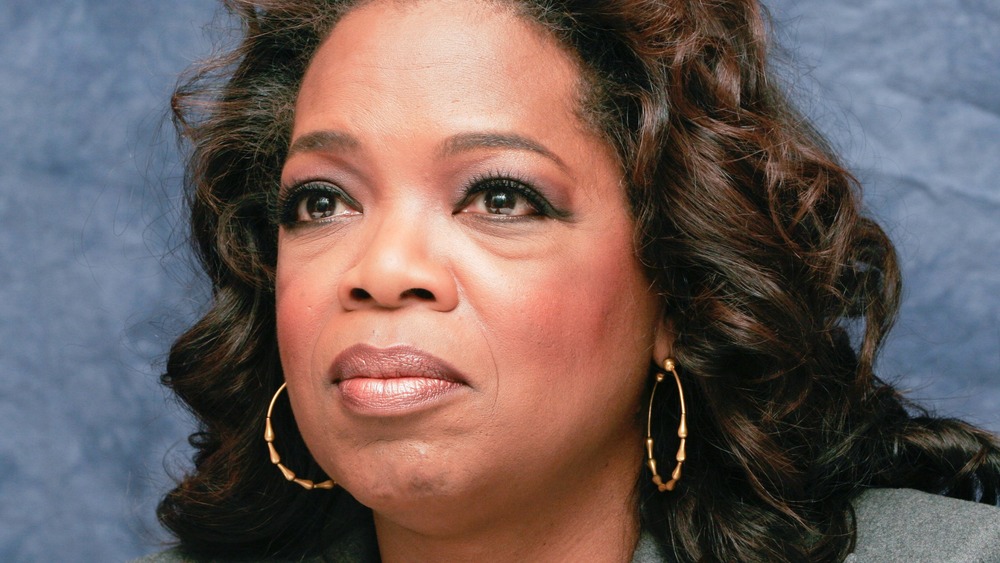 If there is one person who singlehandedly captures the attention of just about everyone, it's Oprah Winfrey. A media mogul who has spent her career in front of audiences and on the big screen, Oprah has and continues to spark incredible interest. It's not surprising since her hit talk show and her acting career has made her one to watch. It is, after all, a real testament to one's career when everyone knows you by just your first name.
Oprah continues to spark incredible media interest, not just because she is beloved herself, but because she interviews some amazing celebrities. She is behind the highly anticipated 2021 sit-down with Prince Harry and Meghan Markle, and she's interviewed the likes of Barack Obama, Maya Angelou, and RuPaul (via Grazia) — you name them, she's interviewed them. Oprah has a sense of calm, an approach that makes her unique. But despite all her time on camera, there is so much about Oprah that most people don't know.
Oprah is one of the richest women in the world, she is a media empress, and she's a talk show queen. She is undoubtedly a huge success story, but one with many chapters of pain. Here are the tragic things about Oprah Winfrey everyone just ignores.
Oprah Winfrey was sexually abused as a child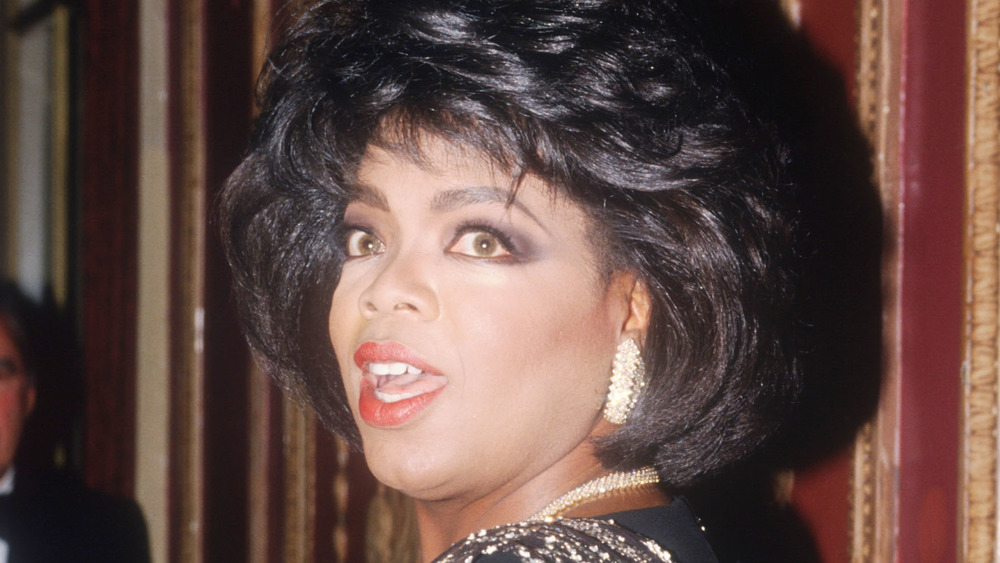 Oprah Winfrey is known for her steadfastness and her ability to connect, but her life did not start off on a positive note. She has shared glimpses into her early life throughout her career, and revealed that she had experienced sexual abuse at the young age of 9. As noted by the Irish Examiner, Oprah revealed during a 2012 lecture series that she had been raped at 9 years old (by a cousin, according to The Guardian). "He took me to an ice cream shop — blood still running down my leg — and bought me ice cream," she recounted, speaking of the man who had abused her.
And the abuse she faced didn't stop there. Oprah continued to be sexually assaulted from ages 10 to 14, as well as beaten regularly. "Anybody who has been verbally abused or physically abused will spend a great deal of their life rebuilding their esteem," Oprah said of her experiences growing up.
If you or anyone you know is facing sexual abuse, please call the National Sexual Assault Telephone Hotline at 800.656.HOPE (4673).
Oprah grew up in extremely poor circumstances
Oprah Winfrey might be known as one of the richest women in the United States, but she did not grow up with wealth. In fact, she lived in poverty for most of her childhood. As noted by The Guardian, Oprah was born in 1954 when her mother was just a teenager. As such, Oprah spent her childhood on a small farm located in Mississippi, and was raised by her grandmother. Young Oprah's family was reportedly so poor that she wore overalls fashioned from potato sacks (via The Observer).
Oprah's grandmother wanted one thing for her granddaughter: for her to become a domestic houseworker or maid in an affluent family's home. "I just hope you get some good white folks when you grow up, treat you right, treat you nice," Oprah recalled her grandmother saying to her. But the life of a domestic house worker was not what Oprah had in mind. She recalled that at just 4 and a half years old, she decided that she would defy the expectations that her family (and society) had for her life. And defy them she did, because Oprah is now one of the most recognized celebrities in the world.
After living in a detention home, Oprah moved in with her father while carrying a huge secret
Oprah Winfrey was just 14 years old when her mother took to her go live in a detention home. As noted by the Irish Examiner, Oprah recalled her mother saying, "You are getting your a** out of this house," and as such, the young teen found herself living in a home full of other young girls. But living in the detention home, overrun with other occupants, was short-lived, and Oprah went to live with her father.
Unlike her mother, who kicked Oprah out of the house, Oprah's father had extremely high expectations of his daughter. As noted by The Guardian, Oprah's father expected his daughter to pull good grades at school. Not only that, but Oprah was not allowed to date, have sex, or engage in any kind of activities that were considered "deviant." Her living circumstances had completely changed, and Oprah was on a very short leash.
But what her father didn't know when she moved in with him at the time was that Oprah was pregnant. Things only got more tragic from there.
Oprah's experience with teen pregnancy was a dark time in her life
Getting pregnant at just 14 years old sent Oprah Winfrey on a downward spiral. She revealed while appearing on CNN's Piers Morgan Tonight in 2011 that she had contemplated suicide, even resorting to drinking laundry detergent to end her pregnancy. "Getting pregnant was a result of bad choices, not having boundaries, sexual abuse from the time I was 9, 10, 11, 12 and 13," she said, as reported by the New York Daily News.
Oprah further explained that the rules set by her father added pressure, because her father said once that he would "rather see a daughter of [his] floating down the Cumberland River than to bring shame on this family and the indecency of an illegitimate child." Oprah confessed that she was scared about her fate, thinking that she would have to end her life given the circumstances.
Oprah's pregnancy came to a tragic end when her baby died at two weeks old. As noted by the Irish Examiner, Oprah "buried all [her] feelings" about what had happened, before realizing that her "baby's life… gave [her] new life."
If you or anyone you know is having suicidal thoughts, please call the National Suicide Prevention Lifeline​ at​ 1-800-273-TALK (8255)​.
Oprah Winfrey's first gig in television news was a disaster
We all suck at our first real job, and if you think that someone as iconic as Oprah Winfrey had it easy in her career, you're wrong. As noted by the Chicago Tribune, Oprah's first gig as a news anchor in Baltimore, Md. didn't go well.
While reporting a story about a house fire that turned deadly, Oprah started crying on air. In the span of one news hour, Oprah said "Canada" wrong three different times. She would also reportedly get on the nerves of the newsroom writers because she would go off script, and once her hair started to fall out because she had gotten a bad perm done. It's fair to say that the news business was not the best fit for Oprah, something that she spoke about while talking to Stanford University's graduate business students.
Oprah said that she was too empathetic for the news industry, that she would get emotionally attached to the stories and people that so many other newscasters were numb to. It was after her time as a news anchor came to a close that Oprah made her first appearance on the talk show People Are Talking.
Oprah faced sexism during her first big on-air gig
While speaking to Stanford University's graduate business students, Oprah Winfrey shared that while she was the co-host of People Are Talking in Baltimore, Md., she found out that her male co-host was making more money than she was. So what did Oprah do? She approached her boss about it.
"I'm going to go, and I'm going to stand up for myself," she said to the audience. "I said, 'Richard's making more money than I am and I don't think that's fair because we're doing the same job, we sit on the same show.'" Now you might want to sit down for this next part. In a shocking turn, her boss asked Oprah if she had children. He then asked if she owned a home, or had to put children through college. Oprah said no to his questions, which then poised him to say, "So tell me, why do you need the same amount of money?"
Oprah said that the blatant sexism was enough for her to say goodbye to the gig. "I said, 'Thank you for your time,' and I left. I knew that in that moment it was time for me to go," she said.
Oprah followed a boyfriend down a dangerous path
We've all followed a boyfriend down a path that maybe wasn't the best for us, but Oprah Winfrey basically became addicted to her boyfriend and unfortunately used drugs while with him. As noted by The Washington Post, during a 1995 episode that centered itself around people recovering from drug abuse, Oprah revealed on her daytime talk show that she had used cocaine when she was in her 20s. A guest of the show told The Post that Oprah started to cry while recounting her experience.
"She said she was involved with a man and she did drugs when she was with him. When he was gone the drugs were gone," the guest said. "It was weird. I just saw this woman I've admired so much. And she's been where I've been and she pulled out of it."
Oprah talked about her experience with drugs later on in life while talking with Today in 2005, saying that she was "more addicted to the boyfriend" than she was to any substance. "The admission to using drugs on television was the biggest thing," she said, and at the time of the admission, Oprah's audience knew she had a lot to lose.
Oprah Winfrey's sister passed away in 2003
In 2003, Oprah Winfrey suffered a very public tragedy when her half-sister Patricia Lloyd died. As noted by KCBD, an NBC News affiliate, Lloyd was discovered dead in her home in the suburban area of Milwaukee at just 43 years old. The medical examiner could not determine the cause of death at the time, but the New York Post later reported that her death was believed to have been caused by drugs.
Lloyd's death was a tragic end to a sibling relationship that never really blossomed into anything positive. As noted by the New York Post, Lloyd was responsible for Oprah's "first betrayal," as she tried to sell information about Oprah's past to the tabloids. As Oprah put it, her sister went to a national magazine in 1990, "sat in a room, told them the story of my hidden shame — and left their offices $19,000 richer." Oprah also suffered the loss of her half-brother, Jeffrey, who died in 1989 from AIDS.
Despite her fame, Oprah faced an extremely racist incident while in New York
Oprah Winfrey is one of the most recognizable figures in American media, but she's experienced racist incidents throughout her life. As noted by the Los Angeles Times, Oprah and a friend were walking down Madison Avenue in New York City after seeing a show on Broadway . A sweater in a store window caught Oprah's eye, but as the two went to enter the store, the associates wouldn't open the doors.
Oprah took matters into her own hands — she crossed the street to a payphone and called the store, asking if they were open. The associate said yes, and Oprah made her way back over. But still the store workers refused to open the doors.
"We had seen these two white women go in the store," Oprah said about the incident. "Suddenly it dawns on both of us: Oh my God, I think we're having a racist moment!" Oprah called later and complained, with the store telling her that they hadn't opened the doors because "two black people had robbed the store a week earlier." As compensation, the store offered to give Oprah the sweater for free. Her response? "Keep the sweater."
Oprah Winfrey's father attempted to capitalize on her fame with a tell-all book
Oprah Winfrey's family members haven't always been the most supportive people — you know about her half-sister approaching the tabloids to get compensation for spilling Oprah's secrets, but what if we told you that her own father decided to write a tell-all book about her?
As noted by the New York Daily News in 2007, it was announced that Oprah's father, Vernon, was planning a tell-all. The talk show mogul said she was "shocked" and "disappointed" over the news, and she said that she laughed when she was told. "One of my assistants said, 'The Daily News is calling. They say they heard your father is writing a book about you.' I said, 'That's impossible. I can assure them it's not true,'" Oprah recounted.
The worst part of the whole situation, according to Oprah, was what her father said when she approached him about the book. "I called him and it turned out he is writing a book. The worst part of it was him saying, 'I meant to tell you I've been working on it,'" she said. "I was upset. I won't say 'devastated,' but I was stunned."
Oprah shared a tragic and emotional goodbye with her mother when she passed
Oprah Winfrey's mother's death was extremely tragic. Oprah told People that she was sitting in hospice care with her mother, reading a book about how to say goodbye. "I thought, 'Isn't this strange?" she said. "I am Oprah Winfrey, and I'm reading a hospice care book on what to say at the end." Oprah recounted that before she flew to Boston to give a talk, she stood in the doorway of her mother's room and "knew it was going to be the last time [they] said goodbye."
Oprah soon returned to her mother's room for one last talk. The one thing that helped Oprah through such a difficult goodbye was music. She played her mother's favorite singer, Joshua Nelson, while they were together and it "opened [her mother] a little bit."
"I could see that the music gave me an opening to say what I needed to say," Oprah explained. Oprah thanked her mom for having the strength to have a baby as a teenager, and expressed her gratitude for her mother's efforts in her life. "I know that you always did the best you knew how to do. And look how it turned out," Oprah told her mom.
While on a trip to Switzerland in 2013, Oprah was subjected to racist behavior
If you thought the racism Oprah Winfrey faced in New York was bad, then this incident will shock you. As noted by CNN, Oprah was in Zurich, Switzerland when she experienced racism at the hands of a store clerk. Oprah recounted that she went into a store (she didn't name it at the time), and asked the saleswoman if she could see a purse — a $38,000 Tom Ford purse, to be exact. The sales associate looked at Oprah and said, "No, it's too expensive." Yep, you read that correctly.
Oprah recounted to Entertainment Tonight (via CNN) that she asked to see the purse again, but the sales associate doubled down, saying, "No no no, you don't want to see that one, you want to see this one, because that one will cost too much and you will not be able to afford that."
The store's name — Trois Pomme — was eventually leaked and the store's manager came forward with a statement. They said that the incident with Oprah was a "200 percent misunderstanding" and that race was not a factor. We'll let you make up your mind.
Oprah faced a ton of backlash in 2019, even from fellow entertainment industry colleagues
Oprah Winfrey has never backed down from a topic because it's controversial, but her tactics of approaching stories head-on led to entertainment industry figures attacking her and her friend/colleague Gayle King. As noted by BuzzFeed News, Oprah faced criticism from none other than Snoop Dogg due to her questioning of prominent Black men including Kobe Bryant and Michael Jackson — two men whose legacies are complicated.
"Why are y'all attacking us? We your people," Snoop said, before calling King a nasty name. Snoop doubled down on attacking Oprah and her legacy when he posted a picture of her and defamed media mogul Harvey Weinstein, writing in the caption, "F*** u and Gayle. Free Bill Cosby." Of course, both Weinstein and Cosby's careers went into free fall after many allegations of sexual assault on their parts came into the mainstream, but the allegations didn't stop Cosby from sharing his thoughts on Oprah too.
"It's so sad and disappointing that successful Black Women are being used to tarnish the image and legacy of successful Black Men, even in death," read a post on Cosby's Instagram afterwards.
Oprah didn't know that she had a half-sibling for most of her adult life
It's remarkable to discover you have distant cousins and family members through sites like Ancestry.com, but imagine finding out that you have a sibling who lives just 90 minutes away from you? That was the tragic, yet life-changing realization that Oprah Winfrey experienced. As noted by ABC News, Oprah revealed in 2011 that she found out about her half-sister "whom her mother had hidden from her for decades."
Oprah's half-sister, Patricia (yes, both of Oprah's half-sisters were named Patricia), had been given up for adoption in 1963. Oprah — who was 9 at the time — was living with her father and had "no idea" that her mother was pregnant. "Imagine my shock just a few months ago, at the end of October, when I found out I have another sister," Oprah said in 2011. "For the most part, my life has been an open book and on the show I think I've seen about everything," she shared. "And I thought nothing could surprise me anymore, but let me tell you I was wrong." Oprah said that the news left her "speechless."