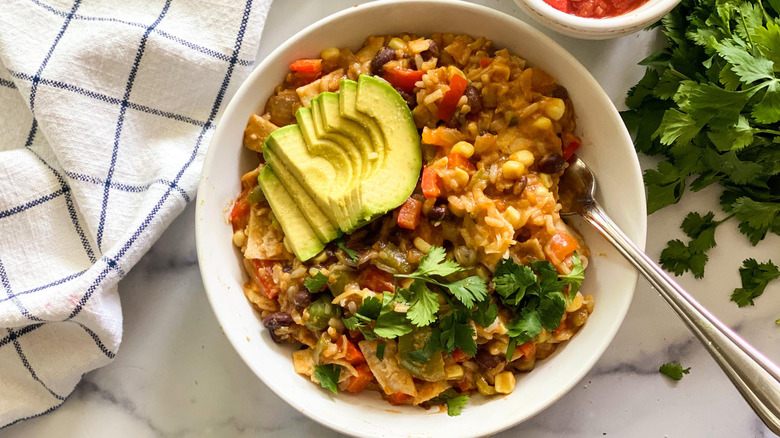 When most people hear the word "enchilada," they usually think of a savory and sometimes spicy combination of meats, cheese, and vegetables wrapped up in a handy tortilla. Popular? Absolutely! Delicious? Undoubtedly! Messy? Well, if you overstuff it or you're not careful while eating it, an enchilada certainly can get everywhere. But what if you could take all those foods and flavors you love about an enchilada and enjoy them in an easier-to-manage bowl?
That's the basic idea behind recipe developer Miriam Hahn's 15-minute one-pot stovetop enchiladas. Yes, you read that right. With just 5 minutes of prep and 10 minutes of cook time, you'll not only have all the mouthwatering goodness of this delicious dish but enough to serve 6 people.
"This is a great weeknight dinner because it is quick and one pot for easy clean up!," Hahn explains, adding, "But you can serve it any time!" And as a bonus for this recipe, we're including a whole section on optional toppings, so you can really give your stovetop enchiladas a personal touch or allow pickier diners to partially build their own enchiladas in a bowl.
Gather your ingredients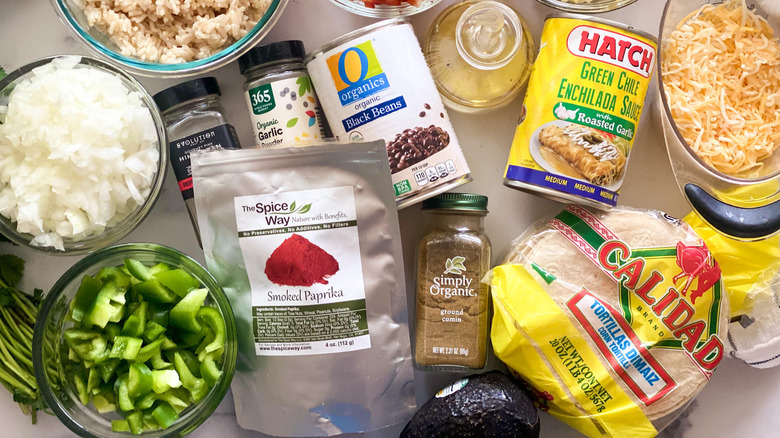 To make your one-pot stovetop enchiladas, you'll need oil, cumin, paprika, salt, garlic powder, green enchilada sauce, corn tortillas, cooked rice, water, and shredded cheese. In addition, you'll want one onion, both red and green peppers, a can of black beans that have been rinsed and drained, and either frozen or canned corn.
If you happen to have a garlic allergy or just don't like the taste, Hahn says that you can leave out the garlic powder. However, keep in mind that premade green enchilada sauce may contain garlic, so it's important to read your food labels just to be sure that you're okay with everything that's included in the can.
Cook your onions and peppers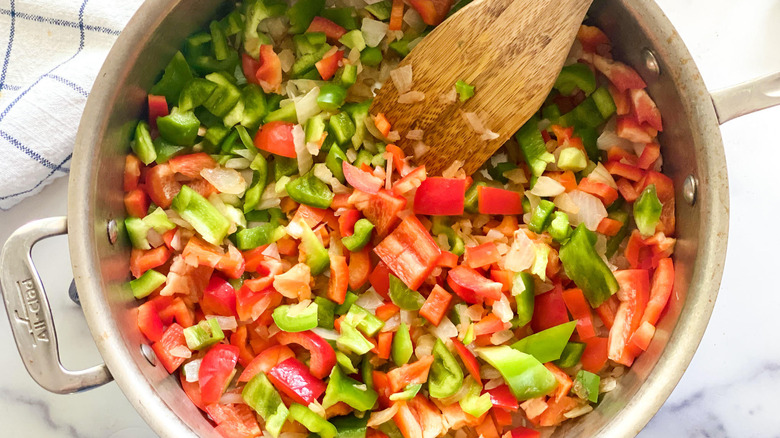 To start the cooking process, first add the oil to a large, deep, sauté pan and heat it to high. Then add the onions and cook for 2 minutes, at which point the onions should have begun to soften and grow fragrant. Next, add the peppers and cook the mixture for 5 more minutes. And if the pan happens to get dry during this process and ingredients start to stick to the bottom, simply add a little water.
While just about any cooking oil will work with this recipe, Hahn likes to use avocado oil since it has a relatively high smoke point, adding, "I always use that when I cook on the stove or roast in the oven."
And, while your onions and peppers are cooking, take a few minutes to chop up your tortillas for later. Chop them up into squares that are about 1 inch wide, but don't worry too much about getting them perfectly even.
Add in the beans, corn, and spices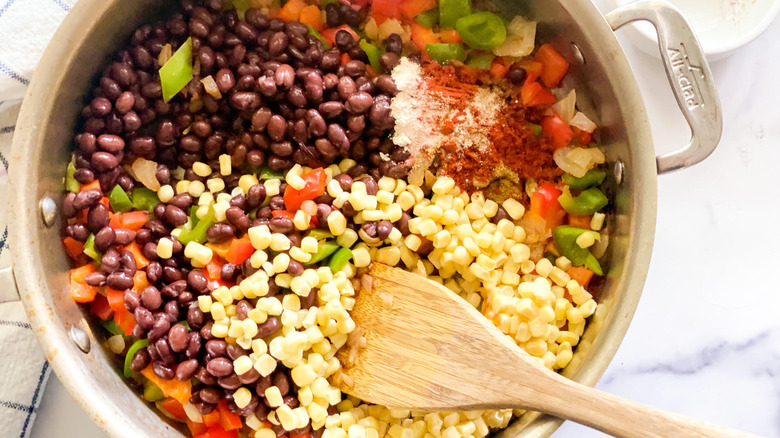 Once you've finished cooking the onions and peppers, it's time to add in the beans, corn, and spices. Remember that you want to stir your vegetables before adding the enchilada sauce, and then stir everything afterwards to make sure that all of the ingredients are fully mixed.
If you're using frozen corn, don't worry about adding on any extra time. Hahn notes that it will quickly thaw and cook during this step. But whether you choose fresh or canned, Hahn recommends using organic corn adding, "Whole Foods sells organic frozen corn so that is what I like to use."
It's time for the tortillas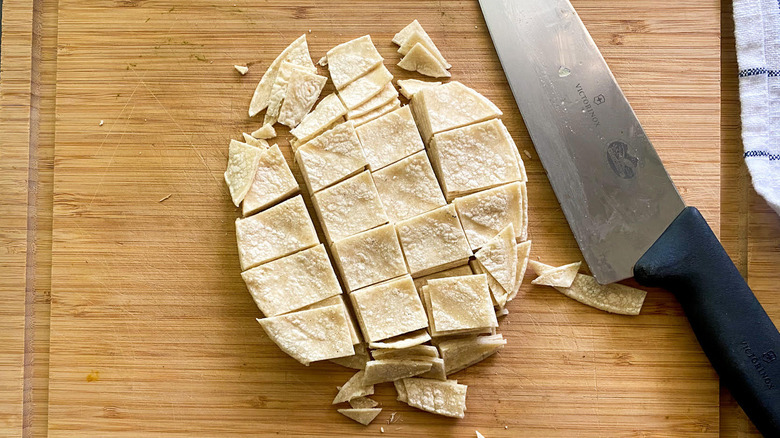 Now that you've thoroughly stirred the vegetables with the sauce, add in the cooked rice and the water. And, of course, no enchilada (in a bowl or otherwise) is complete without tortillas, so you should now add them in and stir. You'll want to let the tortillas soften in the pot for about 3 minutes before adding the cheese and — you guessed it! — stirring your enchiladas some more.
Although any type of rice will work with this recipe, tortillas are another story. "I think if you used tortilla chips in this recipe they would get soggy," Hahn explains. "It works best with tortillas. If you just had chips, I would just crush them and add them as a topper instead of adding them to the pan when cooking."
One final tip about the rice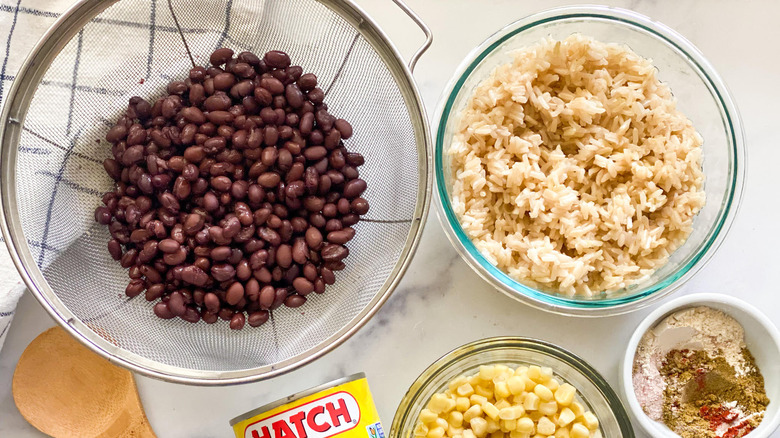 While these stovetop enchiladas call for cooked rice, what do you do if you don't have any leftover rice that's ready to use? Fortunately, Hahn has some advice on how you can adjust the recipe.
"If you didn't have [the rice] cooked, then I would get it going while you are chopping the veggies," she says, but clarifies that, "rice typically takes 30 minutes, so it wouldn't be a 15-minute meal." You could also potentially switch it out for other grains or, if you'd like to plan ahead for next time, it's even possible to buy some frozen grains that could help you out here.
Optional toppings for stovetop enchiladas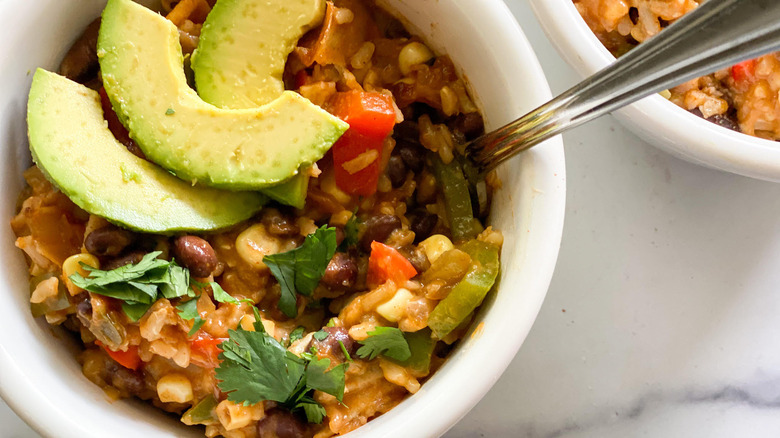 Although you can enjoy your stovetop enchiladas as they are, Hahn has several tasty optional toppings for this recipe. First, you can add some slices of fresh avocado, which can provide a creamy compliment to the spices in the main enchilada dish.
Another great topping Hahn recommends is cilantro, a pretty classic accompaniment to many Mexican and other Latin American dishes. Finally, Hahn suggests pairing this dish with salsa. Perhaps a nice salsa verde, traditionally made with tomatillos, would be a good hit at the dinner table here.