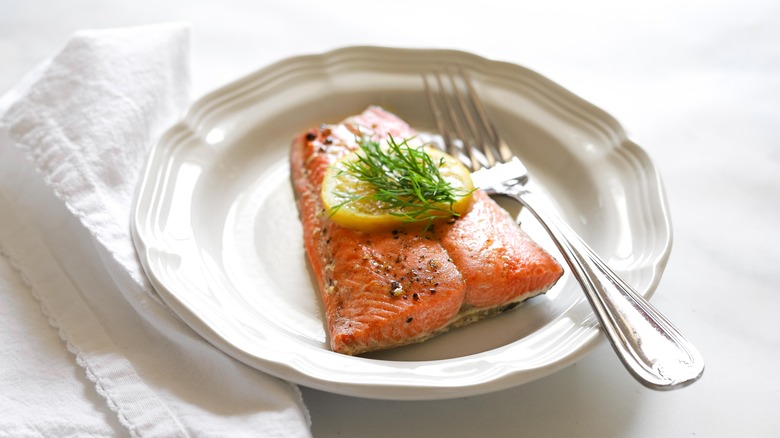 Fish dinners are always a fun, healthy treat to make and enjoy for a meal. Some fish like tilapia and cod are flaky with a light flavor, and there's nothing wrong with that. But if you're looking for a heartier fish that's totally packed with healthy nutrients, then it's hard to top a classic like salmon. Whether it's prepared in sushi of on the grill, this versatile and delicious fish can please just about anyone's taste. And thanks to recipe developer and self-taught cook Kit Hondrum of Kit's Kitchen, there's a way to enjoy a nice salmon dinner even on a busy weeknight.
With minimal prep and cook time, you can whip up a tasty steamed salmon that's perfect for a variety of meals. It's also a great recipe to prepare when you're having guests over, so you don't have to spend a ton of time in the kitchen. "This salmon is great on top of a salad, as a main dish alongside roasted broccoli and fresh bread, on top of linguine, or as meal prep with something like quinoa and steamed veggies," Hondrum says. Salmon also makes a delicious specialty sandwich, complete with lettuce, tomato, and a dill mayonnaise. Summer is a really great time for this fish, as you can serve it with a simple fresh cucumber and tomato salad. The best part is that this recipe only requires six ingredients, some of which may already be in your pantry or on your spice rack.
Gather your ingredients to prepare this Instant Pot steamed salmon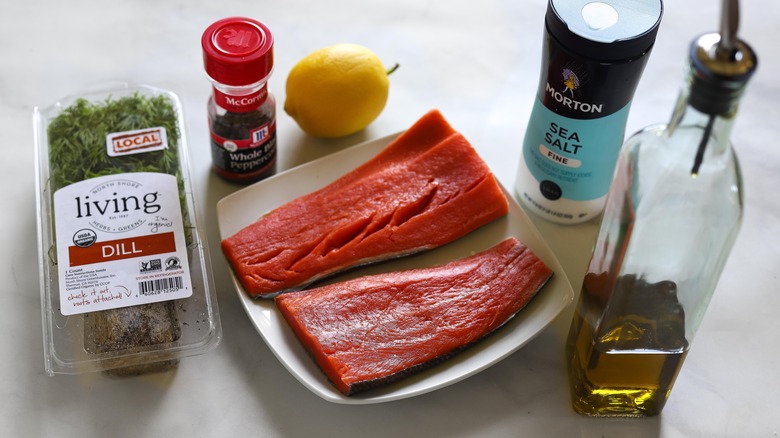 To make your Instant Pot steamed salmon, you'll need to pick up two salmon fillets with the skin still on them. Although some recipes require fresh fish, Hondrum says frozen is fine for this recipe as long as it's thawed. "If you want wild-caught Alaskan salmon, you'll only get it fresh in the summer months, so the rest of the year it's all frozen," Hondrum explains. "And often what's fresh in the seafood counter is actually previously frozen!" So plan on getting whatever works for your particular situation and time of year.
Besides the salmon, you'll also need just a few ingredients as we mentioned earlier. Pull together extra-virgin olive oil, sea salt (ground to a fine texture), freshly ground black pepper, and lemon slices. In addition, you'll want fresh dill for a garnish. This colorful fish will look amazing when plated, and fresh dill is always a great touch. If you're lucky, you have some growing outside in your herb garden!
Prepare your salmon
Before you add any ingredients to the salmon fillets, make sure to dry them well. Once they're dry, then it's time to drizzle the pieces with the extra-virgin olive oil (also known simply as EVOO). While Hondrum recommends against using a different oil, she does have a suggestion if you really need to swap out the extra-virgin olive oil out for something else. "EVOO has the best flavor and should not be substituted with another oil," she says, adding, "Although you could use melted butter if you prefer!" Whether it's all you have in the house or it's your preference, go for it if you need to.
Add seasoning to your fillets
After drizzling the EVOO evenly on your fish, sprinkle the sea salt and black pepper over your salmon fillets. Once done with those seasonings, rub the pieces of salmon so they're coated evenly on all sides, including the side with skin.
Speaking of the skin, Hondrum recommends not removing it for this recipe. "I wouldn't try to cook using this method without the skin to ensure the fillet stays together when transferred from the trivet to your plate," she explains.
It's time for your Instant Pot
Once your salmon is prepped, place the trivet in your Instant Pot, and pour in 1 cup of water. Place the salmon fillets on top of the trivet, skin side down, and place one lemon slice on top of each fillet.
While this recipe is great for salmon, Hondrum advises against using an Instant Pot to prepare certain types of fish. "Any other hearty fish would work in the Instant Pot, like grouper or snapper," she says. "I wouldn't cook anything delicate in the Instant Pot, though, like flounder or sea bass." So definitely make a note of this so you know the next time you want to make fish.
Cook your fillets
The next step in this recipe is to place the lid on your Instant Pot, and set the valve to the "Sealing" position. Then, set your Instant Pot to manual high pressure for two to three minutes. Remember, the thickness of your salmon fillet is important for this step. For thin fillets, you'll want to set the Instant Pot to two minutes. However, for thicker fillets (ones that are closer to 1 inch), you'll want to change that setting to three minutes.
Don't forget the garnish
When the timer goes off, perform a quick release, then carefully remove the lid from your Instant Pot. Remove the salmon fillets, and put them on a platter. Garnish with the fresh dill to serve alone or as part of a meal.
"I like it on salad with a simple drizzle of EVOO, fresh lemon juice, and Maldon salt flakes," Hondrum says, adding it would also work nicely with a champagne vinaigrette. The important thing is to choose a light oil or dressing that will "let the flavor of the salmon shine." And if you'd prefer to have your fillet over pasta, Hondrum recommends linguine in an Alfredo sauce or EVOO and lemon for "something lighter."
2 salmon fillets, skin on
½ tablespoon extra-virgin olive oil
½ teaspoon fine sea salt
¼ teaspoon freshly ground black pepper
2 lemon slices
Dry salmon fillets well.
Drizzle fillets with the olive oil, sprinkle with the salt and pepper, then rub to coat all sides.
Place trivet in your Instant Pot, then pour in 1 cup of water.
Place fillets on top of the trivet, skin side down. Place one lemon slice on each fillet.
Place lid on Instant Pot, and set valve to "Sealing" position.
Set Instant Pot to manual high pressure for 2 to 3 minutes. For thin fillets, set to 2 minutes. For thicker fillets (closer to 1 inch), set to 3 minutes.
When the timer goes off, perform a quick release, then remove the lid carefully.
Remove salmon fillets, and garnish with fresh dill.