Bread is without question one of the greatest things mankind has ever created. As a matter of fact, according to National Geographic, bread can be found in many cultures across the globe. Fluffy, delicious, hearty, and filling, bread is easy to love — especially when it is fresh out of the oven. If you have wanted to try making bread, but have been afraid of the long and seemingly difficult process, look no further than this tasty recipe! This bread requires very little babysitting as it proves, and to top it all off, there is no kneading necessary. Despite producing a fluffy-on-the-inside, crusty-on-the-outside masterpiece, you will not feel drained after completing this recipe.
And who is the bread-loving genius who made this all possible? Why, it's recipe developer Miriam Hahn of YouCare-SelfCare! A certified wellness coach and nutritionist, Hahn loves how easy this healthful recipe can be. "I have made so many different types of bread," she says, "and I like this one because it is the fewest steps and the result is amazing. The whole house smells so good while it is cooking and long after!" If that sounds like your kind of afternoon, read on to see how this crusty beauty is made.
Gather ingredients to prepare this crusty Italian bread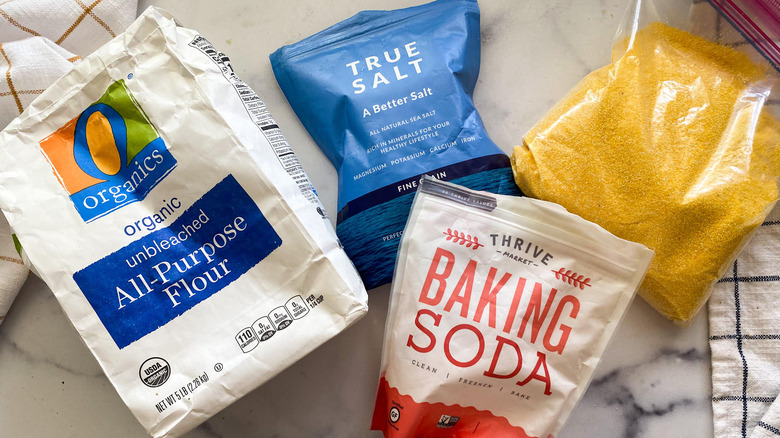 Before you can begin baking, you will need to gather all the ingredients necessary for your crusty bread. For this recipe, you will need 3 ¼ cups of all-purpose flour, 1 teaspoon of salt, 1 ½ cups of warm water, 2 teaspoons of active dry yeast, and 1 to 2 teaspoons of cornmeal.
As far as cookware is concerned, you will need a cast iron skillet or pizza stone to bake the bread on, as well as a pyrex or other oven-safe bowl to steam water in. You will also need a large mixing bowl to make the dough in, as well as a wooden spoon or a spatula for stirring. That's about it, so once you pull everything out, you can get started making your bread!
Make the dough
In the large mixing bowl, you're going to combine the flour, salt, and yeast. Mix the dry ingredients with a whisk to evenly distribute them throughout the bowl. Once they have been mixed together well, add the warm water to the dry ingredients. Mix until everything is just incorporated, using either a wooden spoon, a spatula, or even your hands if you'd like. Since there is no kneading required in this recipe, a stand mixer is not necessary.
Cover and let the dough rest
Next, you'll want to cover the bowl of dough with plastic wrap and a tea towel. Set the bowl aside, and let it rest at room temperature for three hours. Herein lies the fun part about bread, where you can do a few steps, then take a couple hours to do chores or simply relax before going back to it. What a life! After you've managed to fill three hours, the dough should have doubled in size, and it should also be bubbling on top.
Prep your dishes during rest time
Luckily for you, we have some tasks to help fill those three hours of dough rising. A little after two hours into the rest, preheat your oven to 450 F, or 425 if you are using a convection setting. While it is preheating, put your cast iron skillet or pizza stone in the oven for the last 45 minutes of the dough's proving time. Additionally, put at least 2 inches of water in a pyrex baking dish, placing it on the bottom rack. The steam from the pyrex and heat from the skillet/pizza stone will help your bread develop a nice crust.
Final dough prep
Now, let's get back to your dough. Take the dough out of the bowl, and place it on a floured board. Quickly form it into a ball, but try to avoid kneading it as you do so. Once it has formed a nice ball, score an X on the top of the dough with a knife. This will allow the bread to puff up without breaking its crust, as can be seen in the photo. It's also going to give it a really professional look that you will be so proud of!
Bake the bread, let it cool, and then enjoy
In this step, you'll first want to grab your baking dish of choice, and sprinkle some cornmeal on the bottom. The cornmeal cooks slower than the bread and will help it develop a crust (How many times can we say the word "crust?") without burning or sticking to the pan. Once you have applied the cornmeal, put your dough ball on top (X-side up), and place in the oven. Bake it for 30 to 40 minutes (or 25 to 40 on convection) until golden brown.
Finally, you have made it through the process and produced a beautiful, crusty bread, which deserves a pat on the back! Your house is smelling so delicious right about now, and anyone in the house will come right to the kitchen to find out why. All that is left now is to take it from the oven, and transfer the loaf to a cooling rack. Although the wait might be difficult with the lovely aroma of yeasted bread in the air, try and let it cool for 30 minutes before slicing.
As far as serving suggestions, Hahn advises serving alongside a hearty soup or pasta dish, alone with butter, or even as a base for avocado toast! Trust us — you won't have any problem enjoying this scrumptious recipe.
3 ¼ cups all-purpose flour
1 teaspoon salt
2 teaspoons active dry yeast
1 ½ cups warm water
1 to 2 teaspoons cornmeal
In a large bowl, combine the flour, salt, and yeast. Mix with a whisk.
Add the warm water, and mix by hand just until everything is incorporated.
Cover the bowl with plastic wrap and a tea towel, and let it rest at room temperature for 3 hours. The dough should bubble on the top and double in size.
When you are 2 hours into the rest time, preheat the oven to 450 F (425 F convection) for 45 minutes. Put either a cast iron skillet or pizza stone in the oven while it is pre-heating. Also add a pyrex baking dish with at least 2 inches of water in it on the bottom rack.
Place the dough on a floured board, and quickly form it into a ball. (Do not knead.) With a knife, make an X in the top.
Add some cornmeal to the cast iron skillet or pizza stone, and put your bread dough on top. Bake for 30 to 45 minutes (25 to 40 for convection) until golden brown.
When it is done, transfer it to a cooling rack, and allow to cool for about 30 minutes before slicing.