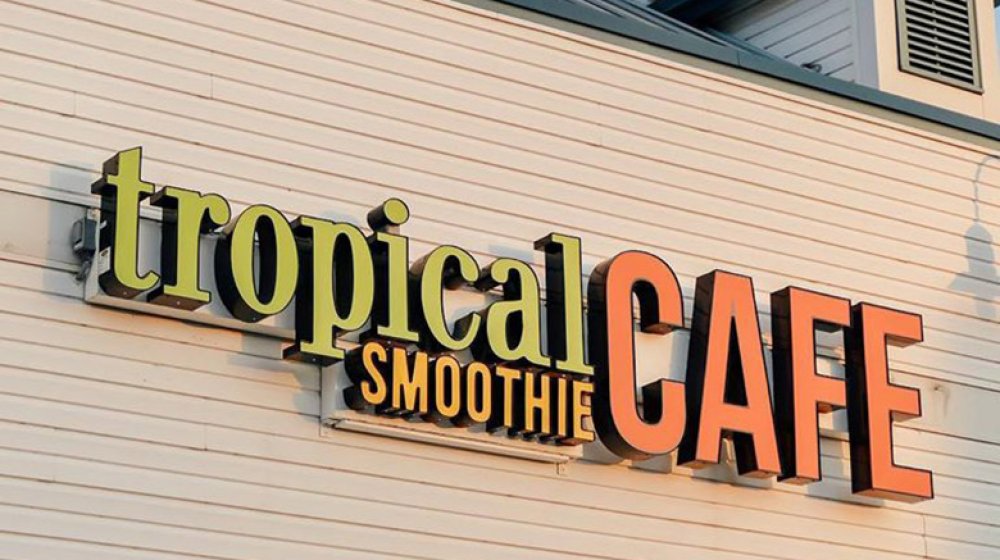 If there's one large-scale food trend in the restaurant industry that you should know about right now, it's the rise of fast-casual dining. Fast-casual restaurants tend to blend the convenience of fast food with the quality of a higher-end restaurant. This makes them all the rage with those looking for healthier options on the go — and who want to avoid the unhealthy, unflattering image of the typical fast-food chain. A slew of fast-casual chains have been around for a while now, and while it's true that the growth of fast-casual restaurants is slowing, the trend is still very much on the rise.
One of the companies taking advantage of this change in the national food scene is Tropical Smoothie Cafe. This cafe specializes in fresh, brightly colored smoothies with fun, summery names, and it boasts a beachy vibe that encourages guests to sit down and actually enjoy their meals in-store. Add to that the healthy breakfast and lunch options, plus a few decadent treats, and it's no wonder why this company is doing so well.
But how much do you really know about this rapidly growing fast-casual chain? Now's your chance to get the scoop on the untold truth of Tropical Smoothie Cafe.
Tropical Smoothie Cafe was started in Florida in 1993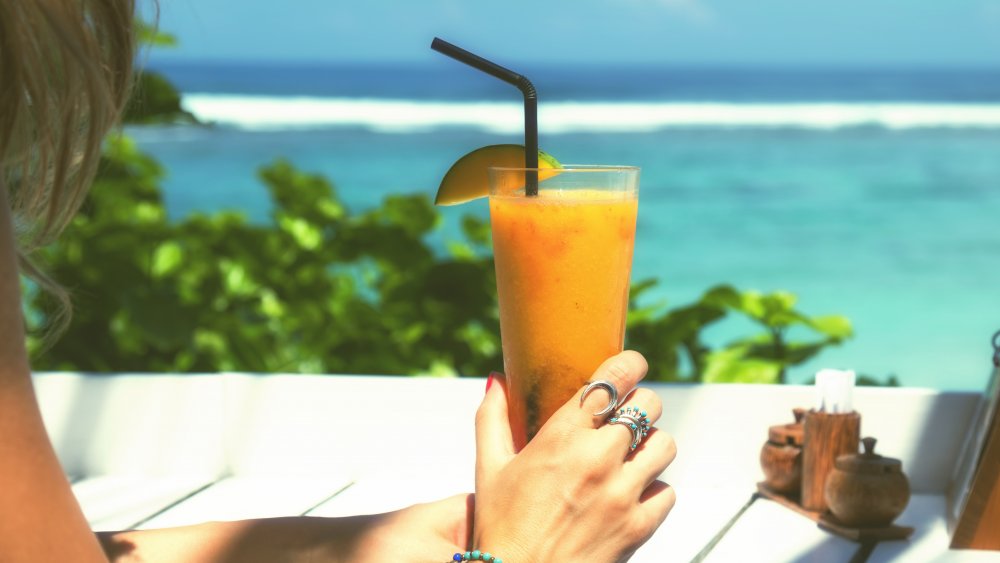 It's not a big surprise that the story of this beach-themed eatery all started in Destin, Florida. The first iteration of the business was on the panhandle right on the beach back in 1993. It was just a smoothie shop back then, and it hadn't yet become the Tropical Smoothie Cafe we all know and love now.
Then, a few years later, Tropical Smoothie Cafe opened its first sit-down franchise cafe in Tallahassee, a city known as a getaway for spring breakers and families hoping to escape the colder weather up north. The semi-tropical vibe close to the coast made it a perfect location for fresh, delicious smoothies, as that's just what customers were looking for in the midst of blazing hot weather. Before long, customers were lining up for the fruity concoctions, and it became clear that the store was onto something.
Just two years later, in 1999, the store added sandwiches and wraps to its selection, making it a viable lunch or dinner option and not just a smoothie shop. Today, the company is headquartered in Atlanta, but that certainly doesn't take away from its laid-back, distinctly Florida vibe.
Tropical Smoothie Cafe is one of the fastest-growing chains in the country
The restaurant business can be tough and many big fast food chains are struggling to stay afloat. Several national chains have already been seeing closures over the past few years, and there's a good chance that even more will go under in the future. But it seems like Tropical Smoothie Cafe is still doing relatively well, despite the difficulties.
As of last year, its growth came in at over 20 percent. According to Business Insider, last year alone, the company opened 124 new stores and signed over 200 franchise agreements. And the industry is taking notice. Tropical Smoothie Cafe found itself on Fast Casual's "Top 100 Movers and Shakers," Entrepreneur's "Best Franchises for Any Budget," Nation's Restaurant News' "Top 200" and "Top 10 Fastest-Growing Chains," and Franchise Times' "Fast & Serious" lists, so it's clear that the company's efforts to expand aren't being ignored by the wider restaurant community.
The company also has high hopes for even further expansion. When Charles Watson became the new Tropical Smoothie Cafe CEO in 2019, the company claimed that it could be looking at $1 billion in sales in the next five years. With the fast-casual spot gaining more recognition every year, there's a good chance that you won't be seeing your favorite Tropical Smoothie Cafe going anywhere anytime soon.
A Tropical Smoothie Cafe was linked to a hepatitis outbreak
Unfortunately, it hasn't all been sunshine for Tropical Smoothie Cafe. In 2016, an outbreak of hepatitis A was linked to strawberries used in the restaurant's smoothies. The majority of the infections were discovered in Virginia, but people in several other states, including North Carolina, Maryland, and Oregon, also fell ill. More than half of them ended up being hospitalized with a highly contagious liver infection.
The CEO of Tropical Smoothie Cafe at that time, Mike Rotondo, apologized for the mishap in a YouTube video statement. "On August 5, the Virginia Department of Health contacted us about a potential link between hepatitis A cases and frozen strawberries from Egypt," Rotondo said. 'We voluntarily and immediately removed all of those strawberries from all of our cafes, and we have sourced new strawberries for every location."
Luckily for Tropical Smoothie Cafe, the company seems to have recovered relatively well from this incident, despite the bad press in 2016 (unlike Chipotle's 2015 E. coli outbreak, from which it still hadn't recovered by the end of 2019, according to Nasdaq).
Tropical Smoothie Cafe offers more than just smoothies
As the name suggests, Tropical Smoothie Cafe is all about the smoothies. They're definitely the most plentiful item on the menu — there are over 30 options listed on the company's website, and customers will find a wide array of supplements and extras they can add to their smoothies. If you're making a trip to your local Tropical Smoothie Cafe, it's probably specifically for the smoothie.
However, this fast-casual chain offers so much more than its signature smoothies. On the food end of the spectrum, the restaurant is probably best known for its flatbreads and wraps. They've been on the menu for a while, and there are both chicken and veggie options available. But the quesadillas are popular too, as are the sandwiches, including the Cuban Sandwich and Ultimate Club. The bowls are some of the newer items on the menu, and while some are essentially just salads, others like the Baja Chicken Bowl include rice for a more typical fast-food "bowl."
Plus, the breakfast options at Tropical Smoothie Cafe are totally underrated. The All-American Wrap may not be the perfect healthy complement to your fruity smoothie, but if you're being smart with your smoothie choice, you deserve to treat yourself. And those who want something on the lighter side can go for the Southwest Wrap. Basically, the next time you visit a Tropical Smoothie Cafe, you may want to branch out and get something to eat along with your favorite smoothie order.
Tropical Smoothie Cafe partnered with Beyond Meat back in 2013
These days, it's not unusual to see a variety of vegetarian and vegan options on just about any menu, but that wasn't always the case. In fact, just a few years ago, most vegans (especially those living outside big cities with myriad food options) were often relegated to the sad side salad portion of the menu, forced to order "just French fries" while their friends bit into juicy hamburgers and thick slabs of chicken. But no more. Even Burger King is now offering a vegan breakfast sandwich as of June 2020.
But Tropical Smoothie Cafe was way ahead of the curve with this one. The franchise was the first national chain restaurant to serve Beyond Meat's plant-based chicken products. This partnership began in 2013, well before vegan food was on the radar of many larger companies. It makes sense that Tropical Smoothie Cafe would be better positioned than a fast food burger joint to make this leap onto the veggie food scene. After all, they were already catering to health-conscious consumers who were more likely to adhere to a vegan lifestyle. Regardless of how Tropical Smoothie Cafe came to this decision earlier than its competitors, this move put the company high on the list of early vegan-friendly chains. Even PETA has highlighted how the restaurant offers "tons" of vegan options.
Tropical Smoothie Cafe uses real fruit
Unlike some smoothies out there, you can count on getting a smoothie made from real fruits and veggies when you go to Tropical Smoothie Cafe. Generally, the stores use frozen fruit, but don't write them off jus yet. While some people believe that frozen fruit just isn't as nutritious as the "fresh" stuff, that's far from the truth. Frozen fruit can be just as nutritious (or even more nutritious) than fresh fruit. That's because it's often frozen at the peak of freshness, while "fresh" fruits, on the other hand, might have been picked before they were completely ripe, so they wouldn't spoil before their scheduled delivery date.
While you can generally expect your favorite fruits from Tropical Smoothie Cafe, many of the supplements and add-ins aren't quite what you'd find at your local farmer's market. Some of the smoothies on the menu have added sugar or artificial sweetener added to them, so keep that in mind if you're trying to break a sugar addiction. Overall, though, the slightly higher prices compared to other smoothie shops make sense considering the high-quality and fresh ingredients.
Tropical Smoothie Cafe has been sending kids to camp for over a decade
Too many companies out there making millions — or even billions — of dollars give too little back to their communities, even though those communities support them every day. Thankfully, Tropical Smoothie Cafe is sharing some of its success. The company has partnered with an organization called Camp Sunshine located in Casco, Maine that serves children with life-threatening illnesses. The non-profit operates a year-round campus for families as they navigate the difficulties of everyday life, while at the same time, providing a fun getaway for the kids where they can simply create some great memories.
Tropical Smoothie Cafe teamed up with the camp in 2008 and since then, has contributed some 6,00 volunteer hours and helped 2,500 family members by raising more than $7.5 million for the organization. The company also encourages its customers to get involved in the summer camp with links on its website for referring a family in need, as well as donation and volunteer opportunities.
The Peanut Butter Cup smoothie is the best way to indulge
Just because Tropical Smoothie Cafe is all about offering healthier options, that doesn't mean that customers can't indulge when they visit. Some of the dishes are healthier than others, but most of the lunch and dinner items are more on the savory side. If you're looking for something sweet that could double as dessert, then the Peanut Butter Cup smoothie is the way to go. It contains peanut butter, banana, and chocolate, however, it is loaded with 107 grams of sugar. Obviously, it's not exactly the healthiest item on the menu, but everyone deserves their "treat yourself" moments, right?
There are other rich, sweet smoothies that are perfect for those who want something more substantial than your typical green or fruity smoothie. The Mocha Madness is ideal for coffee lovers, with its coffee–chocolate–cappuccino flavor mixed with non-fat yogurt. Be warned, this smoothie too is pretty high in sugar with 132 grams of the sweet stuff. And if the kids want something sweet (or if you just want to pretend to be a child yourself), the Chocolate Chimp smoothie made with banana and chocolate is the way to go. Plus, with just 52 grams of sugar, it may be your best bet.
The Detox Island Green smoothie is one of the healthiest options
Of course, you can't indulge all the time. When you're feeling blah — or when you're just trying to feel your best — you might want to go for a healthier option on the menu. When it comes to your smoothie options at Tropical Smoothie Cafe, the Detox Island Green smoothie has the lowest sugar content with just 29 grams and is one of the healthiest drinks you can order. Plus, it manages to pack in all your healthy essentials without tasting too bitter or "green."
The smoothie is packed with spinach and kale (which is loaded with anti-inflammatory phytonutrients and various other important nutrients) and has a vibrant green color. The smoothie also boasts mango and pineapple, which will give it a rich, tropical flavor that's delicious, while simultaneously covering up some of that green taste and making the kale a little less terrible. Banana thickens the smoothie so it's not too watery, and it also provides much-needed calories to give you energy and get you moving for the day. A bit of ginger gives this smoothie a bite and offers a variety of health benefits, too.
Wearing flip-flops to Tropical Smoothie Cafe could get you a free smoothie
If you've ever walked into a Tropical Smoothie Cafe before, you know it's pretty serious about maintaining its laid-back, beachy vibe. But the company is way more dedicated to that vibe than you might imagine. In fact, the brand actually created its very own holiday. It's called National Flip-Flop Day, and it takes place every June — typically on the second or third Friday. When customers wear flip-flops to a Tropical Smoothie Cafe location, they get a free Sunshine Smoothie.
However, in 2020, the restaurant chain had to take a pause from its regular National Flip-Flop Day promotion due to the COVID-19 pandemic. Rather than let June pass by without free smoothies, the company opted for a different approach. Instead, the company organized a campaign to help raise money for healthcare workers affected by the coronavirus. One million free smoothies were up for grabs for fans through early June, and to top off the promotion, Tropical Smoothie Cafe pledged to donate $100,000 to the American Nurses Foundation's COVID-19 Response Fund.
Almost all Tropical Smoothie Cafe locations are franchises
If you've ever been to your local Tropical Smoothie Cafe, you may not have known that you were actually walking into a small business. While all Tropical Smoothie Cafe locations share roughly the same look and feel while offering the same products, the vast majority of them are franchises. CEO Charles Watson says that the company is "99.9 percent franchise," which means that most of the locations are owned independently.
Franchising offers multiple benefits to a business as a whole. Management can grow a company without having to invest too much money, and the risk of growth is lower than with other business models. However, that doesn't mean that things have always been easy for Tropical Smoothie Cafe. The COVID-19 pandemic was difficult for restaurants across the industry, but as Tropical Smoothie Cafe franchise owners are essentially small businesses, they were liable to be especially hard-hit. Luckily, they were still able to receive support from corporate, such as lowered franchise royalties.
You can make Tropical Smoothie Cafe copycat recipes at home
If you don't have a Tropical Smoothie Cafe around you (which is unlikely, as there are over 830 locations) or you just don't want to bother leaving your house, you may be pleased to learn that there are tons of Tropical Smoothie Cafe copycat recipes out there on the internet. Of course, they may not all taste exactly the same, and you might want to make tweaks to certain recipes depending on your specific taste. But some of these recipes are too delicious-looking not to try.
One Tropical Smoothie Cafe look-alike that's especially popular is the Blimey Limey. This is a super-simple smoothie, so it's easy to make for yourself. The recipe calls for water, sugar, fresh strawberries, fresh pineapple, limeade, and orange juice concentrate. This is more or less what you can expect when you order the same smoothie at Tropical Smoothie Cafe.
The Jetty Punch is also one that's easy to make at home, since you only need bananas, strawberries, and some sweetener. Just because you can easily make some of these smoothies yourself, it's hard to resist taking advantage of the convenience of a smoothie run from time to time.