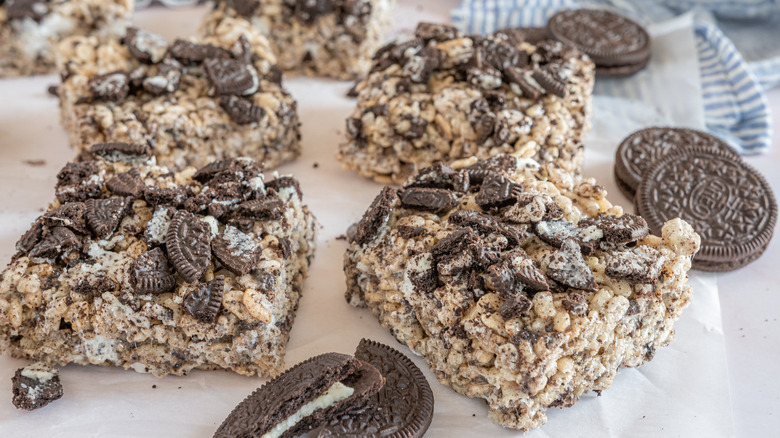 Chances are, you grew up enjoying Oreo cookies from time to time, like every other true snacker. For some, it may have even been a daily after-school treat as you dunked them in a tall glass of milk, or you may have (accidentally) eaten a whole sleeve now as an adult. Oops! Oreos are a tried and true classic, and we hope that never changes.
Another classic you likely loved as a kid and still do to this day? Rice Krispie Treats. It was only appropriate that we finally married the two together. We're talking classic Rice Krispie Treats absolutely jam-packed with Oreo crumbs and crushed-up Oreos for plenty of delicious flavor and sweet, sugary goodness. You can never have too many Oreos, right?
To pull off this treat at home, we have the perfect recipe for you. It only requires four ingredients and eight minutes of your time to come together. The longest part is simply waiting for your Oreo Rice Krispie Treats cool and set before you can dive right in and enjoy the ideal snack. Trust us on this one — this snack will be well-worth the little time it takes to prepare, and your family will totally love you for it.
Gather the ingredients to prepare Oreo Rice Krispie Treats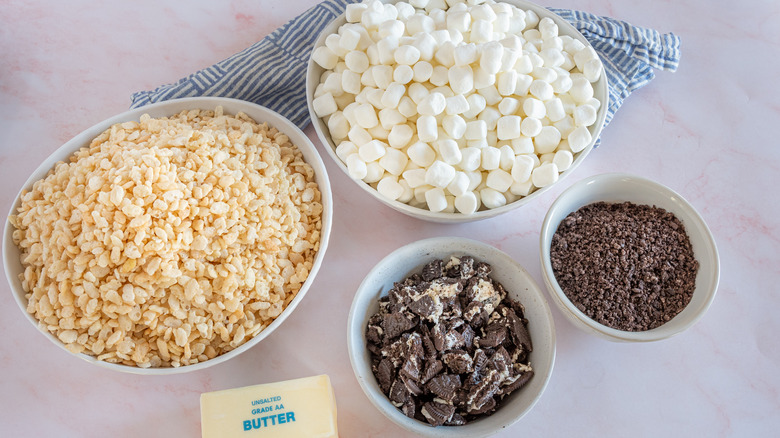 You can put together Oreo Rice Krispie Treats with just a few simple, easy-to-find ingredients. As a matter of fact, you likely already have a lot of them in your pantry. For this recipe, you'll need to pull together 1 cup of crushed-up Oreo cookies (which equates to 10 Oreos), in addition to another 10 Oreo cookies, which will need to be roughly chopped into small pieces. You'll also need ½ cup of butter, two (10-ounce) bags of mini marshmallows, and 9 ½ cups of Rice Krispies cereal. That's literally it — and you are only mere steps away from pure chocolate deliciousness.
Mix the cereal and Oreo crumbs
To get started on making your Oreo Rice Krispie Treats, you'll first need to prep the cereal and Oreo base. Pulse 10 Oreos in a food processor until they reach a fine crumb. Then, pour all of the Rice Krispies cereal into a large bowl, and add in the Oreo crumbs. Stir well to combine the two, and then set the bowl aside to be used in a bit.
Before you get started on the next step, you should also spray a 9×13-inch pan with cooking spray, along with the spoon or spatula you plan to use to prevent sticking.
Melt the butter and marshmallows
Once everything is prepped, put a large pot or Dutch oven on the stove on medium heat, and then add in the butter. Allow the butter to fully melt, and then add in the mini marshmallows, reserving 1 ½ cups. Stir the marshmallows and butter to combine, melting the marshmallows along the way.
Once the marshmallow mixture is ready, gradually pour the Rice Krispies and Oreo mixture into the Dutch oven, and stir the mixture really well. Then, stir in the 1 ½ cups of marshmallows you had set aside.
Combine the cereal, and press the Oreo Rice Krispie Treats in a pan
Get excited, because your dessert is really coming along. Once the mixture is ready, pour it into the prepared pan, and gently press it down. Be sure you don't press down too hard, though, or it will condense the treats too much. Once the mixture is in the pan, you can add the crushed Oreos on top, pressing down again slightly to make them stick. Allow the Oreo Rice Krispie Treats to cool and set for at least 20 minutes before cutting them into squares and serving. Your house is going to smell amazing, and be prepared, because everyone is going to be so excited when they see these delights on your counter waiting to be devoured.