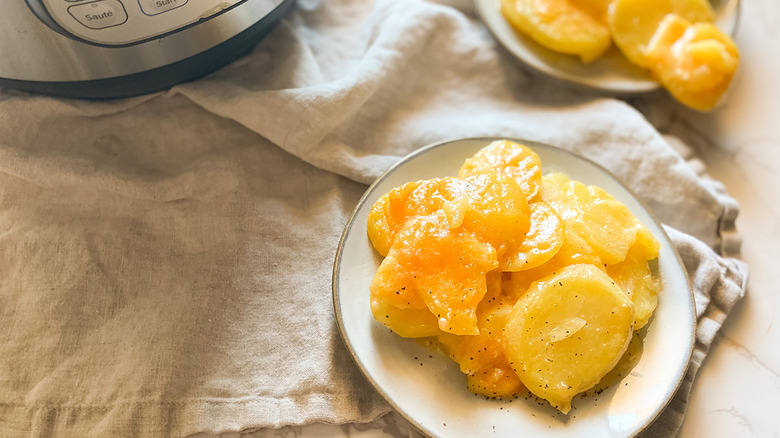 Potatoes have a home in every meal and on everyone's table. They're an all-time favorite, they make a perfect side dish, and they're the perfect complement to a whole host of proteins and vegetables. These easy, cheesy scalloped potatoes are a comforting dish that can be enjoyed year-round with a cozy dinner, but they're even better on a brisk night in. Plus, private practice registered dietitian and recipe developer Kristen Carli of Camelback Nutrition & Wellness made these in an Instant Pot, so they're not just easy to prepare, they are also quick to whip up!
Though scalloped potatoes traditionally were made with just potatoes and cream, the dish has evolved over the years and often includes cheese now — which we are very on board with. This scalloped potatoes dish is a modern take, thanks to the Instant Pot, that brings an old-fashioned comfort food right into your own cozy kitchen.
Ahead, you will find the step-by-step instructions for making these easy cheesy scalloped potatoes, and then feel free to hop over to some delicious chicken recipes and side dish recipes you can put together with them to fill out an amazing hearty menu to serve for your family or special dinner guests.
Gather your ingredients to prepare these Instant Pot easy, cheesy scalloped potatoes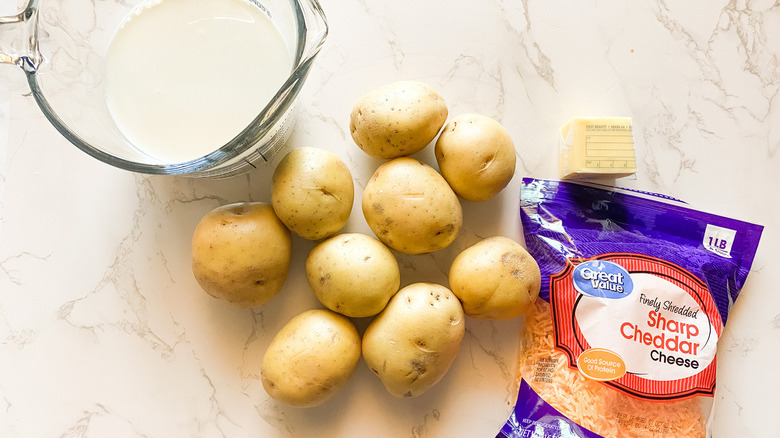 To start putting this soon-to-be-favorite recipe together, you'll need to get all your ingredients out. You need Yukon Gold potatoes, unsalted butter, whole milk, salt, pepper, and sharp cheddar cheese. Carli recommends Yukon Gold potatoes specifically and notes, "They are creamier than regular russet potatoes." However, in a pinch, you could substitute for a different potato. You can also melt your butter to get it ready for when you need it.
Prepare the potatoes
Grab all your potatoes, because that's where we're starting. Peel all of them, either with a knife or a peeler — whatever works best for you. Once peeled, rinse them to remove any leftover dirt or peel. Next, you need to slice them. If you have a mandolin, that'll be the easiest route. Simply slice them with the mandolin into a bowl. If you don't have a mandolin, use a knife, and slice the potatoes as thinly as possible. Then, set them aside.
Prepare the liquid mixture
Once the potatoes are sliced and done, you can prepare the liquid mixture. In a small bowl, pour the milk, melted butter, salt, and pepper together. Stir the mixture to combine using a whisk or fork. Make sure your butter is fully melted so it'll properly combine.
While we recommend whole milk in this step for maximum creaminess, you could substitute it with a lower-fat milk or a dairy-free alternative. It will, of course, change the consistency and taste of the finished product, but you know your dietary needs and what to adjust.
Build the scalloped potatoes
Now we put it all together! First you'll ready your Instant Pot. Place the trivet in the bottom of the pot, and then add water. Take the potato slices, and build a bottom later on the trivet. Next, pour ⅓ of the milk mixture on top. Top that with 1 cup of cheese (which is ⅓ of the full measurement). Repeat these layers two more times so that you end with cheese on top. This will give you the classic scalloped potato layers.
Carli warns of the importance of getting the Instant Pot ready first. "Be sure to use the trivet and water under the first layer, otherwise the Instant Pot will flag the burn warning," she notes.
Finish, and enjoy
When all the layers are constructed, close the lid and sealing valve. Pressure cook the potatoes for 25 minutes. Remove from the Instant Pot, and then it's officially time to enjoy! This is best eaten while piping hot with your fave protein and veggies for a comforting meal.
You can also stash these potatoes in the fridge in an airtight container for up to five days. To reheat them, you can pop them in the microwave for a few minutes to heat through.