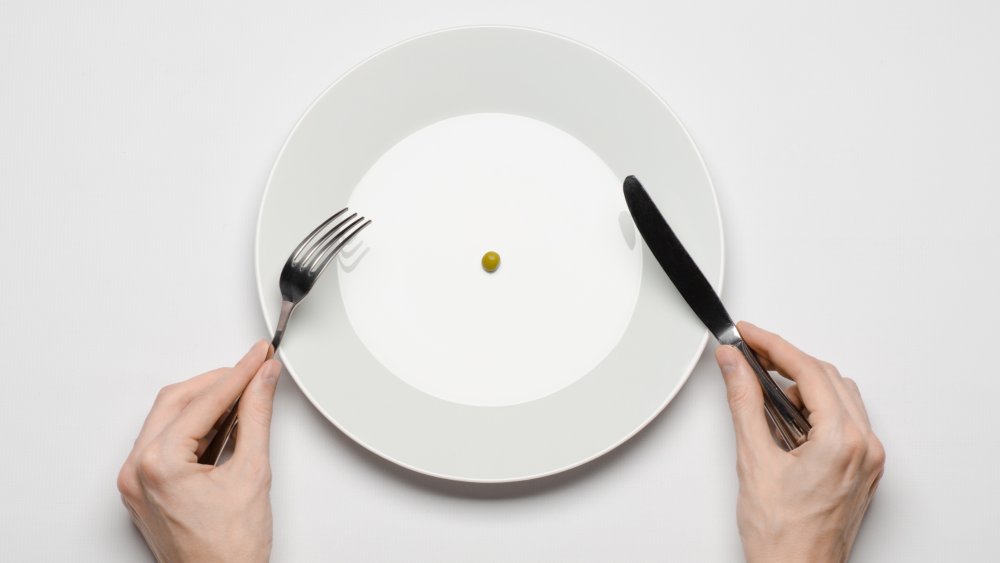 Almost everyone can remember the saddest meal that they've eaten. Maybe they were once served a lukewarm lasagna and the coldest garlic bread on the planet. Or maybe their grandmother forced them to eat a boiled sheep's offal. Either way, these dishes stay with you. They are able to ruin a person's week or traumatize a human into never trying new foods again.
And it's not just mere mortals that are served these sad meals, celebrity chefs are also sometimes served rubbish. That's right folks, they are just like us. In fact, a lot of them are judges on ridiculous cooking shows. This means that they may have eaten more burnt dishes, raw food, and experimental gobbledygook than one should consume in their lifetime. Plus, even if one of these folks isn't on a reality TV program, they could still have a top-notch horror story.
But which celebrity chefs have been served the saddest meals? And what were they forced to eat? And how did they react to these offensive foods being in their mouth holes? Well, strap yourselves in, because some of the cuisines in this article are actually the worst.
Paul Hollywood once ate the saddest cream horn on Bake Off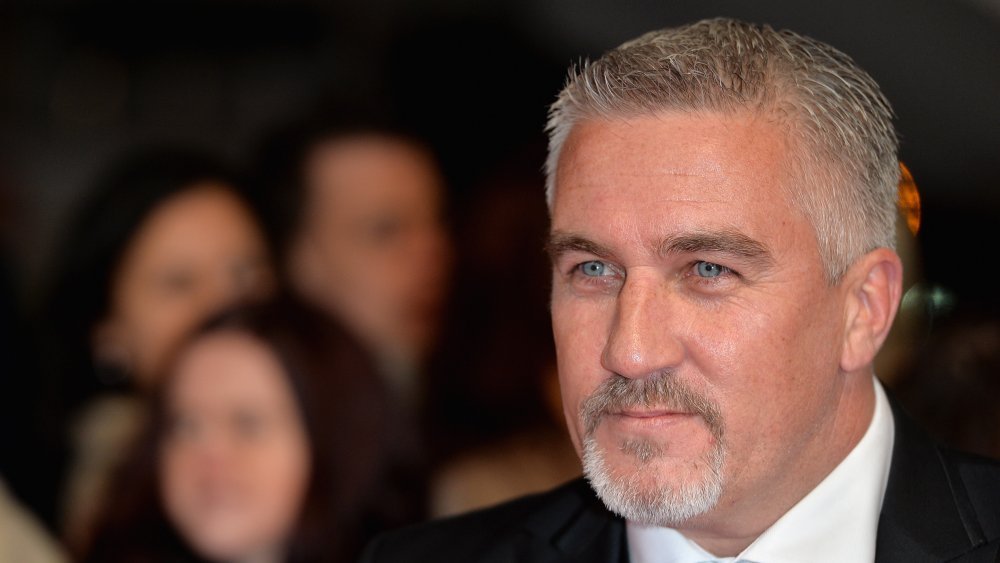 Everyone, meet Paul Hollywood and James Acaster. Hollywood is an English chef and a judge on The Great British Bake Off. He can also make an exquisite brioche doughnut. And Acaster is a hilarious stand-up comedian. As a child, he once tried to drown himself because he didn't get a Spice Girls' album for Christmas.
In 2019, Acaster was a contestant on The Great Stand Up to Cancer Bake Off. This is a version of Bake Off that raises money for cancer research and has some thumbs up humorous moments. The episode that Acaster was on was especially chucklesome because he was an absolute trainwreck.
At the start of the episode, Acaster says that he's never baked before, let alone competitively on a show like Bake Off. He declares, "It's the worst idea anyone's ever had!" He's then tasked with making a bunch of cream horns and only manages to create one. This singular pastry topples over and becomes a deconstructed mess.
When Hollywood tries this cream horn, you can see his eyes bloom with bewilderment. The man grabs this dessert off of his tongue to inspect what he is digesting. Prue Leith, another Bake Off judge, asks him if he's doing alright. "You've made scrambled egg," murmurs Hollywood. "I don't know what to say about that… It's certainly not what we're looking for." Unsurprisingly, this meal wasn't a winner.
Heston Blumenthal ingested leeches that were cooked in goose blood
Heston Blumenthal is a host of Crazy Delicious and has a restaurant with three Michelin-stars called The Fat Duck. He's also tried some remarkably unhappy dishes throughout his career. In a 2018 interview with Esquire Middle East, he said, "I've been lucky — or unlucky — enough to eat some very weird foods. Whether it was leeches cooked in goose blood or fermented shark — which made me think I was having an anaphylactic shock. And I don't even know what an anaphylactic shock feels like."
In a show called Heston's Feasts, we get to see Blumenthal try one of the aforementioned leeches. Blumenthal is in Transylvania with a local historian called Alexandru Sono. He tells Sono that he's looking for a Dracula-esque dish. Sono then reveals a recipe that's been lost from the archives. "It is the goose with leeches. You take a living goose, you put leeches on it. The leeches to feed on its blood. And you prepare a stew from these leeches."
After Blumenthal finds out about this recipe, he recreates it back in the U.K. Well, sort of, Blumenthal doesn't put the blood-filled leeches into a stew. He instead puts the worms onto a frying pan. However, cooking them in this manner doesn't make his dish particularly tasty. Blumenthal's face cringes with sadness while he chews on a carcass. He remarks, "No matter how I try and wrap that up, it's not appetizing."
Zac Young tasted some incredibly sad pastries on Nailed It!
If you haven't seen a Zac Young dessert, then you kind of haven't lived. They look lusciously moist, jaw-droppingly intricate, and almost perfect in every single way. Yup, this man certainly knows how to bake a cake. And this fact makes Young's time on Nailed It! an A+ gag.
Nailed It! is a show where three amateur bakers try to make amazing sweets. Most of the time, each contestant fails in a spectacular fashion. Young's episode doesn't break from this formula. In actuality, he eats a few rather miserable desserts.
In the episode Young judges, the contestants make him some pirate-themed jelly doughnuts. And these dunkers aren't great. The first one that Young tries has a Jolly Roger on it, is undercooked, and makes him shake his head in disgust. The second half-raw dessert receives a vicious slow clap from the chef. The third doughnut isn't the worst sweet ever made, but it's still pretty sad. Young comments, "You're missing the filling throughout." These three sweets transform into a trash can meal out of 10.
Anthony Bourdain loathed his Johnny Rockets experience
Anthony Bourdain was one of the most adventurous eaters on Earth. This chef tried turkey testicles, a fetal duck egg, and fermented shark. While these dishes may seem challenging to some, none of these foods were Bourdain's saddest meal ever. This great honor went to a burger that he had from Johnny Rockets.
Bourdain recounts how Johnny Rockets made him a terrible meal on a 2016 episode of Conan. He says, "I've eaten a lot of really nasty foods on my show, but nothing as soul-destroying as my airport Johnny Rockets experience." At that time, he was hungry and just wanted a burger. The restaurant's staff then proceeded to throw a cold patty onto a bun and box up some pre-cooked fries.
When the Johnny Rockets workers had finished making this meal, they all looked at Bourdain as someone slid across his food. Bourdain states, "We all sort of stood there silently there for a second, kind of sharing this moment of perfect misery. None of us were where we wanted to be." And if that isn't your personal definition of sadness, then you need to buy a new dictionary.
John Torode has eaten the saddest dishes on Masterchef U.K.
Before there was MasterChef Slovenija, MasterChef Ukraine, and Sveriges mästerkock, the original MasterChef began in the U.K. This show has had 16 seasons and starred its fair share of cheerless meals. Well, John Torode has certainly judged a few bad dishes on the program. In an interview with Eat Out, he said, "You get stuff that's undercooked, raw. I had one dish once that I said looked like a deer had thrown up in the woods. It was this liver poached in milk thing. It looked revolting!"
But while these dishes are abysmal, there's one particular meal that stands out in Torode's mind. In an episode of the show, a contestant decided to make him grilled beef, dauphinoise potatoes, and carrots. "One of the carrots had his teeth marks in it," remarked Torode. "So he had tasted the carrot, then put it back on the plate with all his saliva and teeth marks on it. Disgusting!"
So the next time that you're out ordering lunch, and it's taking a smidgen longer than expected, remember Torode's carrots. You may feel a little better knowing that your food isn't going to be covered in teeth scrapes.
Guillaume Brahimi said that a few Aussie meals were miserable
Guillaume Brahimi is a French chef that moved to Australia. Since relocating there, his life has been filled with huge successes. He even ran a restaurant inside the Sydney Opera House and now has a rad series of bistros. But life hasn't always been easy for Brahimi since he left France. As a matter of fact, Brahimi was rather upset with some aspects of Australia's food culture.
The Australian reported that Brahimi had a problem with the country's 1980s lunches. He was dismayed that their bread was square and that they only ate sandwiches. Furthermore, Brahimi believes that the Aussies were ruining their seafood. He said, "Lobster mornay and oysters Kilpatrick. I was like 'oh my god, what is wrong with a beautiful lobster, what is wrong with a beautiful oyster?'" Brahimi didn't like that they weren't eating what was in season. Therefore, while this Frenchman has made it big in Down Under, he most likely had to endure some bitter dishes to succeed.
Tyler Florence tried a bear-shaped meatloaf on Worst Cooks
Tyler Florence is a chef that's a regular on Food Network. He's also a man that believes that any meal has the potential to be good. In 2012, he told D Magazine, "There's literally nothing that I don't like or a flavor profile that doesn't work. I can make anchovies and peanut butter taste great." However, while every dish has the potential to be delicious, there's a chance that it could still end up totally rubbish. And Florence definitely learned this on Worst Cooks in America.
Worst Cooks in America has a title that almost summarizes the show's entire premise. It's about people who make terrible food and compete to improve their cooking skills. But boy oh boy, some of these contestants start out as just the lousiest of cuisiniers.
On Florence's first episode, a man named David Rosenberg presents him meatloaf that was shaped to look like a teddy bear. Unfortunately, this meal was also the grossest monstrosity ever to exist. The creature's face was a congealed blob of flesh, and it looked dead in a field of nauseating mashed potato. Florence wasn't impressed with this dish and said, "This is without a question, hands down, the worst meatloaf I've ever had in my entire life."
A sad childhood meal inspired Roblé Ali to become a chef
On very rare occasions, dreadful events inspire people into their line of work. If Bruce Wayne hadn't been scared of bats during his childhood, or watched his parents get killed, he wouldn't have become Batman. If Luke Skywalker didn't have Darth Vader as a dad, he wouldn't have become a Jedi Knight. And if Roblé Ali didn't have an "extremely average" meal as a kid, he may have never starred in Bravo's Chef Roblé & Co.
Ali told Complex about how he once went to a Houston buffet as a child, after going to the mosque with his dad and church with his mom, but didn't like the food. The chef recounted, "It was just like, 'blah.' I was hungry after sitting in church for five hours (and) the highlight of that meal was the soft serve ice cream."
This annoyed Ali because he felt like his mom and dad had spent their money on an experience that wasn't good. "I thought, 'You know what, if I want to eat well all the time, I'm going to have to learn how to cook,' so I started teaching myself how to cook."
It's genuinely awesome that Ali was inspired by this sad meal to make incredible dishes. He's actually one of those champs that turned lemons into sweet lemonade.
Padma Lakshmi consumed a few woeful desserts on Top Chef
As a judge on Top Chef, Padma Lakshmi has eaten some 10 out of 10 desserts. Bravo TV even released a slideshow of over 100 sweets that have been tasted on this competition, and a mind-boggling amount of them look delicious. But not every dish can be an absolute winner. Lakshmi knows this and hasn't been afraid to throw a couple of them under the bus.
When UPROXX asked Lakshmi which Top Chef meal was the worst, she gave them a very direct answer. She said, "Michael Midgley, on my first California season, made this weird canape with some kind of chocolate bar rolled in coconut with a Cheeto stuck in the middle of it. It was just dumb and not very good."
Lakshmi also called out Ilan Hall, the winner of the show's second season, for making a chocolate ganache with a morsel of liver in it. "It was really entertaining trying to watch him explain his way out of it to Mr. Ripert. I just had to sit back and let it roll."
These desserts aren't the only rank treats Lakshmi was forced to endure. In 2014, she told The Daily Dish that Ariane Duarte's season five lemon curd was "neon yellow" and "a nuclear disaster." Lakshmi has thus eaten too many sad confections and deserves the sweetest of sweets.
Alton Brown was challenged to eat a spicy wing that was terrible
Alton Brown hosted around 300 episodes of Iron Chef America and knows how challenging it can be to cook impeccable food. However, after watching his performance on Hot Ones, you could potentially think that this show introduced Brown to the challenge of eating something miserable.
Hot Ones is an interview show where Sean Evans, the program's host, chats with a guest while they eat increasingly spicy chicken wings. And when Brown was on this series, he genuinely dislikes the seventh bird that he tries. This poultry was doused in a hot sauce called Da Bomb Beyond Insanity. The dish is more than 16x hotter than a jalapeño pepper.
When Brown bites into this wing, his mouth crumples into a frown. "This is hot, but it's not good," Brown states. "It's just bitter and unflavorful." At the end of this interview, he ranks all of the shows' hot sauces and puts Da Bomb at the bottom.
Gino D'Acampo tasted a wasabi pizza on BBC's Midnight Gameshow
Gino D'Acampo is a celebrity chef that's filmed seven seasons of Gino's Italian Escape. Furthermore, he's been a regular chef on This Morning for over 10 years. If a person becomes this successful, they probably assume that a TV crew won't sneak into their house at 1:00 a.m. and then quiz them. Which is exactly what happened to D'Acampo.
D'Acampo was a surprise contestant on Michael McIntyre's Midnight Gameshow. In his episode, he wakes up to find McIntyre standing over his bed, asking him if he's ready to be quizzed. D'Acampo is then blindfolded and challenged to use his taste buds to guess a pizza's toppings. The first slice that he grabs is smothered in wasabi. D'Acampo literally gags on this bite before he remarks on how spicy it is.
Eating a wasabi pizza while your disorientated, being filmed, and awake at 1:00 a.m. is without a doubt an unbelievably surreal yet saddening experience. Thankfully, D'Acampo takes this surprise like a champ and correctly guesses the pie's condiment.
Julia Child's saddest meal was made at an English inn
Before Julia Child transformed America with her French cooking school, she helped develop a shark repellant during the height of the Second World War. But while this fact is impressive, she couldn't use this doohickey to ward off crummy meals or incompetent chefs. Perhaps Child should have made a spray that was able to save her from eating an awful dish.
In 2002, Child told Newsday that the worst meal she ate was made in a British inn. She said, "It was a very English menu, and I decided I would order the boiled fowl." However, when the bird came out, it was just a large piece of leg with a hair sticking through it. It also came in a water and flour white sauce. "It was ghastly. It confirmed all your feeling about English cooking. The hair sticking through this white sauce is something I shall never forget."