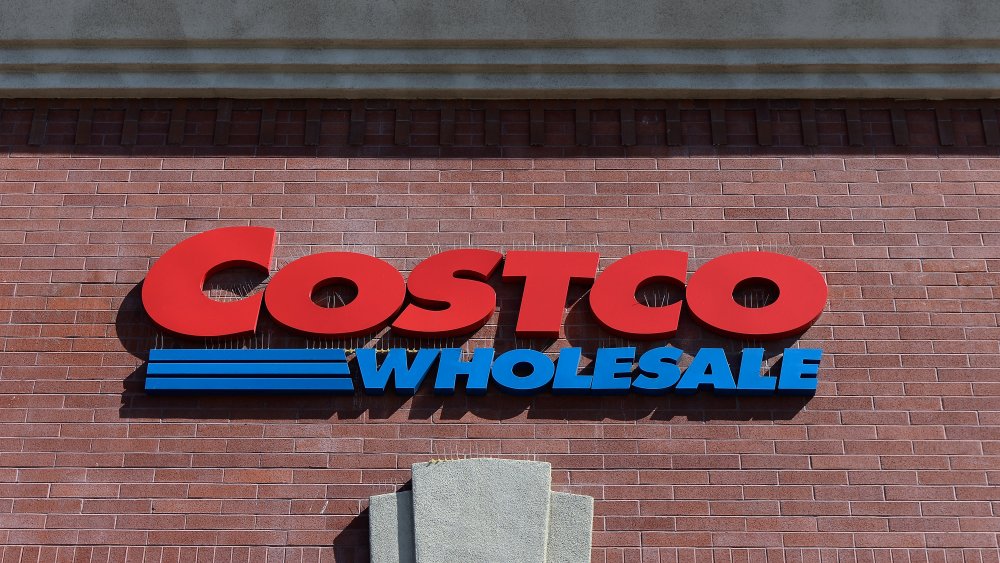 Shopping at Costco can be an adventure. When you walk in, you can head to the food court to grab a bite to eat before hitting the aisles. Once you're ready to shop, you grab a cart and hunt down your favorite items. If you can't find what you're looking for, don't panic yet — it may have been strategically moved to another part of the store. However, it's also possible that your favorite Costco item has been discontinued.
Costco didn't profit nearly $20 billion in 2019 by accident. Their warehouse clubs are constantly adjusting their inventories and they're not afraid to discontinue products, even if it annoys their members at times. The longer you're a Costco member, the more you will realize it's always a good idea to stock up on your favorite items because you never know when it's the last time you'll find it on their shelves.
The good news is there is actually a secret way to tell whether an item is about to be discontinued. All you need to do is look for an asterisk on the price tag at Costco. If you see the asterisk, that's the ominous warning sign that a discontinuation is imminent.
While Costco has eliminated hundreds of products over the years, these are the discontinued items that we're still mourning to this very day.
Polish dog from the Costco food court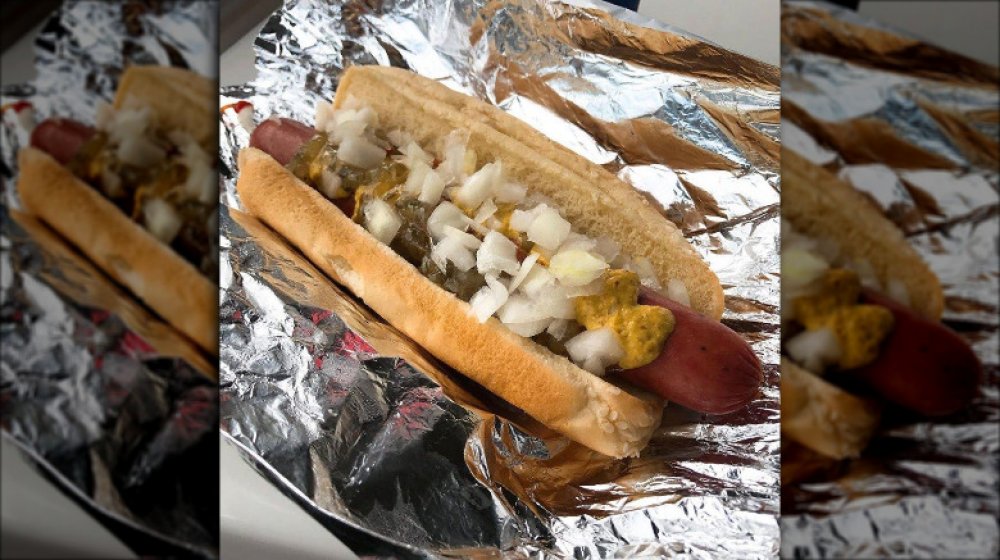 No Costco discontinuation ever caused as much upheaval as the axing of the Polish dog from their food court menu. For years, you could get a Polish dog at Costco along with a 20-ounce soda for the unbeatable price of $1.50.
There was so much outrage that Costco even has a dedicated page on their website discussing the Polish dog being discontinued. The two reasons they point to for the decision are creating space for food items that are healthier, and the simplification of their food court menu. One of the healthier options Costco added to their food court menu shortly after doing away with the Polish dog was the acai bowl, which is a vegan snack comprised of granola, berries, and other goodies.
While the $1.50 Polish dog combo is apparently gone for good at Costco, you can still get the $1.50 combo that features an all-beef hot dog. Though it's not the polish dog, this tasty dog is certainly worth the price.
Costco's All American Chocolate Cake
For the chocolate lovers of the world, Costco's All American Chocolate Cake was the ultimate dessert. This bad boy was seven pounds of chocolate heaven and could be yours for only $16.99. It was fantastically dense, amazingly rich, and each slice was chocolatey to its core. Tragically, Costco decided to do away with it.
However, the disappearance of the All American Chocolate Cake didn't go unnoticed. Once they took it off their shelves, a Change.org petition begged Costco to reconsider their decision. The petition went so far as to call the discontinuation of this cake an "insult."
While all of us who love chocolate miss this epic cake, dietitians around the country probably breathed a sigh of relief. If you bought the All American Chocolate Cake, took it home, grabbed a fork, and ate it all by yourself, you'd consume a total of nearly 13,000 calories (or about five days worth of calories) — not that any of use would ever consider doing that.
Costco's Kirkland Signature Turkey Burgers
While neither the Polish dog nor the All American Chocolate Cake could be classified as health food, Costco doesn't always allow healthy items to stick around, either. Kirkland Signature Turkey Burgers had only 200 calories per patty, were low in fat and carbs, and had 35 grams of protein — but Costco still pulled the plug back in 2018.
Not only were these turkey burgers healthy, they were also really tasty. All you needed to do was heat up a patty, put it in a bun, and add cheese and ketchup and you had a wonderful meal. Or, if you were in a hurry, you could just heat up the burger and eat it plain.
A petition that called for the return of Kirkland Signature Turkey Burgers racked up more than 100 signatures. While Costco now has other turkey burgers available in their freezer section, nothing they have truly compares. These things were inexpensive and oh so yummy.
Cinnamon Sugar Pretzels from the Costco food court
Though the churros at Costco are pretty tasty in their own right, they don't hold a candle to the cinnamon sugar pretzels that Costco used to sell in their food courts. While Costco also used to have regular pretzels, it was the cinnamon sugar variety that is missed the most.
Sure, Costco's churros are big and they are blessed with an ample amount of cinnamon and sugar. However, their churros are really airy and the texture is mediocre at best. The cinnamon sugar pretzels, on the other hand, were pleasantly dense, melted in your mouth in satisfying fashion, and were so buttery that you'd be sucking on your fingers after you finished eating it. One pretzel was enough to fill you up for hours on end.
While Sam's Club has a really good pretzel in their food court, they don't have anything that can compare with Costco's cinnamon sugar pretzel from yesteryear.
Costco's Kirkland Signature American Cheese
Not long ago, Costco used to have some of the best American cheese on the market. Kirkland Signature American Cheese came in five-pound packages that held 120 slices. Compared to its competitors, this cheese was more flavorful, tasted less processed, and was much easier to melt without making a mess. It was the perfect addition to a burger hot off the grill.
The fact that Kirkland Signature American Cheese wasn't individually wrapped meant that it didn't create nearly as much waste as other brands, and didn't have a subtle plastic taste. And although five pounds sounds like a lot of American cheese, it tasted so good that it would disappear from your refrigerator in no time.
If you go to Costco, you can still find a lot of American cheese, most notably made by Kraft. However, let's hope that one day they reconsider their decision and bring back their Kirkland Signature slices.
BBQ Beef Brisket Sandwich from the Costco food court
The BBQ beef brisket sandwich from Costco had many loyal fans. In fact, there were those who proclaimed that this sandwich was the best thing on their entire food court menu. Apparently, though, that fan base wasn't large enough to stop Costco from discontinuing it.
Truth be told, the BBQ beef brisket sandwich was quite unique and it was definitely an acquired taste. Joining the beef brisket between the bun were coleslaw and a tangy barbecue sauce. While your taste buds would be perplexed after your first bite, you'd find yourself in love by the time you were done. On your next visit to Costco, the temptation to order another BBQ beef brisket sandwich would be intense. But now, it's gone forever.
Costco ended up replacing this glorious sandwich with an overpriced cup of chili, which only added to the disappointment. A word to the wise: don't even try Costco's chili. It's not only too expensive, it lacks flavor. If chili is what you want, you're better off getting chili from Wendy's.
Costco's Kirkland Signature Body Soap
Who knew a soap discontinuation could be such a big deal? After Costco did away with their Kirkland Signature Body Soap, Reddit was filled with users discussing their devastation about the decision. And while that may sound like an overreaction, the quality of the soap Costco used to sell makes it completely understandable. This body soap had great lather, gently moisturized your skin, and seemed to last a lot longer than other brands of soap.
The demise of the Kirkland Signature Body Soap was apparently caused by its smell. One customer says Costco sent out postcards detailing that they decided to ax this product due to a "strong scent" in some of the products. While it's possible that Costco could bring back this body soap if they can fix the issue, there's been no talk of its return. At this point, it's safe to assume it's gone for good.
Dove brand soap is widely available at Costco but, sadly, it's much more expensive than Kirkland Signature Body Soap used to be before it was discontinued.
Calzones from the Costco food court
Although it's been a while, longtime Costco fanatics can tell you all about the yummy calzones they used to have available in their food court. The best of the bunch was called the meat calzone. The crust of the calzone was soft and seasoned to perfection. Once you broke it open, you found beef, pork, sauce, cheese, and more. In case you needed additional flavor, Costco even gave you a side of marinara sauce for dipping purposes.
The heartiness of Costco's calzones was probably the best aspect. A single calzone was big enough to eat half at lunch and the second half at dinner. Considering that you used to be able to get two calzones for $6.99, it was also extremely economical for those on a tight food budget.
Why did their calzones die an untimely death? It appears they just weren't profitable enough for Costco to keep them around. That's a crying shame.
Costco's Kirkland Signature Trek Mix
Kirkland Signature Trek Mix was the perfect snack for avid hikers who wanted a portable, nutritious, delicious snack or avid couch potatoes who enjoyed grabbing their snacks by the fistful. Unfortunately, it doesn't exist any longer. Costco discontinued it and even though they replaced it with a variety of trail mixes and snack mixes, nothing has been able to fill its shoes.
The best part of Kirkland Signature Trek Mix was how it perfectly blended intense sweetness with intense saltiness. The mix featured a cornucopia of ingredients including cashews, almonds, pumpkin seeds, chocolate chips, cranberries, granola, and more. There was even a hint of cinnamon to add to the party.
Back when it was available, you used to be able to get two pounds of this mix for $7.99. Considering a serving of this stuff only had 150 calories, you didn't even need to feel guilty while scarfing it down — either on the hiking trail or on the sofa in front of your television.
Hand-Dipped Ice Cream Bars from the Costco food court
Another Costco controversy erupted when they did away with their hand-dipped ice cream bars. Once upon a time, Costco sold vanilla ice cream bars that they would dip in chocolate. From there, you could opt to have the bars dipped in almonds. The resulting chocolate almond ice cream bars were so good that a petition garnered more than 1,000 signatures after Costco decided to discontinue this decadent dessert.
While the taste was predictably amazing, the price tag was equally as exciting. Hand dipped ice cream bars at Costco were only $1.50, which made these things a must-have each time you visited the store. It's safe to say a lack of profit may have played a key role in Costco deciding to discontinue this item.
A Reddit user who claims to be a former employee at a Costco food court told the tale of creating a double-dipped ice cream bar in which the bar was dipped a second time in the chocolate and almonds after it was allowed to solidify. It's too bad that no one will be able to taste that level of deliciousness ever again.
Costco's Kirkland Signature French Comte
One of the best cheeses Costco ever had on their shelves was Kirkland Signature French Comte. This cheese was made in France and was unlike anything else you can find in America without sacrificing an arm and a leg. Aged for at least eight months, it had a strong flavor but it wasn't overwhelming. If you like savory food, you would have loved this cheese.
Kirkland Signature French Comte could be used in dishes or melted to make a fondue but it was best to eat it by itself as a snack. All you had to do was cut it into cubes, pour yourself some of Costco's affordable champagne, and you had a millionaire's snack on a blue collar budget.
While Costco still has a lot of quality cheeses on their shelves that are available for a fair price, nothing they offer these days is as luxurious as the French comte they used to sell.
Costco's Kirkland Signature Cinnamon Roll Protein Bars
Costco sells a variety of Kirkland Signature protein bars including chocolate peanut butter chunk, cookies and cream, chocolate brownie, and chocolate chip cookie dough. Each flavor of these bars are high in protein, high in fiber, low in sugar, and low in carbohydrates. Unfortunately, the best flavor is no longer available.
Kirkland Signature Cinnamon Roll Protein Bars are far and away the best tasting protein bars Costco has ever sold. While their current flavors taste okay-ish, the chocolate leaves a bad aftertaste. The cinnamon roll version didn't rely on chocolate, of course, so it didn't have that problem. Whereas you can only eat one of their chocolate protein bars before wanting to move on, Kirkland Signature Cinnamon Roll Protein Bars were something you could snack on all day long.
Finding a protein bar that is both healthy and tasty can be a difficult task. Many bars have either too much sugar or taste bad. Costco had the perfect balance with their cinnamon roll bars. With these bars out of the picture, the search continues. If you really want to pick between Costco's current bars, the best of the bunch is the cookies and cream variety because you avoid most of the aforementioned aftertaste.
Gelato from the Costco food court
If you've been a Costco member for more than five years, you undoubtedly remember that they used to sell gelato in their food courts. The dessert was made fresh and it came in three flavors: mixed berry, pistachio, and stracciatella. While all three flavors were worth having, the stracciatella flavor was the best. It was mostly vanilla with the optimal amount of chocolate chunks added to the mix. That said, the mixed berry was also really, really good.
To make their gelato even more irresistible, Costco charged only $1.50 for three scoops of the flavor of your choice (or a combination of flavors, if you were brave enough) served in a crunchy waffle cone. Alternatively, you could pay $4.99 to get a quart of gelato for the road.
A few years ago, a petition made the rounds on the internet calling for Costco to bring back the gelato. As is usually the case, Costco seemingly ignored the request.
Costco's Kirkland Signature Light Beer
While the taste testers weren't too kind when reviewing Costco's Kirkland Signature Light Beer, to put it mildly, it definitely served its purpose. First of all, each can set you back less than 50 cents. For a broke young adult looking to throw a party without emptying their bank account, this beer was very helpful.
Secondly, while no beer is going to be classified as healthy to drink, Kirkland Signature Light Beer only had 105 calories per can. That's a reasonable amount if you're looking to limit your caloric intake.
And finally, it honestly didn't taste that bad. One critic compared the taste of Kirkland Signature Light Beer to a used diaper — but that's simply hyperbole. While it was never going to win any awards for its taste, this light beer was definitely good enough to justify the price tag and it was as good or better than comparable low-budget light beer. Add it all up and it's a shame that Costco decided to discontinue it.