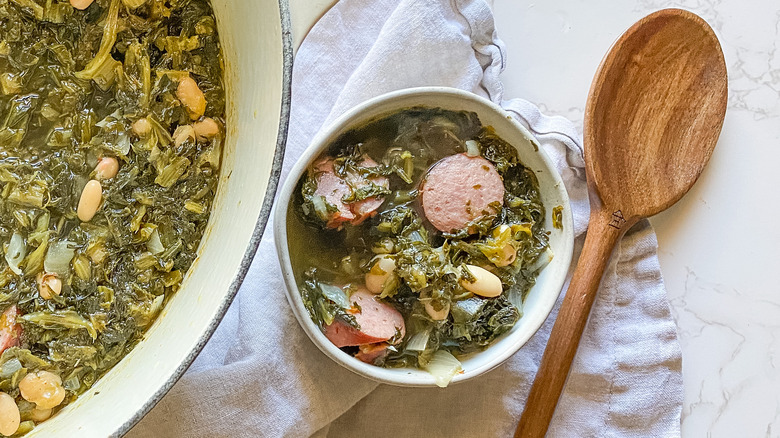 Let's be honest, you probably don't get all that excited when you think about turnips or turnip greens, do you? In fact, let's take that a step rather: you don't ever think about turnip greens in the first place, do you? That's all going to change when you try this soup, which chef, recipe developer, and registered dietician Kristen Carli calls "very comforting and filling."
Nourishing, filling, and delicious, this soup will assuredly become a go-to quick and easy meal in your home, especially during the colder autumn and winter months when you want something warm and comforting, too. "This is a whole meal," Carli says, "but would be delicious with some bread too."
Even better, this recipe is one that calls for highly freezer-, fridge-, and shelf-stable ingredients, so you can make a batch any time you want, even if you're hardly a masterful soup-making chef. "This is extremely easy," says Carli, adding that "As long as you can open a few cans, you can make this dish." And once you are comfortable making this basic easy turnip green soup as it's laid out here, it can also become the springboard for your own customized originals, too. The soup works with the addition of myriad ingredients, from lentils for added protein and fiber to sliced carrots and celery to increase the number of vegetables in the mix.
Gather your ingredients for easy turnip green soup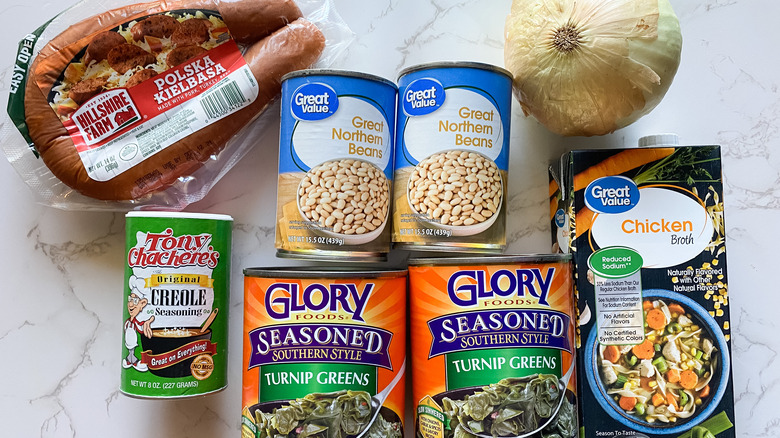 It really doesn't take much to make a great soup, it turns out, though it helps if you concentrate on great ingredients and just a bit of attention throughout the cooking process. All you need for this turnip greens soup recipe is some olive oil, a diced yellow onion, a pound of sliced kielbasa sausage, a couple of cans of turnip greens, a couple of cans of great northern beans (drained and very well-rinsed), lots of chicken broth, and a generous tablespoon of Creole seasoning.
If you want to make this soup vegetarian or even vegan, switch the chicken broth out for some vegetable broth. You'll also want to find a plant-based alternative for the kielbasa sausage, which should be relatively easy to find in most grocery stores today.
The health benefits of turnip greens
Not only can turnip greens play an integral role in one delicious soup, but they can also be a meaningful part of a healthy, wholesome diet. According to Healthline, a cup of turnip greens has just 18 calories, meaning that it's great for people watching their general caloric intake. However, it's also rich in vitamins and minerals. That same one-cup serving of turnip greens delivers almost 40% of your daily needed vitamin C, 35% of your vitamin A, and a whopping 115% of your daily needed vitamin K.
Turnip greens are also a great source of folate, a decent source of calcium, and deliver a bit of fiber, too. They can help you manage blood sugar levels, are anti-inflammatory, and are known to be good for bone and liver health, too. They even help your body to absorb nutrients from other sources, like iron, thanks to all that vitamin C.
Cook the onion and then the sausage
As with so many great recipes, this one starts with cooking onions. Start off by putting a large pot or Dutch oven on the stove, adding in the olive oil, and warming it over medium heat. Once the oil is warm, add the diced onion and cook it until the onion grows fragrant and translucent. This will take about 5 minutes.
Once the onion has cooked to translucence, add the sliced kielbasa and give everything a good stir. Continue to cook the onions and sausage for about 5 more minutes, stirring frequently to keep the ingredients from sticking to the bottom of the pot and burning. The sausage should start to brown slightly during this sautéing process, by which time you'll know it's ready to move on to the next step.
Add beans, greens, and broth, and simmer
Once the onions and sausage are cooked, it's now time to add in the cans of both the turnip greens and the great northern beans. Remember that the beans need to have been fully drained and well-rinsed ahead of time, lest you add too much liquid and salt into the pot now. Stir, then add the chicken broth and the Creole seasoning. Stir to combine these as well, making sure that everything is evenly mixed.
Now let the soup simmer over medium heat for 15 minutes, stirring occasionally and making sure that nothing is sticking to the bottom of the pot. And, after just these few short minutes, you'll have a rich, deeply flavorful soup that tastes great and packs a serious nutritional punch thanks in large part to those turnip greens.
You can enjoy the soup either in a large serving as a meal in and of itself or as a side or starter with a different entree. And if you have some leftovers after mealtime, it's easy to store the extra soup for future you. "This soup keeps well in an airtight container in the fridge for up to four days," Carli says, noting that "it reheats best on the stove top."
1 tablespoon olive oil
1 yellow onion, diced
1 pound kielbasa sausage, sliced
2 20 ounce cans turnip greens
2 15 ounce cans great northern beans, drained and rinsed
4 cups chicken broth
1 tablespoon Creole seasoning
In a large pot or Dutch oven, add olive oil over medium heat. When oil is hot, add the diced onion and cook until the onion is translucent and fragrant, about 5 minutes.
Add sliced kielbasa and continue to cook for about 5 more minutes, until the kielbasa slices have begun to brown around the edges.
Add turnip greens and great northern beans and stir to combine.
Add chicken broth and Creole seasoning and stir to combine.
Simmer over medium heat for 15 minutes.