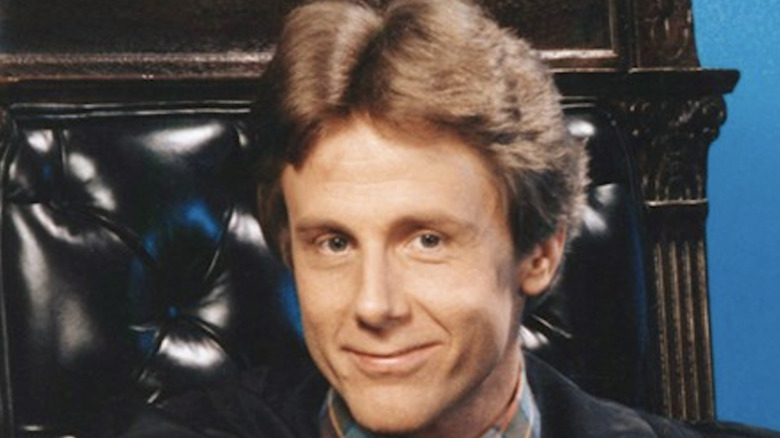 One of the most beloved sitcoms of its time, "Night Court" aired on NBC for nine seasons, from 1984 – 1992. It starred actor, comedian and magician Harry Anderson as Judge Harry T. Stone, a good-natured oddball who presided over the oddball docket of a New York night court. The show was unusual in that it had a tightly-knit cast who played a family of bailiffs, clerks, and attorneys, augmented by an occasionally-recurring cast of weirdos, misfits, and unfortunate characters who would pop up from time to time in front of the court.
Night Court was both a critical and ratings success. It garnered 31 Emmy nominations and 7 wins during its run. That included four consecutive wins for John Larroquette, who launched to fame (from movies like "Madhouse" to TV's "The John Larroquette Show") playing snarky horndog prosecutor Dan Fielding. It was a top-thirty show in the Nielsen ratings starting in its second season and extending all the way to its seventh, reaching as high as #7 in 1987 and 1988. But most importantly, it was really, really funny.
During its run, "Night Court" had its share of behind-the-scenes sadness. First, the show lost long-time character actress Selma Diamond (who played chain-smoking bailiff Selma Hacker) to cancer after Season 2. A year later her replacement, Florence Halop (heavy metal-loving bailiff Flo Kleiner) also died of cancer. Both times, the show acknowledged their absences and gave the cast a chance to mourn on-air.
In more recent years, a number of character actors who had frequent guest-starring roles — as well the series lead Anderson — have passed away. With news of an NBC revival in production featuring a returning Larroquette, now seems like the perfect time to look back with fondness on "Night Court," and the series actors who have passed away.
Night Court was built around Harry Anderson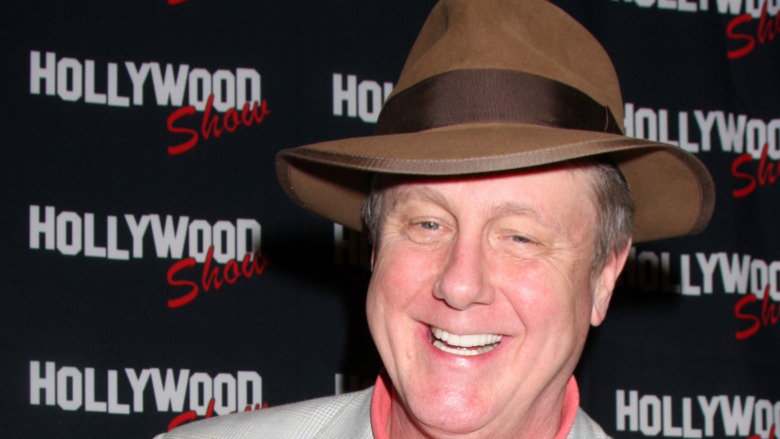 Actor and magician Harry Anderson played Judge Harry T. Stone, the goofy and affable star of the show. Appointed to the bench on a fluke, his use of gags, magic tricks, and silly jokes belied a genuine sense of empathy and strong moral character. He loved old Hollywood stars like Jean Harlow and Marilyn Monroe, and had a well-documented soft spot for his beloved Mel Torme.
Judge Stone's mix of warmth and wit contrasted brilliantly with the cynical lawyer Dan Fielding and the sarcastic bailiff "Roz" Russell (the perfectly-cast Marsha Warfield). Both in the context of the show and in general, the fedora-wearing Harry T. Stone was someone who would win you over, particularly late at night when you'd spent hours watching a parade of eccentric reprobates being led into the courtroom.
Anderson's background was in magic, and he downplayed his abilities as an actor. His many appearances on "Saturday Night Live" and later playing a character not unlike that on "Cheers" named "Harry the Hat" revealed a magician with a fast patter who loved hustling marks with acidic comedic timing. Those were the roles that earned him the chance to have a show built around him, combined with show creator Reinhold Weege's fascination with the weird world of the New York night court system.
After "Night Court," Anderson's most memorable role was as syndicated newspaper columnist Dave Barry on "Dave's World." He quit acting after that and went back to magic, opening up a shop in New Orleans and doing corporate gigs. He died in North Carolina on April 15th, 2018, at the age of 65.
Selma Diamond's sarcasm was acidic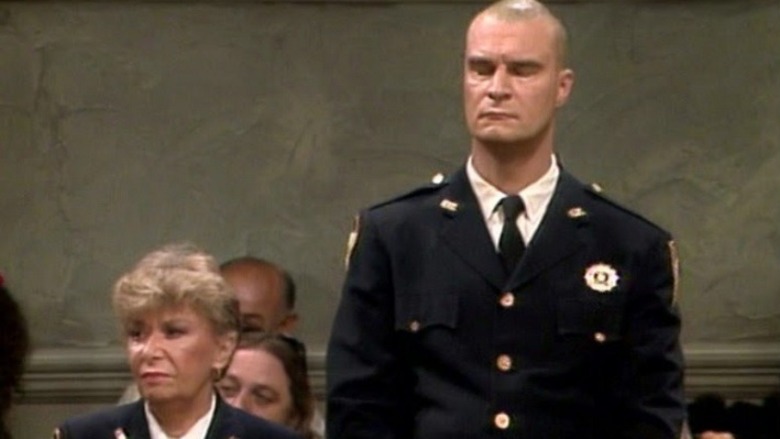 The deadpan, nasal sarcasm of Selma Diamond was a highlight of the first two seasons of "Night Court" and playing bailiff Selma Hacker, she was part of a Mutt-and-Jeff style pairing with Richard Moll's enormous Bull Shannon character. While Bull looked fearsome, he was quite gentle. However, while Selma looked harmless, her cutting remarks reduced people to ribbons. He looked up to her as a sort of mother figure.
Diamond got her start as a writer, working with the likes of Mel Brooks on "The Milton Berle Show" and "Caesar's Hour." Debuting as a voice actor in "It's A Mad, Mad, Mad, Mad World" (she was the wife who spent the entire film yelling at Spencer Tracy through the phone), Diamond then appeared in a number of small roles in film and on TV. A semi-recurring role in "Too Close for Comfort" in the early '80s was the first time she had any serious traction as an actress. Her role as Selma Hacker was a big breakout, even if it didn't arrive until the age of 64. She received an Emmy nomination as well as a Golden Globe nomination for Outstanding Supporting Actress In A Comedy Series.
After her death on May 13th, 1985, she was memorialized on the show itself. In the third season premiere "Hello, Goodbye," everyone took Selma's death hard, but none more than Bull. His reaction was to go on a bender with some circus performers. Eventually, he managed to warm up to Selma's replacement, Flo.
Florence Halop brought a different energy to the bailiff role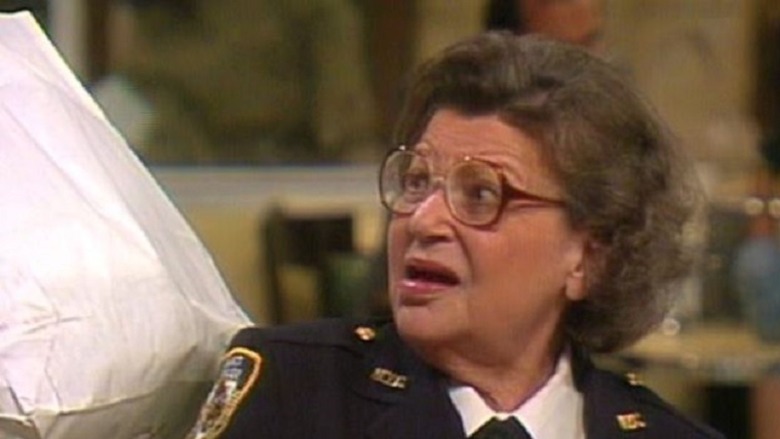 Florence Halop replaced Selma Diamond as bailiff for Season 3 of "Night Court," and won over many fans of her own. Although she was even shorter than Diamond, her feistiness as "Flo" proved an equally complimentary match for Richard Moll's Bull.
Halop had a television career that spanned nearly 50 years. Her early break came while playing Mama Bronson in the early '50s series "Meet Millie." She spent decades doing guest spots and voice work for cartoons like "Scooby-Doo" and "Captain Caveman," then became a valued utility player on "Barney Miller," where she played several different characters during the show's run.
As luck would have it, one of those "Barney Miller" writers turned out to be "Night Court" creator Weege, and he remembered her when he was in need of a new bailiff. Prior to "Night Court," she was perhaps best known for playing the patient from hell, Mrs. Hufnagel, on "St. Elsewhere." Halop's Mrs. Hufnagel was abusive, sarcastic, and racist, then died of a nicked artery after heart surgery — but the final image of her was darkly comedic: in a malfunctioning hospital bed, "folded up like a clam."
Halop died on July 16, 1985, due to complications from cancer. She was 63 years old, and had been acting since she was four.
Paula Kelly brought much-needed sincerity
Actor and dancer Paula Kelly played Liz Williams, the public defender in Season 1 of "Night Court." In a courtroom filled with eccentrics, Liz represented a calming, serious presence in the court, acting as a "straight man" calm in the lunacy of Judge Stone's courtroom.
Caring and compassionate, Paula Kelly's Liz made an impression in her first season, being nominated for an Emmy in the category of Outstanding Supporting Actress In A Comedy Series. Kelly left after 12 episodes, and was effectively replaced in Season 2 by Ellen Foley's Billie Young and then by Markie Post's Christine Sullivan from Season 3 until the end of the show.
Kelly had a long career on Broadway, originating the role of Helene in "Sweet Charity"; she also reprised the role in her film debut in 1969. From there, she switched from musicals and dancing to drama, appearing in grim early '70s science-fiction classics like "Soylent Green" and "The Andromeda Strain." Kelly then moved on to television, guest-starring in a number of dramatic roles until appearing in "Night Court." She followed up that show with 24 appearances in the daytime soap opera "Santa Barbara," appeared in a memorable episode of "The Golden Girls" as a housekeeper who may have put a voodoo spell on the ladies, then picked up another Emmy nomination for her role in the 1989 Oprah-produced miniseries "The Women of Brewster Place."
She stopped acting in 1999, but came out of retirement in 2009 to stand on the stage one last time, joining the Ebony Repertory Theatre's production of Regina Taylor's "Crowns." Kelly died on February 8th, 2020, at the age of 77.
Mel Torme was Harry Stone's frenemy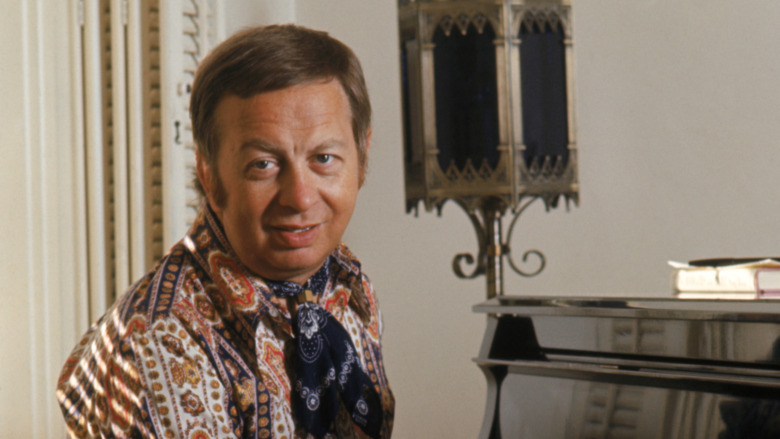 Legendary jazz singer Mel Tormé was a favorite of Harry Anderson, as well as Harry T. Stone. With a photo of "The Velvet Fog" adorning his chambers, Stone's obsessive love of Tormé became a running joke, paid off when the singer finally made an first appearance on the show in 1986 — but Stone didn't get to meet him.
In a later episode, Tormé played Herb, Stone's guardian angel in an "It's A Wonderful Life" spoof where Harry was shown what would have happened to everyone if he hadn't become a judge. In another classic episode called "Melvin and Harold" (Season 7, Episode 18), Stone arranged for Tormé to play his birthday party, but wound up sending him to jail instead. As the series wound down, Harry was offered a chance to either tour with Tormé or teach at Columbia law school.
All told, the jazz singer/crooner appeared in nine "Night Court" episodes, but Tormé's career in film and television spanned over 50 years.
Some of his post-"Night Court" credits included an appearance on Anderson's later show "Dave's World," as well as an appearance on "Seinfeld." "The Velvet Fog" was good-humored about his career, but most of those appearances were genuinely reverent toward his legacy. The composer of such classics as "The Christmas Song" and "Jeepers Creepers" passed away on June 5th, 1999, at the age of 73.
Jack Riley made neurosis an art form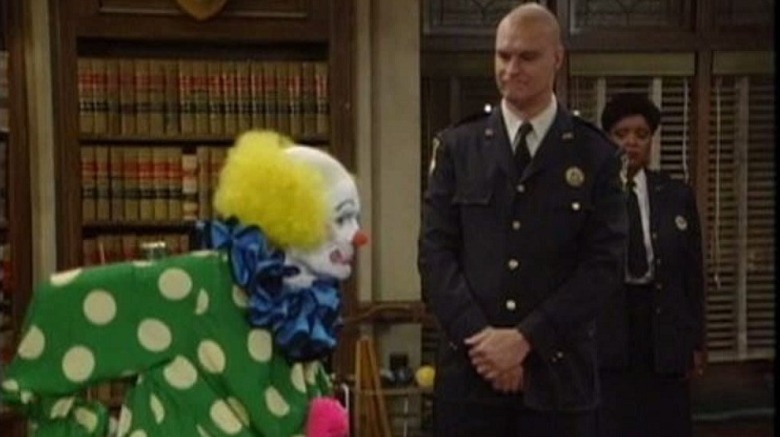 Jack Riley was an instantly recognizable face in multiple decades of television and film, filling roles with dripping sarcasm for more than 40 years.
He played a few different characters on "Night Court," but perhaps the most memorable was in "Clip Show," where he played Beepo the Clown — a sullen defendant who held Judge Stone's staff and a city auditor hostage, causing them to reminisce about old times while awaiting a resolution.
Riley also played Dr. Flick, a sarcastic surgeon (was there any other kind for Jack Riley?) who operated on Dan. The popular, versatile character actor had become best known for playing Bob Newhart's antisocial, neurotic patient Elliot Carlin in "The Bob Newhart Show." He later reprised the character on shows like "St. Elsewhere" and "ALF."
Throughout the '60s and '70s and '80s, Riley seemed to have minor roles in seemingly every sitcom, and was also a favorite of directors Mel Brooks (appearing in "High Anxiety," "Silent Movie," and "History of the World: Part I") and Robert Altman (who cast him in "McCabe and Mrs. Miller," "The Long Goodbye," and "California Split").
In his later years, he populated such beloved shows as "Punky Brewster," "Gimme a Break!" and "Diff'rent Strokes," then won over a new generation of fans as the voice of Stu Pickles on "The Rugrats." He did voice work for 145 episodes of that show, as well as over a dozen other movies and several video games as well. The legendary Jack Riley, a veteran of nearly 200 film and TV roles, died on August 19, 2016, at the age of 80.
S. Marc Jordan always got a good line in
"Night Court" included one of the biggest roles of S. Marc Jordan's long career as a character actor, who appeared in Season 8 as Jack Griffin, the blind cafeteria concessions man. Though his screen time was limited, Jack typically got a good wisecrack in every episode, making him yet another colorful oddball in an unorthodox workplace filled with them. As time went by, fans began to anticipate him as a welcome presence in each episode.
Jordan got his start in theater, appearing in a number of Broadway and off-Broadway productions. Jordan didn't get his first television acting role, however, until he was 44 years old and didn't start working regularly until he was nearly 50, when he appeared on shows like "Lou Grant" and "Hill Street Blues."
He worked steadily for nearly 30 years after that, doing voice work, sitcoms, dramas, and even video games. His second biggest role besides "Night Court" was on the daytime soap opera "Days of Our Lives," in which he had 38 appearances between 1986 and 1989. Other credits include "The Transformers," "Seinfeld," and "Babylon 5." He died on July 11, 2014, at the age of 83.
Martin Garner: you know that face!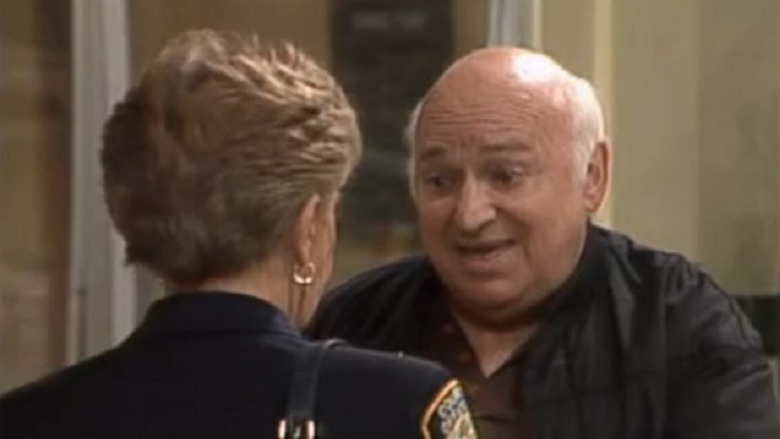 Martin Garner was another character actor with a familiar, friendly face who got a moment to shine on "Night Court."
He played Bernie, the news stand vendor in the cafeteria who was attracted to Selma. She was totally uninterested in his advances, but that didn't stop him from trying. She eventually warmed up to him a little and they became friends. However, after Selma died, Bull figured that Bernie would hit on Florence as well, so he warned her ahead of time. She used the strategy of returning Bernie's interest to an extreme degree, frightening him away.
A classic character actor, he was another person on "Night Court" with a theater background. However, he became best known for his many television appearances, starting in 1974 and continuing all the way up through 1993. Sitcoms, dramas, action shows, and cutting-edge television such as "It's Garry Shandling's Show" were all on Garner's resume, but perhaps his finest moment came when he got to play Russian premier Mikhail Gorbachev on "The Super Mario Bros. Super Show!" Garner died at the age of 74 on September 28th, 2001.
Florence Stanley crossed over
Florence Stanley had a lot in common with the actors who had a few appearances on "Night Court." She had a career in television and movies that spanned over 50 years. She had worked with "Night Court" showrunner Reinhold Weege before on "Barney Miller," playing the long-suffering Bernice Fish; she continued that role in the spinoff "Fish." One of her appearances on "Night Court" was as someone appearing in court. The other one, however, was very different.
At the same time she appeared on "Night Court" as Judge Margaret W. Wilbur, she played the same character as a regular on the show "My Two Dads." Wilbur was the one who awarded custody of a teenaged girl to two single men who had both been romantic interests for her mom before she died. Wilbur also happened to be their landlady. Richard Moll appeared on the show as Bull Shannon, so Stanley returned the favor. The no-nonsense Judge Wilbur had zero tolerance for Judge Stone's wackiness.
Stanley appeared in everything from "Dark Shadows" to "Nurses" to "Dinosaurs" to the video game "Atlantis: The Lost Empire." She died on October 3, 2003, at the age of 79. She worked right up until she passed away.
Phil Leeds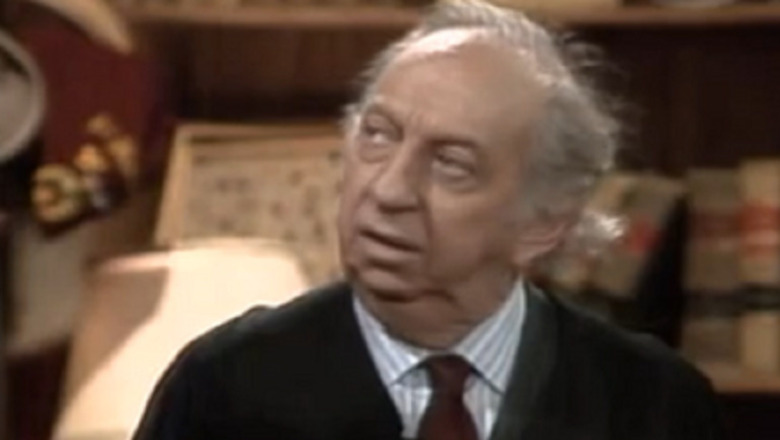 "Night Court" was a character actor's paradise, and Phil Leeds appeared proved that point, appearing five times in four different roles.
Perhaps the most poignant character Leeds played was a man who claimed to be God, offering a frightened Harry surprisingly good advice after he received a death threat. Leeds popped up again in another episode, where the same character had a disagreement with another man who claimed to be God.
Leeds was blacklisted during the McCarthy era in the 1950s and didn't work on television or film for nearly nine years. Once he returned, he made good use of his memorable looks. He appeared in "The Patty Duke Show" and "The Monkees" in the 1960s, and then played the creepy Dr. Shand in "Rosemary's Baby." He was effectively weird on sitcoms and believably sleazy on dramas and cop shows and was yet another frequent guest on "Barney Miller," so it's no surprise that Weege cast him on "Court" repeatedly.
Leeds was incredibly active up until his death on August 16, 1998. During "sweeps week" in May of that year, Leeds appeared on no less than four different shows: "Ally McBeal," "Murphy Brown," "Ellen," and "Everybody Loves Raymond." He made all of his eccentric characters memorable and believable, and that's why he was in such high demand throughout his impressive career.