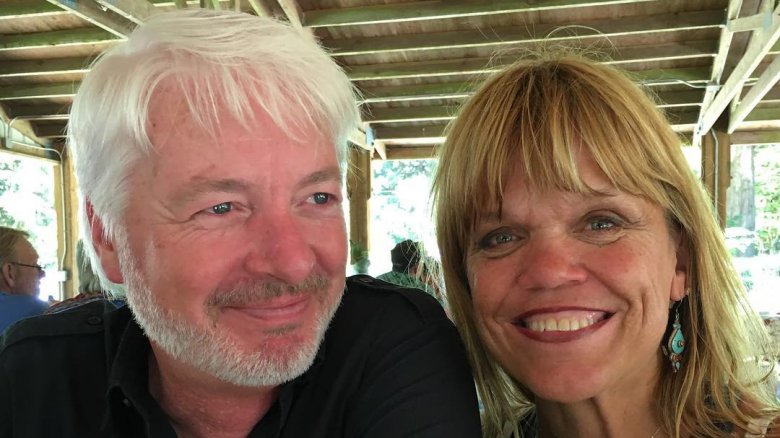 Since premiering in 2006, Little People, Big World has been a runaway success for TLC. Season after season there has been plenty of drama to keep viewers interested, from marriages to babies — even divorce — and, in July 2018, fans were shocked to learn that Jeremy and Audrey Roloff would be leaving the series after a whopping 14 years.
Despite all the changes, however, few storylines have captivated audiences quite as much as Amy and Matt Roloff's split, and the newly kindled romances that followed. Especially Amy's.
After she and Matt called it quits in 2016, the matriarch soon found love in the arms of a real estate agent named Chris Marek. While everything appears to be going well for them, there's a lot folks still don't know about Chris, who's managed to keep a rather low (and secretive) profile. We did our digging and this is the untold truth of Amy Roloff's fiancé.
Amy Roloff's fiancé retired his 'player badge' for her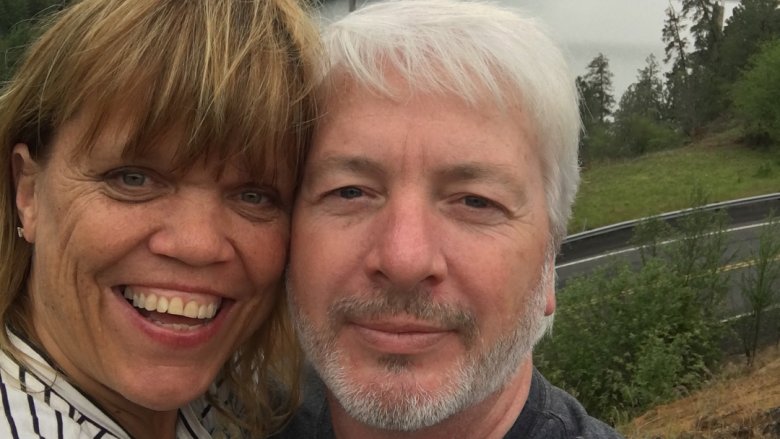 On December 3, 2017, then-boyfriend Chris Marek took his relationship with Amy Roloff to the next level and made it Facebook official. The realtor updated his status to 'In a Relationship' and, in addition to telling the world that he and the reality star were getting serious, he went one step further, revealing that he actually retired his "Player badge" for her.
The confession came about when one of his friends, a woman named Lori Jo Yock, commented on the newly updated status, sharing her well-wishes for the lovebirds, then cracking an inside joke. "I'm so happy for you Chris. Would love to meet Amy some time," she started before adding, "I promise not to call you a player anymore. You were so fun to tease."
Marek took the comment in stride and, without missing a beat, wrote back, "Yeah, I haven't been able to wear the 'Player' badge for a while now."
Chris Marek's an extremely talented real estate agent
Skeptics who claim that Chris Marek is mooching off of Amy Roloff's reality TV success would be interested to know that he's actually got a career of his own, and it's rather impressive.
According to real estate site Zillow, Marek has been an agent for nearly two decades and has countless happy customers to his name. "I take great pride in offering superior service to my clients," he writes in his bio. "If you're in the market to buy or sell a home please give me a call, I'd be happy to discuss your needs and provide advice at no obligation to you."
In addition to listing 109 successful sales in Oregon, ranging from affordable properties in the $100K range to luxury villas costing upwards of $500K, the site also features 32 gloating reviews, which highlight his excellent realtor skills. All have five stars and include positive feedback like, "He is very down to earth and does a great job of communicating throughout the entire process," and "Chris is professional, knowledgeable and personable."
Little People, Big World fans couldn't stop attacking him
Amy and Matt Roloff may have gone their separate ways in love, but not in business. Despite getting a divorce, the pair decided to continue running their farm together and living side by side, at least in the short term.
While both complained publicly about being so close post-split, Amy appeared to have no reservations about inviting her then-new beau over, and fans were none too impressed. Viewers let their disapproval be known loud and clear on Amy's social pages (via In Touch Weekly), writing things like, "It's sad to see you put Chris in your home Matt built for y'all and the kids," and "How ironic that all that work Matt did to give Amy all she has right now and this sleazy guy Chris is just living off Matt's hard work."
It seems any excuse was a good one for viewers to slam Chris Marek. When he and Amy went on a cruise in April 2018, Amy's Instagram was inundated with skeptics warning, "Chris has some terrible intentions. Eyes wide open Amy. Don't be foolish." Another wrote, "I haven't liked that Chris guy from the beginning, something is off about him, he's creepy, and I believe 100% he's with her for all the wrong reasons." Yikes.
Some viewers were convinced Chris Marek is gay
Amy Roloff and Chris Marek's blossoming romance has been a huge plot point on Little People, Big World, but despite all of the tender moments the pair has shared on the small screen, some fans of the TLC show were convinced it was all an act. In fact, they thought Marek might be gay.
Following a May 2018 episode in which the series' matriarch admitted that she and her then-new flame got into an argument while on vacation because he inexplicably left her during dinner, viewers couldn't help but share their two cents on her Facebook page. While some simply called him out for being rude, others went as far as to question his sexual orientation.
As the The Hollywood Gossip reports, one commentator proclaimed, "Always knew he wasn't what everyone thought he was … No straight guy hangs around gay bars … Now just walking off, leaving Amy without saying anything … No commitment in Chris, not when it comes to women." Another jumped in, echoing, "I wondered if anyone else thought of Chris of being gay! He was hiding something to be gone that long from Amy!" Wowza.
Amy Roloff's fiancé knows how to spoil her
It turns out that Chris Marek has a real penchant for gifting, as he proved on Valentine's Day 2018 when he bought his love an impressive diamond necklace. Amy Roloff showed off her mega sparkly present on Instagram when she posted a photo of herself holding a heart-shaped valentine for her boo.
"Many of you have asked — 'What did I decide to put on my Valentine Cookie Gram' to Chris? Simply — Amy + Chris = [heart emoji] and I'm excited to give it to him," she wrote in the caption, making followers' hearts melt. But the real star of the pic was her necklace, which soon had fans asking where it came from. "He gave it to me. It was a gift," she gushed.
Just a couple of months later, Marek was at it again, scoring major brownie points from his then-girlfriend, as he threw her an epic birthday bash, which he managed to keep secret until the last second. "Chris really knew how to surprise me," Roloff gushed on Instagram in May 2018, sharing a snap from the party in which she can be seen beaming from ear to ear. "This guy is wonderful!"
Marek's inspired Amy Roloff to be more adventurous
When he's not busy working or spoiling his ladylove, Chris Marek loves to travel. A quick Instagram search reveals his deep-rooted passion for adventure — something he's increasingly shared with Amy Roloff.
In February 2018, the mother of four documented their Idaho skiing adventure, gushing, "What a blast! Went to ID to visit Chris's family and go snowmobiling. Just beautiful." Less than three months later, they were out exploring the mountains in the Northwest. Using the hashtag #AmysSecondActContinues, the TV star wrote, "I love the Northwest! It's right up there with my home state of Michigan. Had so much fun camping this past weekend with Chris and his family. We were just Northeast of Orofino, Idaho by Clear Water River in the mountains. Just beautiful! Summer's on baby!"
On an episode of Little People, Big World (via In Touch Weekly), Amy spoke about the major differences in her life with Matt and Chris. "Chris brings out the adventurous side of me that has been on hold for me for many years," she said. "As an example: to celebrate our one-year anniversary, we are going skydiving!"
He's determined to get along with Amy's ex-husband
Despite ongoing feud rumors, Chris Marek is adamant about the fact that he and his love's ex-husband, Matt, get along just fine — something Amy Roloff herself initially thought wouldn't be possible.
"To be honest, Amy was concerned in the beginning about how Matt and I might interact but no concerns about that now," Chris told RadarOnline in March 2018. "Everything is good. Matt and I get along just fine."
In fact, while planning Amy's surprise birthday bash, Chris went as far as to enlist the help of Matt. "Chris is throwing a surprise party for Amy and asked me to help out with hiding the cars of the guests and it's all kind of a little bit bizarre," Matt explained on an episode of Little People Big World (via RadarOnline). "I don't know him real well and it's awkward — especially knowing Amy is a little dicey with him and I talking," he continued, but eventually conceded, "Chris is very respectful. I think Chris is good for Amy."
Amy's then-boyfriend also felt good about their rapport, telling viewers, "I think he and I get along fine. Fortunately, he doesn't make me feel like I am intruding."
Amy Roloff's fiancé was 'very nervous' about popping the big question
In September 2019, after three years of dating, Chris Marek decided to take things to the next level and give his love the ultimate birthday gift: a marriage proposal! Just one day after Amy Roloff turned 55, she and her beau were celebrating at their favorite restaurant … and that's when Marek got down on one knee and asked the big question. While speaking with People about the momentous occasion, the groom-to-be admitted, "I was very nervous!" As for his unconventional ring choice, he explained, "It had to be a heart-shaped diamond because I knew that's what Amy wanted."
As for Roloff, she was over the moon. "I'm excited, I'm so surprised, I'm thrilled!" she gushed to the media outlet, before going on to admit, "I never in a million years thought I'd be getting married again, but I also hoped for it! Now that it's happening, I couldn't be happier or more excited." Once the proposal sunk in, the reality TV star turned to Instagram to share more about her upcoming nuptials. "I couldn't be happier and so looking forward to this new part of our life journey together," Roloff wrote. "I'm blessed. Love you Chris. I love us."
Congratulations to the happy couple!