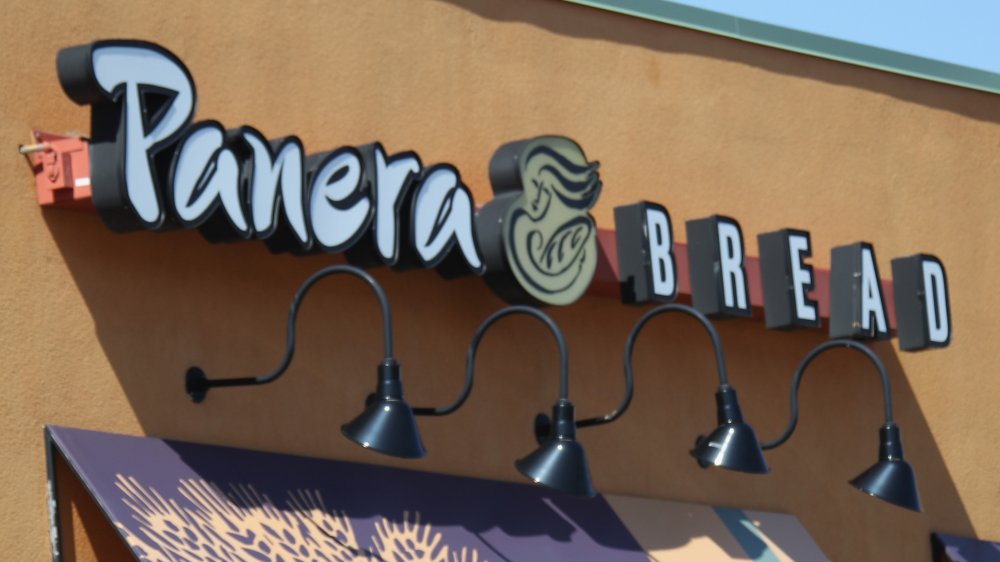 You probably know Panera Bread best for their ultra-popular broccoli cheddar soup, decadent bread bowls, stacked high paninis, drool-worthy breakfast treats, and a decent selection of tasty salads. Or maybe you know them because you saw that viral TikTok video that showed the macaroni and cheese coming out of a plastic bag. The now famous carb-laden quick-serve food chain started as a cookie shop in 1980, before partnering with similar grab-and-go French bakery chain Au Bon Pain and then acquiring the St. Louis Bread Company. The company went through a variety of expansions, sell-offs, and private equity moves to become the 2,300-cafe-strong chain we know and love today.
With a constantly changing menu, over 140,000 associates, and both corporate-owned and franchised stores in the U.S. and Canada, you may be curious what it's actually like working behind the counter of the bakery and cafe at Panera Bread, where associates run around constantly helping customers, prepping sandwiches and salads, running orders, and making coffee.
This is what it's really like to work at Panera Bread, according to people who've experienced it first-hand.
Panera Bread employees don't really do a lot of cooking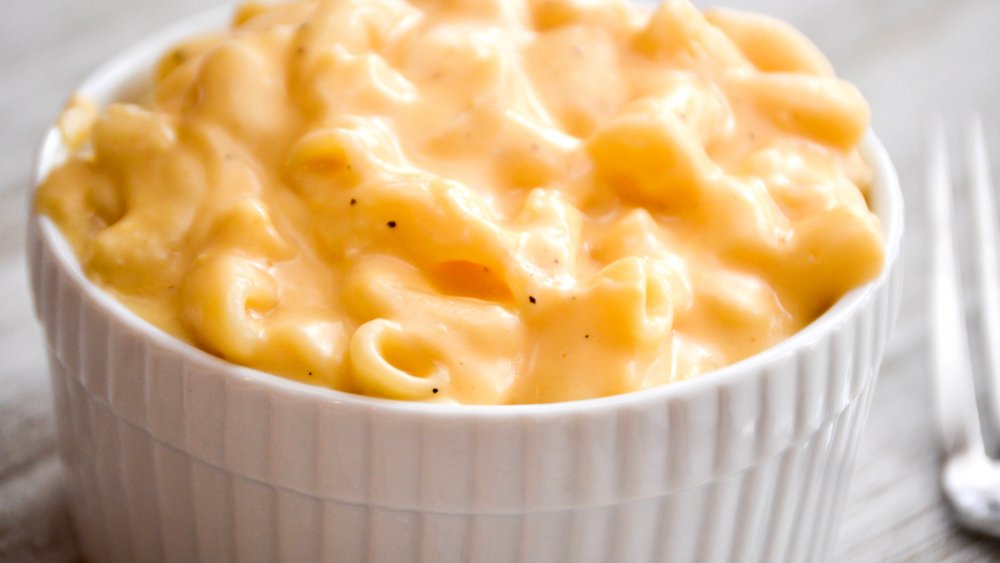 Panera Bread is known for marketing its food as fresh and healthy. But in the fall of 2019, a TikTok video of an employee preparing the chain's famous mac and cheese by placing a frozen plastic bag in boiling water went viral, sparking some disgust and outrage from consumers.
A Panera employee on Quora confirmed that most of the dishes, including the soups and pastas, arrive at stores frozen in batches and the "cooking" on the job mostly involves heating the items up — so if you're not a five-star chef, no worries, your chances of working at Panera Bread have not been dashed.
This method is actually not uncommon for chain restaurants, who have to ensure that a particular dish tastes exactly the same at every single location. CNN reports that Panera also claims this method allows them to uphold their practice of no artificial preservatives in their menu items. Sadly, the Panera employee who published the TikTok video reported being fired from her position soon after for "exposing trade secrets," which doesn't inspire much confidence for job security at the company.
Panera Bread employees aren't really baking bread, either
Bread is obviously the heart and soul of the Panera Bread dining experience. Bakers at Panera Bread typically work overnight shifts to get all the baguettes, bagels, and famous bread bowls ready to go. But, like the soups, all the dough arrives at the Panera location ready to bake (mixed into dough, fermented, shaped, and refrigerated). Bakers simply put the dough into pans, score or decorate the top, let it rise, and bake it. It's a good job if you're new to baking and want to learn some skills, but more experienced bakers report being bored and surprised that the tasty carbs aren't prepared fresh at each store.
Also, because a predetermined quantity of dough is delivered every day and bakers leave not long after the store has opened, there are no restocks of bakery items throughout the day. Once a store sells out of a baguette or type of bread, there's no more until the next day.
As for those famous bread bowls? Those bad boys are carved out by hand every morning by opening employees, according to an employee who spoke to Refinery29: "The tool for making bread bowls was a serrated-edged circle that had a handle on top… You put the thing in the top, middle part of the bread, then twisted your wrist around until you reached the bottom of the bowl." Apparently, this action takes some serious muscle — but not a lot of baking skills.
The ever-changing menu at Panera Bread keeps employees on their toes
Each Panera Bread has dozens of options of sandwiches, salads, soups, and combo meals to choose from. The menus can also vary from location to location and change seasonally, so all in all, it's a lot for new employees to remember.
Whether 're they're taking orders as a cashier or prepping meals on the line, some employees say they study the menu in their spare time. That way, they're able to offer substitutions for customers or answer questions about ingredients and dietary restrictions — without having to turn around and read the menu board. An anonymous Quora user who worked at Panera in 2018 says they received free food throughout training, in order to learn the menu. Another says she took the menu home to study it after her shifts when she was new.
And yet another for Panera employee says when new seasonal items came out, employees would stay after work to try the new dishes: "Every time we had a menu change, we had what we called a bread bash. We would meet after hours and try all the new menu items. It was always such a good time and a lot of memories were made."
Life on the prep line moves fast at Panera Bread
Despite the large menu and commitment to "fresh" ingredients, Panera employees have to move quickly when prepping sandwiches and salads. Every location strives for a three-minute "ticket time," from when an order is placed till it's ready to serve, and employees report that this is crucial to management. Says a disgruntled redditor who claims to be an employee at Panera Bread, "now they have the standard of getting all orders out in under 3 minutes no matter the size of the order. This is impossible, especially with the influx of order coming in from online pick ups/deliveries/the registers/kiosks it's insanity. The managers just keep stressing how important the service times are on us, they don't care about anything else."
Orders are displayed on a kitchen management screen, and it can be easy to make mistakes if you're not constantly checking the screen or reading orders fully. One Quora user explained, "I sometimes saw 'steak' in the sandwich name and made a steak and white cheddar panini when the customer ordered the steak and arugula." Customers can also add modifications to their orders, which are displayed here too. Quora users say life gets easier on the line if you memorize where each ingredient lives, and ask teammates for help.
Panera employees get really busy during the breakfast and lunch rushes
Almost every employee at Panera Bread will tell you that breakfast and lunch get busy — most customers know that, too. Openers need to be onsite by around 5 a.m., according to what one former employee told Refinery 29, so morning people will thrive here. Employees have to multitask and shift between stations often during the rush, depending on what's needed: taking orders, making coffee drinks and bagging pastries, stocking and cleaning the dining room, and more. In at least one store, at 10:30 a.m., cashiers and kitchen staff yell out "Breakfast is over!" and immediately swap all the egg ingredients out for freshly-heated soups, says another former cashier on Quora.
The way that busy time flows also depends a lot of who you're working with. Some managers are good about pitching in during the rush, and others tend to cause confusion about where employees should focus their efforts. One Reddit thread exposes how different management styles can complicate the rush: some managers put pressure on employees to always meet the ticket time, causing more issues with inaccurate orders or slip-ups in food quality and safety. A former manager adds, "When I was a manager and it got busy I made it clear to the associates to not worry about the ticket times. Worrying about ticket times caused unneeded stress on the workers, and caused customer complaints since you are then prioritizing speed over quality and accuracy."
Working the Panera Bread drive thru can be stressful!
Some Panera Bread locations boast a traditional fast-food drive thru lane, but this sometimes creates unrealistic customer expectations. Says an employee to Business Insider, "Panera Bread's food is not designed to be served through a drive-thru. The expectation of customers to be served quickly — like they would at McDonald's — ultimately causes a lot of frustration for both customers and us."
Because Panera Bread's meals takes some time to prepare (and that is part of the appeal, after all), lines can stack up at the drive-thru, causing ticket times well beyond the coveted three minutes, and irritated customers who often take their frustration out on employees trying to prep and serve the food. Also a common employee complaint? Giant, $100+ orders that come through the drive-thru right in the middle of a rush. (Try using the online ordering app for that!) Various TripAdvisor reviews echo the same sentiment to customers not to expect lightning-fast service from the Panera drive thru.
Overall, employees working Panera's drive-thru need both an ability to hustle, and to brush off the comments from irritated customers.
Tech innovations have made working at Panera Bread easier
Panera Bread was one of the first fast-casual chains to tech-ify their dining experience. They were even named one of the Most Innovative Companies by Fast Company in 2015. Many restaurants have digital ordering kiosks, so a lot of customers don't even interact with the cashiers. Customers can also order ahead with the mobile app, and the food will be available at a Rapid PickUp station. Employees seem to like the tech upgrades for the most part, because it affords them more time to focus on actually making the food as quickly as they need to. But if customer service is your favorite part of the job, you may find some of the upgrades cause a lack of connection.
For dine-in customers, food delivery is semi-automated too. Diners are given a tracker beacon and/or a buzzer, depending on the store. Each table has RFID locating beacons matched up with each order, so employees can deliver food efficiently without wandering around looking for the right table. The buzzer works similarly in that it saves employees from having to yell out customers' names or track down customers who aren't paying attention for pick up.
There's an employee discount at Panera Bread
The exact discount can vary by store, but some Panera Bread employees report a 65 percent discount on all menu items, up to $10 per day. That means a popular "You Pick 2" combo can be had for around $3. Most employees say that this is a pretty good deal. But, the benefits end there. Notably, employee discounts can't be used at any other Panera location besides the one you work at, and you can't give discounts to family or friends.
The benefits of eating the same thing every day are up for debate. On the one hand, the Panera menu is extensive and employees come up with some pretty good menu hacks or secret menu items.
But some employees avoid filling up at work (even with the discount), whether that's because they saw behind the curtain of how the food is prepared en masse, or simply got sick of the same rotation of meals.
Panera Bread workers can sometimes take the leftovers home
Closing shifts can have their up sides. Panera Bread is proud of its Dough-Nation program, where leftover pastries, bagels, and loaves of bread are donated to various charities at the end of the night, rather than being moved to the Dumpster. But some employees report that they were still able to make it home with some sweet treats of their own — ranging from one pastry per shift to as much as they can fit in their freezers. A former employee named Adrienne told Refinery29, "If I was closing and someone didn't collect the donation, I took it home with me instead… I'd text all of my broke friends with instructions on where to meet me if they wanted bread. Everyone would load up and freeze stuff that they didn't eat right away. I'd often show up late to house parties with a twenty-gallon bag full of bagels or a giant box of pastries."
Your experience working at Panera Bread depends a lot on your co-workers
Like most jobs, your coworkers at Panera Bread can make a big difference in how much you enjoy your job. Many redditors and Quora respondents echoed this sentiment, with one redditor who claims to work there reporting she loved her manager and associates at her first Panera cafe, and after transferring to a different store, found bad attitudes and a much lesser experience.
A five-star Indeed review for a Panera in Kansas City, Missouri explains, "Our managers were very supportive. They were flexible with scheduling and would pitch in when short staffed. No complaints!" but on the other end of the spectrum, a one-star review claims, "The Panera in Manchester [CT] is the worst place to work mainly because the managers specifically the GM treats the employees with so much disrespect she always picked favorites and fired most of us without warning or reason."
So, try to forge good relationships with both managers and team members in order to make the best of a Panera Bread employment opportunity. Without that, there's not much to look forward to when you head in to work every day.
A failed social experiment wreaked havoc on some Panera Bread employees
In 2010, Panera launched Panera Cares, a pay-what-you-can social experiment. At one time, there were six such cafes, which operated under the idea that conscious consumers would pay above-market prices for food in order to subsidize meals for those who needed free or discounted food. In short, it failed — discounts were limited to one meal per week, and not enough kind-hearted consumers were jacking up their own prices, according to FastCompany.
The last pay-what-you-can store closed in Boston in 2019, and according to Vox, employees were given assistance in finding new employment at other Panera locations. It also caused immense confusion for consumers, which of course played out for the employees at traditional cafes. Says a Quora user, "But one of the worst issues was that people dining at other Panera Bread locations thought that the prices there were optional, too, leading to some uncomfortable confrontations when people tried to dine and dash."
Covid-19's effects didn't spare Panera Bread employees
Exploring how Panera treated their employees when Covid hit often comes down to the type of store and particular management. Many cafe associates were furloughed or experienced reduced hours when restaurants closed for dine-in service in March. Full-time employees of corporate-owned stores are eligible for healthcare benefits and were able to continue receiving these benefits during furlough. Unfortunately, some employees report on Reddit that upon being brought back from furlough, they were offered massive pay cuts to take their job back.
Corporate associates can also receive emergency sick leave if they are sick or someone in their cafe is sick, but enforcement of that policy seems spotty. A reddit user said an overnight baker at their location tested positive for covid and instead of shutting down, they just deep-cleaned the store.
Panera offered weekly free meals to employees during the covid crisis — if you can call two bowls of soup and a baguette a meal. All in all, like many elements of working at Panera, employee health and safety seems to vary wildly depending on the quality of cafe managers and owners.
So there you have it. If you're thinking about working at Panera, focus on the vibes you get from teammates and managers. It's never a dull job, and while the menu is varied, it's still possible to get sick of mac n cheese-stuffed bread bowls.