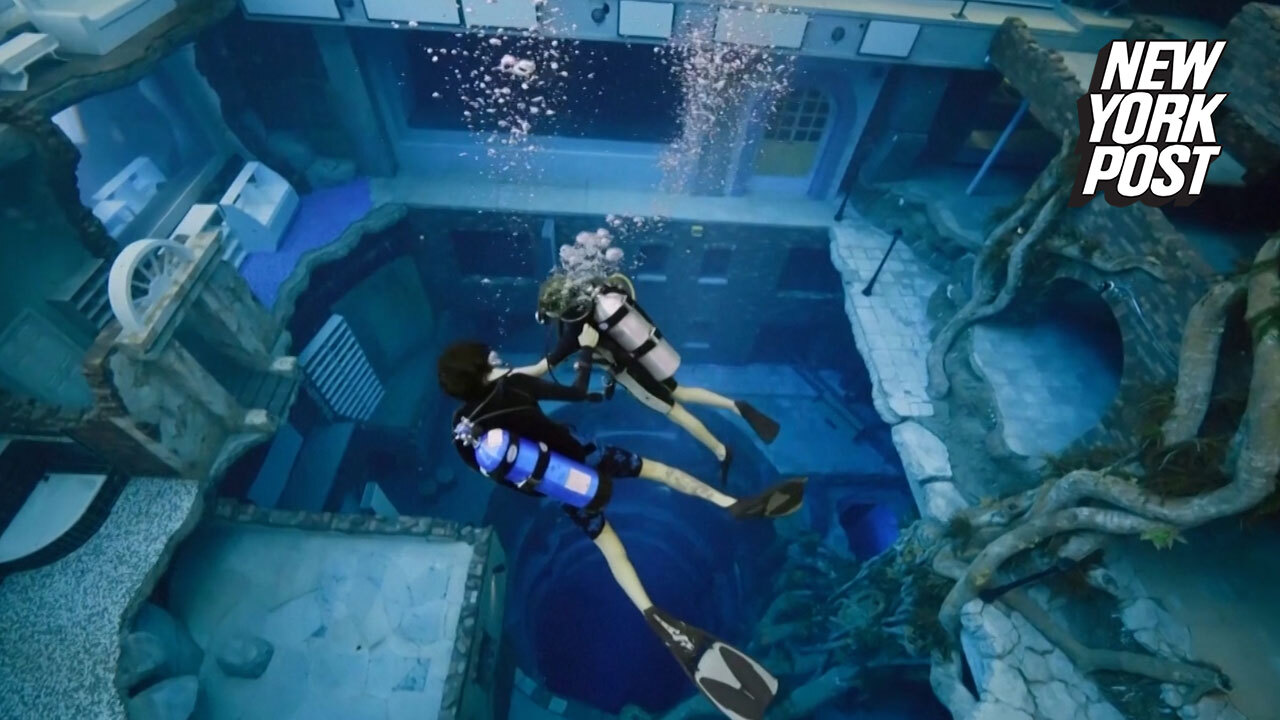 It makes an Olympic swimming pool look like a puddle.
As if Dubai wasn't filled with enough record-breaking attractions, the United Arab Emirates metropolis is now home to the world's deepest pool, complete with an underwater city, caves and more.
"An entire world awaits you at Deep Dive Dubai, the world's deepest pool," wrote crown prince of Dubai Sheikh Hamdan bin Mohammed bin Rashid Al Maktoum, on Instagram. He was one of the first to visit the engineering marvel on July 7.
Indeed, the underwater wonder, which is part of the new Deep Dive Dubai attraction, measures a breathtaking 196 feet from top to bottom — nearly 50 feet deeper than the previous record-holder, the Deepspot in Poland, CNN reported. This was enough for it to capture the Guinness World Record for "Deepest swimming pool for diving" on June 27.
If that wasn't impressive enough, the supersized swimming hole holds a staggering 14 million liters of fresh water, the equivalent of six Olympic-sized swimming pools, per the attraction's website.
However, you'll want to bring more than a bikini to this behemoth basin. Due to the 86 degrees Fahrenheit water temperature, swimmers are advised to wear a thin wetsuit while taking a dip in the Deep Dive.
The sheer volume isn't the only draw about the pool, which is housed in an over 16,000-square-foot oyster-shaped complex, an homage to the UAE's history as a pearl-diving hub, CNN reported.
The Deep Dive's star attraction is perhaps the intricate system of caves and a sprawling underwater metropolis, which divers are invited to explore as if perusing the lost city of Atlantis. Visitors can even play table soccer at the underwater arcade.
In addition, the multifaceted complex doubles as an aquatic film studio — the largest of its kind in the region — complete with an editing room in the same facility, per the site.
"There are quite a few dive pools in the world that are deep, but this one is so much more interesting," said Deep Dive Dubai director Jarrod Jablonski. "There are so many things it's really not fair to call it a pool."
In order the ensure the safety of divers, the Deep Dive is outfitted with 56 cameras, as well as the region's most advanced hyperbaric chamber, which can treat up to 12 people at a time in the event of an emergency.
And guests need not fret if they don't boast Jacques Cousteau's scuba skills, as the attraction offers diving courses for all experience levels, as well as guided tours. Meanwhile, landlubbers can watch the aquatic activities through the windows of an 80-seat restaurant outfitted massive with TV screens.
Alas, the Deep Dive is currently only accessible by invitation but will open to the general public later this year.
Along with Dubai's crown prince, the site has been visited by the "Fresh Prince" Will Smith, who described the experience as "madness" in a recent Instagram video.
Just be sure not to visit the Burj Khalifa — the world's tallest skyscraper — after taking a plunge, warns the Deep Dive Dubai website.
"After any dive, it's recommended to wait 18 to 24 hours before ascending higher than 300 meters (1,000 feet)," they wrote. "However, there is no risk in diving after having visited the tallest building in the world."
Discover startups, services, products and more from our partner StackCommerce. NY Post may be compensated and/or receive an affiliate commission if you buy through our links.
Do you subject your partner to your snoring at night? Don't be in denial…plenty of couples struggle with their partner's snoring every night. It's not pleasant or healthy for either of you. Snoring is not only annoying, but it can irritate your throat or be a sign of sleep apnea. Luckily for you and your partner, you can put a stop to the snoring ASAP and sleep better with this clever anti-snoring mouthpiece!
The VitalSleep Anti-Snoring Mouthpiece helps open your airway during sleep so you can breathe easier. It's adjustable and custom moldable! All you have to do is make the impression by heating it in hot water. Once you're finished, you'll have a secure and comfortable fit that won't feel intrusive and will help you wake up feeling well-rested.
You can adjust the lower jaw tray to move the jaw forward and open your throat's airway for air to flow through more quietly. Its Patented Accu-Adjust System allows for individualized jaw advancement of up to 8mm. And not only is this device made with medical-grade materials, but it's also FDA-approved.
The anti-snoring mouthpiece comes with a protective case, a contoured sleep mask, and earplug set so you can have an extra-guaranteed great night's sleep. You'll be happy, your partner will be happy, and you'll both be relieved when you don't keep each other up all night due to the sound of sawing wood all night.
This mouthpiece received 4.6 out of 5-star reviews. One buyer says, "[It's an] extremely comfortable and effective device. I've used the SnoreX in the past and found them to be difficult to fit, but the VitalSleep was simpler and resulted in a much better fit. It also provides a convenient tongue 'slot' that's very accommodating. Easy to use, comfortable, and effective."
Stop dreading bedtime and start looking forward to sleeping better with this helpful device. You can get it today while it's on sale for $64.95 — a savings of $34!
Prices subject to change.
Discover startups, services, products and more from our partner StackCommerce. NY Post may be compensated and/or receive an affiliate commission if you buy through our links.
With quarantine and travel restrictions slowly easing worldwide, many would-be jetsetters have their eyes on distant locales. Traveling might even be on your own to-do list this year, so not only should you prepare your travel essentials, but you should also prepare yourself mentally and culturally, and for good reason.
Did you know that travelers who make no effort to learn the local language rank among the most irritating travelers to come across during the holidays? It's easy to see why when travelers who speak only English interact with other people — be they locals, travel or tour operators, or other travelers — by resorting to rudimentary sign language or shouting. It's not the best way to connect with the people around them who do not speak English. But it's not an uncommon sight while traveling places like South America, Asia, or Europe, where far fewer people speak English as their first language – or even speak English at all.
And while travelers may find you annoying if you can't communicate with the local people who don't speak English, making some effort to learn the local language of the location to which your traveling will exponentially improve your experience. When you can communicate with your local tour operator, neighbor, market stall operator, or server, your experience is far more enriching. Not only is getting around easier, but you can also learn more about the people whose home country or city you're visiting, meaning a deeper connection and understanding of the place and the people. After all, travel is about opening your eyes and witnessing a culture and its people first hand. How better to do that than with some level of linguistic understanding?
Learning a language is easy with the right guide
Learning a language takes time, patience, and practice, but chipping away at the most common encounters you will have while traveling will help you have a better time. Babbel is one of the most renowned language-learning apps, geared at helping you become a conversational speaker in all the common situations in which you'll find yourself overseas. And for a limited time, you can get up to 55 percent off your Babbel subscription, making learning a language both cheaper and easier.
The Babbel app comes with 14 built-in languages for you to learn: Spanish, French, Italian, German, Portuguese, Swedish, Turkish, Dutch, Polish, Indonesian, Norwegian, Danish, Russian, and English. You'll be able to access all these over your time using the app, opening up an incredible amount of the world you can visit in a more fulfilling way. The app features more than 10,000 hours of the highest quality language education, all accessible online from your devices. With regular use of the Babbel app, within just one month you can reach a level where you can speak confidently about a range of topics you'll frequently come across while traveling, including transportation, dining, shopping, directions, making friends, and more.
Learning a language makes travel more fun
Babbel doesn't just teach you words, it fosters an understanding through its lessons so you can more easily understand the people who speak it, and more confidently interact and absorb a place's history, culture, and more. When you speak the language of a destination, you feel less like an outsider. And Babbel doesn't just have static lessons for you to sit through; it features a wide range of ways to learn, including podcasts, quizzes, and even live virtual online classes with top teachers. With regular practice, you could be speaking a new language in three weeks. Take 55 percent off Babbel now for a limited time and get ready to enjoy your travel more, and live a more fulfilling life.