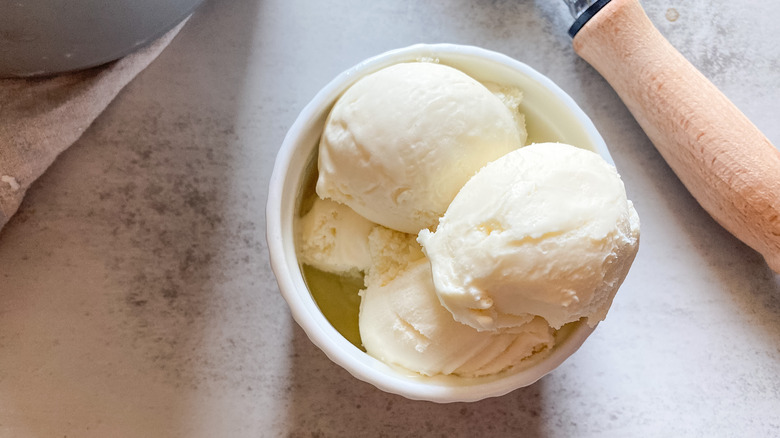 Cold Stone Creamery is surely one of the most popular ice cream spots in the country and, for many hungry visitors, this chain's flavors are next-level good. While there are many options to choose from on their menu, their cake batter ice cream is often targeted one of their most delicious. Whether you get it plain, with sprinkles, or completely jazz it up by ordering a Birthday Cake Remix, there's just something about this flavor that brings us back to our childhood with each sweet bite.
Recipe developer Kristen Carli is the mind behind this incredible copycat recipe that tastes just like the original. Trust us. If you love the Cold Stone cake batter ice cream, then this recipe, which you can make at home with just a few simple ingredients, is a must-try. Carli shares that her favorite part of the sweet treat is the flavor. "This one is delicious," Carli raves. "I love cake batter ice cream! It is so decadent."
Now that we have your attention, keep scrolling to find out how to whip together this classic treat that will prove a hit amongst kids and adults alike.
Gather the ingredients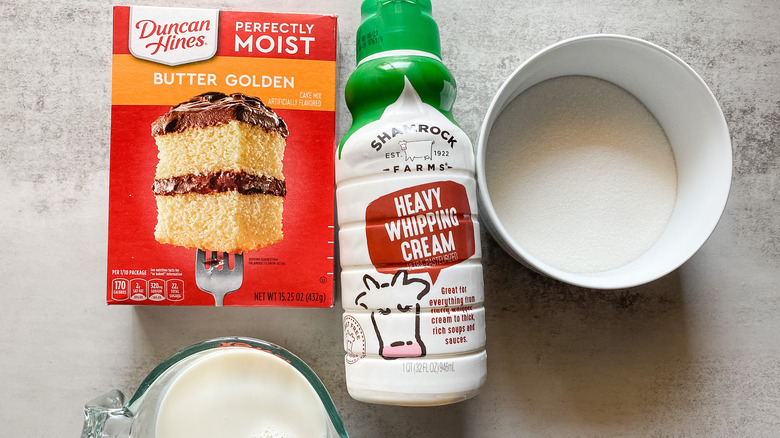 First, you'll want to take inventory of what you have at home versus what you need to buy at the store, as you may very well have some of these ingredients ready to go in your own kitchen. You will need some Duncan Hines butter cake mix, which provides your ice cream with the perfect iconic cake batter flavor. You will also need milk, sugar, and salt. Last but not least, you'll need to buy some heavy cream, which will help lend rich, decadent flavor to the finished ice cream.
You'll also need a large pot, a baking sheet, and an ice cream machine to churn the mix. Once you have everything gathered together, it's time to begin. And remember that this recipe takes just 15 minutes of prep time. It will then need to chill overnight and spend some time churning in the ice cream machine, but those processes are almost entirely hands-off.
Preheat and prep the cake mix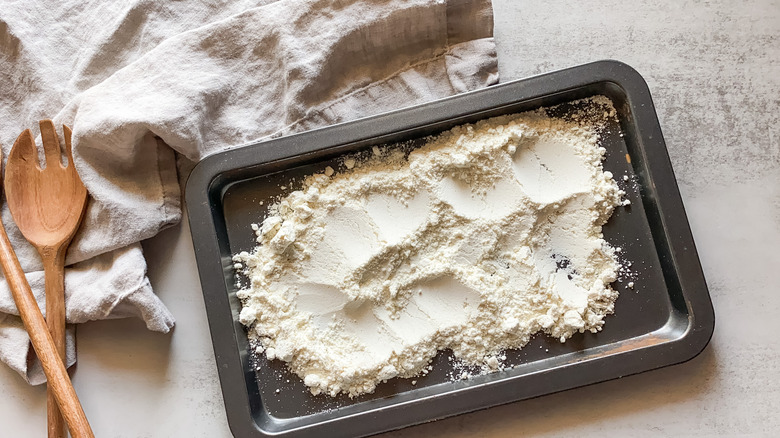 Now that you have all of your ingredients, it's time to get cooking. First, preheat your oven to 350 F. Then, take out the cake mix and a small baking sheet. Pour the cake mix in the baking sheet, place it in the oven, and set your timer for 5 minutes.
Yes, it may seem strange, but the powdered cake mix is the only thing that goes in the oven. But stay true to the course, as this step will help to add some additional flavor to the final dish and will also keep any potentially weird raw flour notes out of the finished ice cream. Once your timer dings, take the now lightly toasted cake mix and move onto the next step.
Heat the milk, sugar, and salt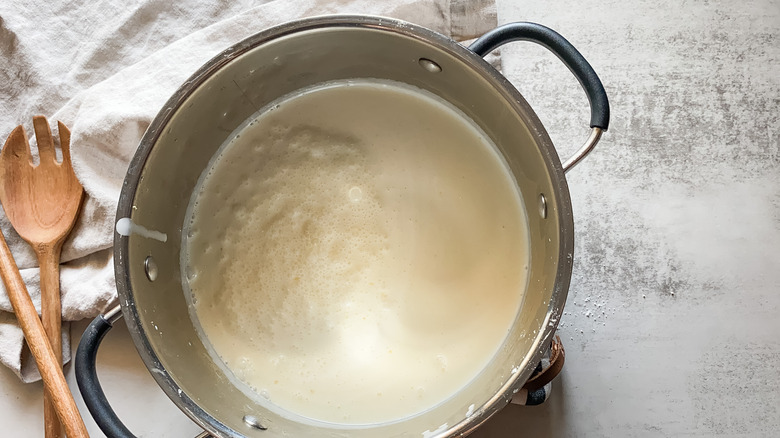 Now, it's time for the next step in your ice cream prep! We bet you didn't realize that you would need to cook a few items on the road to making a frozen treat like ice cream, but it will turn out perfectly.
Take out a large pot and combine the milk, sugar, and salt inside. Turn the heat up to medium and let the mixture heat until the sugar dissolves, giving it a few gentle stirs to make sure everything's moving along. This process shouldn't take more than a few minutes. As soon as the sugar has dissolved, remove the pan from the heat and add in your cake mix and heavy cream. Give everything another good stir to combine.
Chill the ice cream mix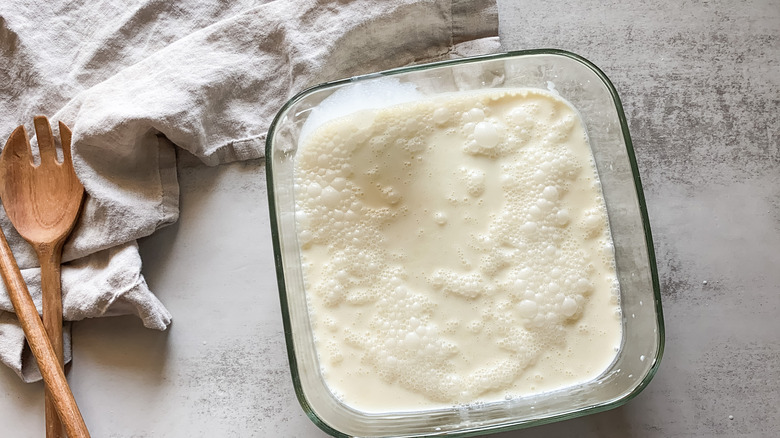 Once you have added all the ingredients together, it's time for the ice cream to chill. First, pour the mixture into an airtight container. Then, chill it in the fridge for at least 4 hours. You can also leave it overnight, if necessary.
After the mix sits in the fridge for a minimum of 4 hours, you can take it out of the refrigerator and move onto the next step — the churning.
Churn in the ice cream machine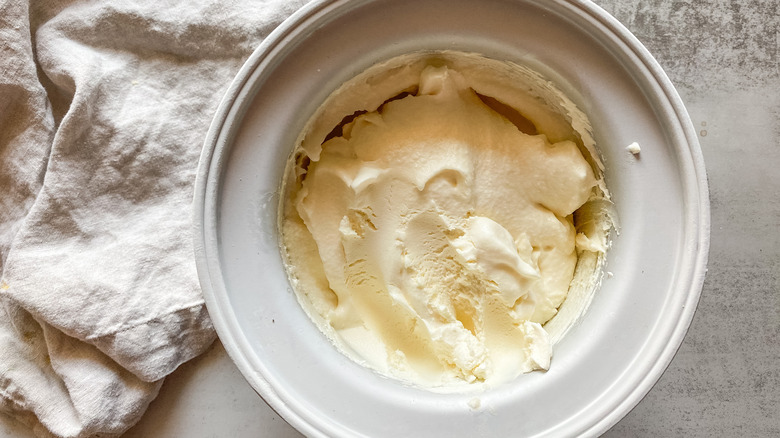 Now, here comes the fun part, not least because you no longer have to churn the chilled cream base by hand like the ice cream makers of yore. Instead, simply take out your good old ice cream machine. You knew it would come in handy to use one day right?
Add the mixture into the machine and churn the ice cream according to the instructions on the device, as each one's operation will vary. Usually, it will take about 25 to 30 minutes for the ice cream to fully mix. You can either set your timer or eyeball the mix if you've made it before, though we recommend a timer if this is your first time or if you're easily distracted.
Once you've followed the directions on your ice cream machine and the mixture is fully churned, place it in your freezer overnight. Yes, you need to take just a little more time to get the ice cream ready, but don't skip it! This step is pretty important because the ice cream is tastier when you let it sit overnight.
How to serve up the copycat Cold Stone Creamery cake batter ice cream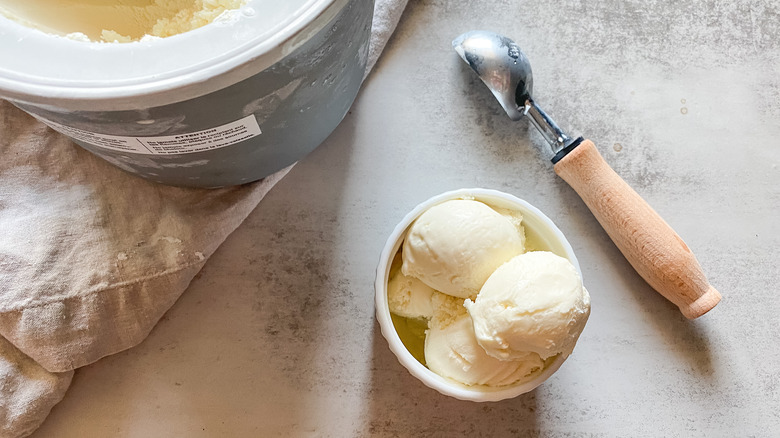 Finally, here is what's surely the best part of this recipe: enjoying the fruits of your labor. Well, in this case, you'd actually be enjoying the ice cream of your labor. Take the ice cream out of the freezer. Now it should look like legit ice cream rather than the soft mix you put away a few hours ago.
There are plenty of ways to serve this ice cream, depending on everyone's individual tastes and what you care to serve. Of course, there's always the classic move of leaving it plain. This cake batter ice cream has more than enough flavor to satisfy your sweet tooth on its own, after all!
There are other ways to dress it up that also play well with the look and flavor of the ice cream, of course. "I love classic rainbow sprinkles or chocolate sauce," Carli says. We also think it would be good with brownie bits and a drizzle of caramel or chocolate syrup. The possibilities are endless, so use your imagination to create the ultimate cake batter ice cream dish of your dreams.
½ cup Duncan Hines Butter Cake recipe mix
1 cup milk
1 cup sugar
¼ teaspoon salt
3 cups heavy cream
Preheat oven to 350 F. Add cake mix to a small baking sheet. Bake for 5 minutes.
In a large pot, mix milk, sugar, and salt. Heat over medium heat until sugar is dissolved.
Remove the pot from heat. Add cream and cake mix. Stir to combine.
Pour the mixture into an airtight container. Chill in the fridge for at least 4 hours.
Add mixture to the ice cream machine. Churn according to ice cream maker instructions, about 25 to 30 minutes.
Place in the freezer overnight.