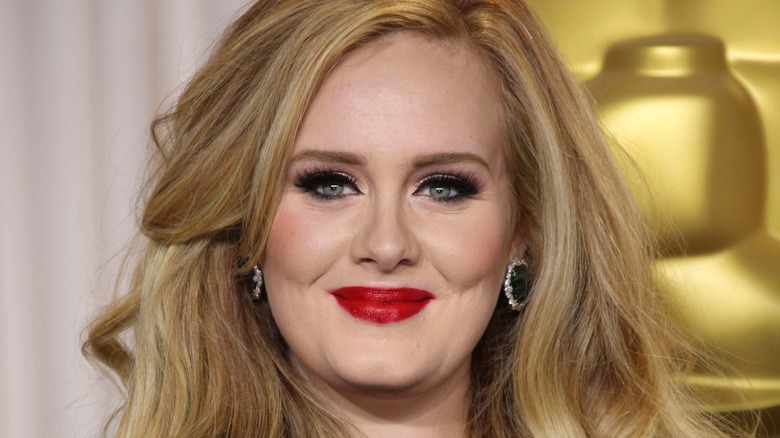 Over the last few years, there have been many celebrities who have majorly transformed their looks. It may have been with a new hairdo, refreshing highlights, or even a tattoo. Oftentimes, though, nothing wows the world quite as much as seeing a star's weight loss transformation.
Let's be honest: Losing weight isn't an easy feat. Still, many people think celebrities have it easy when it comes to slimming down. After all, the rich and famous have access to personal trainers, the most popular meal services, private chefs, and the best nutritionists in the business. But even with the perks that come with being a celeb, there is no shortcut to weight loss or fitness. Many stars who embarked on weight loss journeys have admitted to it being difficult. Let's take a peek into some of the most dramatic celebrity weight-loss transformations — and their unique journeys to getting to a lower weight.
Josh Peck didn't want to be typecast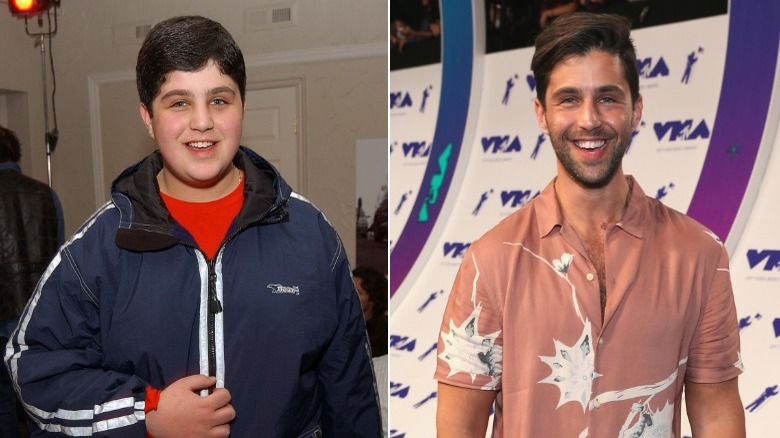 Most actors feel a ton of pressure to be thin, but Josh Peck credits the industry for building up his confidence when he was heavier, instead. As a child actor, "I knew how to be the chubby, funny kid," he explained during an interview on the podcast "Let Lisa Help."
As his acting career was catapulting, Peck began to notice that he was starting to be typecast into the same roles again and again. Taking control of his weight was his way of taking control of his career. "If I'm ever going to really act and do what I want, I felt like I had to abandon it," he explained on "Impaulsive."
While working on "Drake & Josh" in 2016, Peck hired a personal trainer and began eating more protein than before. Within months, Peck saw results. He was losing weight and felt better about himself every single day. "Acting, in a weird way, saved me," he told Lisa Lampanelli.
Jonah Hill had felt unhappy before losing weight
Jonah Hill entered the entertainment industry when he was only a teenager. These days, it seems everyone knows his name. While many aspiring actors dream of achieving the same level of fame and fortune, Hill had actually been experiencing something else entirely behind the scenes. "[I] spent most of my young adult life listening to people say I was fat and gross and unattractive," he revealed in his magazine "Inner Children." This went on for years before Hill realize how much it truly affected how he felt about himself.
When he was directing his very first film, "Mid90s," in 2018, however, his outlook completely changed. "I love doing funny movies, but I want to mature, literally, in how I treat myself," he explained to Vulture. Hill had been unhappy — inside and out — and decided to speak with a nutritionist to take control of his health (via ABC News).
'Weight has nothing to do' with Adele's career
After being offline for nearly six months, Adele's weight loss sent heads turning when she debuted a photo of herself on Instagram in May 2020. The iconic singer had lost a significant amount of weight and was nearly unrecognizable as she celebrated her birthday.
Adele has reportedly lost somewhere around 100 pounds (via Prevention). Some credit the Sirtfood diet for her weight loss, which cuts out sugar but still lets her enjoy some of her favorite things — like a glass of wine (via The Sun).
Though many fans have been disappointed that she hasn't spoken publicly about her weight loss journey herself, there's an important reason why. "Weight has nothing to do with my career," she explained to People (via Marie Claire). "Even when I was signing [a contract], most of the industry knew if anyone ever dared say [lose weight] to me, they wouldn't be working with me."
Shonda Rhimes had an unsettling experience that inspired her to lose weight
Though Shonda Rhimes is a total powerhouse when it comes to producing, she hadn't realized the power her weight had over her until one specific in-flight experience. "I got in my seat. I took off my shoes. I pulled out my book," she explained to Ellen DeGeneres. Then, she said, "I went to buckle my seatbelt, and it wouldn't buckle." Instead of alerting a stewardess, she felt so ashamed that she opted to go without a seatbelt. "I decided I would risk it and just fly out of my seat, because I wasn't going to say anything," she admitted, and that's when she knew she needed to make a change.
Over the course of a few years, she lost almost 150 pounds of weight (via Shondaland) and gained back loads of confidence — something that her kids now get to see every day. "I kind of wanted to be around for them," she said. "Like, be healthy."
Chris Pratt lost weight for his lead role in Guardians of the Galaxy
While he was starring on the sitcom "Parks and Recreation," Chris Patt gained weight in order to portray his character (via Entertainment Tonight). Now, in order to be the leading man of a large franchise called "Guardians of the Galaxy," Pratt had to start by getting himself into shape. Within six months, he announced that he had dropped 60 pounds — but his weight loss journey didn't stop there (via Men's Journal). "The secret is you can't do it in a month. It takes eight months or a year or a lifetime of consistency, working out every single day, and eating properly," Pratt later told Clevver News.
Losing weight wasn't easy for the actor, either. Pratt spent up to four hours a day working out and watched everything he ate, he revealed to Men's Journal. As difficult as it was, he could either continue weighing around 300 pounds or sacrifice sweets in order to get himself looking and feeling his best. "Time is going to go by just as fast whether you're doing it or not," he told Clevver News. "So who do you want to be eight months from now?"
Jessica Simpson never had to sacrifice spending time with her family in order to lose weight
After giving birth three times, Jessica Simpson got to a point where she wasn't feeling good about herself at all. As her kids were growing up and toddling around, Simpson always felt too tired to join in. Losing weight, she decided, would help her to "be my best and be active with my kids and run around and not feel too weighed down," she explained (via People). So the singer quickly got herself moving, and she hasn't looked or felt the same since. Six months later, she debuted her new bod on Instagram. She had lost 100 pounds. But how exactly did she do it?
In addition to eating right, Simpson didn't sacrifice spending any time with her family. After all, they were her inspiration. Instead, she simply incorporated them into her workouts. "We go on family walks, we visit the pigs in the neighborhood, we visit the horses," she told Hollywood Life. "We're constantly active."
Perez Hilton is proud he pushed himself to slim down
Although Perez Hilton is usually one to report on the latest celebrity news, outlets started writing about his weight loss transformation. "I don't weigh myself on a scale," he admitted to Shape. "What matters to me is how I look naked and how I feel." And these days, he's feeling even better than ever.
Hilton is not only proud of how he looks, but he's happy that he was the one who got himself there. According to Hilton, he didn't hire a trainer, and he didn't follow any special diet program. He simply ate more protein and got himself moving whenever he could. "That means you can do it too!" he told fans on his YouTube channel in 2019, adding, "You don't even need a gym. You can just go walking."
Whenever Hilton wanted to give up, he just remembered why he was embarking on this journey in the first place. He simply wanted to look and feel his best. "I'm still not perfect," he said. "But I'm feeling so good and so proud and so happy."
Rebel Wilson isn't obsessed with her weight
Rebel Wilson declared that 2020 would be her "Year of Health" (via E! News). Wilson had trouble managing her weight ever since she was diagnosed with polycystic ovarian syndrome (PCOS) while in her 20s. "And I gained weight rapidly," she explained. When she booked her first big role in a film, the stress of being in the spotlight made her turn to sweets and other junk food even more than before, she revealed on "The Drew Barrymore Show." "For me, the big thing was looking at my emotional eating and why I was doing it, and working on the mental side," she told E! News, "which for me comes down to self-love really."
As of this writing, she has dropped around 60 pounds and looks nearly unrecognizable in her new body (via Women's Health). While Wilson feels better than ever, there's an important point she wants her fans to know. "Don't be obsessed about how much you actually weigh," she told People. "It's more about all the healthy practices, and then the changes to your whole lifestyle."
Drew Carey's weight loss helped him manage his diabetes
While Drew Carey was hosting his own talk show from 1995 to 2004, he wasn't taking care of himself. He was eating junk food, drinking alcohol, and had even developed diabetes during that decade. Working all day and running out of energy each evening had Carey constantly feeling like he was on low battery.
Everything changed after Carey became a stepfather, however. "I wanted to stay alive long enough to see him graduate from high school," the TV personality told Success magazine. "And I was doing some math in my head, and I thought, 'If I don't stop what I'm doing, I'm not going to live long enough for that.'"
Carey went on to lose around 100 pounds and successfully reversed his diabetes. While many may want to celebrate this accomplishment by enjoying sweets, Carey is set on keeping himself looking and feeling this way over the long term. "It wasn't like, 'Eat this for 90 days and lose 20 pounds,'" he explained. "It was: 'Eat like this for the rest of your life.'" Yet, eating right is still only the beginning. "You have to tell yourself that you are worth it," Carey said (and you are worth it!), "and you go on from there."
Jennifer Hudson said her weight-loss transformation was never 'about size'
Many fans have considered Jennifer Hudson a dream girl at whatever size she's been. However, when she dropped nearly 80 pounds in 2011, she had everyone doing a double take. Women began wondering if the singer had succumbed to the pressure of being skinny in the spotlight. However, it was never about that for Hudson. "It's not about size," she explained to CNN. "It's about good health." And it was also because she wanted to be the best role model for her small son.
While it may seem safe to assume that someone as rich and famous as Hudson has it easier when it comes to losing weight, Hudson attributed her success to "self-motivation" when speaking with Oprah Winfrey. "Because at the end of the day, you can have all the trainers and all the money in the world, but if you don't have that mindset, it's not possible." Of course, it takes more than just motivation to lose weight, but Hudson believes it to be a vital component.
Ethan Suplee is almost unrecognizable now
Unlike some actors, Ethan Suplee didn't enter the entertainment industry in order to be noticed. It was quite the opposite, actually. "I'm disguised by the work that I've done," he admitted on Instagram. "The wonder and question in someone's head about if I'm that-guy-from-that-thing, has always been a distraction, another shield that hides me from actually being seen."
However, Suplee found himself at a point where he couldn't hide behind his weight. He was constantly embarrassed about having to do everyday things. "Like wondering whether every chair or bench would support my weight," he wrote in a personal essay for Men's Health, and this affected his self-confidence even more. At that point in his life, the "My Name is Earl" star weighed around 536 pounds (via Today).
In 2016, Suplee started a low-carb diet and began spending more time at the gym. By 2020, he had lost over half of his body weight, and he later revealed the secret to his success on his podcast. "I started eating what I wanted, but in portions that were appropriate for my body," Suplee said (via Today). It may seem like a small change, but it's one that makes a big impact when it comes to losing weight.
Marissa Jaret Winokur spent the pandemic getting in shape
As a cancer survivor, Broadway star Marissa Jaret Winokur has repeatedly been told that she's at high risk of being hospitalized if she contracts COVID-19. This idea — combined with the fact that she was stuck at home while social distancing — inspired her to get her body in its best shape. She wanted to be able to fight off anything that came her way. "Quarantine may have saved my life," she told fans on Instagram — and in more ways than one.
Over the course of the year, the "Hairspray" star lost a whole lot of weight. In six months, she had dropped 50 pounds, all from the safety of her own home. She signed up for online Zoom classes, completely changed the way she was eating, and posted photos online to inspire others around her to make themselves healthier while they were stuck in their homes, too. "The hour or two a day I focus on working out my sadness turns to productive energy, so that I don't watch the news and bury my head," she wrote, and it helped her completely turn her life around.
Kevin Smith's near-death experience had a major effect on his health
After having a heart attack that almost claimed his life in 2018, comedian and actor Kevin Smith realized he needed to completely change his way of life. If he didn't change how he was eating, his health would never improve. "I ate the way I wanted to for 47 years," he told Men's Health. "I will try the way I'm supposed to for one year and see what happens." And what did happen was pretty extraordinary.
Within six months, Smith lost 50 pounds and had even more energy than before — all because he gave up eating meat. Though he credits his daughter for inspiring him to become vegan, like many others who are determined to diet, he wasn't necessarily thrilled about some adjustments. "I don't care how you prepare them; vegetables suck compared to a piece of cake or a steak," he said, but his health was much more important. "I think of it this way: I know what that stuff tastes like. And it's not going anywhere."
Melissa McCarthy joked that her 'boring life' led her to lose weight
When Melissa McCarthy was just getting started, a manager told her she'd never make it in Hollywood — all because of how much she weighed. "I thought, 'I'll show you!'" She later told People, and she sure has. In fact, in addition to her successful comedic career, McCarthy has even created her own line of clothing. "A good portion of women in America are size 14 and higher," she explained to Redbook. "I just try to make clothing that'll make all women feel really good."
McCarthy has worn various clothing sizes herself over the course of her career. In 2016, when she was seen nearly 50 pounds slimmer, everyone wanted to know her secret. "There's nothing to tell," she told Extra. Instead, McCarthy claimed it was all due to her "super boring life." "You can get real down if you don't do anything fun," she added. "And you go to bed at 7:30." The comedic actress has never been focused on the scale, and she doesn't want anyone else to be, either. "My message is that as long as everybody's healthy, enjoy and embrace whatever body type you have," she told Redbook — and we'd have to say, that's probably the best advice out there.