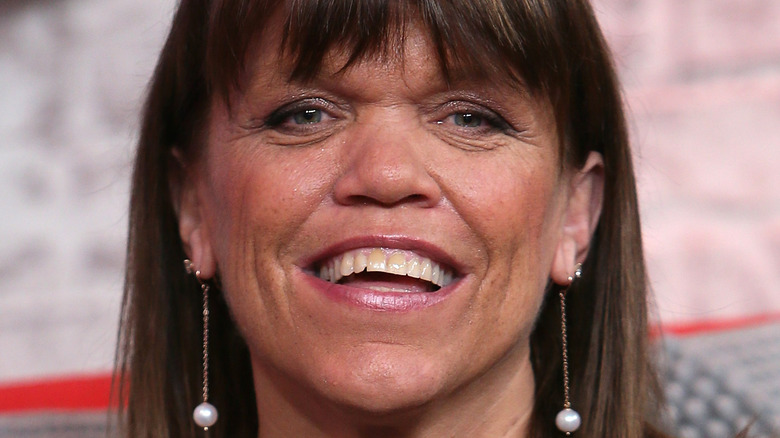 Fans of reality TV know Amy Roloff from TLC's hit series "Little People, Big World." In its 22-season run, the show has chronicled the Roloff family's daily lives, triumphs, and struggles. Amy and Matt, the parents of the family, and their son Zach have dwarfism, and much of the series centers around their lives.
Since the start of the show, Amy Roloff has gone through many life shifts. When "Little People, Big World" began, she lived on the family farm with her four children and husband Matt Roloff. Since then, she and Matt have divorced, she's sold her half of the farm, and she's become a grandmother. Fans have been able to follow along on her journey and watch her change and grow.
With years of content, plenty of big reveals, and heartfelt moments featured on "Little People, Big World," you might think you know all there is to know about Amy Roloff. But there's a lot more to her story than what you might expect! From struggles with body image to childhood bullying to a past career, you'll be surprised by all the experiences that have shaped her into who she is today.
Amy Roloff faced bullying throughout her childhood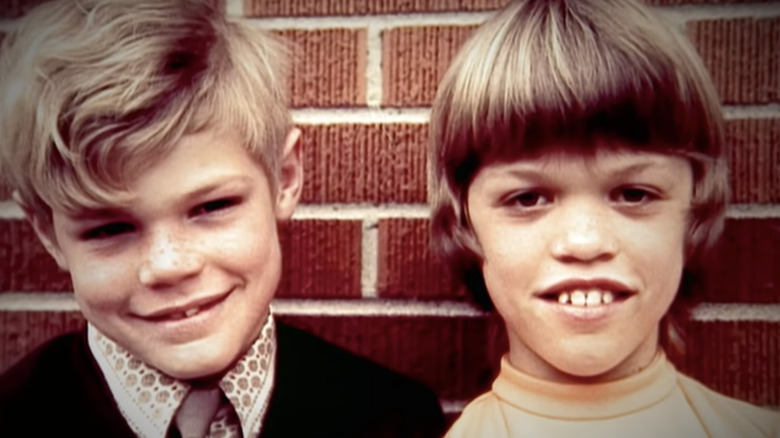 Growing up, Amy Roloff faced many challenges, and she talked openly about them in her memoir, "A Little Me." For example, as The New York Journal of Books noted, because she had ulcerative colitis, Roloff was frequently ill and missed many school days due to hospital stays. That's hard enough to deal with on its own, but even when she could attend school, she had to put up with harsh bullying from her peers.
Bullying is a huge problem for many people, especially while in adolescence, and unfortunately, this was very much the case for Amy Roloff. Not only did she endure standard schoolyard teasing, but some of her bullies were particularly relentless and cruel. Amy and her brother, Roger, discussed her experience with bullying during an episode of "Little People, Big World." Although Roger admitted to teasing his sister himself when he surpassed her in height, he was still there to stick up for her when it came to her bullies. The harassment got so bad that Roger sometimes left school early to walk his sister home safely. One bully, in particular, used to follow Roloff home, and it wasn't until Roger fought the boy off that he finally left her alone.
Talking to the cameras, Roloff said, "Things from your childhood can affect you for the rest of your life. And I know it's affected me for a long, long time, allowing other people's opinions and thoughts [to] matter more than what I truly thought about myself."
Amy Roloff used to be a teacher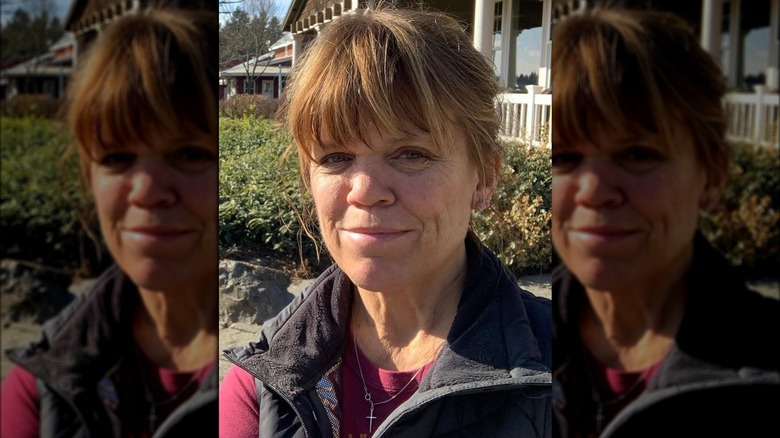 Since "Little People, Big World" took off, Amy Roloff has primarily been known for her role on the show as the family's matriarch. However, you might not know that she used to enjoy working as a preschool teacher.
Although Roloff threw herself into raising her children, starring on the TV show, and working on the family farm, she's admitted how much she misses her time as a teacher. In one Facebook post she shared with her fans back in 2017, she took a picture of a note on her Starbucks drink that said, "To the best preschool teacher." Roloff explained that the barista who wrote the message was the mother of one of the girls she used to teach. The note clearly brightened Roloff's day, and she said that she missed teaching a lot.
In 2020, Roloff reminisced with Instagram followers while cleaning her belongings out of the farmhouse, and she took photos of the shelves of books and other teaching supplies she had in storage. "The basement area was tough. It reminded [me] how much I miss and love teaching," she wrote in the caption.
Amy Roloff considered plastic surgery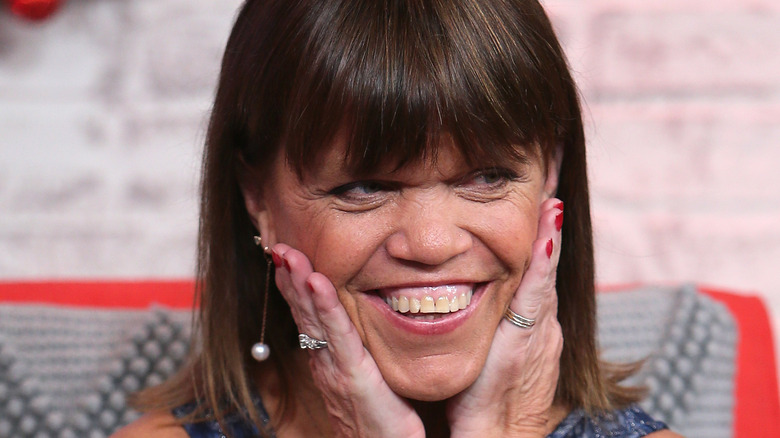 In her book, "A Little Me," Amy Roloff got personal about her struggles with body image, self-esteem, and even her consideration of plastic surgery. Just because she's a star doesn't mean she is immune to insecurity. She admitted that, especially as she got older, the desire to alter her appearance surgically became more and more tempting. In Touch noted one passage where the reality TV star wrote, "When my body started to go south, I'll admit, I thought about getting some sort of plastic surgery to give the old body a little lift."
Along with aging, Roloff said having fame as a reality TV star added more pressure to look her best. "After doing reality television for fifteen years and seeing so many women having it done," she wrote, "I guess it's no surprise that it crept into my mind."
However, in the end, Roloff chose not to undergo any operations. She explained that while society can make it feel like you need to look a certain way to get the most out of life, she's living life to the fullest without having any work done at all. She shared, "I'm defying those odds because I believe I already have all that without changing my body."
She was once sued for $1 million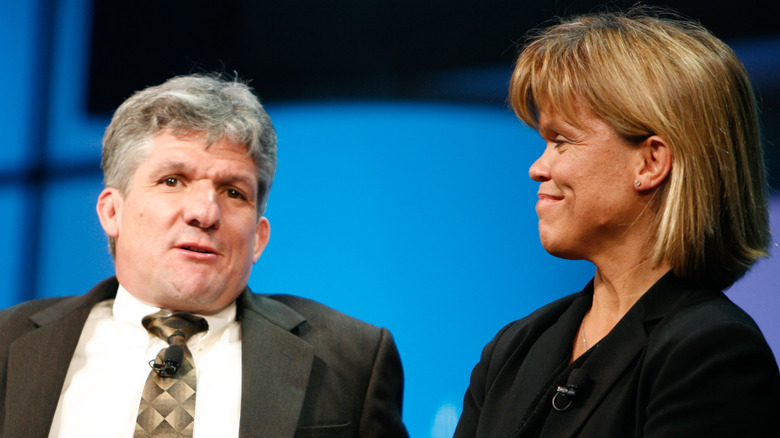 Fans of "Little People, Big World" are familiar with the big farmhouse that Amy Roloff lived on with the rest of her family for many seasons. Located outside of Portland, Oregon, the family farm, Roloff Farms, has grown from a fixer-upper to a tourist destination complete with a pumpkin patch, a castle, and a secret forest.
Many fans book tours to get a behind-the-scenes peek at the famous property. Unfortunately, one fan, Linda Farrall, was injured during her tour. According to court documents obtained by RadarOnline, Farrall was exiting the pavilion when another visitor accidentally "bumped" into her. As a result, she "lost her balance … and fell off the pavilion," injuring her left leg. After her injury, Farrall sued for negligence, saying there should have been a guard rail to prevent such an incident. In her lawsuit against Matt and Amy Roloff, the woman asked for $1 million in damages.
However, the Roloffs said they were not at fault for the woman's injuries. In their legal response, they said Farrall was to blame for "failing to exercise reasonable control over her bodily movements." They settled the case out of court in June 2013.
Amy Roloff never wanted to get divorced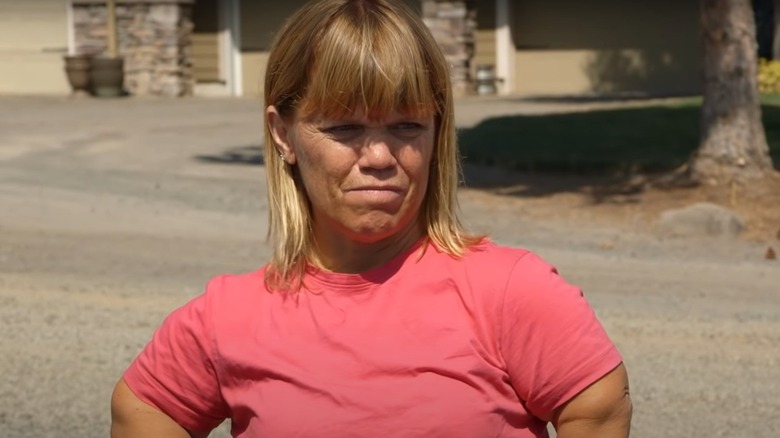 Amy Roloff and her now ex-husband, Matt Roloff, seemed to have a whirlwind romance. During a video posted on her cooking channel on YouTube, she described the beginning of their relationship: "One day, I met someone at the annual Little People of America national conference. He was from California and I from Michigan. We were two different types of people and had two different types of dwarfism." After dating long-distance and only seeing each other in person four times, Matt asked Amy to marry him. Their engagement was only three months long.
Her marriage and the family they built together meant a lot to Amy, and divorce was not something she considered lightly. However, in a chapter in her book, "A Little Me," Amy claimed she realized Matt had been unfaithful. "Matt and our farm manager, who had been working for us a number of years by then, seemed to have more than just a working relationship or friendship," she said, according to RadarOnline. Though she never expressly named the farm manager, it was presumably Matt Roloff's current girlfriend, Caryn Chandler.
Despite their marital problems, divorce was still not Amy Roloff's first instinct. "I kept quiet over the years. I didn't even think about divorce; I didn't want it to be an option," she wrote.
Her ex-husband says they are on good terms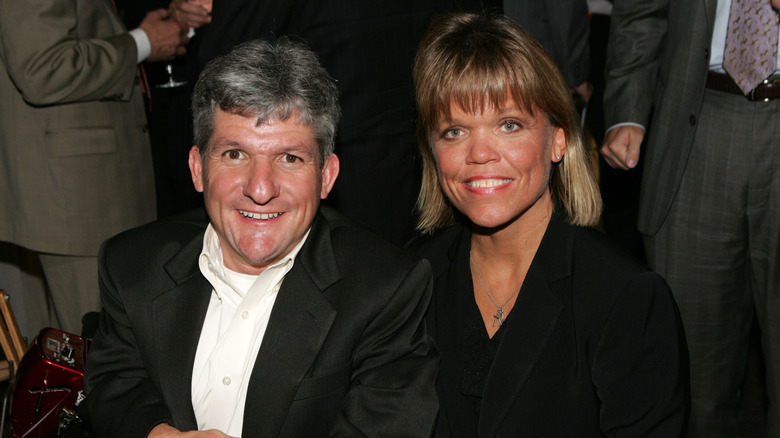 Despite the couple's difficult divorce, Matt Roloff has said that he and Amy Roloff are now on good terms. In fact, he claims they get along better than fans of the reality show "Little People, Big World" might think.
During an interview with Good Housekeeping, Matt Roloff said that while it appears that he and Amy Roloff are always fighting, that's not the case. Because the show is filmed over several months and then compressed into a few short episodes, Matt said, their most dramatic moments are often condensed into a shorter amount of time than they are in reality. "Let's say Amy and I are arguing about something. We've been getting along for six months, and then we have another argument. Well, they throw those two arguments into one episode," he said. "Just the nature of television really puts out a different impression."
Their relationship is likely less strained now since Amy Roloff has moved into her own home and has moved on romantically with her fiancé, Chris Marek.
Amy Roloff struggled with selling her half of the farm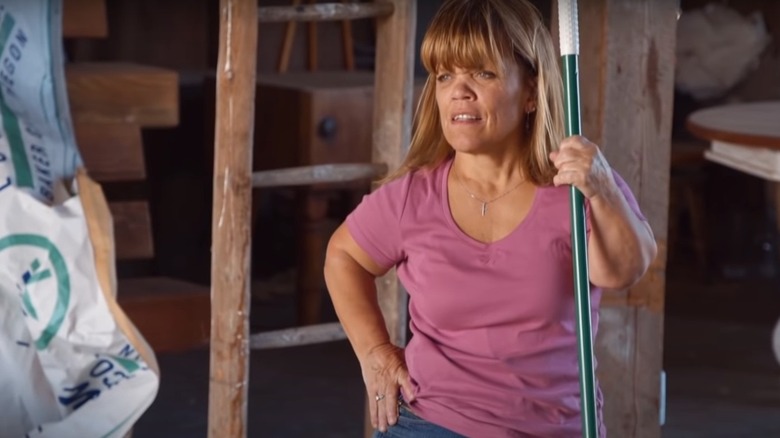 Viewers of "Little People, Big World" will likely remember how difficult of a decision it was for Amy Roloff to sell her half of the family farm. For a while after the divorce, Amy and Matt Roloff both still lived on the property but in separate houses, and the future of Roloff Farms was very uncertain. In fact, the drama of what to do with the farm played out so long that some fans got frustrated with the indecision. AmoMama noted one fan who commented on Amy Roloff's Instagram to say that the back and forth about the property was "killing the storyline of your show."
But this wasn't a choice that anyone could rush Amy Roloff into. She explained that it took time for her to accept the divorce, and selling the farm was a part of that process. According to Distractify, she said, "I think I needed time to say that I had a permanency, I had a place, I had something that I could hang on to."
However, she did eventually let go. She sold her portion of the property to Matt Roloff in August 2020. According to numbers reported by The Sun, she made a good profit, selling 32 acres for a whopping $975,000, no doubt adding to Amy Roloff's already impressive net worth.
Amy Roloff's faith helped her through her darkest times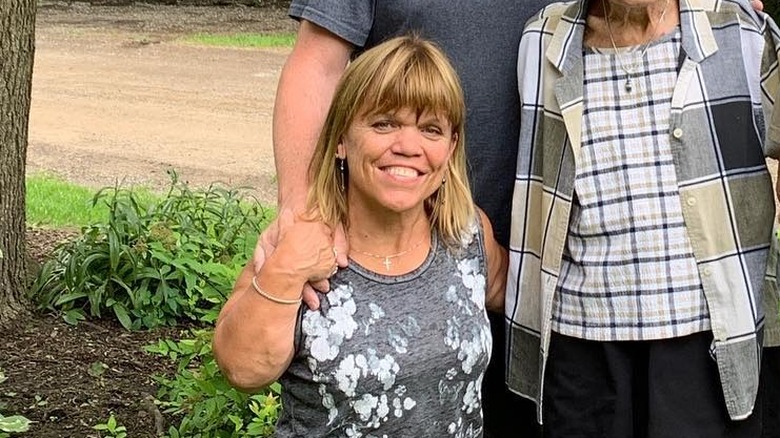 In an excerpt from her book, "A Little Me," shared by Good Housekeeping, she explained that her divorce made her feel like a failure at first. "It saddens me that my relationship had to end. It was a living death, and there are moments I feel like I'm still grieving a loss," Roloff wrote. But during that time, and presumably during other struggles, Roloff turned to her faith, which, she said, has helped her time and time again.
Roloff continued, "Even when I didn't think God was there, he was; I just didn't look to see that he was. I was too busy trying to fix everything instead of listening and allowing him to. In the second act I have in front of me are hope, possibilities, and faith. For that I'm grateful." Clearly, Roloff has clung to her family and her faith to carry her through, whether she's dealing with bullying, divorce, or other hardships.
The Little People, Big World star opened up about her divorce with her fans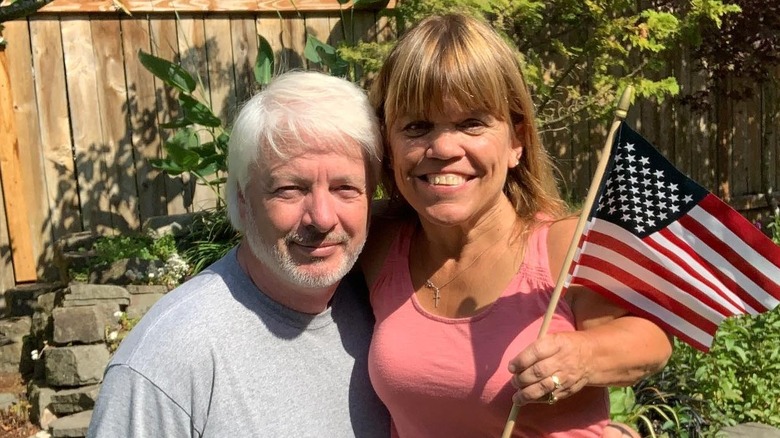 Clearly, Amy Roloff valued her marriage to Matt, and going through a divorce was a painful process for her. However, throughout those hard times, she remained honest and vulnerable with her fans, even going on Facebook Live to talk directly to them about how she was feeling at various points in the process.
According to People, Roloff opened up during a Facebook Live about her feelings towards her ex's current relationship with Caryn Chandler. "I'm not jealous or bitter," she said. "I will absolutely be frank with you guys, I think it was hard and sometimes it's still hard for me to see them …"
Roloff has used these live streams as an opportunity to be open about exactly how she feels with her fans. During one Facebook Live, she responded to a fan directly and assured them she was doing well. "Life is moving on. I've got a lot of great things going on. I've got a good relationship, I've got good friends around me and good community," Roloff said. "Life may feel a little bit uncertain sometimes, but I put it in God's hands. My faith puts it in His hands and I just hope I do the best I can to follow Him."
Amy Roloff enjoys taking adventurous trips with her fiancé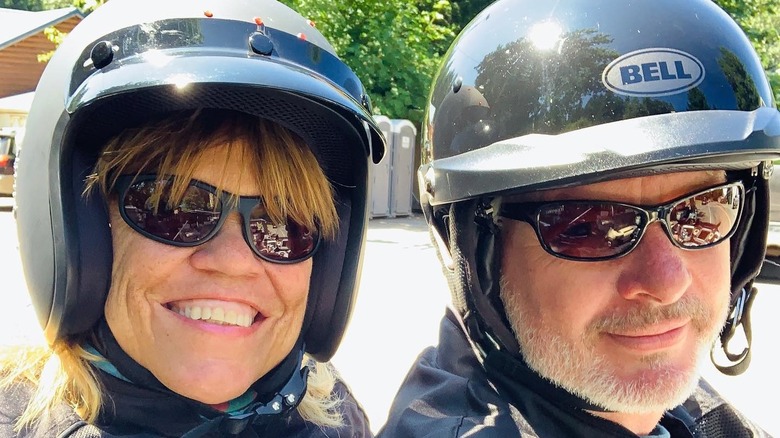 Though the divorce may have been difficult, Amy Roloff has moved forward and is now happily engaged to Chris Marek. Fans of the show saw the couple first meeting at a Singles Mixer Roloff attended. Soon after that meeting, Marek took Roloff on a motorcycle ride for their first date. Roloff was thrilled with Marek and with the date. Talking about the outing, she told the "Little People, Big World" cameras, "I could have been on this bike ride for hours. It was just so, so much fun."
Despite meeting and coming together later in life, the couple has had an adventurous relationship from the start. Years into their relationship, they're still just as adventurous, and Roloff has indeed spent hours on cross-country motorcycle road trips with her now fiancé. They've gone all the way to Idaho and Canada on some of these trips. Who knows where they'll go next!