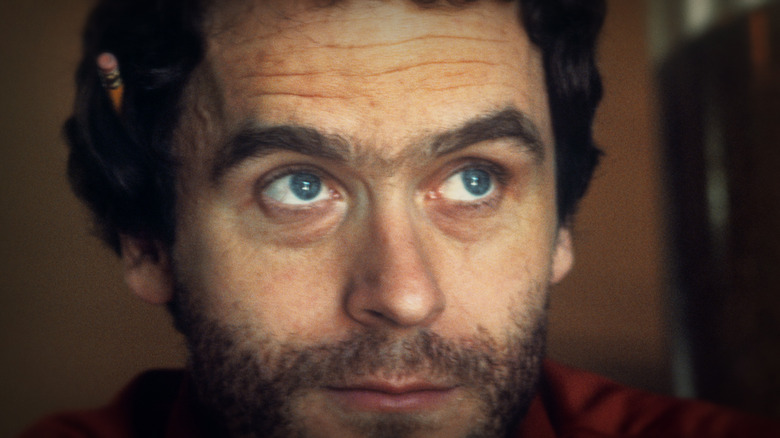 In 2021 news broke yet another Ted Bundy biopic was in the works, starring Chad Michael Murray. This following Zac Efron's take on the notorious 1970s serial killer in 2019's "Extremely Wicked, Shockingly Evil and Vile," a film most fascinating for omitting the gore and stepping fully inside Bundy's deranged brain, largely via his relationship with his suspicious yet doting girlfriend.
Bundy is the killer we just can't quit. There are at least 11 films in his honor. And just as he had a contingent of female fans in real life who flocked to his eventual murder trial, the odd worship continues to this day. "Ted Bundy was framed," one user Tweeted via the viral hashtag #TedBundyIsHot in 2019. "No, really. I framed a picture of him and placed it on my fireplace mantle."
But not everyone likes the lionization. "Ted Bundy wasn't hot … he targeted nice women, pretended to be injured and then when they helped him he killed them," chided one critic. Even Netflix got in on the backlash after more of their own Bundy content premiered in 2019, the doc "The Ted Bundy Tapes," remarking, in one of the most cake-and-eat-it-too Tweets of all time: "I've seen a lot of talk about Ted Bundy's alleged hotness and would like to gently remind everyone that there are literally THOUSANDS of hot men on the service — almost all of whom are not convicted serial murderers." So yes, the fascination continues. This list might help you understand why.
No one knows how many people Ted Bundy killed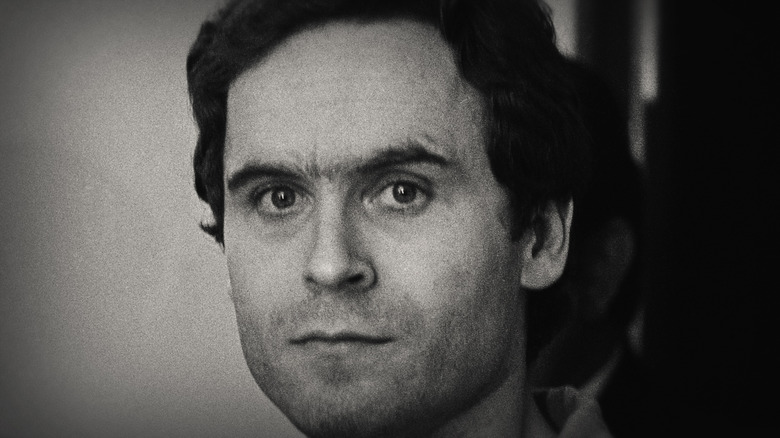 Is Ted Bundy the most prolific American serial killer of all time, or a somewhat more pedestrian maniac who convinced the world his crimes were as big as his ego?
Bundy was only convicted of three murders, according to ABC News, two women in his notorious attack of the Chi Omega sorority at Florida State University in 1978, and the kidnapping and murder of 12-year-old of Kimberly Leach, also in Florida that same year. Bundy maintained his innocence of these crimes and even defended himself in court — but more on that later. But three days before his execution, on January 21, 1989, the charming killer suddenly admitted to the FBI he had murdered at least 30 people between 1973 and 1978, in a rampage that spanned Washington state, Oregon, Utah, Idaho, California, and Florida.
Ten of these victims were previously unknown to investigators, according to PopSugar. Experts, however, believe the true tally may be as high as 100 victims. The truth may not even have been known to Bundy himself, the killer telling investigators of his 30 admitted kills, "Add one digit to that, and you'll have it." Even he couldn't keep track of exact figures amidst such carnage. Bundy was executed via electric chair, at age 42, shortly after his most candid talk with law enforcement. He likely took many secrets to his grave.
He allegedly killed women who reminded him of his ex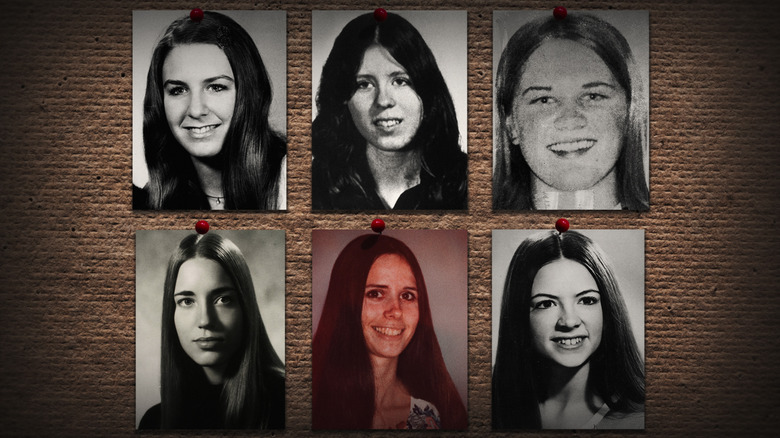 The question of motivation among serial killers can be a pointless rabbit hole to ponder. Any factor you look at, we all know healthy and sane citizens who went through similar traumas and never harmed a fly. Why the Ted Bundys of the world are so overwhelmed by violent fantasies they obsessively act out their dark desires isn't fully understood. And maybe it's this black box that keeps us asking questions.
That said, one notable expert has made the titillating claim Bundy was simply out for revenge against an ex, murdering women who reminded him of her. "If you were to put all his victims lined up together you would think they were all sisters,' criminologist and author Christopher Berry-Dee chillingly points out in the CBS documentary "Voice of a Serial Killer" per the Daily Mail.
Berry-Dee says that as a young man, Bundy was jilted by an attractive brunette with long straight hair named Diane Edwards. When he was introduced to the girl's father, the apparently wise patriarch promptly told Bundy to buzz off. "Ted took a great affront to that. He was dumped by this girl who was going to become his arm candy for years to come," explains the author. The blow to Bundy's psychopathic ego was just too great. "It was a slap in the face to Ted who was trying to become somebody special."
Ted Bundy was a master of disguise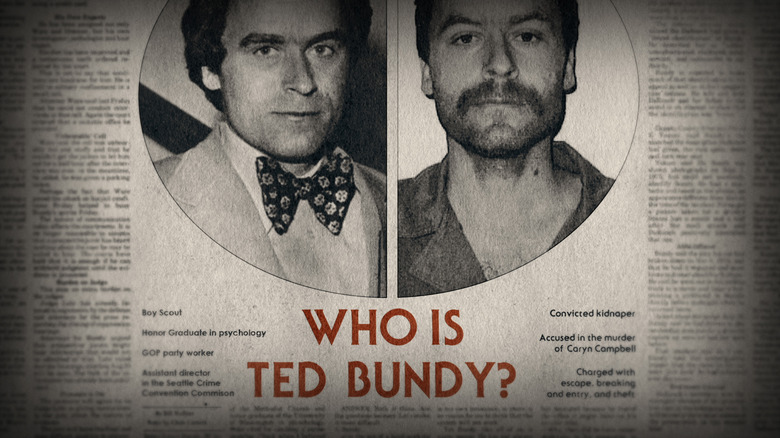 In 1974, 18-year-old Carol DaRonch went to a bookstore at a local mall in Salt Lake City, Utah, per Refinery29. DaRonch was beautiful, with thick, flowing brown hair. She had heard of the string of abductions and murders in her community, but still felt safe shopping alone. That's when she was approached by a man in plain clothes who claimed to be a police officer and said someone had tried to break into her car.
The man smelled of alcohol and, oddly, was driving a Volkswagen bug. But he did have a badge, and despite her better judgment, she got in the vehicle. Bundy then pulled out a gun and cuffed her. "I had never been so frightened in my entire life," DaRonch said in "The Ted Bundy Tapes." She added, "I know this is cliché, but my whole life went before my eyes."
Somehow DaRonch fought Bundy off and escaped. But other than surviving, her experience was hardly unique. Bundy used a variety of ruses to lure women into his vehicle, consistently a Volkswagon Beetle in which he'd sometimes remove the passenger seat to make space for his unconscious prey. Perhaps his favorite tactic was to wear a sling or cast and hobble on crutches, according to the Crime Museum. With this combination of charm and fake disabilities, he'd ask for help carrying books or unloading items from his car. That's when he'd bludgeon his victims, most of whom would not be as lucky as DaRonch.
Ted Bundy was known to mutilate the bodies of his victims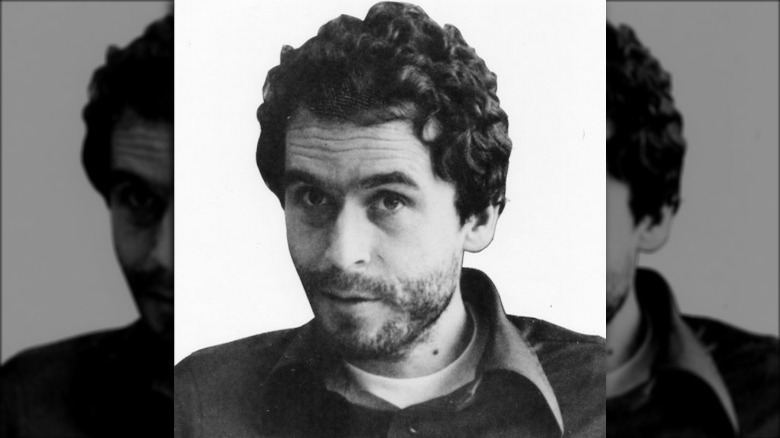 Ted Bundy wasn't just a sadistic killer of women. He also refused to let his victims rest even after he took their last breath.
Like many serial killers, Bundy took trophies. After beating his victims to death, Bundy was known to mutilate and desecrate their bodies, performing bizarre rituals on them and even allegedly committing sexual acts with their remains, according to The Mirror. Bundy also took polaroids of his victims. When asked why he did this, he gave investigators a plausible explanation, at least from the twisted point of view of a compulsive killer, "When you work hard to do something right, you don't want to forget it."
Technically, Bundy was a "necrophile" who told investigators every time he killed he was under the self-described "irrational" belief he would somehow be "fulfilled" (via Oxygen). These kinds of revelations led one neuroscientist, via Psychology Today, to conclude Bundy wasn't merely looking for sexual gratification from these heinous acts but was rather seeking, "a desire for both sexual and emotional intimacy." Bundy admitted insecurity around his attempted normal relationship with women like Diane Edwards, and "recognizes the potential of the dead body to be anyone he wants them to be. He also spent extended periods of time with the unconscious/semi-conscious victim lying prostrate in his Volkswagen Beetle," writes the outlet.
Ted Bundy worked at a suicide prevention hotline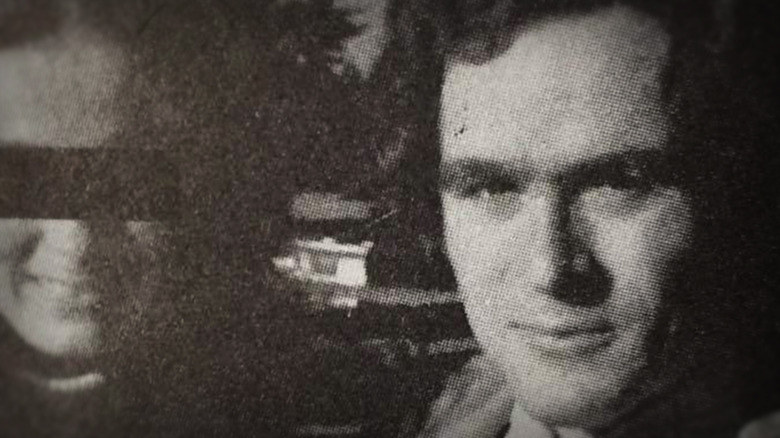 Is it possible that the notorious killer of women also saved lives too? Well, yes. Like many psychopaths, Ted Bundy sought positions of influence and authority in his professional life. In 1971 while studying psychology as an undergrad at the University of Washington in Seattle, he actually worked at the city's Suicide Hotline Crisis Center, according to Distractify.
"I'm not surprised that he worked at a suicide hotline," Darrel Turner, Ph.D. told Women's Health. "Psychopaths will very often put themselves in a position to, in a weird way, learn what normal people are like so they can blend in better by faking emotions that they learn from other people."
Maybe most fascinatingly, Bundy ended up working alongside Ann Rule, who became a notable true crime author, most famous for the excellent memoir of her time with Bundy, aptly titled, "The Stranger Beside Me." Rule was so won over by Bundy's charms and his legitimately good work at the hotline, she would go on to be one of his (partial) defenders during his murder trial in Florida. Rule described Bundy's comportment at their sensitive job as, "kind, solicitous, and empathic" and remarked at the time of his arrest that, "Ted Bundy took lives, but he also saved lives," She also recalled how Bundy would walk her to her car after particularly late shifts to make sure she was okay.
Ted Bundy worked as a political spy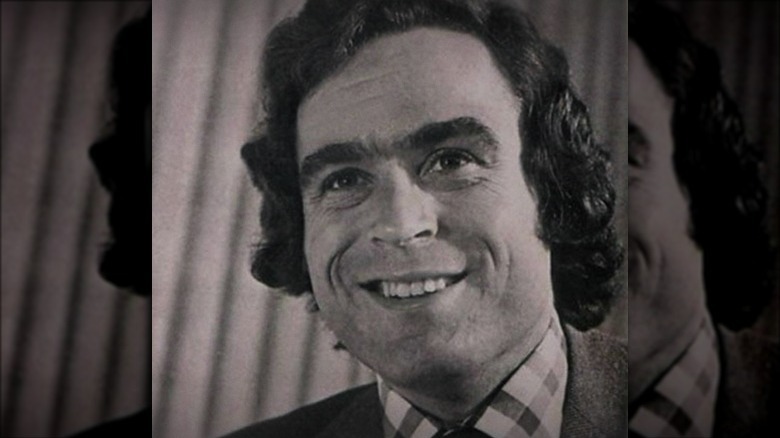 Insert joke about all politicians here. Ted Bundy and politics fit like a glove. The killer took "perverse pleasure," according to friends, in the shady side of election wrangling.
Bundy's first brush with politics was in 1968 when he attended the Republican National Convention as a delegate for future VP Nelson Rockefeller. In 1972 he joined the re-election campaign for then sitting Washington state governor Daniel J. Evans, according to Meaww. He later worked for Ross Davis, head of the state's Republican party. It was actually this connection, not his academics, that eventually got Bundy into law school, according to Refinery 29. In 1974 Bundy also — if you can believe it — worked at the Seattle Crime Prevention Advisory Commission, where he, get this, wrote a pamphlet on rape prevention.
But it was working for the governor where he really put his dark traits to work, spying on his boss's Democratic opponent. Bundy wore disguises as he recorded stump speeches for dissection and eventual attack ads. This kind of opposition research is common today, but at the time it was novel. Bundy was interviewed when the press caught wind. The fledgling killer brushed off the attention with false humility, "It's hard for me to believe that what I did is newsworthy," Bundy told a reporter. "My part in the campaign was so insignificant I'm embarrassed to be getting this publicity from it. Really embarrassed."
Ted Bundy was a loving boyfriend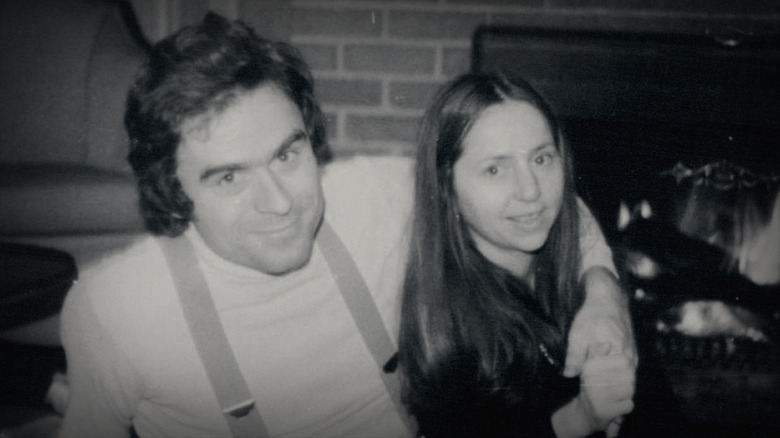 Ted Bundy and his long-time muse Elizabeth Kendall dated from 1969 to 1974. They met at a bar in Seattle. She was a shy single mother, he was handsome and chatty. But it was actually Kendall who approached Bundy. "I saw him sitting at a table. I went over and talked to him because I told him he looked lonely," she recalled, via ABC News.
The relationship was good at first. But by 1974, Bundy started staying out all night. Kendall's daughter, Molly, recalled hearing her mother read articles out loud to Bundy about a local murderer who called himself Ted. Noticing similarities, Molly confronted him, with Bundy lovingly replying, "No, Monkey, of course, I would never do anything like that."
In 1978 when Bundy was finally caught, it was Kendall he called. Bundy admitted he was "sick." The truth began to sink in. "It took him telling me himself that he had something wrong with him … It was awful, and yet it took me so long to really fully accept that he did those things." And maybe this confusion will never totally be over for the woman who knew Bundy best, but also, not at all. She told Vanity Fair in 2020, "I still have moments where I get confused … There are a lot of pictures of me … and Ted. I look at those and I remember how in love I was …"
Ted Bundy inspired The Silence of the Lambs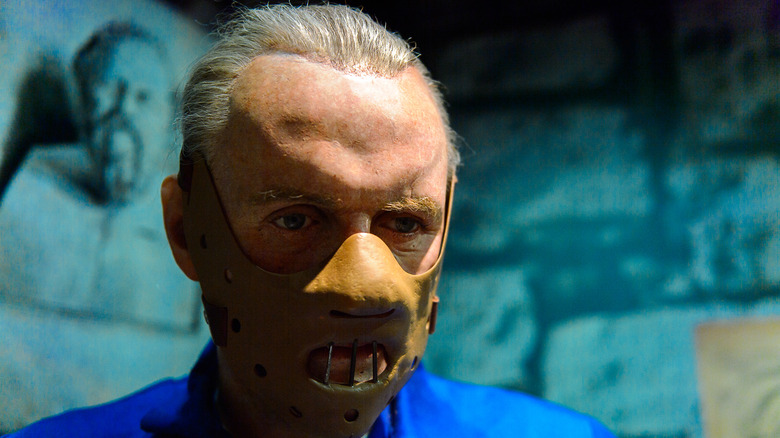 Horror movies don't tend to win Academy Awards. 1992's "The Silence of the Lambs," however, was so riveting, so chilling, and thanks to Anthony Hopkins' portrayal of the vicious yet mannered cannibal Hannibal Lecter, it took home five Oscars, including Best Picture. The film's main baddie "Buffalo Bill" skins his victims to make their bodies into a kind of quilted female flesh suit. That idea was taken from noted American killer Ed Gein, but much of the rest of the film was inspired by Ted Bundy.
In fact, "The Silence of the Lambs" author Thomas Harris attended parts of Bundy's trial and even sent the killer his 1981 novel "Red Dragon," a prequel to his more famous work, according to Express. Harris has not spoken about borrowing from Bundy, but just as Lecter entangles himself in the FBI hunt for Buffalo Bill, Bundy offered himself up to the FBI's now-famous Behavioral Analysis team that first coined the term "serial killer." Harris also talked in detail with one of these agents, John E Douglas, creating the fictional FBI serial killer hunter "Jack Crawford" based on this research.
Another key to good writing is specificity, and it's clear the Bundy case helped the author form the hunting habits of his monsters. Harris's Buffalo Bill borrows from Bundy the tactic of posing as injured, with a fake cast on his arm, and then asking for help moving furniture, to lure his unsuspecting female victims into his van.
Ted Bundy escaped from jail, twice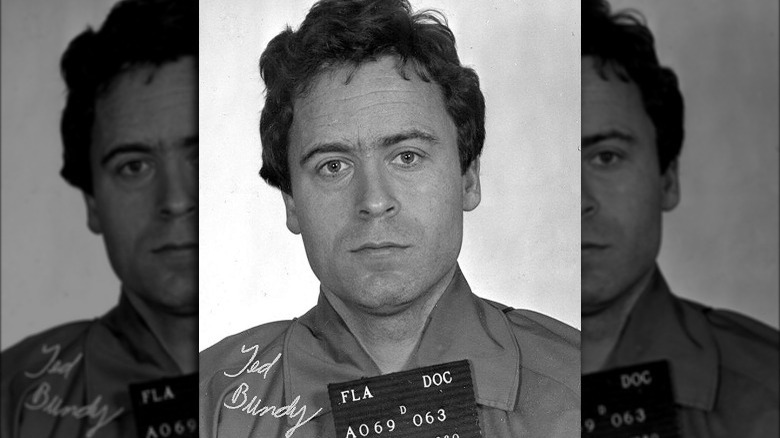 After the failed abduction of Carol DeRonch in Utah in 1974, a patrolman spotted Bundy's Volkswagen Beetle parked in front of the home of two young women. After a brief chase, police found in Bundy's car: handcuffs, a ski mask, and pantyhose with holes cut out for eyes. Bundy was arrested and even though he attempted to alter his appearance, DaRonch picked him out of a lineup. He was found guilty of kidnapping and sentenced to 15 years in prison.
Bundy was then transferred to Aspen, Colorado for the murder of Caryn Campbell, a 23-year-old nurse who went missing while on a ski trip with her fiancé. In typical fashion, Bundy convinced the judge to allow him to participate in his own defense and was granted mildly supervised access to a law library. "Over the months, I had noticed a number of opportunities to just walk right out," Bundy remarked, per ABC News. When a guard went out for a smoke, Bundy simply hopped out of an open window.
Bundy hid in the frozen mountains for six days but was again arrested — Aspen is an icy fortress all its own. He was then transferred to another Colorado jail where he began rapidly losing weight. In December 1977 he slipped through a loose grate in the ceiling, climbed into a jailer's quarters, "put on civilian clothes," and fled all the way to Tallahassee, Florida — where he immediately killed three more women.
Ted Bundy suddenly changed his murder MO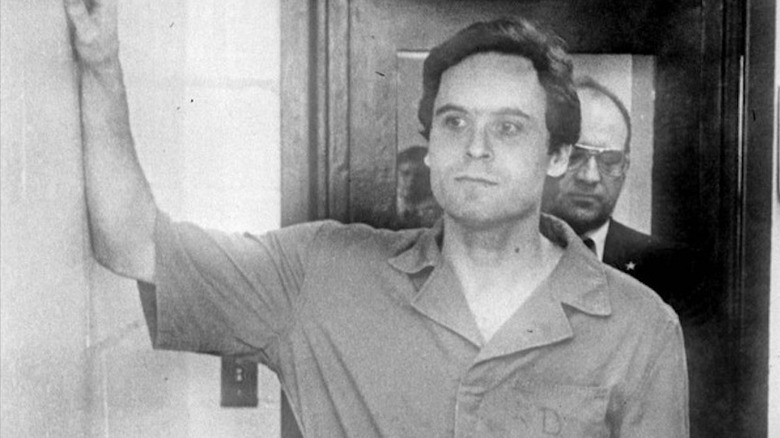 After Ted Bundy's two escapes he was put on the FBI's Most Wanted Fugitives list (via ABC News). Everyone knew what he would do next. 'He's going to kill again. It's just a matter of time. We don't know where or when but he will kill again," remarked law enforcement at the time, per ABC News. Maybe Bundy felt authorities closing in because he made a radical escalation.
Around 3:00 AM on January 15, 1978, Bundy broke into the Chi Omega Sorority house at Florida State University. A patrolman quick to the scene recalled hearing the screams, then finding Kathy Kleiner. "Her jaw was actually hanging off one side," the officer told ABC News. "Only one hinge was still attached. … She was totally incoherent and in shock." Kleiner somehow survived. So did another sister, Karen Chandler, though she was also badly injured. Two others, Margaret Bowman and Lisa Levy, were beaten to death.
Bundy had entered the sorority house with only a wooden club. He fled, but four blocks away entered another home and nearly beat to death a dance major named Cheryl Thomas. Bundy had suddenly and radically changed his MO from careful, deceptive abductions to rampaging attacks — rare for serial killers. "If you were to hear of this attack and you were familiar with Bundy's crimes in Utah [and] Colorado, you wouldn't think it was the same person because it was a frenzy," Kevin Sullivan, author of "The Bundy Murders: A Comprehensive History," told ABC News.
Ted Bundy acted as his own attorney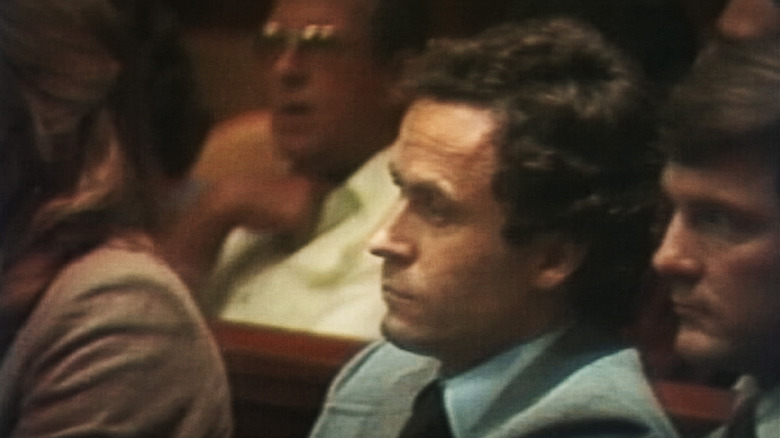 Three weeks after Ted Bundy's brutal attack at Chi Omega, he returned to his familiar pattern, abducting and murdering what is believed to be his last victim: 12-year-old Kimberly Leach. Then, by chance, in February 1978, a police officer noticed yet another Volkswagen Beetle loitering. Bundy had a fake ID and refused to identify himself (via ABC News).
The anonymity was short-lived. What followed was the Ted Bundy show, all captured for television. The killer turned his trial into a sick farce, often representing himself, questioning witnesses, and generally turning the state's search for justice into a spectacle. "A lawyer who represents himself has a fool for a client," cautioned the judge. Bundy was unmoved.
According to The Daily Utah Chronicle, after Bundy graduated from the University of Washington, he "came to the University of Utah for law school in 1974," yet never graduated. Lettered or not, Bundy confidently "brought insignificant requests before the judge, and asked for both more exercise time and a typewriter," writes Esquire. As prosecutor Larry Simpson revealed, he even demanded an updated menu because he was "sick" of grilled cheese. His antics captured public attention, but the jury was unmoved. On July 24, 1979, 32-year-old Ted Bundy was found guilty of the Chi Omega murders.
Ted Bundy's teeth brought him down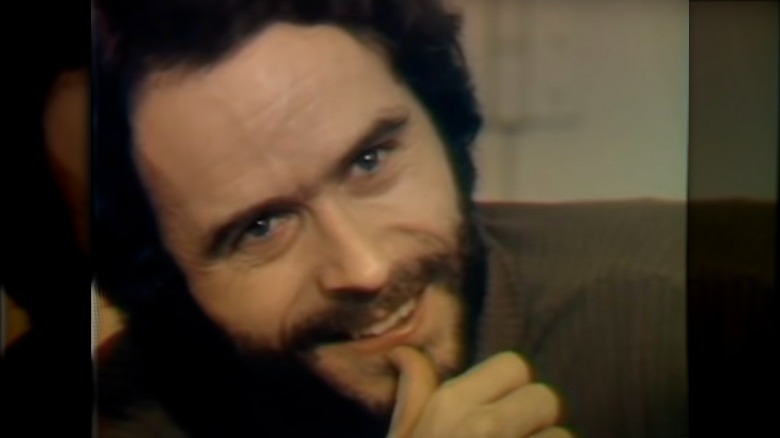 Ted Bundy was notoriously slippery. His one-time Seattle suicide-prevention hotline friend and later true-crime author, Ann Rule, describes him in her book "The Stranger Beside Me" as having something of a chameleonic face. Widely regarded as handsome, Bundy, she notes, rarely looks the same twice in photos. It's possible this made it more difficult for police departments to connect his crimes across seven states. And even when he was arrested, despite his FBI most-wanted status, it was Bundy who finally told police his real identity.
One thing that was distinctive to the notorious killer was his slight snaggletooth bite. His lower teeth were crooked, and he had a chipped incisor, according to PopSugar. One of his victims in the 1978 Chi Omega attack, Lisa Levy, had a bite mark on her left buttock. "Once Bundy was identified, impressions of his teeth were taken to compare with bite marks on the Chi Omega victims, and his fate was sealed," according to the prosecutor's report in Clark County, Florida.
During the trial, Bundy claimed he chipped his tooth subsequent to the murders. Photographic evidence proved otherwise. Interestingly, In more recent years, bite-mark evidence, along with many other forensic tricks used by prosecutors, have become seen as dubious. "There is no real scientific support or research into the accuracy or reliability of bite mark evidence," writes the California Innocence Project. But of course, Bundy later confessed to these murders, and many more.
Ted Bundy proposed while on trial for murder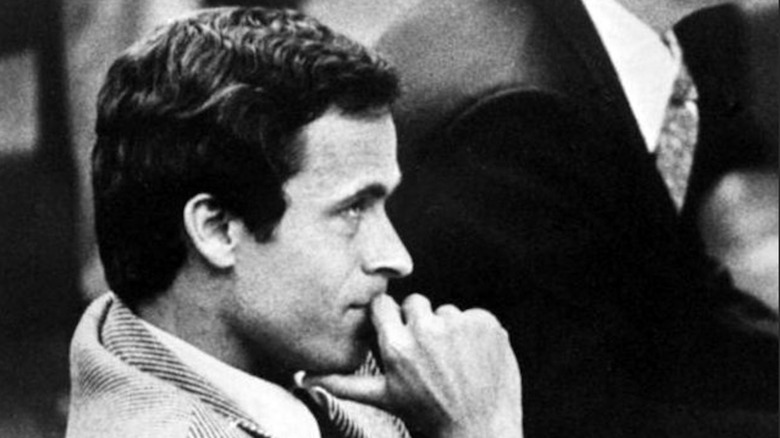 Ted Bundy's Florida murder trial took another strange turn when he took advantage of an obscure Florida law that deemed any declaration of marriage in front of a judge in a courtroom legally binding. Bundy called his then-girlfriend, Carol Ann Boone, as a character witness. They'd worked together years earlier in Seattle and she'd traveled to Florida as one of his "groupies." As she sat on the stand, Bundy popped the question. "Carol, do you want to marry me?" Boone answers in the affirmative, all this captured by courtroom cameras. "And I want to marry you," Bundy replies.
Bundy also somehow fathered a child with Boone while he sat on death row, despite conjugal visits being prohibited in Florida for condemned men. It's possible guards were bribed. There's even a rumor Bundy passed a condom full of his sperm via his mouth as the two kissed goodbye, according to The Sun. Boone didn't kiss and tell, "it's nobody's business, " she said in 1981.
Bundy's daughter with Boone, Rose, was born in 1982. Boone divorced Bundy in 1986, three years before his execution. Neither Boone nor her daughter had any further contact with Bundy and both have subsequently changed their names to live anonymously. "I have heard that Ted's daughter is a kind and intelligent young woman," Ann Rule wrote in "The Stranger Beside Me," adding, "but I have no idea where she and her mother may live … They have been through enough pain."
Ted Bundy thought his mother was his sister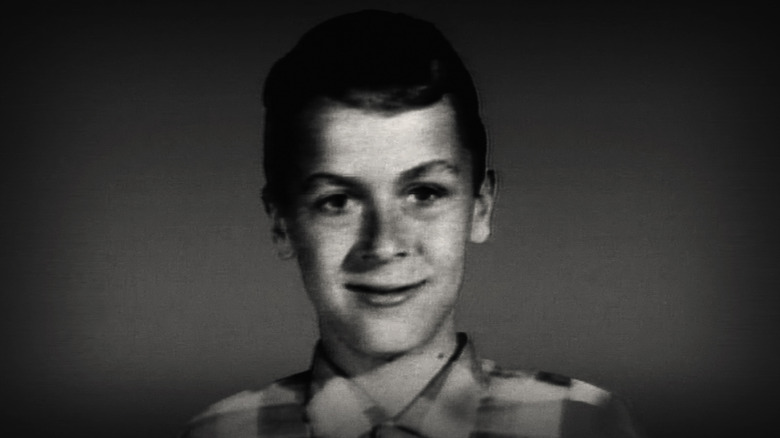 The question of how Ted Bundy became among the most notorious monsters in American history is open. Bundy himself blamed everything from alcohol, to a police conspiracy, to society at large, to his own confusing childhood. This last excuse is probably worth exploring,
Bundy was born Theodore Robert Cowell in 1946, to his mother Eleanor Louise Cowell, in a home for unwed mothers in Vermont, according to ID Crimefeed. Eleanor has named two separate men as Bundy's father, though neither man was ever in Bundy's life. Since this was considered an enormous scandal in the 1940s, Bundy was then raised in the Philadelphia home of his mother's parents, his biological grandparents, and told all along that Eleanor was actually his sister.
Bundy was relentlessly teased by his cousins as a teenager who would call him a "bastard" and show him his birth certificate, which listed an Air Force vet named Llyod Marshal as his biological father, whom Bundy never met, and who many have concluded did not exist after repeated attempts by journalists to locate him. Bundy's grandfather Samuel Cowell was, allegedly, "an extremely violent and frightening individual," who was addicted to pornography and even abused neighborhood animals, according to The Sun. Bundy's relatives have openly speculated Ted was actually been the product of incest between his abusive grandfather and highly unstable, manic-depressive mother, making his childhood notion that Eleanor was his sister only half a lie (via Vanity Fair).
Ted Bundy may have killed his first victim at age 14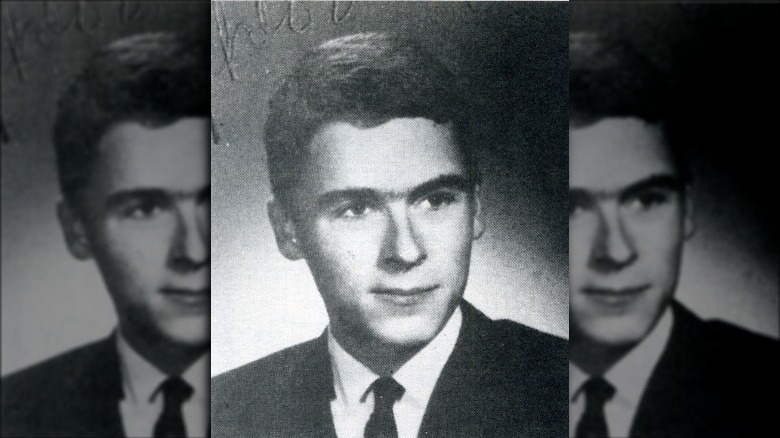 Ted Bundy moved from Philadelphia to Tacoma, Washington when he was three years old, according to Biography. Ted's mother tried starting a new life and married Johnnie Bundy in 1951, but the damage may already have been done. His aunt woke up one day with toddler Ted placing knives around her sleeping body. As an expert told Vanity Fair, this behavior is specific to "seriously traumatized children who have either themselves been the victims of extraordinary abuse or who have witnessed extreme violence among family members."
Investigators have always surmised there were more victims than the 30 to which Bundy confessed killing. And in 2019, Tacoma police began actively looking for a link between Bundy and an 8-year-old named Ann Marie Burr who disappeared from her Puget Sound home on August 31, 1961.
Ann's mother woke up to find her daughter had vanished, her window left open. The only clue was a teenage-sized shoe print left on a bench that had been pulled to the sill. Ted Bundy was 14 at the time and had a paper route that took him by the missing girl's home. He was known to be a peeping Tom by this age, and Tacoma police are taking another hard look at this very old crime. "We periodically review all cold cases to determine if new technology and techniques in forensic science can be utilized," the Tacoma Police Department told King 5 News.