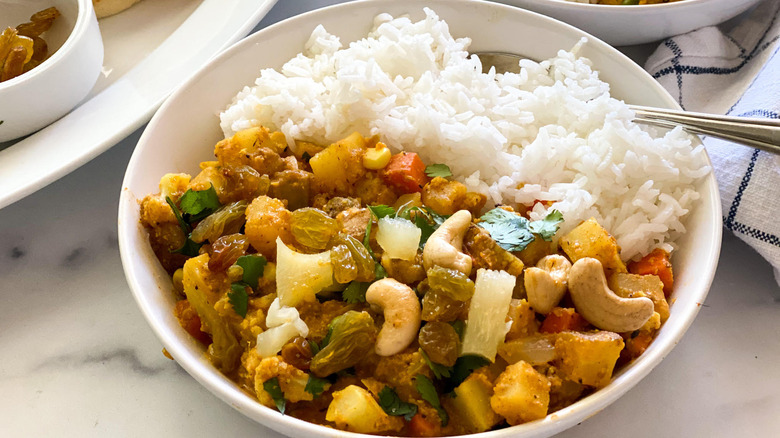 The Mughal Empire ruled India for 235 years (per Britannica), and it was a time of fabulous wealth, culture, and food. A famous Mughal ruler was Akbar the Great, and he surrounded himself with nine exceptional advisors, who he called "the nine gems" (via Can We Have Some Rasam). It's claimed that navratan korma ("nine-gem curry") was created during Akbar's reign (according to Hindustan Times), and the gems are the ingredients — vegetables, fruits, and nuts — that are specific to Mughal cuisine. "I am really drawn to international dishes because of the spices," recipe developer and wellness coach Miriam Hahn told us. "I especially love Indian spices, and they also offer so many health benefits."
Hahn's recipe is a traditional vegetarian/vegan recipe for navratan korma, and it's very substantial without any meat, although you could add some chicken if you like. It's also very adaptable. "You can easily swap out the vegetables for the ones you have on hand," Hahn said. Her recipe takes only 15 minutes to prepare and 29 minutes to cook, so you can have this exceptional Indian dish in about 45 minutes. If you've only enjoyed Indian cuisine in a restaurant, this is the recipe to try at home.
Gather the ingredients for the navratan korma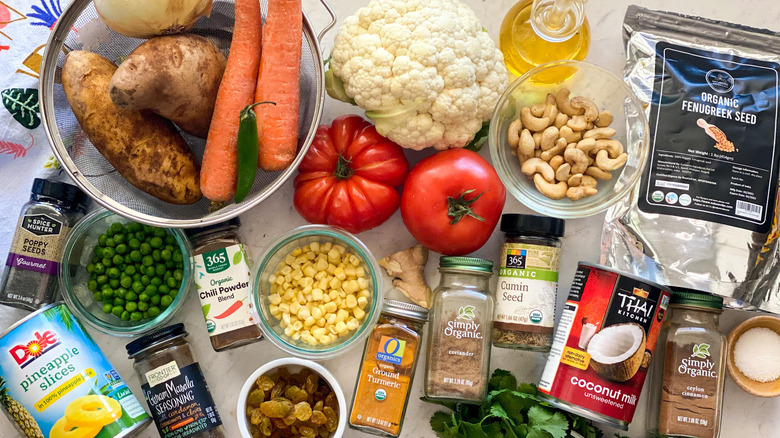 Starting off with the veggies, you'll need two russet potatoes, one small cauliflower, two carrots, one large tomato, one onion, a one-inch piece of ginger, a green chili, half a cup of corn, and half a cup of peas. Navratan korma always has some sort of fruit and nuts, and in Hahn's recipe, they are pineapple, raisins, and cashews.
All curries have multiple spices that build a complex flavor. You might not have them in your spice rack, but you'll easily find fenugreek seed, cumin seed, garam masala, and turmeric in your supermarket. "I try to use turmeric as often as possible," Hahn said, "because of its strong anti-inflammatory effect on the body."
Cut up the veggies and boil them
The first step is dicing the two russet potatoes and one or two carrots (you'll need one cup of them diced). Try to cut them in the approximately same size so they'll cook evenly at the same time. Break up the cauliflower into small florets, again about the same size as the potatoes and carrots. Bring a large pot of water to the boil, and drop in the potatoes, cauliflower, and carrots.
Keep them at a boil for three to five minutes, and then add the peas and corn. If the peas and corn are frozen, drop them in for the last two minutes. Drain the vegetables in a strainer and set them aside. Put half a cup of the cashews in a bowl, cover them with the hot vegetable water, and let them sit for five minutes. "If you're allergic to nuts, you can skip the cashew step," Hahn told us.
Sauté the tomato, onions, and garlic, then puree in a blender
In a medium sauté pan, heat up a teaspoon of vegetable oil over medium-high heat. When the oil starts to shimmer, add a teaspoon of fenugreek seeds and a teaspoon of cumin seeds. Let the seeds toast for a couple of minutes. If you've eaten in an Indian restaurant, the aroma will be familiar to you.
Now, add one roughly chopped onion, one chopped tomato, the one-inch piece of ginger, peeled and chopped, and one green chili, also chopped. Sauté the vegetables and spices for eight to 10 minutes. Transfer this mixture to a blender or food processor along with the soaked cashews, half a can of unsweetened coconut milk, and half a cup of water. Blend the ingredients until smooth. The cashews will take about three minutes to break down.
Pour the purée into a large pot. Hahn uses coconut milk quite often for making plant-based sauces, which she finds is a good alternative to dairy. "As a wellness coach, I like to have many options for my clients who don't eat dairy."
Simmer the vegetables in the sauce
Add a teaspoon of cinnamon, one teaspoon of coriander, one teaspoon of turmeric, one teaspoon of chili powder, one teaspoon of garam masala, one teaspoon of poppy seeds, and one and a half teaspoons of salt to the purée mixture, and give everything a good stir. Heat the pot over medium heat, and let the sauce cook for 10 minutes until it thickens. Stir in the cooked vegetables, cover the pot, lower the heat, and simmer the korma for 15 more minutes.
Sprinkle on the toppings, and serve with rice and naan
When the korma is done, serve it in individual bowls, and sprinkle a quarter cup of chopped pineapple, a quarter cup of golden raisins, a quarter cup of chopped cilantro, and the remaining quarter cup of cashews over all of the portions. You can serve the navratan korma with rice and naan bread, but Hahn told us, "You can also serve it over noodles instead of rice or even spiralized zucchini noodles. The options are endless!" Hahn's navratan korma stores well in the refrigerator, and with a quick reheat, you can enjoy another amazing Indian lunch or dinner in the next day or two.