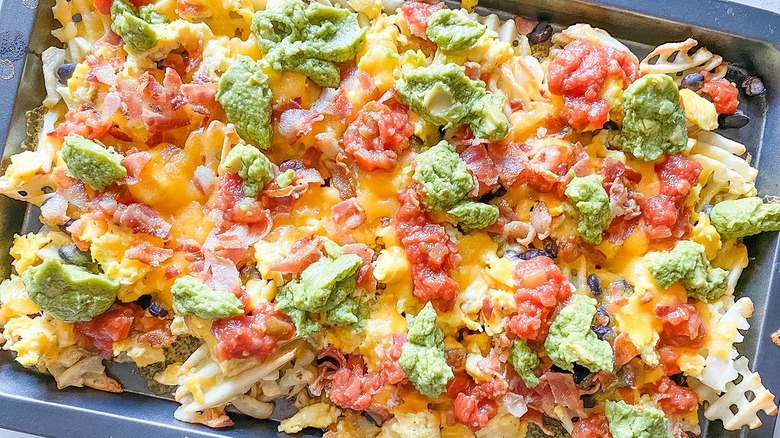 If you've ever struggled to find a creative, delicious, and filling breakfast that pleases the whole family, you aren't alone. As we all know, breakfast is the most important meal of the day, but we often skip it for a number of reasons. Maybe you're in a pinch for time, or you're tired of making the same old thing over and over again. If you have kids, you may find it hard to make something that appeals to everyone — so what options are you left with?
Thanks to recipe developer and private practice registered dietician Kristen Carli, breakfast just got a whole lot easier (and much more fun) with these easy breakfast nachos. Not only is this dish incredibly delicious, but the recipe is incredibly easy to make, thanks to a few simple ingredients. Also, when you make this recipe, you'll end up with an entire sheet pan of breakfast nachos — perfect for parents who have several kids to feed in the morning or overnight guests! "This is a great option for pleasing a crowd," Carli explains of the recipe. "I think this would make a super fun sleepover breakfast for kids."
If you're looking to get creative with breakfast, need something fulfilling that will feed a large crew, or just love nachos (After all, who doesn't?), then you should give this easy breakfast nachos recipe a try as soon as possible!
Gather the ingredients to prepare these easy breakfast nachos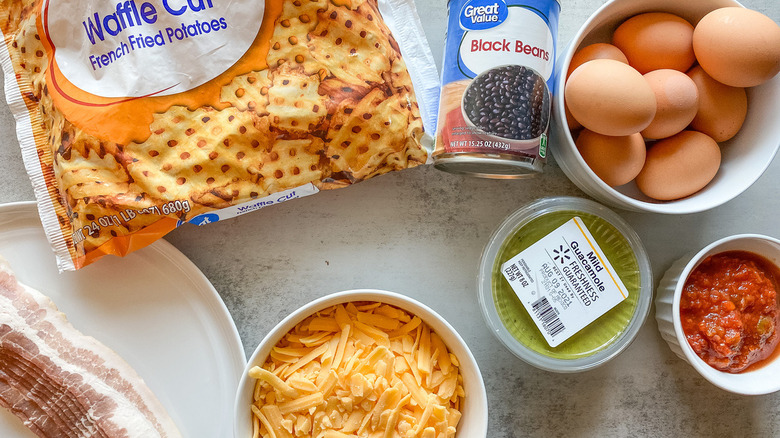 Before you can make your easy breakfast nachos, you'll need to have the right ingredients. Unlike traditional nachos that use tortilla chips as the base, these breakfast nachos use waffle fries, so you'll need a frozen bag of those. Additionally, you'll need eggs, black beans, salt, pepper, bacon, shredded cheddar cheese (or whatever kind of cheese you like best), and guacamole and salsa for toppings. If you want to add more vegetables to the nachos, you could easily include some diced tomatoes, mushrooms, jalapeños, and green onion. Carli also notes that you could use chorizo or sausage instead of bacon, or you can opt for no meat at all to make the dish vegetarian-friendly. Also, soyrizo would work well as a plant-based protein option!
Start by baking your frozen waffle fries
Once you have your ingredients all together, you can begin preparing these delicious nachos. Start by preheating your oven to 425 F. Then, go ahead and dump out your frozen waffle fries onto a baking sheet, and spread them out so they're in an even, single layer. By using frozen fries as your base, you'll notice how simple this recipe is — they'll help you make something extremely yummy that will surely be a family favorite! Once your oven has preheated, go ahead and pop your fries into the oven. They'll need to cook for about 25 minutes, and as they're doing so, you can prepare the ingredients that will go on top of the fries.
Scramble the eggs, and cook the bacon
Any recipe wouldn't be breakfast without eggs and bacon, would it? These breakfast nachos call for scrambled eggs and bacon as toppings, though keep in mind that you can also use chorizo, soyrizo, or whatever protein(s) you'd like. To get started on your eggs, whisk them in a large bowl along with some salt and pepper. Then, on a large skillet over medium heat, add the whisked eggs and push them around with a spatula until they're scrambled.
Meanwhile, you can also get your bacon ready to go. In a large skillet, add your bacon slices, and cook them on medium-high heat until they're nice and crispy. Once both your eggs and bacon are done cooking, remove them from the heat, and set them aside.
Begin assembling your breakfast nachos
Once you're done cooking the eggs and bacon, your fries should be just about done baking in the oven. At this point, remove the sheet of fries from the oven, and begin to put your nachos together. Start with your black beans, and carefully distribute them across the waffle fries, trying to ensure that the fries catch most of the beans and that they're evenly distributed. Next, you can go ahead and carefully spread your scrambled eggs across the top of the fries as well.
Finish constructing your breakfast nachos by adding the bacon and cheese
Now that you've added the black beans and scrambled eggs to your breakfast nachos, you can finish up the dish by adding the bacon and cheese. First, you'll need to chop up the bacon so it's in bite-sized pieces. Once you do that, carefully sprinkle those pieces across the top of the nachos, ensuring that it's evenly distributed. Finally, go ahead and finish off by sprinkling on the shredded cheddar cheese, or whatever kind of cheese you like best. Then, pop the whole dish back into your oven, and allow it to cook for five minutes, or until the cheese gets melty.
Top with guacamole and salsa, then enjoy
After you've allowed the cheese to melt on the top of your breakfast nachos, go ahead and take the dish out of the oven. If you want to add more fresh veggies, like tomatoes or jalapeños, go ahead and do so at this point. Also, go ahead and add some dollops of guacamole and salsa evenly across the nachos, and then you're ready to serve and enjoy! Carli also notes that sour cream and hot sauce are great topping options, but you can really use anything that you enjoy. That's the beauty of a dish so versatile — you can customize it to fit your specific preferences, making it easy to please a large group.
If you want to get creative with breakfast and are looking for an easy but delicious alternative to the same old options, this easy breakfast nachos recipe will not let you down. With such simple ingredients, you've got nothing to lose by giving it a try — something tells us that this will become a highly-requested breakfast dish within your household!
1 (24-ounce) bag frozen waffle fries
8 eggs
½ teaspoon salt
¼ teaspoon pepper
6 slices bacon
15 ounces black beans, drained
1 cup shredded cheddar cheese
¼ cup guacamole
¼ cup salsa
Preheat oven to 425 F.
On a large baking sheet, add the waffle fries. Bake for 25 minutes.
In a large bowl, add the eggs, salt, and pepper. Whisk to combine. In a large skillet over medium heat, add the whisked eggs. Using your spatula, push the eggs back and forth until scrambled, about 10 minutes.
In a large skillet, add the bacon slices. Cook over medium heat until crispy, about 8 minutes.
Remove the waffle fries from the oven. Keeping the fries on the baking sheet, top with scrambled eggs, black beans, bacon, and shredded cheddar cheese.
Place the baking sheet back in the oven at 425 F for 5 minutes, until cheese is melted.
Remove baking sheet from oven. Top with dollops of guacamole and salsa.