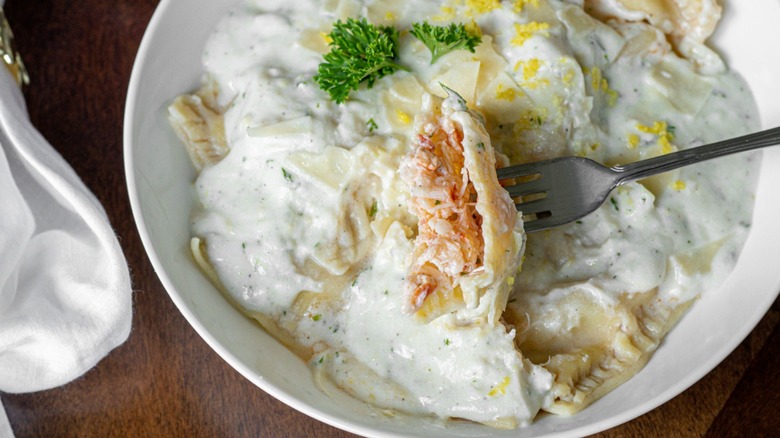 Homemade lobster ravioli is one of those meals that simply sounds divine. At first glance, this recipe may seem a bit intimidating, but we promise that with the recipe's creator Autumn LeAnn taking you step-by-step meticulously through the process, you can make this indulgent, seriously-impressive, deceptively-uncomplicated meal.
As far as LeAnn's inspiration behind developing her splendidly-scrumptious, seafood-based delight of a dish is concerned, she says, "I wanted to make something perfect for summer with bright flavors, that was filling without being too heavy." Indeed, the notes of citrus from the lemon and her use of goat cheese truly lighten up what could have been a heavy bite. But be assured — LeAnn's homemade lobster ravioli is still teaming with flavor and will leave you feeling full, both of food, and pride that you pulled off the preparation, without breaking a sweat!
Just follow each step, and serve up a gorgeous plate worthy of a scrumptious photo shoot. Then, enjoy savoring every last bite with your crew.
Gather the ingredients to prepare homemade lobster ravioli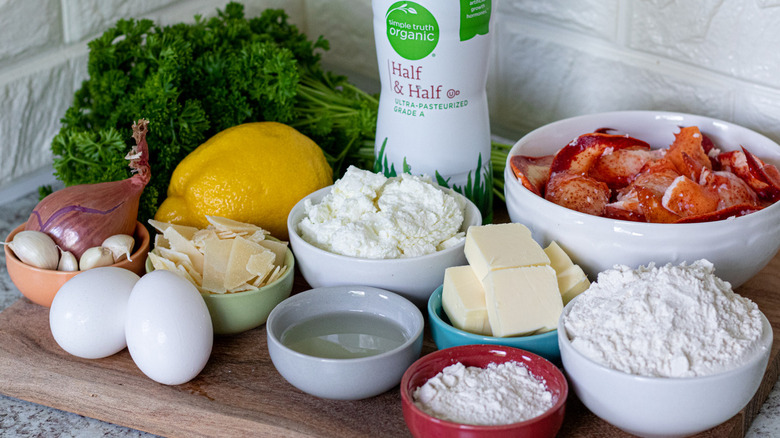 Your lobster ravioli comes together with ingredients you are sure to have on hand, as well as a few you'll need to stop by the store to pick up. From the pantry and fridge, gather all-purpose flour, two large eggs, olive oil, garlic, unsalted butter, salt, and pepper.
Then, add a shallot to your shopping list, with LeAnn noting, "Using shallot instead of regular onion in this recipe brings a slight sweetness. Regular onion would bring a little more heat to the dish than I was going for, but shallot is perfect." That being said, she adds, "You could use a sweet variety of onion if you can't find shallot."
The recipe also calls for parsley, lemon juice and zest, half and half, goat cheese, shaved Parmesan cheese, and 10 ounces of fully-cooked lobster meat. "The lobster I used for this recipe came from a local business that sources very good quality seafood," LeAnn says, adding, "Don't be afraid to buy frozen lobster if you can't find good quality fresh lobster. I bought my lobster already fully cooked to save me some cooking time, but you could certainly buy fresh lobster and cook it yourself for this recipe."
Prepare your dough
Your first step is to create your ravioli dough — and yes, if you have never made pasta from scratch, you can do this! You will pour 1 cup of all-purpose flour and just a pinch of salt onto a clean work surface. Next, create a well in the middle of the flour using your fingers. Two eggs get cracked into the well.
Using a fork, LeAnn instructs home cooks to gently mix the eggs into the flour until incorporated. "Keep mixing until it is difficult to mix with a fork," she advises. Then, you will switch to using your hands to knead the dough together.
At this stage, pour 1 tablespoon of olive oil onto your dough, working it in until the result is a smooth, even ball of pasta dough. Now, wrap the dough ball in plastic wrap, setting it aside to rest. Meanwhile, it's time to turn your attention to creating the savory ravioli filling chock full of crave-worthy, fresh ingredients.
Begin to prep your ravioli filling
To create your filling, you will first chop half of a shallot and a clove of fresh garlic into very small, fine pieces. Set the shallot and garlic aside for a moment. Now, place a skillet over medium-to-high heat, and add in 1 tablespoon of olive oil and 2 tablespoons of butter.
Once the mixture is bubbling and looking glossy and glorious, toss in the shallot and garlic, with LeAnn instructing you should cook the veggies for about five minutes. Then, turn off the heat, and set the skillet aside to allow the fragrant shallot and garlic to cool.
Prep the lobster
Your next step will be to chop the parsley finely. Then, set it aside. Rip your fully-cooked lobster into small pieces, with LeAnn noting, "[The pieces should be] about the size of your pinky finger nail or even smaller. The finer the pieces, the easier they will stay in the raviolis without poking through."
It's time to combine the elements for the ravioli filling — so, into a bowl goes the shallot and garlic cooked in butter and oil, the parsley, and the lobster pieces. Add 1 teaspoon of lemon juice, and the goat cheese, and mix everything together until the bright and creamy result has your mouth watering. Set the filling aside.
Make your sauce
The ravioli dough is resting. The filling is ready to go. Let's make the sauce that will top your homemade pasta pillows! To do so, go ahead and use the same skillet as before, placing it over medium heat. Add 3 tablespoons of all-purpose flour with an equal amount of butter. Mix the element together thoroughly right there in the skillet. Now, you will chop the rest of your garlic — four cloves — and add it to the skillet, cooking the fragrant ingredient for five to seven minutes.
At this point, LeAnn instructs home cooks to slowly add 2 cups of the half and half, mixing it into the sauce. You will bring the sauce to a low boil, stirring frequently. Add a citrusy note by stirring in the zest of a lemon. An earthy, salty taste blooms with the addition of ⅓ cup of the shaved Parmesan cheese. The last elements to add to the sauce are a tablespoon of chopped parsley, and salt and pepper to taste.
Set the thick, luscious sauce aside, but sneak a taste first — we won't blame you one bit!
Cut the ravioli squares
It's officially time to make your ravioli squares by first lightly dusting a clean surface with some flour. You will gently up-wrap your dough, and using a rolling pin, roll it out until you achieve a large, thin sheet.
Now comes the fun part! Using a sharp knife or a pizza cutter, you will cut your dough into even squares, with LeAnn noting they should be about 1 ½ by 1 ½ inches in size. Grab your lobster filling, and move on to the next step.
Fill and seal the ravioli
To half of your ravioli squares, you will add a "generous dollop" of the creamy, dreamy filling into the center. LeAnn advises you should be sure to leave a bit of room around the edge of each square.
Next, brush the edges that you left lightly with water. You will place another pasta square on top. Grab a fork, and use it to carefully clamp the ravioli squares together to close them. "Make sure you clamp the sides of the ravioli shut very well before boiling [them]," LeAnn stresses, adding, "You can use a very light brushing of water along the edges to help it stick shut, [too]."
Cook and plate your lobster ravioli
Get excited, because the raviolis are finally ready to cook. You will gently place them in boiling water, cooking the pasta for only five to seven minutes before using a slotted spoon to oh-so-carefully remove each precious seafood-stuffed creation. "The ravioli is done when it begins to turn a more opaque color and floats to the top of the pot," LeAnn advises. "This usually takes about five minutes."
She also cautions, "Because the cook time for the ravioli is so short, you will definitely want to make sure the lobster is fully cooked before you make the filling."
To serve up your homemade lobster ravioli that you really, truly, impressively cooked from scratch, add raviolis to a dish or plate, and pour the sauce over the top. Pull of a truly "wow" moment by garnishing each serving with shaved Parmesan cheese, chopped parsley, and fresh lemon zest. Enjoy! No, like seriously — enjoy!
1 cup + 3 tablespoons all-purpose flour (plus some extra for dusting), divided
2 large eggs
2 tablespoons olive oil
½ shallot, finely chopped
5 cloves garlic, finely chopped
5 tablespoons unsalted butter
1 tablespoon + 1 teaspoon parsley, finely chopped, divided
10 ounces lobster meat, fully cooked
3 tablespoons + 1 teaspoon lemon juice
4 ounces goat cheese
2 cups half and half
zest of 1 lemon
⅓ cup shaved Parmesan cheese
salt, to taste
pepper, to taste
Pour 1 cup of all-purpose flour and a pinch of salt onto a clean work surface.
Use your fingers to create a well in the middle of the flour pile, and crack 2 eggs into it. Using a fork, gently start mixing the eggs into the flour. Then, use your hands to knead together.
Pour 1 tablespoon of olive oil onto the dough, and work in until you have a smooth, even dough ball. Wrap the dough ball in plastic wrap, and set aside to rest.
Chop ½ of a shallot and 1 clove of fresh garlic so they are in very small, fine pieces.
Heat up a skillet to medium-high heat, and add in 1 tablespoon of olive oil and 2 tablespoons of butter.
Once the butter is melted, add in the chopped shallot and garlic, and cook for 5 minutes. After it is done cooking, set it aside to cool for a few minutes.
While the shallot and garlic are cooking, chop your parsley finely so it is ready to go.
Rip the fully cooked lobster into small pieces, and set aside with the parsley.
Put the lobster pieces, 1 teaspoon of parsley, cooked shallots and garlic, and 1 teaspoon of lemon juice to a bowl, and mix until combined. Add in the 4 ounces of goat cheese, and mix until everything is evenly combined. Then, set the mixture aside.
Heat up the same skillet as before to medium heat, and add in 3 tablespoons of all-purpose flour and 3 tablespoons of butter. Mix together thoroughly while cooking.
Finely chop 4 cloves of garlic, and add to your flour/butter mixture. Cook for 5 to 7 minutes, until cooked thoroughly.
Slowly mix in 2 cups of half and half, and continue cooking until it reaches a low boil, stirring often.
Add in the zest of 1 lemon, ⅓ cup of shaved Parmesan cheese, 3 tablespoons of lemon juice, and 1 tablespoon of chopped parsley.
Add salt and pepper to taste, then move the sauce to the back burner.
On a clean surface, lightly dust with flour, then unwrap the pasta dough, and begin rolling out with a rolling pin. Roll into a large, fairly thin sheet.
Using a sharp knife or a pizza cutter, cut the dough into even squares about 1 ½ x 1 ½ inches.
Spread half of the squares out, and scoop a generous dollop of the filling onto the center of each one, making sure to leave some room around the edge of each.
Brush the edges lightly with water, then place another pasta square on top of each dollop of lobster filling. Use a fork to carefully clamp the sides of each ravioli shut.
Cook the ravioli in boiling water for 5 to 7 minutes before removing carefully with a slotted spoon.
Plate up your ravioli and pour on the sauce. Optionally, you can garnish with more shaved Parmesan, parsley, and lemon zest.