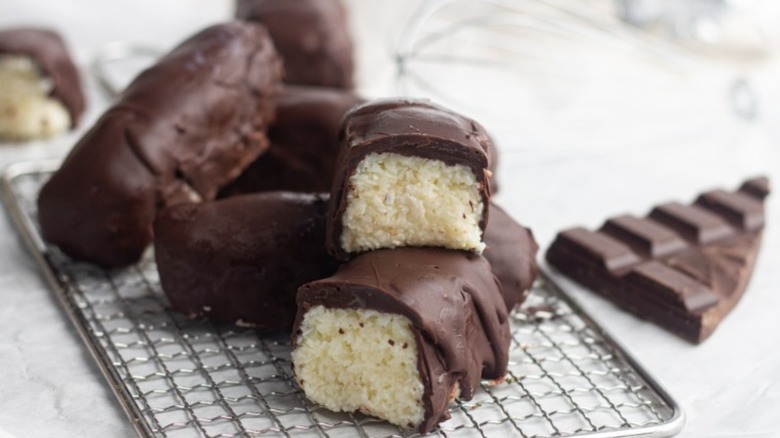 If you were watching television in the 1970s, then you're probably going to be familiar with the perky advertising jingle that the Peter Paul candy company used to use — everywhere and all the time — to market its Mounds and Almond Joy candy bars. "Sometimes you feel like a nut, sometimes you don't. Almond Joy's got nuts. Mounds don't," the jingle went. "Almond Joy's got real milk chocolate, coconut, and crunchy nuts too. Mounds got deep dark chocolate and chew coconut … oo!" (via YouTube).
But now that we're thinking about it, if you're reading this, then there's a pretty good chance you're not feeling so much like a nut at this point in time. And that is a very good thing because Susan Olayinka, recipe developer and food blogger at The Flexible Fridge has developed this recipe for homemade Mounds bars that is "basically a replica" of the classic dark-chocolate, non-nutty Mounds candy bar. Of course, if you do feel like a nut and want to add them … go for it.
Gather your ingredients for this homemade Mounds bar recipes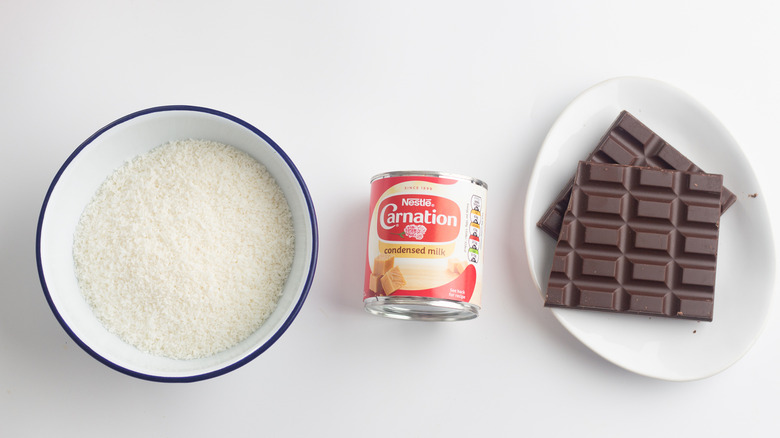 Before you go out and buy your ingredients for this homemade Mounds bars recipe, we have to warn you: Once you've made these homemade Mounds bars, there's a really good chance you're never going to buy another Mounds bar again. Because why would you? With a mere three ingredients, you're getting almost exactly what you'd be getting if you were to buy a factory-produced Mounds bar — which contains way more ingredients, including "sodium metabisulfite to maintain freshness" (via Smart Label).
Here are those three ingredients you'll need for your homemade version: two cups of desiccated coconut (i.e., shredded, dried coconut meat), one can of sweetened condensed milk, and seven ounces of dark chocolate. Yep, that's it!
Start by mixing the coconut and the condensed milk together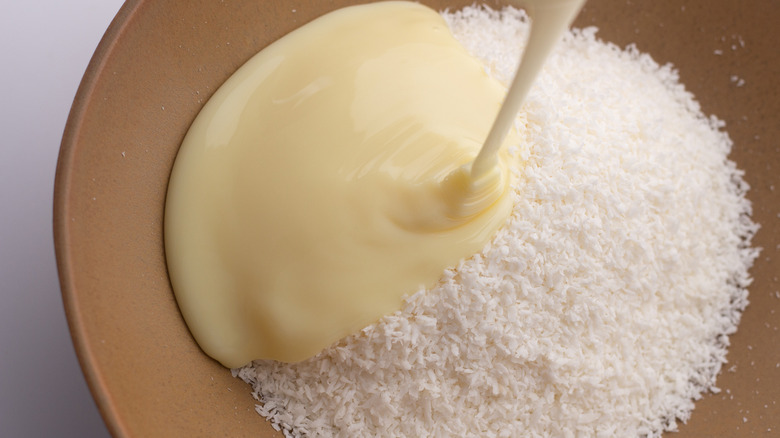 Place the two cups of desiccated coconut and the entire contents of one can of sweetened condensed milk into a nice roomy mixing bowl. Now go ahead and mix up these two ingredients until they are fully incorporated into one another.
Oh, and just in case you're wondering what sweetened condensed milk even is, recipe developer Susan Olayinka explained to Mashed that "it's basically milk and sugar boiled down so that it's like a creamy syrup." She also said "it tastes so good … like caramel goodness" and that it just happens to be "the best product known to man."
Freeze the coconut and condensed milk mixture in a silicone pan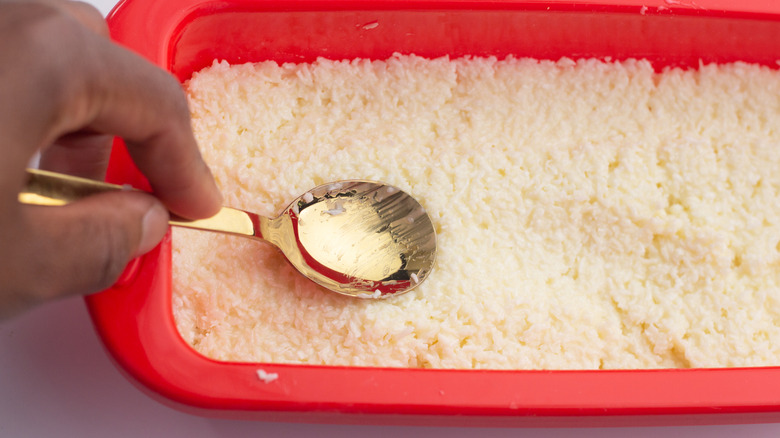 For this next step, you'll need a silicone loaf pan — in which you're going to freeze the coconut and condensed milk mixture to form the insides of your homemade Mounds bars. The reason Olayinka has specified silicone is because the candy won't stick to it the way it would stick to a metal or glass pan. If you don't have a silicone loaf pan, Olayink suggests lining the pan you do have with a sheet of parchment paper. This will make taking the candy out that much easier.
Press the coconut and condensed milk mixture into the pan, leaving no space. Place the pan in the freezer for three hours.
It's time to start melting your chocolate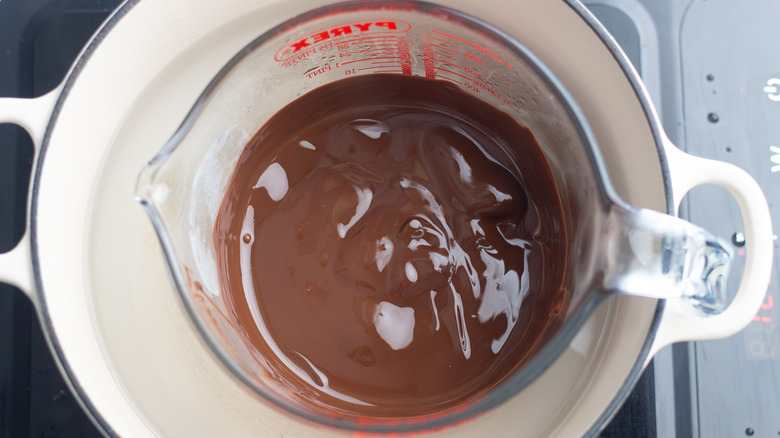 Once two hours and thirty minutes have passed — or any time after that, you can start melting the chocolate, which will coat the coconut and condensed milk mixture. To melt the chocolate, Olayinka recommends the following double-boiler method: Get a small saucepan, pour water into it, and bring the water to boil over medium heat. As soon as the water begins bubbling, turn the heat source to low, and place a glass mixing bowl or measuring cup inside the saucepan. Break your chocolate into the bowl or cup. It will melt within three to four minutes.
Now it's time to slice and shape your homemade Mounds bars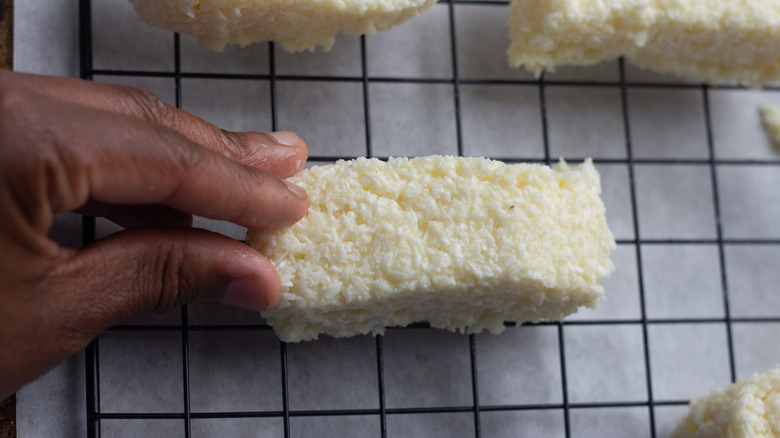 Once the full three hours of freezer time has gone by, you can take the silicone loaf pan containing the coconut and condensed milk mixture out of the freezer. Place the pan on a nice, clean chopping board, and then turn over the pan to release the now-frozen coconut and condensed milk mixture onto the chopping surface. Slice into six bars of about three and a half inches by one inch. Then round the edges of the bars so that they resemble the rounded-edged shape of commercial Mounds bars. Now on to the chocolate.
That melted chocolate isn't going to drizzle itself, you know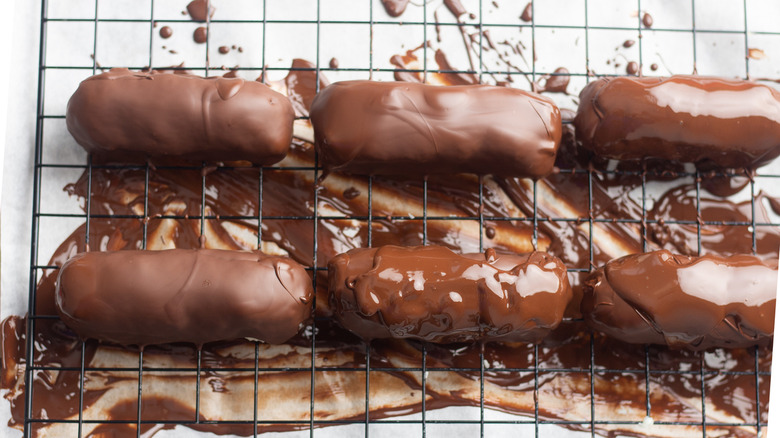 Time to give your homemade Mounds bars what you know they've been waiting for: a generous drizzle of melted chocolate. To do this, place parchment paper on a baking tray, and an oven rack (or you could use a cooling rack as shown) on top of the parchment paper. Now transfer your coconut bars onto the rack, and generously drizzle that melted chocolate all over them. Freeze for a minimum of one hour, at which point your homemade Mounds bars will be ready to serve and enjoy. On the off-chance you have leftovers, they can be stored in an airtight container in your freezer.