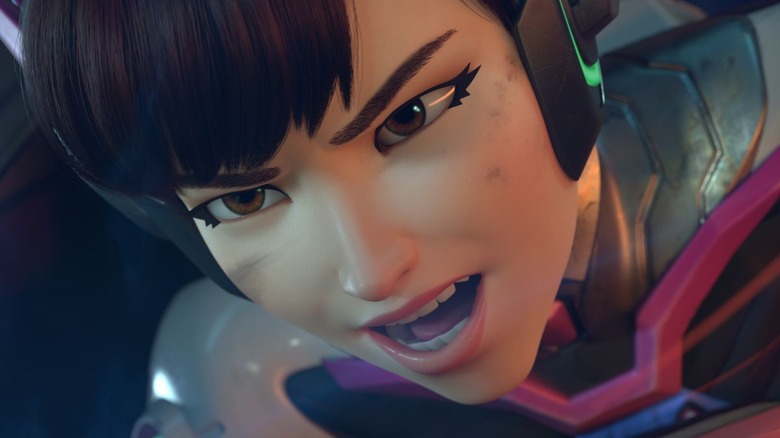 "Overwatch," Blizzard's mega popular team-based shooter, has been around since 2016, but a recent addition of cross-play for all platforms has breathed new life into the game. Now, players can interact with gamers from all sorts of different backgrounds and enjoy the rich mythology of the "Overwatch" world.
Part of what makes "Overwatch" so compelling is its expansive list of voice actors, who bring life to each unique character. Some of the voices might sound familiar to gamers, but players might not know that in addition to being talented, the cast is also drop dead gorgeous. From voice acting legends like Matt Mercer to jokesters like Jonny Cruz, the "Overwatch" cast has no shortage of beautiful people working together to make the game fun.
Even though some streamers think newer games might pose a threat to "Overwatch," the title keeps going strong, and even has a professional esports league dedicated to it. It seems like nothing can stop "Overwatch," so fans might as well get to know its incredibly attractive cast now — especially before "Overwatch 2" takes over the hero shooter scene.
Anjali Bhimani – Symmetra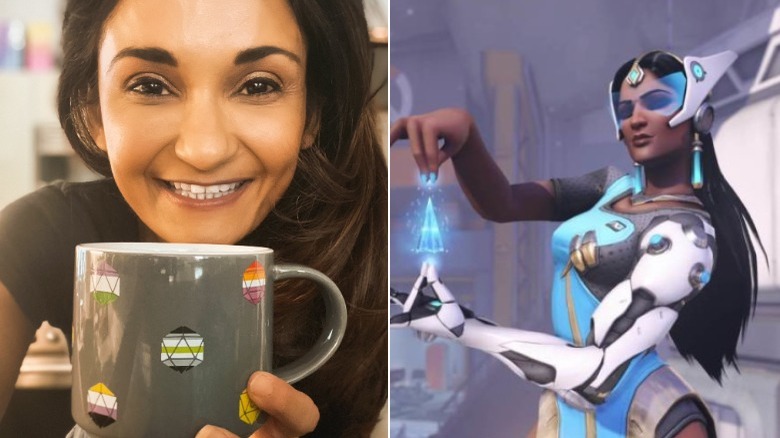 Anjali Bhimani is cool and collected as Symmetra in "Overwatch," but in real life, the beautiful actress is optimistic, bubbly, and supportive of her peers and fans. Gamers might recognize Bhimani as Rampart in "Apex Legends" or as Yasmin Chowdury in "Fallout 76," but she's also had on-screen roles on "Young Sheldon," "Modern Family," and "Runaways." Bhimani has also appeared on streaming shows, lending her talents to a mini-arc of the roleplaying series "Critical Role." In "UnDeadwood," Bhimani played alongside her "Overwatch" costar Matt Mercer, bringing a zombie-themed Western world to life.
Bhimani also has a life outside of voice acting, devoting her time to several passion projects, including charity work and activism. For example, to help raise money for a Covid-relief charity, Bhimani offered to play songs on her ukulele for those who made donations. Really, many of Bhimani's passion projects seem to focus on helping others feel supported and less alone. Her YouTube channel features a series called "I Am Fun Sized," in which Bhimani interviews other actors and media personalities about life and positivity. The name of the show is a playful reference to Bhimani's own small stature.
Cara Theobold – Tracer
Tracer is, in many ways, the face of "Overwatch." She appears on the cover of the game, in many promotional materials, and she's one of the few video game characters who are openly gay, which has raised her profile even more. Even outside of her place as the unofficial mascot of "Overwatch," Tracer is undeniably cute, with an adorable pixie haircut and oversized goggles.
Her voice actress, Cara Theobold, is similarly gorgeous, though she has a different look entirely. Where Tracer has short, spikey locks, Theobold has long, wavy tresses. That being said, her smile is just as infectious as the one on her fictional character's face.
Theobold has also appeared in the comedy-horror series "Zomboat!" as well as "The Syndicate." However, fans might recognize her most from her recurring guest role on the drama "Downton Abbey." Even though she's an actress now, Theobold originally wanted to be a veterinarian and to capitalize on her love of animals. Now, in addition to acting, Theobold paints her cares away with colorful palettes. While she doesn't post pictures of her finished work often, Theobold often shares a look at her painting setup on social media.
Unlike many actors in "Overwatch," Theobold seems like an on-camera performer who sort of stumbled into voice acting. Most of her credits are from film and television, and "Overwatch" seems like the outlier. Regardless, Theobold is clearly delighted to be part of the "Overwatch" fan community.
Charlet Chung – D. Va
Charlet Chung, who voices the mech-driving D.Va, is just as beautiful as her "Overwatch" counterpart. The daughter of Korean and Japanese immigrants, Chung grew up in California and expressed an interest in acting from a young age. However, it took Chung years to fully embrace acting as a career, and she earned a degree and pursued a job in broadcasting before leaning into performing full time.
In the years since, Chung has earned a variety of live action and voice over roles, including recurring spots on "Craig of the Creek," "Carmen Sandiego," and "Fast and Furious Spy Racers." Chung also provided additional voices for the "Final Fantasy VII Remake," helping to bring the bustling city of Midgar to life.
Despite her other roles, "Overwatch" holds a special place in Chung's heart. She's tweeted her support of the fan community as well as her co-stars, who recently celebrated five years of "Overwatch" goodness.
Like many actors in the "Overwatch" cast, Chung also has her eyes on a brighter future that includes less hatred. She tweeted, "It is in our (Asian/Asian-American) culture to often not self-advocate. This kind of mentality doesn't fit into American culture. Seeing that I'm American, I'm here to say #StopAsianHate." Chung hopes to see a more supportive community in the future, not one divided by hate.
Crispin Freeman
Crispin Freeman is a voice acting legend with credits in a variety of anime, video games, and films. In "Overwatch," Freeman voices Winston, the hyper-intelligent and genetically modified gorilla, and he's also appeared in "Demon Slayer," "Naruto," and "Fate/stay night."
Freeman resembles an earlier era of Justin Timberlake, with his blonde curly hair and welcoming, broad smile. He also helps raise money for various charities, including one that benefits horses, Win Place Home. Freeman also supports the "Overwatch" fan community and sometimes streams the game for fans. It's always a pleasure to see cast members play games they feature in, and Freeman is no exception.
In an interview about voice acting, Freeman remarked, "I think that people look up to voice actors for the same reason that they look up to on-camera actors. These actors embody a character or an archetype that they either admire or identify with." Freeman went on to say that video games and animation have two actors that bring a character together, the animator and the voice over artist. Freeman also said that voice actors can't hide behind good looks. Every voice actor must gain work based on the strength of their performance. Regardless, Freeman provides both good looks and excellent performances, giving fans the best of both worlds.
Dolya Gavanski – Zarya
Dolya Gavanski doesn't have the same look as her "Overwatch" counterpart, Zarya. The iconic tank character with hot pink hair has muscles galore and a powerful move-set, whereas Gavanski appears to be gentle and overtly feminine. That being said, Gavanski and Zarya both share a fighting spirit and love for life.
Most recently, Gavanski celebrated International Women's Day by heading up a project meant to amplify the voices of all types of Russian women, from the 1917 Russian Revolution to today. Gavanski's dedication to telling the stories of Russian women, who sometimes get overlooked in history, mirrors Zarya's dedication to her own causes.
Gavanski supports the "Overwatch" fan community by frequently posting fanart of Zarya on her Twitter profile. In one such post, she said, "Love the creativity inspired by #Zarya. Keep on sending me your works!" Gavanski's acceptance of the fan community shows her investment in her career, as well as in the people who made "Overwatch" such a success.
Occasionally, members of the "Overwatch" will take part in special events for the fans, and Gavanski seems more than game for those moments. For example, Gavanski once participated in an "Among Us" tournament with her fellow "Overwatch" costars, much to the delight of viewers.
Evelyn Duah – Athena
Athena has an interesting role in "Overwatch," serving as both the narrator of the game and an inspiration for later characters like Echo. Evelyn Duah brings an enormous amount of life and personality to Athena, even though Athena isn't really alive at all. In real life, Duah is stylish, imposing, and beautiful, but in "Overwatch," she voices an AI system that serves to help players navigate the game. She's an announcer of sorts, but she's also an essential and iconic part of the game.
Duah's social media presence is limited, but she does have a public Twitter account, where she infrequently posts about projects she's working on and shares many lovely photos of herself. Duah has a warm, boss mom energy about her, as evidenced by a Women's Day post from 2019. In a short video, Duah seems surprised that her phone began filming instead of taking a picture. Still, she rolls with the punches and continues to give an encouraging message to her fans.
Duah has been acting since the 1990s and continues to work while also pursuing her own passion projects and taking care of her family. Just as Athena mothers the "Overwatch" cast by guiding them through the world, Duah helps guide her fans to a more positive mindset by celebrating life.
Gaku Space – Genji
Genji, the resident sword-wielding assassin in "Overwatch," might have more in common with his voice actor than one would initially think. Genji was one of the "Overwatch" characters that made their way into "Heroes of the Storm," another Blizzard game. Needless to say, he's pretty popular. And although Gaku Space isn't a cybernetically augmented warrior, he's impressive in his own right.
Space diverged from the family business of professional baseball to pursue a career in acting, landing roles on a variety of television shows, including "How I Met Your Mother" and a "Street Fighter" web series.
Instead of just playing "Overwatch" for special events, like many of his costars, Space has his own gaming YouTube channel, where he practices playing as (who else?) Genji. Space has improved his technique over the past year on his YouTube channel, taking viewers along on his journey to become a competitive player.
Space also spends considerable time working on his fitness, as evidenced by a Halloween costume he posted to his Instagram in 2020. In the photo, Space wore a traditional robe and held a katana over his shoulder. No doubt about it, Space is attractive in the same mysterious and brooding way as Genji.
Jen Cohn – Pharah
Jen Cohn is a punk rock princess with more acting credits than you can shoot a blaster at. Animation fans may known Cohn from her recurring role as Ursa on "Avatar: The Last Airbender." She's also been in several video games, including "World of Warcraft" and "Grand Theft Auto 5."
Cohn is proud of her work on "Overwatch," in which she voices Pharah. An image of Pharah is the header on her Twitter profile, through which Cohn frequently hosts giveaways and announces when she's going to stream live on Twitch. Instead of streaming gaming content on Twitch, however, Cohn regularly hosts Q&A sessions to speak directly to fans about different topics.
In one particular interview on Twitch, Cohn talked about flexibility as a crucial component of being a voice actor. She said that to be flexible and free-spirited, people have to learn how to let things go.
"You can't let 'perfect' be the enemy of 'done,'" Cohn said. "And you can't let 'perfect' be the enemy of 'good enough.'" Basically, sometimes just doing a job is better than not getting the job done at all. Cohn's professionalism and flexibility shine through when she speaks about her work, and it's easy to see why she's been successful in the acting sphere.
Jonny Cruz – Lucio
On IMDB, "Overwatch" fans can get a peek at Jonny Cruz's many acting credits. In addition to voicing Lucio, Cruz has had several parts in other properties, including Netflix's "Seis Manos." Cruz's headshot on IMDB is professional, orderly, and slightly misleading — especially when you know how much fun he can be.
Fans who take a peek at Cruz's social platforms, like Twitter, will quickly see that the actor keeps busy in various ways, including streaming on Twitch and creating YouTube videos. Cruz frequently streams on Twitch, where he takes special pride in messing with "Overwatch" players.
In a session with streamer Jay3, Cruz also revealed himself to be an expert level troll. Cruz told some fellow "Overwatch" players (who didn't realize who he was) that he had been working on a Lucio impression and wanted to practice that impression and get their feedback. Of course, Cruz performs a perfect Lucio impression because he is Lucio. The other gamers were shocked to hear such an "accurate" mimicry of Lucio, and they almost didn't want to believe him when he came clean. Instances like this are examples of how playful and fun-loving Cruz can be.
It also doesn't hurt that Cruz is absolutely stunning, with an actor's good looks and trickster's sense of humor.
Keith Silverstein – Torbjorn
Anyone who plays video games has probably heard Keith Silverstein's voice. The talented actor has lent his pipes to massive titles like "Call of Duty: Black Ops – Cold War," "Crash Bandicoot 4," and "Final Fantasy 7 Remake."Meanwhile, "Genshin Impact" fans know Silverstein as Zhongli, a somewhat controversial character that fans scrambled to get for their rosters. He's even prominently featured in the wildly popular Netflix fantasy series "Beastars."
In "Overwatch," Silverstein plays Torbjorn, a short but mighty damage dealer with a deep mistrust of sentient robotics. While Torbjorn is always suspicious of how people use technology in their everyday lives, Silverstein frequently uses technology to bridge the gap between him and his fans.
Silverstein is a lovable geek on his social media, showing off his fandom memorabilia every Thursday (or "Toysday"). He most recently shared a Simon Belmont figurine, humorously commenting on the figure's unrealistically muscled physique. Silverstein is also a big fan of the late, great Prince and often posts his favorite vinyl records or tributes to the famous artist.
For those wanting to get a little more personal with Silverstein, he'll also record a short video for you or a loved one on Cameo.
Lucie Pohl – Mercy
A voice actor rarely loves their character so much that they want to dress up as them, but Lucie Pohl did just that when she donned Mercy's witch costume in a stunning cosplay.
Pohl is mainly known for voicing Mercy in "Overwatch," but she's also played various roles in film and television. As a German-American actor, Pohl can speak both German and English. As such, she has performed extensively in both German-language and English-language projects.
There are many reasons that Pohl loves voicing Mercy. "My favorite thing about Mercy is that she's a very feminine character, very empathetic," Pohl said in an interview with In the Know. "She's all about helping others. But then she's a doctor, very educated, super tough … she's a real woman." Pohl explained that she thought audiences should see women in video games as they are in the real world: capable and hardworking. As part of the interview segment, Pohl also dressed up as Mercy in her witch variant character skin, living out her dream of becoming her iconic character.
Matthew Mercer – McCree
Matthew Mercer wears many hats — sometimes literally. He has over 400 acting credits to his name, so it's likely "Overwatch" fans heard him before his turn as McCree. He's even part of long-running "Dungeons & Dragons" streaming group and web series "Critical Role." There, he plays the classic roleplaying game with a group of other nerdy voice actors, leading the group with enthusiasm and lots of character voices.
In an interview, Mercer said he developed the voice of McCree the same way he'd develop any other character, because he had to audition for the role. After seeing the announcement trailer for "Overwatch" at BlizzCon, Mercer knew he wanted to be a part of the project, but he had to figure out how. So Mercer auditioned for McCree months later, giving the character a laid-back, Texan drawl that sounded relaxed and confident. Luckily, his audition landed him the role, and Mercer is now the resident cowboy of the "Overwatch" Universe.
In 2019, Mercer dressed up as McCree for the "Critical Role" Halloween special. A month or so later, he even had a professional photoshoot in the costume, bringing the character to life in both voice and body. Fans reacted with joy, with one commenter declaring it "high swoon!"
Travis Willingham – Hal
Like Matthew Mercer, Travis Willingham also appears on "Critical Role," where he plays "Dungeons & Dragons" with his wife and fellow voice actor Laura Bailey. Additionally, the couple voices Black Widow and Thor in "Marvel's Avengers," making them an absolute power duo in the voice acting world. Willingham has also appeared in "Full Metal Alchemist Brotherhood," "Sonic Boom," and "Naruto," just to name a few titles out of his hundreds of credits.
In "Overwatch," Willingham plays Hal-fred Glitchbot, a mysterious film director who never physically appears in the game. Players are left to wonder what Glitchbot looks like, as they only hear his voice from deep within a sleek, black car. In real life, no one wants to hide Willingham away. The handsome dad has a heart as big as his biceps. He frequently works with nonprofits through Critical Role, like the 826LA Project, which aims to help kids develop their imaginations and critical writing skills. In addition to working with 826LA on stream during Critical Role, Willingham frequently tweets to show his support of the project.
Willingham is from Texas and wears his origin proudly. His brother is an almost perfect voice match for Willingham, but Willingham doesn't always see the family resemblance. Regardless, no one can match Willingham's charm in the voice acting booth, as evidenced by his wide range of roles throughout the years.
Zhang Yu – Mei
Zhang Yu's only acting credits on IMDB relate to "Overwatch," but that doesn't mean the actress lacks charm. In fact, she oddly got the role of Mei after taking voice acting classes for fun. The "Overwatch" team mistook Zhang for an English student, remarking that her English was very good, and subsequently hired her to voice Mei. Little did they know Yu actually worked in chemical engineering.
Yu has a cute charm that endeared her to players almost accidentally. For example, one of Mei's most iconic lines was a mistake caught on tape in the recording booth. In "Overwatch," Mei frequently tells others she's sorry, even if she's deliberately attacking them, making for some very funny moments during intense play. That string of apologies was the result of Yu herself apologizing for messing up while recording. The line helps bring Mei to life and illustrates the gentle spirit of both Mei and Yu.
In interviews, Yu has admitted that her favorite lines in "Overwatch" are references to Disney's "Frozen," and that she gets a kick out of turning those lines into songs.
Carolina Ravassa – Sombra
There are several similarities between voice actress Carolina Ravassa and her character in "Overwatch," Sombra. For starters, they both have sported an iconic half-shaved hairstyle, and they both have Latin American roots, although they hail from different parts of the world. Where the punk rock haircut might look intimidating on others, Ravassa makes it look more "high fashion" than "grungy rock show." While Ravassa might not be a mastermind hacker in real life, she still has many impressive credits to her name.
Ravassa is a Columbian actress who has had roles in hit TV shows like "The Affair" and "Mr. Robot." Additionally, the beautiful actress appeared in English and Spanish language productions. She also voiced Raze in "Valorant," another competitive battle royale-style game.
Ravassa's Twitter bio declares her a "salsa dancing addict," but her busy schedule doesn't often leave time for dancing. Ravassa frequently streams on Twitch, where she talks with other voice actors about performing and life.
Cherrelle Skeete – Orisa
No one would expect the voice of Orisa, a heavy-hitting, one-month-old robot, to be absolutely gorgeous, yet she is. In addition to her role in "Overwatch," Cherrelle Skeete is an actress with many credits to her name. She's had recurring role on the TV series "Hanna" and "Doctors." She's also lent her voice to "World of Warcraft: Battle for Azeroth." Oh, and she originated the role of Rose Granger-Weasley in "The Cursed Child."
In addition to being a brilliant actress, Skeete is also an activist. Skeete co-founded Blacktress UK, an organization that advocates and highlights women performers from the African diaspora. In 2021, she directed a production of "Michael X" at the Almeida Theatre. Around the same time, she also participated in an event at the Almeida Theatre that "[brought] to life the voices of Black Caribbean women."
Skeete is also a proud part of the LGBTQ+ community and identifies as pansexual. Skeete's work seeks to provide an outlet for those traditionally denied a spot in theatre and film, and it's exciting for fans to see her using her platform to help others. She's gorgeous both inside and out.
Cathy Shim – Myung
Cathy Shim voices Captain Myung, the leader of D.Va's MEKA squad. While the character doesn't have a physical representation in "Overwatch," Cathy Shim is gorgeous in real life. Her bright smile and warm eyes hint at the intelligence and charisma just beneath the surface.
Shim is best known for her role on "Reno-911!," in which she played the character of Mrs. Junior, acting alongside her real-life husband, Robert Ben Garant. While some might see Mrs. Junior as a parody of various stereotypes, Shim has tweeted out her thanks to the creative team behind "Reno-911!" She thanked them for the opportunity to bring her real family on screen to show a realistic portrayal of Asian Americans on television and called the results "Fearless, hilarious & authentic af."
Shim works to advocate for Asian Americans in all of her work, and frequently tweets in support of efforts against Asian American violence. She declares herself to be a "Proud Immigrant. Proud Daughter of resilient immigrant parents. Proud Mama to American babies."
Jennifer Hale – Ashe
To put it lightly, Jennifer Hale is a voice acting legend. She's been in over 400 productions and shows no sign of slowing down any time soon. Gamers might recognize Hale as the female voice of Captain Shepard in "Mass Effect" or as Galadriel in "Middle Earth: Shadow of War." However, she's acted in a wide variety of films and television as well. Hale has been working since the late 1980s and she's just as beautiful as ever. Though Hale's character in "Overwatch," Ashe, is a little messed up, Hale herself has a heart of gold.
In an interview with The Washington Post, Hale explained that she accidentally started working as a voice actor. After being called in to record a commercial for a company next door to her workplace, Hale wondered if she could make a career by getting paid to talk. It turns out that she could. After cold-calling many agencies, Hale began lending her voice to various cartoons and video games, quickly building her reputation as a reliable and talented actor.
Whether she's voicing the wild outlaw Ashe or Cinderella, Jennifer Hale is a wonderful addition to any voice cast she participates in.
Boris Hiestand – Sigma
Boris Hiestand has worked on both sides of the camera as an actor and a production member on several titles. Hiestand lent his voice to "Assassin's Creed Valhalla" as well as "Anthem," quickly establishing him as a recognizable voice in the video game world. That being said, Hiestand is a handsome actor who feels comfortable performing in live-action content, as well.
In "Overwatch," Hiestand voices Sigma, the 31st hero introduced to the game. The villainous Sigma was a late addition to the game, making his first appearance in 2019, years after the initial release of "Overwatch." Fans were confused by Sigma's character design, which doesn't include shoes. One "Overwatch" character artist explained that the team was trying to communicate that Sigma had spent a lot of time in an asylum, but this angered fans who saw the coding as discriminatory.
Luckily, Hiestand and Sigma don't have much in common besides their voices. Hiestand's strong jaw and blonde hair are enough to make anyone's heart pitter patter, standing in stark contrast to his cold and analytical character.