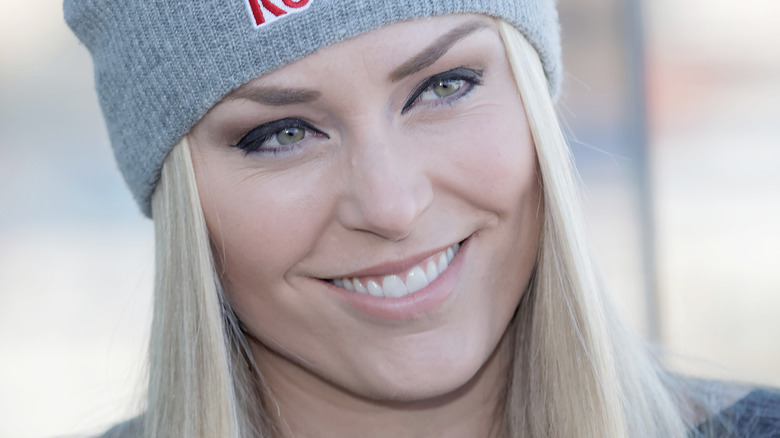 On the surface, it seems like Lindsey Vonn has everything. The star is one of the most successful professional skiers of all time, racking up four World Cup overall championships, 82 World Cup victories, three Olympic medals (including one gold!) and plenty more seriously impressive accolades. The New York Times even dubbed her "the greatest female skier in history."
But things haven't always been so rosy for the athlete. Vonn has been very open about the struggles she's experienced both in her personal and professional life and is now dedicated to giving back and helping others. In what Vonn describes as one of her proudest moments, she founded the Lindsey Vonn Foundation in 2015 while recovering from an injury (via USA Today), which aims to empower girls. "We give scholarships to kids for education-based programs, enrichment programs, also sports programs," she told Kevin Hart on "Cold As Balls" in December 2020.
"I feel like everyone's put on the Earth for a certain reason, and I thought it was ski racing for a long time," Vonn added of her charitable efforts on "In Depth with Graham Bensinger" in October 2020. "Ski racing is just a vehicle for me to do other things that are more positive,. and where I can help people."
But what kind of adversity has Vonn overcome to reach the place she's at today? Read on for some of the tragic details you may not know about Lindsey Vonn's life and career.
The sad truth behind Lindsey Vonn's picture-perfect marriage to Thomas Vonn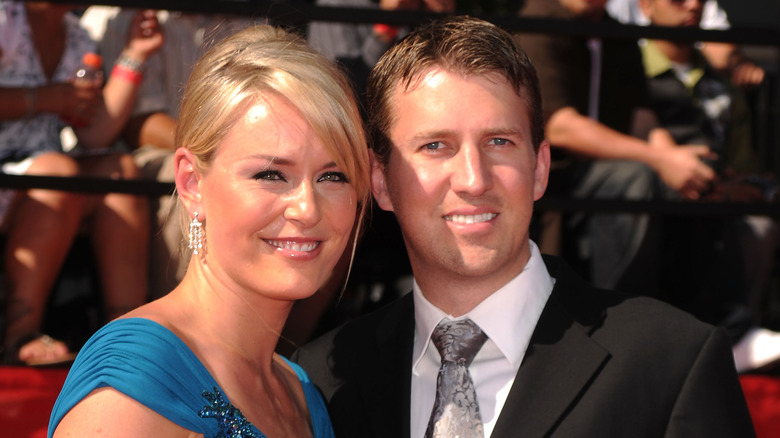 Lindsey Vonn was married from 2007 until 2013, but, unfortunately, that relationship didn't end on the best note. The star separated from fellow ski racer, Thomas Vonn — who was also her manager and coach — in 2011 (via ESPN) and Lindsey has made no secret of the fact that the latter part of her marriage wasn't exactly filled with glee.
At the time, Lindsey's career was on an all-time high after she was crowned the World Cup overall champion from 2008 until 2010, as well as taking home a gold medal at the 2010 Olympics. But she wasn't riding quite so high behind closed doors. "Everyone saw me on TV, or read articles, and it was all about my great marriage, the white picket fence, all this success and my perfect life. But behind the scenes, it was a struggle," she told People in 2012. "Everyone knows marriage is tough but it just wasn't working, and it was making me miserable," she added.
"Nothing bad happened but there was just unhappiness. That's the only way I can even describe it — unhappy," Lindsey said, noting that she at first put off divorcing her then husband because it didn't fit her "cookie-cutter image." However, the star knew it was time to call it quits when she said to herself, "'I don't care if I ever win another race; I just can't live like this.'"
Lindsey Vonn experienced depression throughout her life
Lindsey Vonn has been very vocal about her experience with mental health issues, particularly her struggles with depression. Speaking to People in 2012, she admitted that although her life might seem "perfect" on the surface, she endured the common "struggle[s]" of many non-elite athletes. The star recalled one particular time in 2008 when things got so bad "couldn't get out of bed anymore" because she "felt hopeless, empty, like a zombie."
Vonn opened up how her depression first began when she was younger, sharing how instead of getting professional help she would turn her attention to sport. "I always channeled what I felt emotionally into skiing — my insecurities, my anger, my disappointment. Skiing was always my outlet, and it worked," she said, noting she initially felt some "shame" about the way she was feeling. Vonn began feeling depressed again while married and realized that even skiing wasn't making her happy anymore, which is when she sought help from a doctor who prescribed her antidepressants. After seeking help, the star shared she felt like a "different person."
Vonn also opened up about her experiences at the Blue Cross Blue Shield's Health of America Forum in 2019, where she shared that "therapy and medication drastically improved [her] life" (per Detroit News). She added to People in 2021 that she initially considered depression to be a "weakness" but feels the subject now being discussed more openly "is definitely a weight lifted off [her] shoulders."
The divorce of her parents was rough on Lindsey Vonn
In addition to her mental health experiences, Lindsey Vonn has also been very vocal about the detrimental effect her parent's divorce had on her when she was a teenager. The star's mom and dad, Alan Kildow (pictured above, far right) and Linda Krohn (pictured above, far left), split in 2003, and Vonn has gotten very candid about her devastation over the family turmoil.
"When my parents were getting divorced, I just said to myself, 'Go to sleep and tomorrow you can go skiing,'" Vonn, who was around 18 years old at the time of their split, recalled to People in 2012, admitting there were many nights she would actually cry herself to sleep.
The star admitted that skiing helped her deal with the pain at the time, as she would hit the slopes the next day and that would take her mind off the difficult situation at home. "When I ski, I'm happy," she said.
Lindsey Vonn had a strained relationship with her father
Following her parent's divorce, Lindsey Vonn's relationship with her dad, Alan Kildow — who was also a former competitive skier — became estranged. Lindsey revealed to Sports Illustrated that her relationship with Thomas Vonn was a big source of contention between the two, as Alan didn't approve of their relationship because of their nine-year age difference. Lindsey was in her late teens when she first met Thomas, who was in his mid-20s (per The New York Times ).
Lindsey admitted that her dad's disapproval "forced [her] to take sides" and she picked Thomas, resulting in Alan refusing to attend their wedding and the two being estranged for several years. Lindsey also shared that part of their rift developed from Kildow's high expectations for her career. "He always supported me when I did well, which was 90 percent of the time, but when I didn't, he didn't handle it very well," Lindsey told The Denver Post in 2010. "It was so hot and cold. It was so much criticism and so much negativity, and it was really hard to balance my emotions."
Lindsey and Alan reconciled in the wake of her divorce from Thomas, with the former telling The New York Times in December 2011, around a month after she filed for divorce, that her dad was "helping [her] through" the split. "It's really great to talk to him again. We're trying to start over," she added.
Heartbreak over her split from P.K. Subban led to 'empowerment' for Lindsey Vonn
Lindsey Vonn experienced heartbreak after she announced her split from P. K. Subban in December 2020. The two started dating in June 2018 and Subban popped the question in August 2019, with the couple regularly showing off their love for one another on social media.
They also proudly gushed over their romance in interviews, with Vonn telling the Los Angeles Times in November 2019 that she felt "so lucky" to have "found" him. "He just loves me for me and that's something that I've never found before. I'm looking forward to being his wife and starting a family if we're lucky enough to be able to do that. This is the start of a big and exciting chapter in my life," she said.
Vonn and Subban announced their split on Instagram in December 2020, with both posts now deleted. In hers, Vonn called Subban "a kind, good man, and someone [she respects] a great deal" (via Fox News).
The split appeared to be a rough one, as Vonn opened up about going through a "painful and difficult" time during an April 2021 interview on "What I've Learned, with Arianna Huffington." She shared that she channeled her feelings into sport, agreeing with Huffington's sentiment that "we can find empowerment in another part of our life, while we are going through the pain of a breakup or whatever it is in our personal lives."
Gruesome injuries plagued Lindsey Vonn's career
It's no secret that Lindsey Vonn's career was plagued with injuries. She suffered a particularly nasty wreck in January 2014 that saw her unable to compete in that year's Olympics, leading her to tell fans via Facebook that she was "devastated."
The 2013 World Championships saw Vonn airlifted from the course after tearing her ACL and MCL and suffering a fractured tibial plateau (via The New York Times). But the grisly extent of Vonn's physical afflictions throughout her career goes much further. The superstar athlete suffered everything from bruised hips to broken ankles, arms, knees. She even once lacerated a tendon thanks to a jagged champagne bottle.
When Vonn decided to retire, she revealed that her multiple injuries inspired her to call time on her career as she recovered from knee surgery. "I was in bed, alone, like 'What the hell am I still doing here? How many times am I going to sit in this bed? I don't want to be in this bed my whole life,'" she told Powder. "That's when I knew it was time." In her heartbreaking retirement announcement on Instagram, Vonn wrote, "My body is broken beyond repair … [and] screaming at me to STOP and it's time for me to listen."
Lindsey continued to ski for recreation in retirement, but it took her a while to get over the pain. "I still feel like an old, crippled woman sometimes," she told Ski in February 2021.
Lindsey Vonn found herself embroiled in a cheating scandal with Tiger Woods
Lindsey Vonn hasn't been a stranger to hitting the headlines for her private life just as much as her career, and that became more evident than ever when Vonn started dating Tiger Woods in 2013, four years after the golfer's infamous cheating scandal with ex-wife Elin Nordegren dominated the headlines.
Vonn and Woods called it quits in May 2015, with the former confirming the news on Facebook. She blamed their "incredibly hectic lives" for the split, though it wasn't long before Woods was accused of being unfaithful again. The Daily Mail alleged Woods had supposedly cheated on Vonn with "a faceless, nameless woman" during a one-night stand and came clean to the skier after realizing someone had seen him with the woman. "Yes, [Woods] cheated again. But it wasn't with anyone special," an apparent friend claimed to the outlet. "He really wanted Lindsey to be the one. But he blew it again."
However, a People source denied the infidelity, claiming "There was no real drama. This was just a relationship that didn't last. It didn't work out. They moved apart."
Speaking to E! in October 2016, Vonn admitted, "The breakup, being together, it was all really hard," but added that it made her "stronger." She also reveled that they stayed in touch and she considered the pro golfer a friend. Vonn even later shared she was praying for Woods following the golfer's car accident in February 2021.
Sacrifice was the name of the game for Lindsey Vonn
It's common knowledge that anyone looking to make it to the top of their game in any profession will probably have to make some big sacrifices to get there, and Lindsey Vonn certainly knows all about that. The star has been very vocal in the past about the many, many hours of effort that have gone into perfecting her skills, which included growing up without a large circle of friends and a pretty limited social life.
"I always wanted [to] be an Olympian since I was nine years old, and everybody thought I was insane," Vonn said while speaking to aspiring young athletes competing in the Winter Youth Olympics in 2012 during a question and answer session (via The Hamilton Spectator). "It's definitely hard when you are a professional athlete… to have a personal life outside of your sport. Skiing has always been my number one priority. I didn't really have too many friends growing up." However, Vonn also shared that she's been able to go to a lot of places others could never dream of thanks to her career, saying, "You sacrifice a lot, but you're gaining more."
The star has also opened up about feeling lonely, even at the height of her career. "I've been skiing since I was 2 and a half years old, been racing since I was 7. It's really been the focus of my life for as long as I can remember," she told Yahoo Life.
Bullies made vicious comments about Lindsey Vonn's body
Lindsey Vonn has struggled with body confidence for years, having been targeted with vicious comments from trolls. Speaking to the New York Post in March 2021, Vonn revealed that she'd been body shamed for her muscular figure. "A lot of people have said, 'You shouldn't wear things like that. It doesn't look good on your body type.' I'm not going to say who, but I've had a lot of people say not such nice things to me," she said.
Vonn also revealed that she was targeted by trolls in the wake of the 2010 Olympics, telling Yahoo Life that she was "bombarded with a lot of negativity that [she] wasn't quite equipped to handle." She added that she "definitely struggled with" all the nasty comments that came her way and also "struggled with just confidence and body image for a long time."
Fortunately, it seems the star is now in a better place and has shifted the focus behind why she works out. "My body is my body and it's helped me succeed in so many ways in life," she said, sharing that she initially worked out for her career and to look good but now gets active for her "mental health." She added, "I feel like honestly it helps me more mentally than it does physically and it's a great way for me to start my day and just to feel really empowered and confident."
Lindsey Vonn struggled to find her purpose after retiring
Lindsey Vonn admitted that she didn't have an easy time of things after officially announcing her retirement in 2019 and found it difficult to find her purpose without competitive skiing. "You wake up one day and you're no longer doing what you always did. So as much as I had prepared for it, it still emotionally was really difficult to deal with," she told Yahoo Life in June 2021.
The star shared a similar sentiment with People that same month, recalling how things slowed down when what she described as her "post-career letdown" happened. "You worked your whole life for that moment and then it's over. And you're like, 'What do I do now?'" she said.
As for how Vonn worked to keep herself in a good place following her retirement? Well, she credited having a "good support system and remembering what's important and why you do that." She also shared that her three adorable dogs — Lucy, Leo, and Bear — keep her spirits up, while journaling helps her to get all her feelings out.