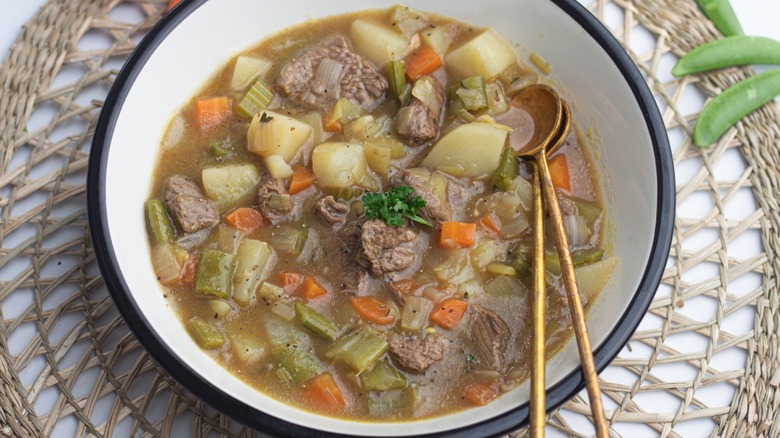 When you think of a hearty, nourishing soup, you probably also think of the colder autumn or winter months. The same is usually true for chef and recipe developer Susan Olayinka of The Flexible Fridge, but she also knows that there's never a bad time for a great soup. "We are soup lovers in our house, especially in the autumn and wintertime, but we also have it when we are sick or unwell, and it always goes down a treat. There's nothing like an old-fashioned soup, you cannot go wrong: Even in summer, this soup is a hug to your internal system!"
A warm, comforting blend of classic veggies, tender chunks of steak, a savory broth — yep, that's a hug, alright, and one that will leave you full and satisfied for hours after. "This is a whole meal," Olayinka says. It's very balanced, as it contains all the food groups: vegetables, carbohydrates, and proteins as well."
This is also a comfortingly easy meal to make, and one that tastes delightful despite the fact that you only have to use common ingredients that you can find in any grocery store, if not in your kitchen already. If you can do a bit of chopping and measuring of ingredients, then you can make this soup. Give it a try for yourself.
Gather your ingredients for this old-fashioned vegetable beef soup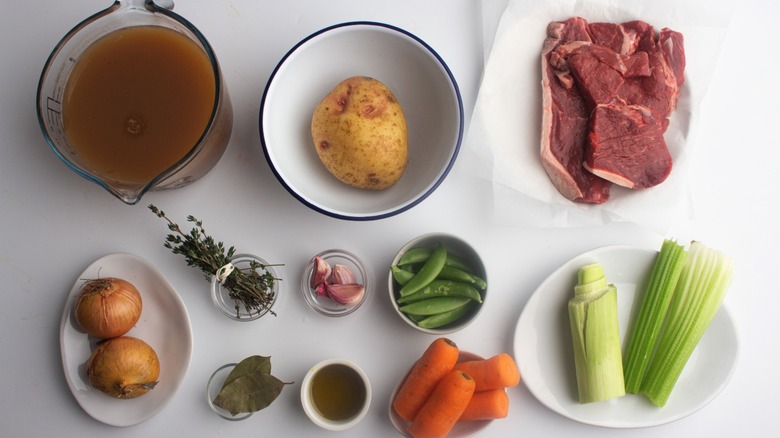 One of the best things about this classic old-fashioned soup is the fact that it really does use very common ingredients. All told, you'll need a couple of carrots, a good-sized potato, onions, sugar snap peas, a leek, celery, about 12 ounces of beef steak, garlic, vegetable oil, beef broth, some fresh thyme, and bay leaves.
You really can serve this soup as a whole "meal in a bowl," but Olayinka says: "Some people do add some crusty bread to it just to have a 'dry side."' And of course, you could also serve it as a starter for a large feast.
Chop the veggies, slice the steak, and measure out the broth
Get a large, sturdy chopping board or clean a section of knife-safe countertop, and get chopping. Actually, first get rinsing and peeling, taking the skin off the carrots and potatoes, cleaning the celery and leek, and peeling the garlic. Now chop the carrots, potato, onion, sugar snap peas, leeks, and celery into approximately half-inch pieces, then set them aside. Then cut the beef steak into one-inch pieces, and set that aside too.
"Just be sure to not chop the vegetables or the beef too small," Olayinka says, as you want to taste a little bit of each in every spoonful!"
Next, get a garlic press and process the cloves of garlic, or else use a knife to cut them small, and then get cooking.
Begin to sauté the veggies and beef
Get a medium to large pan, and put it onto a burner turned to medium-high heat, then pour the vegetable oil into the pot. One the oil has warmed, place the chopped carrots, chopped potato, chopped onion, chopped sugar snap peas, chopped leeks, chopped celery, and chopped garlic into the pot and let it all cook for one minute, stirring continuously.
Now place the cubes of beef down into the pot and stir for another minute, making sure everything is combined and the beef just starts to brown on all sides.
Add the broth and let the soup slowly cook to perfection
Pour the beef broth into the pot and stir, then add the fresh thyme leaves and the bay leaves into the pot, stir again, then cover the soup and let it cook for 20 minutes at low-medium heat.
After those 20 minutes are up, uncover the pot and stir well a few times, and then leave the saucepan uncovered to cook at low heat for another 20 minutes, stirring well after 10 minutes so the potatoes will release their starches and the soup will thicken.
After the second 20 minute simmer time, cut the heat, serve, and enjoy! Made too much? Not a problem. "You can definitely store this for about three months in the freezer," Olayinka says, "and it will last about three days in the fridge."