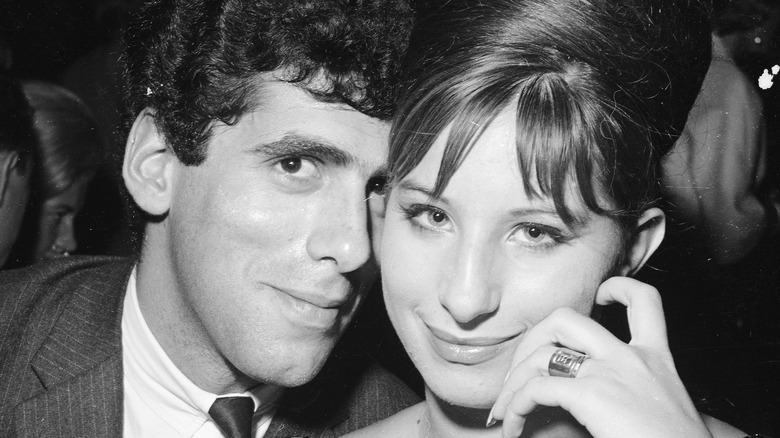 In 1961, two young actors met during auditions for the Broadway musical "I Can Get It For You Wholesale." One of them, Elliott Gould, had been cast as the show's leading man. The other, Barbra Streisand, was auditioning for a role in it and was understandably nervous — she was still new to this business. As Gould told "CBS Sunday Morning," following her audition she "was very flummoxed" about the next steps and ended up just giving out her number to everyone that happened to be in the room. "I remembered her number and I called her," he said. "And [then] we got married and we had a son and we had a great life."
True enough, Streisand got the role and the two did indeed go on to enjoy one of the most iconic love affairs of the late '60s. But it wasn't quite as neat and straightforward as Gould suggested. The two married in 1963, but separated in 1969. Two years later, it was announced that the two were getting a divorce. All the while, news reports speculated on the reasoning behind the split and the notoriously private Streisand shared few if any details about it. Gould, meanwhile, is renowned for being something of a talkative open book in interviews and has provided a few insights about their broken romance.
Like any relationship, there are two sides to the story and a range of factors that likely influenced the end of their romance. Barbra Streisand and Elliott Gould's divorce comes down to a variety of circumstances and events.
The way Barbra Streisand and Elliott Gould were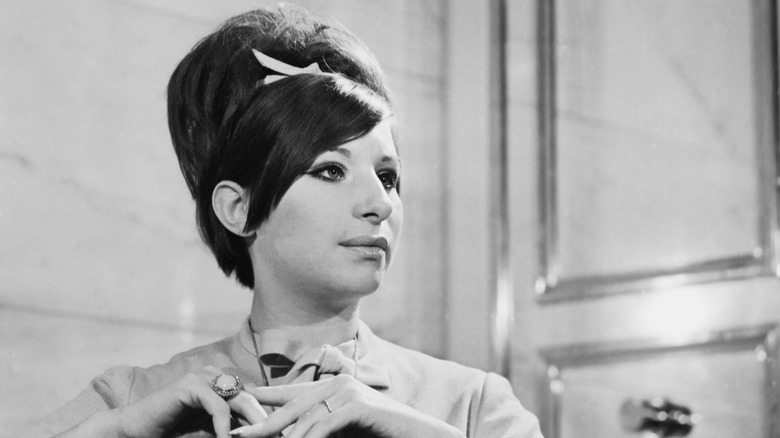 By all accounts, the start of Elliott Gould and Barbra Streisand's romance sounds as though it played out like that of many other young couples. Speaking to The Guardian in 2020, Gould recalled that he was obviously interested in his future first wife from the second they met. "She's so beautiful, are you kidding?" he replied when asked if he was attracted to her. According to The Lady, Gould was "very shy with girls" and he subsequently "fell head over heels" for his new co-star, who was his first ever lover. They moved in together and got hitched less than two years after their courtship began.
As Gould confessed to Time in 1970 — just before the two had filed for divorce — the relationship tread between a precarious path of extremes. "Marriage to Barbra was a fantastic experience, " he said. "It had a lot of chocolate souffle and things like that, but it was also like a bath of lava." In response, Streisand appeared to share a self-admission of guilt when she told the publication, "It must have been difficult for him. Marriages between people who are self-involved is hard. It's safer for actors not to be married to one another." And clearly not so when one actor's career trajectory is on the up, whilst the other remains a little less so.
Barbra Streisand's career started to really take off
1963 was a monumental year in Barbra Streisand's career. On top of marrying Elliott Gould, it was also the year that marked the release of her breakthrough album, "The Barbra Streisand Album" — a record that garnered her two Grammy Awards. Hot off the album's success, she went ahead and released a followup just a few months later. But it was her critically acclaimed 1964 performance as Fanny Brice in the Broadway musical "Funny Girl" which made it clear that she was — and would continue to be — a huge deal within the industry. Still in her early twenties, Streisand landed on the cover of Time and was even nominated for a Tony Award for her performance in the stage production. And her career only flourished from there.
In 1968, she starred in a Hollywood production of "Funny Girl" for which she won the Academy Award for Best Actress and immediately followed up her success with a performance in Gene Kelly's adaptation of "Hello, Dolly!" and her star would continue to rise throughout the late '60s and early '70s; Streisand repeatedly established herself as the distinguished star of stage and screen that we know and love today. But clearly, that fast rise to the top put more than a little strain on her marriage.
Elliott Gould's success was a little more low key
Though Elliott Gould enjoyed roles on Broadway and in Hollywood — including landing a film role opposite Ginger Rogers in "Quick Let's Get Married" — his success paled in comparison to his wife's career. So much so that in the press he was regularly referred to as "Mr. Streisand," a moniker that he "could no longer stand" by a certain point, according to The Independent. "It was difficult to be married to someone who was married to their success," he told the newspaper.
Speaking to "CBS Sunday Morning," Gould further admitted that the two eventually drifted apart because they "didn't grow together." He said, "The reason for that was because she became more important than us." Streisand apparently put her career "above their family life" and Gould "rebelled against the limits of it," according to The Guardian. But there was more to it than simply feeling overshadowed by the colossal stardom of his other half. Gould also felt stunted within the role of Mr. Streisand. "I couldn't play the part," he told the publication. "I had to be able to find myself, to be able to be myself. I couldn't let myself live in a mould."
For the remaining years that he could be titled "Mr. Streisand," Gould focused on breaking out of that mould, but controversy concerning his alleged lifestyle also followed suit. Did his behaviour in these years have an impact on his declining marriage?
Elliott Gould was accused of some unprofessional behaviour
At the beginning of the '70s, whispers about Elliott Gould's offscreen behaviour started to make waves. According to The Independent, production on the movie "A Glimpse of Tiger" — of which he was a producer and a star — was abandoned "after just four days, amid rumours that he'd come to blows with its director, lashed out at his co-star Kim Darby and was whacked out on drugs." As The Guardian noted in 2020, while the actor has been candid about smoking pot and dabbling in "mind-expanding drugs" in the past, he has called the stories about excessive drug use "bulls***."
As the aforementioned outlets noted, when Gould became the leading man of Robert Altman's "The Long Goodbye," the studio forced him to undertake a psychiatric evaluation. "For a while I was not employable," Gould told The Independent. "Somebody had once asked me … if I ever had a drug problem. And I said, 'No, I didn't have a drug problem, I had a problem with reality." Neither Gould nor Barbra Streisand has appeared to have commented on whether Gould's "problem with reality" and his subsequent behaviour contributed to the end of their marriage.
Barbra Streisand and Elliott Gould got married fast
Any marriage could find itself at odds if one party were to enjoy an escalated ascent to greatness — especially when both people work within the same industry. But it's easy to see how that would be particularly true for a couple who were as young as Elliott Gould and Barbra Streisand, and who moved as quickly as they did, too. Speaking of their relationship, Gould admitted to "CBS Sunday Morning" that they "made it very fast." He further elaborated on that idea during an interview with The Independent where he mused that they did the best they could in dealing with their issues, considering their ages. "I was very young, she was very young, and we went as far as we could together," he said.
Clearly, there was something special about their relationship and early bond, however it appears that spark just wasn't solid enough to withstand the more mature demands of their marriage, parenthood, and careers that were to come. Tellingly, Gould once confessed to Playboy (via The Independent), "The happiest memories I have of Barbra are when we were living together before we were married." From 1963 onwards, the two encountered a further set of significant obstacles within their personal, professional, and romantic lives which their marriage apparently couldn't withstand.
Barbra Streisand reportedly had a couple of affairs
As detailed in William Mann's Barbra Streisand biography "Hello Gorgeous: Becoming Barbra Streisand" (via Forward), the superstar had "become a young woman who unapologetically liked sex" in the early '60s (good for her!). However, as Mann alleges, Streisand may have been tempted to satiate such desires while out on the "Funny Girl" tour with Sydney Chaplin — the married son of Charlie Chaplin. The biography suggests that the affair was short-lived and that Streisand was the one to put an end to it, a decision which severely impacted on the production as "the couple's chemistry went from hot to decidedly not."
Chaplin was nominated for a Tony for his performance in the show, but according to The Guardian's obituary for the late star, "His eventual departure from the cast and disillusion with the stage" appeared "to have been the result of deteriorating relations" with Streisand. By the time Streisand returned home, she soldiered on in her marriage, but Mann's biography suggests Gould "sank deeper into marijuana abuse," according to The Express.
However, Streisand's wandering eye supposedly fixed on another of her "Funny Girl" co-stars: legendary actor Omar Sharif, whom she starred opposite in the 1968 movie adaptation of the musical. As the Daily Mail reported, "he fell" for his co-star while they worked together but their "affair didn't last any longer than it took to make the film." Gould and Streisand separated a year later.
Barbra Streisand was called a 'monstrous movie star'
While rumous swirled around about what Elliott Gould was like behind the scenes, Barbra Streisand was likewise cultivating a reputation for being something of a prima donna. As The New York Times wrote in 1973, "Suddenly gossip columnists were busily buzzing that Barbra had a big head, that she was a brassy boss‐woman bellowing commands to puppet‐directors." Production on the 1969 movie "Hello, Dolly" was similarly fraught with tension due to the fact that "she was running the show," as unofficial Streisand biographer Christopher Andersen said on "The Early Show." According to Andersen, "She was telling the director, Gene Kelly, how to direct that movie." As a result, no love was lost on her co-star Walter Matthau who reportedly "hated" her for it.
A Good Housekeeping interview with Streisand from 1969 (via Barbra Archives) similarly describes how "the gossip columnists declared war" on her, painting her "as a snobbish, stingy, monstrous movie star" — a portrait that she outright rejected. According to Good Housekeeping, the superstar once said, "Don't believe anything you read about me." Whilst reflecting on his own struggles with the "demands of fame," Gould reflected how "ego and vanity are toxic" to him in an interview with The JC, and said, "I'd moved too far out 'there.' I became known before I knew who I was myself." Is it possible the formative egos of the two young stars encountered clashes during the marriage?
Media speculation regarding their marriage made Barbra Streisand feel 'vulnerable'
All of the intense media scrutiny put upon Barbra Streisand, and by extension the relationship she shared with Elliott Gould, understandably did not seem to help matters. With her divorce from Gould still fresh, Streisand spoke about how her "marital problems" had been the "source of frequent journalistic distortion" in an interview with the L.A. Times Calendar (via Barbra Archives). "I'm vulnerable to that sort of thing," she admitted. "I hate it. People tell me to forget about it, not pay any attention to it. But … how can I be vulnerable in my work and not be vulnerable about things like that?"
Streisand likewise added that she thought her narrative often got twisted to fit a specific journalistic agenda. "They come in and expect to see me acting like a b**chy prima donna," she said in the L.A. Times Calendar (via Barbra Archives). "And when I don't, they have to manufacture something to fit the concept of a story about me." Regardless, the two stars have continued to maintain a fair bit of privacy and respect regarding their break-up. Gould even told The Independent that his relationship with Streisand is one of the reasons he may never write an autobiography. "I thought it'd be too exploitative," he said.
Elliott Gould's career thrived once they'd separated
Elliott Gould gained his first major slice of silver screen success with 1969's "Bob & Carol & Ted & Alice," which he starred in with Natalie Wood, Robert Culp, and Dyan Cannon. His performance in the polyamorous comedy would earn him an Academy Award nomination and a positive review from the notoriously blunt Roger Ebert. "Gould emerges, not so much a star, more of a 'personality,' like Severn Darden or Estelle Parsons," the film critic wrote. "He's very funny." Gould's career continued to prosper into the early '70s with the actor enjoying critical and commercial success with his role in Robert Altman's Academy Award-nominated Vietnam War satire "M*A*S*H."
And things did not slow down for Gould. He went from one hit to another on stage and screen throughout the '70s all the way through to present day. His long and varied filmography includes celebrated performances in "California Split," "The Long Goodbye," "Capricorn One," "Friends," "American History X," "Ocean's Eleven" (and, of course, "Ocean's Twelve," "Ocean's Thirteen," and "Ocean's 8"), and "Ray Donovan."
The actor formerly known as "Mr. Streisand" stepped out of the shadow of his ex-wife's larger-than-life legacy and went on to make quite an incredible career for himself. Or, as his biography on the TCM website put it, "As his marriage disintegrated, it seemed Gould's time had come, professionally."
Barbra Streisand also enjoyed spectacular success
Meanwhile, Barbra Streisand did not exactly do too badly for herself following the fallout of her marriage — and that is putting it about as mildly as possible. The performer is still considered one of the biggest icons of stage and screen in modern history, and she has accumulated an impressive assortment of awards for music, acting, and directing. Heck, she is one award shy of becoming an EGOT — someone who has won an Emmy, Grammy, Oscar, and a Tony — and that's only because, as The Hollywood Reporter noted, she was a Tony recipient in a non-competitive category. According to Forbes, Streisand's net worth was an astonishing $400 million as of 2020, and she remains "the only act in history to have a No. 1 album in six consecutive decades."
Professional success aside, Streisand has also enjoyed a full and impressive love life. According to Christopher Andersen's unauthorised biography "Barbra: The Way She Is" (via CBS News), the performer allegedly enjoyed brief romances with Andre Agassi, Warren Beatty, Kris Kristofferson, and even Prince Charles following her divorce from Gould. Streisand eventually married actor James Brolin on July 1, 1998, and the two remain happily married. In a 2021 interview with "The Talk," Brolin called their relationship "a perfect situation" and recalled that the two had "fallen in love" again while "stuck together every day" during the coronavirus shutdown.
Elliott Gould went on to marry Jennifer Bogart multiple times
While he was separated from Barbra Streisand, Elliott Gould found love again quickly with performer Jennifer Bogart in 1969. However, their relationship was also subject to some troubles, with Gould affectionately describing his second wife as "the best fighter I've ever met," according to The Independent. "She fights for everything, she fights for life," he added. Per People, the two got married in 1973 — for the first time. They called things off in 1975, married again in 1978, and went through another round of divorce in 1989. But that was not the end of their story. The pair share two children and it sounds like they maintain something of an unconventional relationship. "Jenny married me three times," Gould told The Guardian in 2020, adding that he "will be married to Jenny forever — until she can do better." The outlet noted that the two "are no longer living together."
In 2017, Gould opened up to Closer about his relationship with Bogart. He said they'd lived apart for over 30 years, sharing, "I need my solitude sometimes. I have no complaints as far as having taken the road less travelled." Evidently, the arrangement fits. "People will presume how things should be, but things are the way they are," he said.
Elliott Gould and Barbra Streisand are still family
Regardless of what went down between the two, it would appear that Elliott Gould and Barbra Streisand would eventually become close pals, and by all accounts were committed to the co-parenting of their son, Jason. In 1973, Streisand was already reflecting positively on her relationship with Gould, telling The New York Times, "Once you have loved someone, they become part of what you were and therefore part of what you are."
Though The JC describes a period "when [Gould] and Streisand refused to talk to each other," time has appeared to have healed all. Chatting with the outlet in 2010, Gould appeared to agree with Streisand's sentiment. "I have only good things to say about her," he said. "I'm real proud of Barbra. She said some time ago that we'd always be a part of each other. I know what she means. I'll always love her."
By all appearances, they've made their post-divorce relationship work for themselves, with Gould confessing to Closer that "Barbra is a very significant part of my life" and is a part of his "small family unit," despite moving on. "She's happily married to James Brolin," he said. "And he is very nice to me." They may not have enjoyed a fairy tale ending to their romance, but from the sounds of it they found their own happy ending in their own way and their own time.