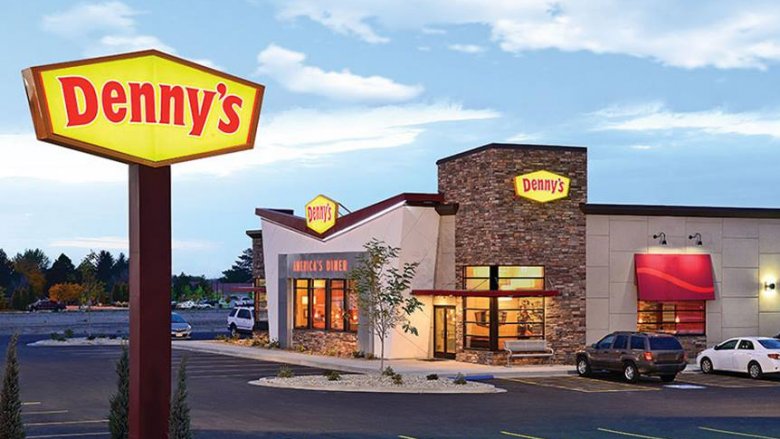 Denny's, "America's Diner," really is almost as American as apple pie. Whether you've found yourself frequenting the establishment after pulling all-nighters in college, when stopping on a long-haul truck route for dinner, or just because you got the urge to eat a big breakfast hit at 1 a.m. and nothing else was open, Denny's is iconic (it was even in classic holiday movie The Santa Clause!).
But just because you've memorized the menu front to back, eaten every possible combination of Grand Slam breakfast, and earned a lifetime of discounts on your Denny's loyalty card, doesn't mean you know everything there is to know about the chain's long history. After all, it's been open since 1953 — a lot has gone down in all those years.
From Las Vegas weddings, to seriously overpriced breakfasts, and enormous racial discrimination suits, there are plenty of behind-the-scenes details you might not know about Denny's just by dining at the restaurant. Read on to find out the truth about America's Diner.
Denny's in New York City serves a $300 breakfast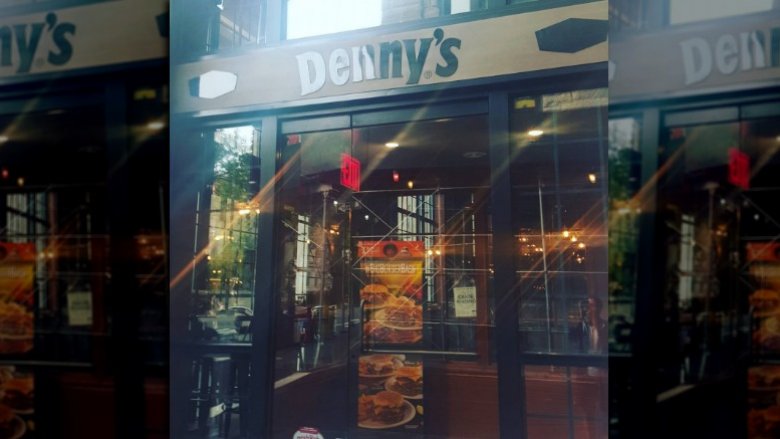 Big, greasy breakfast platters are delightful after a night of chugging champagne, but at Denny's in Manhattan, the bubbly is actually paired with your Grand Slam.
To make the first New York City location of the restaurant chain stand-out, the Grand Cru Slam combo was added to the menu. For $300, you get a bottle of Dom Perignon Premier Cru champagne and two Grand Slam breakfasts. And before you ask, it's the same low-end fare you'd find at any other Denny's — it's just paired with a very expensive beverage.
This Denny's is located right in Manhattan's financial district, so it's easy to imagine Wall Street types celebrating big stock market victories with a quick champagne meal at Denny's. The location has luxe leather booths and serves craft cocktails too, for those who aren't a fan of champagne.
You can get married at Denny's in Las Vegas
Vegas weddings are known to be unconventional, and with more than 100,000 ceremonies performed in the city each year, it almost makes sense that Denny's would get in the game.
When the chain opened their location on the historic Fremont Street in Vegas in 2013, they decided to meld it with the local culture. First, they designed it to have show-stopping neon lights, steel, and curves in keeping with the neighborhood's existing architecture.
Then, they added a wedding chapel.
For $199, happy couples get the use of the chapel and photo booth, a silk bouquet and boutonniere, a wedding cake made out of the restaurant's Pancake Puppies, a champagne toast, two commemorative wedding t-shirts, and a coupon for two original Grand Slam breakfasts — perhaps to enjoy the morning after the wedding night?
That's a big bang for your buck, but if the price tag is still too steep for your budget, you may be in luck. In 2018, Denny's offered a romantic Valentine's Day discount, with wedding packages starting at just $99 per couple.
They closed once for Christmas — and it caused a big problem
Denny's is open 24 hours a day, 365 days a year. Christmas is actually the busiest day of the year at the restaurant — in 2016, about 1.5 million people dined at the chain on December 25.
And yet, in 1988 Denny's decided to do something different. They closed all but six of their restaurants on Christmas Day, even though they estimated that it would cost them $5 million in sales. Their reasoning? They wanted to give their 60,000 employees a break (a paid vacation day, at that).
That act of goodwill caused a big problem for the restaurant, though. In order to close for the day, more than 700 of the restaurants had to have locks installed. Many of them either didn't have locks at all, or the key had been lost decades ago since the doors were always open.
The largest franchise owner is a former Denny's waitress
It's no secret that a career in fast food isn't usually a stairway to success, no matter what the employee handbook might tell you. But one former Denny's waitress, Dawn Lafreeda, beat the statistics and managed to make her way from server to the largest Denny's franchise owner in the world.
Lafreeda started working at the chain as a teen, and continued working there through college while also taking an accounting and management job at a software company. She purchased her first Denny's franchise at the age of 23, then revamped four other Denny's restaurants in Texas. After turning those businesses around, she kept at it, eventually owning 82 Denny's restaurants in 7 states total. She owns more Denny's franchises than anyone else in the company.
Lafreeda has been working as a Denny's franchise owner for more than 30 years now, and her company Den-Tex Inc. has an annual revenue of about $85 million. Not too shabby for what began as a high school waitressing job!
It wasn't always called Denny's
From Sonic to Subway, lots of the restaurants we now consider to be household names were actually called something else when they were first opened.
The same is true of Denny's. When the chain was first opened by founders Harold Butler and Richard Jezak in 1953, it was a donut stand called Danny's Donuts. Located in Lakewood, California, within three years there were eight restaurants.
Jezak left the company, and Butler revamped the chain from a donut shop to a coffee shop with a more robust menu. Even then the stand was open 24 hours a day, but it wasn't Denny's yet — in 1956 the name was changed to Danny's Coffee Shops.
It wasn't until 1959 that the restaurant was renamed to Denny's Coffee Shops, so people wouldn't get it confused with the pre-existing Coffee Dan's in LA. Then, in 1961 the name was shortened to just Denny's, which is how we know the chain today.
They've been sued several times for racial discrimination
Denny's hasn't been immune to controversy over the years, and one of the most notable dings to its reputation were a spate of lawsuits filed against the chain in the early 90s for racial discrimination.
Black customers, including six secret service agents, joined together in two class-action lawsuits against Denny's. They accused restaurant employees of "ejecting black customers, segregating black from white customers, using racial epithets, failing to honor advertised specials for black customers and trying to limit the number of black customers in a restaurant at any one time."
Denny's settled the lawsuits for $54 million total. The money was paid out to thousands of people across the country, and as part of the deal Denny's agreed to a revamp of how the company prevents and addresses racial discrimination issues. It was an historic settlement, the largest amount of monetary damages ever issued for a violation of the Civil Rights act of 1964.
Denny's also made sweeping reforms to its own company policies. They gave $450,000 for college scholarships to organizations like the NAACP Legal Defense and Education Fund, began sensitivity training for their employees, started using a secret diner program to check for discrimination, appointed a civil monitor to be in charge of investigating discrimination claims, and agreed to make sure that at least a quarter of all people in their ads were people of color and at least 20 percent of them were black.
Most of these measures are still in place, but even so, Denny's has come under fire several times for racial bias and discrimination, even as recently as 2017 and 2018.
Their most successful social media post of all time was a tricky meme
In the age of social media, many brands are experimenting with how to expand their reach. Denny's became a part of the online conversation by playing into a trend that paid off in a big way.
It all started with a meme. People were using a "Zoom in" meme on Twitter in early 2017, where users who zoomed in on a picture would see very small text that directed them to look at a different part of the image, eventually revealing a final hidden statement.
Denny's posted a picture of their pancakes, with the text "zoom in on the syrup." Following the instructions on different parts of the image, Twitter users were eventually lead to this bit of small text laid atop a pat of butter: "has this distracted you from overwhelming existential dread lol".
As of this writing, the meme has been liked 364,000 times and retweeted 217,000 times, while a quote tweet of the meme that's circulating has a whopping 712,000 likes and 242,000 retweets.
According to a Denny's rep, it was the company's most liked and shared social post of all time. It turns out that if they do it right, getting down to their customers' level can pay of big for brands.
There's a reason it's called the Grand Slam
Hall of Famer Hank Aaron is considered one of the greatest baseball players of all time. Over his career he hit 755 home runs, passing the previous record set by Babe Ruth and keeping his until someone else nabbed the title in 2007.
So, when Hammerin' Hank retired in 1976, Denny's decided to honor him the best way they knew how: by creating a new breakfast option.
Called the Grand Slam breakfast, this now-iconic meal lets customers put together four different items to create a plate, and is served with potatoes or toast. In a classic Grand Slam there are 13 foods to choose as one of the four on your platter. The chain also serves up special combos, like the Belgian Waffle Slam (with, you guessed it, a Belgian waffle) and the Fit Slam (which featured an egg white omelet, turkey bacon, an English muffin, and fruit).
As far as Denny's menu items go, you could almost (almost) say that at this point the Grand Slam breakfast is just as legendary as Hank Aaron himself.
They care about animal welfare
Denny's serves more than 400 million eggs each year. So, in 2016 when they announced a shift to serving 100 percent cage-free eggs by the year 2026, it was a big deal.
That's because corporate demand for huge quantities of cage-free eggs is actually changing farming as we know it. The USDA reports that more than 70 percent of US egg demand is coming from companies that are switching to cage-free eggs within the next decade, and because of that, cage-free eggs will actually become the norm soon, which will have a huge effect on the welfare of hen-laying chickens.
Along with their commitment to switching up their egg suppliers, Denny's also worked with The Humane Society to start sourcing pork from farms that don't place mother pigs in gestation crates.
They also have requirements in place to ensure that their beef, turkey, and chickens are humanely raised and slaughtered. If you're eating meat or eggs at Denny's, at least you can know that it comes from farms that are relatively concerned with animal welfare.
They're the largest sponsor of the Save the Children charity
In 1994, Denny's became the largest corporate sponsor of the Save the Children charity. Not coincidentally, this was the year after their racial discrimination lawsuits were settled — papers have even been written about how working with the charity was a mutually beneficial way for the chain to rehab its image while Save the Children was able to raise awareness of its mission.
Even if the partnership was made to help Denny's image, it's hard to argue with any company's philanthropy.
Along with Save the Children, Denny's also works with Share Our Strength's No Kid Hungry program (they've funded more than 43 million meals for hungry kids in the past six years), created a scholarship program called "Hungry for Education," works with the regional United Way chapter near their company headquarters, and raises money for the Miami-based organization Tour de Force.
The next time you're at the chain trying to decide whether or not you should really buy that extra order of Pancake Puppies, at least you know some of your money will be going to good causes!
Denny's gave away more than 2 million Grand Slams in a single day
The Grand Slam is Denny's hallmark breakfast. In some ways, it's a time-honored American tradition — but what happens when you offer a free plate to every United States citizen during one of the nation's biggest televised events? The casual dining chain basically said hold my milkshake, and let's find out.
In 2009, the company took out a 30-second Super Bowl ad promising free Grand Slams on the following Tuesday between the hours of 6 a.m. and 2 p.m. This was a bold move considering the event's historically high viewership. Though the game had an unusually low number of viewers, 98.7 million people still tuned in — and more than 2 million took Denny's up on their offer.
According to AdAge, the promotion exceeded the company's expectations with more than 1,000 free Slams per franchise location. While this seems like it'd be expensive enough to bankrupt a business, it was actually affordable considering the typical multi-million dollar budget of a Super Bowl ad campaign. Denny's was expected to have spent just $5 million between the food and the ad spot. A food industry consultant who spoke to AdAge estimated that the breakfasts cost Denny's between $1 to $1.50 each, which is almost entirely offset if a customer purchases a coffee. CEO s slide, Nelson Marchioli told CNN that he expected to break even.
Denny's has an award-winning grilled cheese – just not in the way you'd think
In 2011, Denny's added a very special award to its maple syrup-soaked trophy case. Unfortunately, this isn't exactly an award anyone wants — or maybe they do if they're competing with Heart Attack Grill. We're not here to judge. Either way, Denny's was named among the winners of the Fourth annual "Xtreme Eating Awards."
According to NPR, the awards — which are given to the dishes with the "highest calories, fat, and sodium" — are doled out by the Center for Science in the Public Interest (CSPI) as a way to raise awareness about the ways that restaurant chains can "contribute to obesity, and to heart disease, high blood pressure, and other illnesses." So, what was the winning dish? Denny's Fried Cheese Melt, a creamy concoction that's essentially a fried mozzarella stick grilled cheese with a side of French fries and marinara sauce.
Denny's Fried Cheese Melt has a whopping 1,260 calories, which CSPI's nutrition director, Bonnie Liebman, likens to "eating two Pizza Hut Personal Pan Pepperoni pizzas." Don't get it twisted, though — this was not a first place trophy. Denny's practically looked like a health food chain next to Cold Stone Creamery's 2,000-calorie peanut butter shake.
Denny's was actually ahead of the virtual brand trend
As Mashed previously reported, ghost kitchens may just be the restaurants of the future. These kitchens, and the virtual food businesses they support, were popularized amidst the novel coronavirus pandemic when restaurants were largely shuttered (with many permanently closing their doors) as patrons turned to apps like Seamless and Uber Eats.
Though the pandemic allowed brand new ghost kitchens and virtual restaurants to thrive, chain restaurants have also jumped on the trend. For example, when delivery app users discovered that Pasqually's Pizza & Wings — a seemingly local establishment — was actually just Chuck E. Cheese, the company was met with criticism. Other virtual brands have been more transparent, with Chili's and Maggiano's using their kitchens to serve up meals for "It's Just Wings" and Applebee's launching Cosmic Wings.
Like its competitors, Denny's also launched two virtual restaurant brands: The Burger Den and The Meltdown (which serve burgers and melts, as the names suggest). Though the brands were only announced in January 2021, the restaurant chain was actually ahead of the competition. In an interview with Food On Demand, Dave Coltrin, the chain's vice president of guest experience and marketing technology, revealed that the idea for the Burger Den was created in 2019. The pandemic made them reevaluate their strategy, and they ended up launching their two brands simultaneously.