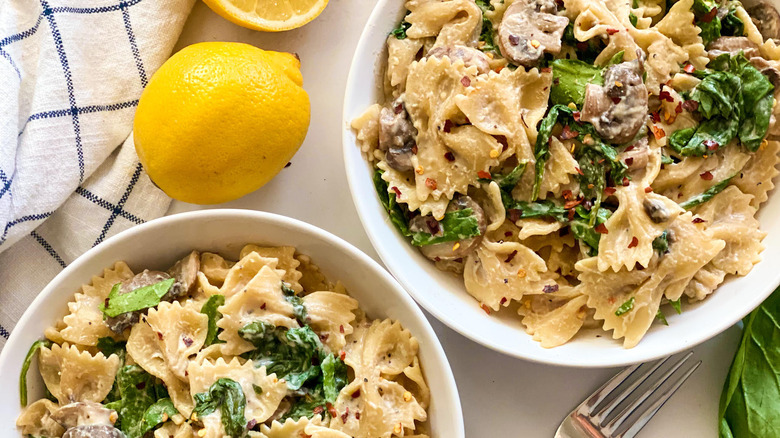 Want to spend all of 15 minutes prepping and cooking a meal that your dinner guests (or family members) will think took the better part of an hour and will be talking about long after the last morsel has been consumed? Why, of course you do, and you just found a great recipe here from chef and recipe developer Miriam Hahn of YouCare SelfCare. You will spend all of five minutes doing hands-on work for this dish, and then another 10 or 12 at the most letting the pasta cook and then quickly blending together the ingredients. And just like that, dinner will be served.
"I usually serve this with steamed broccoli and asparagus and some type of whole grain bread," says Hahn, adding, "But it is totally a meal in itself if you eat it completely on its own." And even better, it can be a meal suitable for any diner. "The taste is exactly the same if you go the vegan route, especially if you use Kite Hill cream cheese [as a substitute]," Hahn says. "I have made it many times and people go crazy over it, not knowing it is vegan."
Butter and cream cheese or vegan subs are your call, but let's get cooking!
Gather your ingredients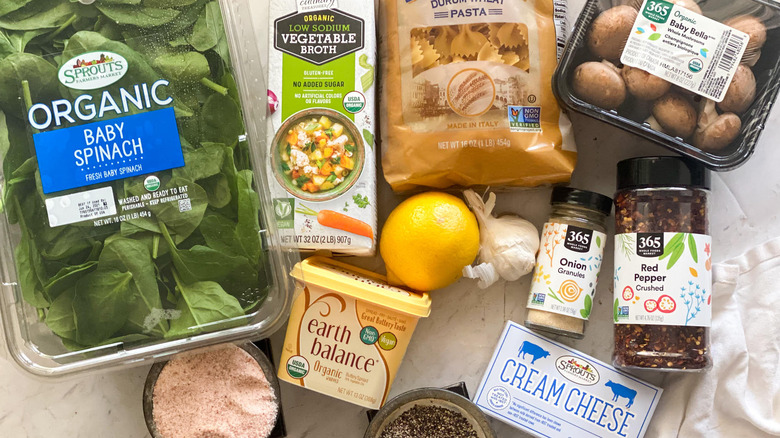 This quick and easy recipe calls for a tablespoon of butter (or a dairy-free alternative), 2 minced cloves of garlic, a carton of sliced mushrooms (about 8 ounces), 3 cups of vegetable broth (and the quantity matters here), 12 to 16 ounces of pasta of any shape (excluding long, thin noodles), 4 ounces of cream cheese (or a dairy-free alternative), salt, onion granules (a.k.a. onion powder), pepper, 3 cups of fresh spinach, the juice of half a lemon, and red pepper flakes for serving.
Note that Hahn says: "The reason I recommend 12 to 16 ounces as the pasta measurement is because some of the newer, healthier brands come in 12-ounce boxes instead of the traditional 16 ounces." You can't go wrong either way — just check the package for cooking times.
Sauté the mushrooms and garlic, then add the pasta
Start your prep work by slicing and mincing and measuring your ingredients out, and once you have everything prepped (which will take all of a minute or two), get cooking. First, add the butter to a deep sauté pan or stock pot and turn the heat to medium-high. Once the butter is melted, add the mushrooms and garlic. Cook, stirring often, for about 3 minutes.
Then add the dry pasta and the broth to the pot, bring it to a boil, then lower it to a medium-high simmer. Cook the pasta for 8 to 10 minutes, until the pasta is done to your liking.
Add in the cheese and spices, then the spinach and lemon
As soon as the pasta is cooked to your liking, reduce the heat to low and stir in the cream cheese and spices. Mix well to combine these ingredients throughout, coating all the noodles in the thick, creamy sauce that you'll be forming.
Next add in the spinach and lemon juice and stir just until the spinach is wilted, then cut the heat underneath the pot — you don't want to overcook the spinach down to a consistency like you'd get with a creamed spinach dish or a spinach dip.
Serving creamy spinach pasta
Your cooking work is now finished! Transfer the pasta to a serving bowl or serve out portions directly from the pot.
Top each serving with some red pepper flakes and then it's time to enjoy, meaning both the flavor and the adoration of those eating the dish who have no clue how easy it was to make. Got some extra? Hahn says, "It holds up great as a leftover. I always reheat it in a pot on the stove and I just add a little water. Some of the sauce will get soaked into the pasta in the fridge, so you just need to revive it a bit."
And as if you needed a reason beyond great taste to enjoy this dish, just think of the health benefits. We all know that spinach, which is the main player here, ingredient-wise, is a super healthy vegetable, but what are the facts when it comes to spinach health? According to Healthline, they're pretty impressive. Spinach is loaded with vitamins and minerals, including vitamin A, vitamin C, iron, calcium, and more, and it's even a decent source of protein.