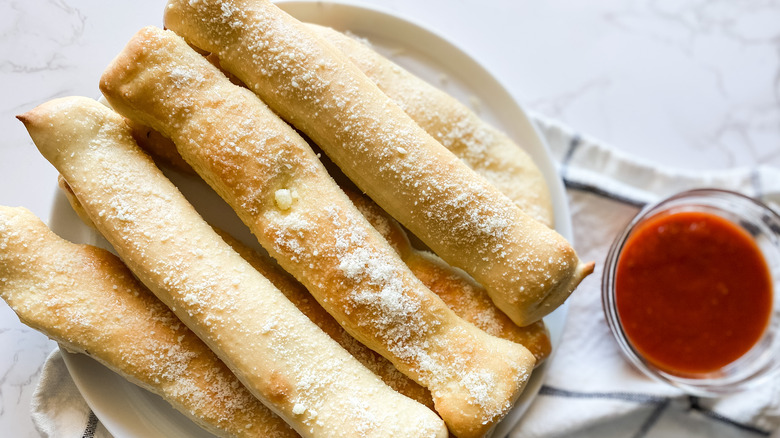 When it comes to breadsticks, Little Caesars has some of the best on the planet. This copycat recipe is so good that it tastes just like the real thing. The only piece of the puzzle that's missing is the marinara sauce for dipping, but you can go ahead and add that yourself. This recipe is excellent for a family dinner because both the kids and adults will go wild for it.
Perhaps the best part about this crazy bread is the fact that it requires a little bit of easy prep and just 15 minutes of cook time. That's right — it's that easy to make. Registered dietician Kristen Carli came up with this incredible copycat recipe that will undoubtedly be a new favorite. She shares that her favorite part of the recipe is the closeness in taste to the crazy bread you can order at Little Caesars. "Everyone loves this recipe! This is just as good as the original," she raves. "Almost identical!"
Keep scrolling to find out how to make this incredible treat.
Gather the ingredients for your crazy bread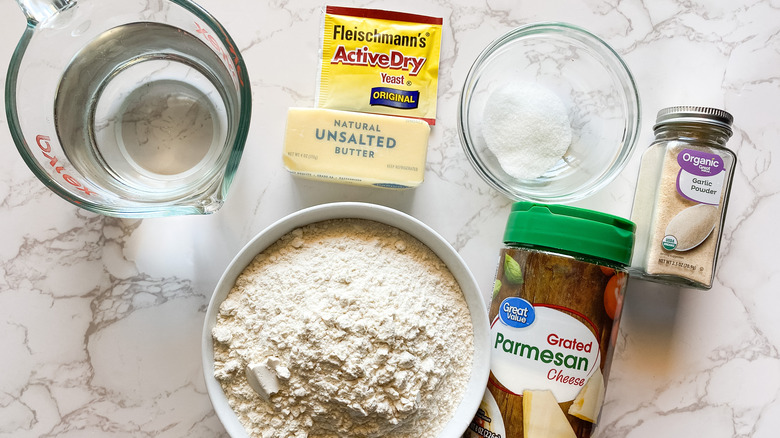 There are only a few things that go into this copycat recipe, and if you cook a lot, you may already have some of the needed items at home. First, you will need sugar and a packet of active dry yeast, which will help your dough rise. In addition, the recipe calls for some warm water, which you already have at home. Shoutout to easy ingredients, right?
The recipe also calls for oil, salt, and flour. To complete your recipe list, add unsalted butter, garlic powder, and Parmesan cheese. Once you have everything together, it's time to begin.
Mix the first ingredients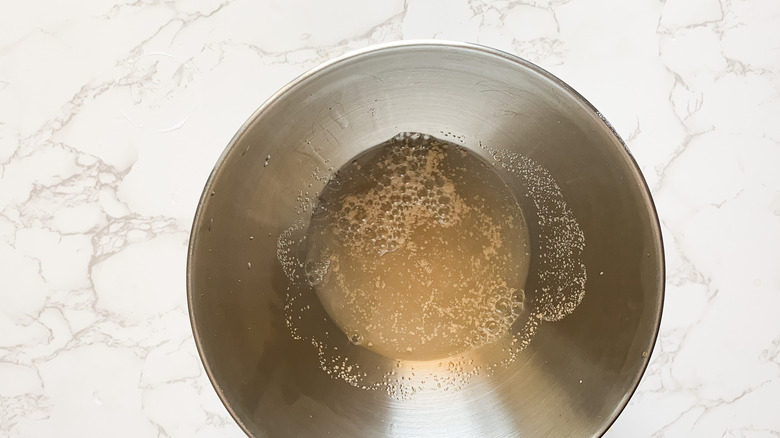 First, take out a stand mixer. In the bowl, add the sugar, yeast, and water. You can simply use a spoon to mix everything and make sure it's combined. Let everything sit in the bowl for about five minutes. Keep an eye on the mix to see if bubbles come up to the surface — this means the yeast is living.
After five minutes, add the oil, salt, and flour. Use the dough hook attachment to re-mix everything to combine. Now, it should start to look more like dough rather than a liquid. Knead the whole mix again for about five more minutes.
Remove the dough and preheat the oven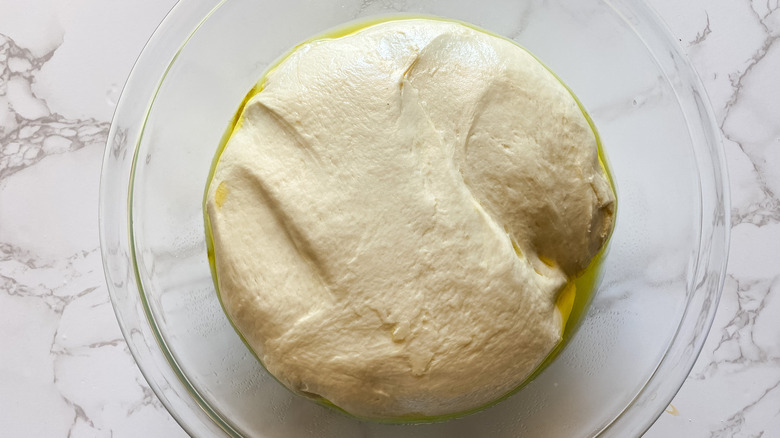 Once the bread is kneaded, it is ready to move on to the next step. Remove the dough from the stand mixer, and place it in a large greased bowl. Then, let it rest at room temperature for about an hour.
In the meantime, preheat the oven to 400 degrees Fahrenheit. Then, get out a baking sheet that's lined with parchment paper. Using your hands, gently press down the dough so it's flat. Then, cut the dough into one-inch-thick strips. They should start to look more like breadsticks and less like flatbread now.
Separate the dough and let it rest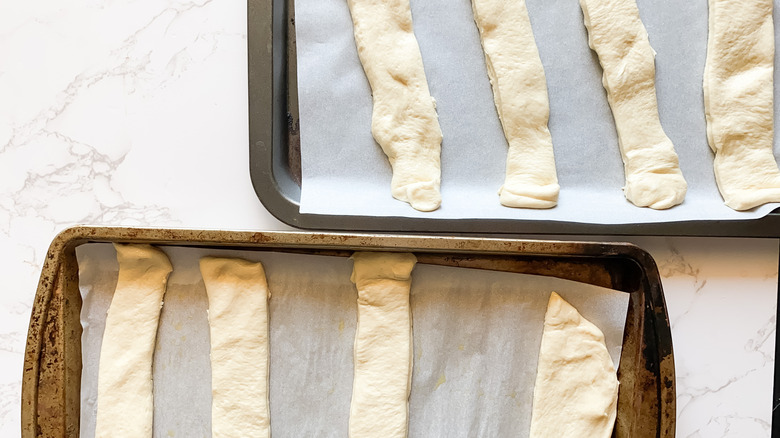 Now, it's time to separate every other strip. Place the other strips on a second baking sheet lined that's with parchment paper. Allow the dough to rest for about 10 minutes.
Once your timer goes off after 10 minutes, pop both baking sheets in the oven. This time, set your timer for 15 minutes. As the breadsticks bake, take out a microwave-safe dish and melt the butter. Next, stir in the garlic powder. This is the yummy liquid that goes on top of the breadsticks.
Remove the breadsticks and enjoy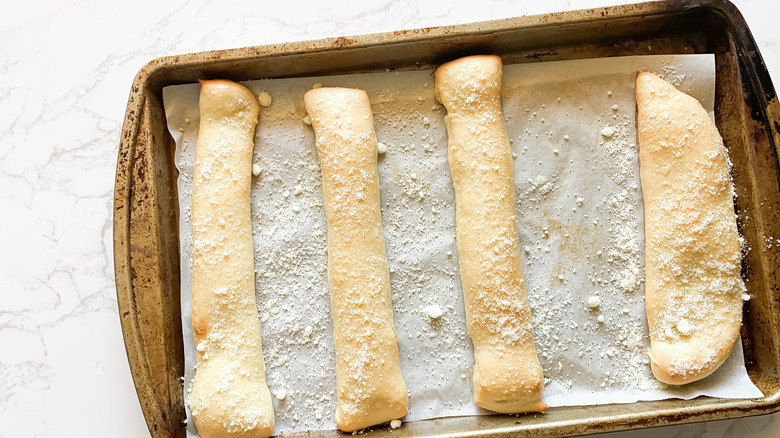 When your timer goes off, take the breadsticks out of the oven. Then, using a brush, put garlic butter on the top of each breadstick, followed by Parmesan. The butter will make the Parmesan stick to the bread and provide that Little Caesars-like experience you're going for.
Now, it's time to enjoy the breadsticks. You can use your favorite dip, but a few options are marinara and ranch. If you have leftovers, don't worry — they'll keep for a bit. "These are best stored in a plastic bag at room temperature for up to seven days," Carli says. "You do not need to reheat leftovers, but if you want them warm, I would bake in the oven at 350 degrees for about five minutes until they're warmed through."
1 tablespoon sugar
1 packet active dry yeast
1 ¼ cup warm water
1 tablespoon oil
1 teaspoon salt
3 cups flour
¼ cup unsalted butter
½ teaspoon garlic powder
½ cup Parmesan cheese
In the bowl of a stand mixer, add sugar, yeast, and water. Stir to combine.
Let sit for 5 minutes to see if bubbles arise, indicating yeast is living.
Add oil, salt, and flour. Using the dough hook attachment, mix to combine.
Once roughly combined, allow dough hook to knead for 5 minutes.
After 5 minutes, remove from stand mixer and place in a large greased bowl.
Rest at room temperature for 1 hour.
Preheat oven to 400 degrees Fahrenheit. Using your hands, gently press down dough on parchment-lined baking sheet.
Cut the dough into strips about 1 inch thick.
Separate every other strip and place on a second parchment-lined baking sheet.
Allow dough to rest for 10 minutes.
Bake both baking sheets for 15 minutes.
Melt butter in the microwave and stir in garlic powder.
Remove breadsticks from oven.
Brush with garlic butter. Sprinkle with Parmesan.
Serve and enjoy.