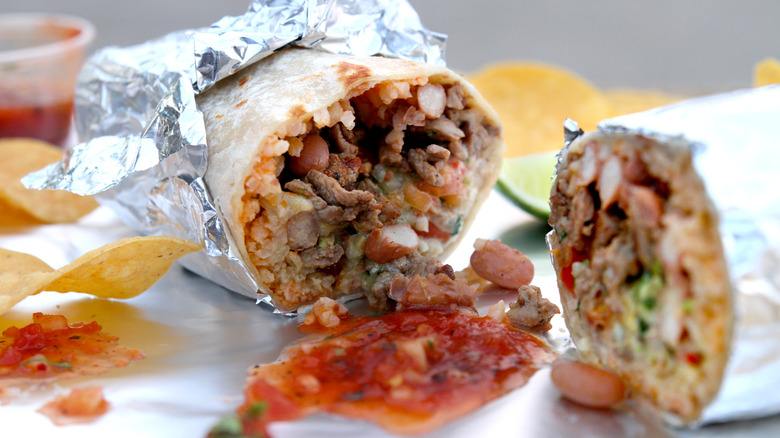 Only a few things in life are as cherished in America as a scrumptious burrito. In fact, a recent survey found that a majority of Americans would even go so far as to pick a delicious burrito over a romantic date. While that finding surprised many people, there really is something undeniably magical about sinking your teeth into a burrito and tasting all of the wonderful flavors within the warm, loving embrace of a tortilla.
Finding a fast food burrito isn't the difficult part of the process. More and more restaurants specialize in Mexican food, making that first step very easy indeed. What can be difficult is locating one that is worthy of your time and dollar bills. And, while a few burritos are actually worthy, not all of them are. Some of these burritos are so bad that they're even worse than the frozen burritos you can find at a dollar store.
When fully intact, it's impossible to predict what to expect from a burrito and its hidden contents. Luckily for you, we've done the hard work of tasting all of the most popular fast food burritos and we've ranked them in order from worst to first. While there are other options that you can get through a drive-thru window, we've included all of the major players in the realm of modern American fast food.
15. Taco Bell's Beefy 5-Layer Burrito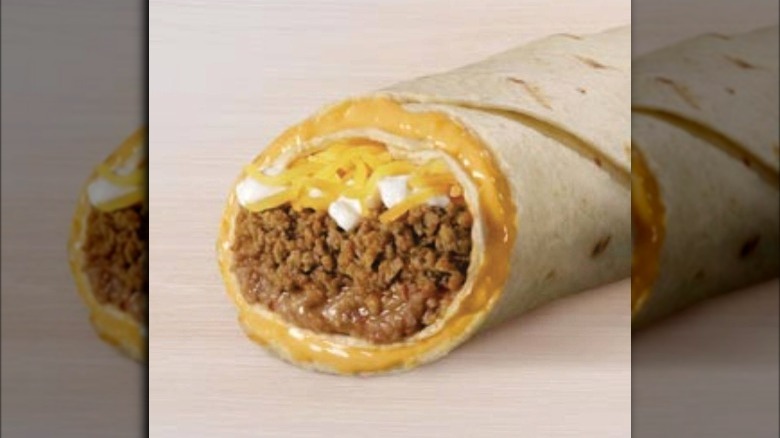 If you decide to go to Taco Bell, you already know that you can't expect authentic Mexican food. However, their Beefy 5-Layer Burrito is such a disaster that it will catch you by surprise even if you have low expectations. It's not only stunningly inauthentic, it's also completely charm-free.
When you first grab this burrito, you'll notice that it's likely stiffer than any other burrito you have ever touched. That's because it is made using two tortillas. In an apparent effort to merge a quesadilla and a burrito, between the two tortillas is a layer of nacho cheese sauce. That may sound like a decent idea but in reality, it's a failure. The nacho cheese sauce causes the burrito to have a slimy texture and the extra tortilla is unredeemably soggy by the time it enters your mouth.
In the middle of the Beefy 5-Layer Burrito, you'll find beef, beans, shredded cheese, and sour cream. Even if you like the beef and the beans at Taco Bell, the sliminess of this burrito is so off-putting that you'll regret ordering this menu item before those flavors even hit your taste buds. To make matters worse, this burrito is decidedly unhealthy, due to its high calories, saturated fat, and sodium.
14. Qdoba's Grilled Steak Burrito
Qdoba, a Mexican restaurant chain that first opened its doors in 1995, is a lot like Chipotle Mexican Grill but with a more comprehensive menu. Some food options on their menu are genuinely tasty but the Grilled Steak Burrito should be avoided at all costs. Even if Qdoba starts handing out these burritos for free, you should still decline.
Two issues plague the Grilled Steak Burrito. First of all, the steak is way too chewy. Unless you're looking for a way to give your jaws an exhausting workout, the texture of the meat will soon become very annoying. In fact, don't be shocked if it takes you the better part of an hour to eat this burrito. If you try to down it any faster than that, you'll risk choking on chunks of overdone steak.
Second of all, the steak also lacks seasoning. All of that chewing may be worth it if your taste buds were getting to revel in great-tasting steak along the way, but that's simply not the case. Pick another fast food burrito if you value your sanity and jaw muscles.
13. Chipotle Mexican Grill's Barbacoa Burrito
Eating authentic barbacoa is a life-changing experience. That may sound like a hyperbolic statement but take a trip to a real-deal Mexican restaurant and order barbacoa, which is actually the name of the process in which meat is slowly cooked, traditionally underground. By the end of your meal, you will wholeheartedly agree that the super tender meat that's been cooked barbacoa style is unlike anything else you've ever eaten.
At Chipotle Mexican Grill, their barbacoa tastes okay, but it's nothing like the real thing. That's because they cook their barbacoa sous vide, according to ABC News. If you've never had authentic barbacoa, you might be impressed with Chipotle's version. But if you've had true barbacoa that was cooked with steam under the ground, you'll be utterly disappointed.
Chipotle has other really good burrito options on its menu. Skip the Barbacoa Burrito and pick something better. For example, if you really want a Steak Burrito, Chipotle's steak is a whole lot better than the chewy stuff Qdoba offers.
12. Del Taco's Epic Loaded Queso Burrito
Del Taco, which was launched in California in 1964, has a few tasty options on their burrito menu but you shouldn't even think about ordering their confusingly popular Epic Loaded Queso Burrito. On paper, this bad boy sounds like it should be a winner that is sure to satisfy your hunger. It features pico de gallo, cheddar cheese, creamy white cheese, crinkle-cut fries, and your choice of protein (carne asada, chicken, or a meatless option created by Beyond Meat) inside of a gigantic, yummy tortilla.
Unfortunately, the Epic Loaded Queso Burrito is ruined by the presence of the crinkle-cut fries. These fries are literally the worst menu item available at Del Taco — and it's not even close. They're soft, listless, and don't have much flavor at all. So, why ruin a perfectly good burrito with the fries' unpleasant texture and utter lack of taste? Every time you take a bite of this burrito and one of the mushy fries hops along for the ride to your mouth, you'll regret your decision.
11. Taco Bueno's Big Ol' Burrito
If you go to Taco Bueno and tell them you want The BOB, they'll hand you a huge burrito. Seriously, it will be astoundingly large. It's officially called the Big Ol' Burrito and the size of it will instantly catch your attention and make your mouth water, assuming you haven't eaten in a while. Sadly, while the quantity of ingredients in this burrito is impressive, the quality is lacking to a degree that it doesn't deserve a real recommendation.
The Big Ol' Burrito has chili sauce, cheddar cheese, pepper jack cheese, sour cream, tomatoes, lettuce, and your choice of meat. You can get it with chicken, fajita steak, or ground beef, all of which are fine. However, the expertly seasoned ground beef is the best of the three. That said, you'll be reasonably happy with either the chicken or the fajita steak, as well.
The two major problems with this popular burrito from Taco Bueno are the chili sauce and the sour cream. The chili sauce is so mild that it almost tastes like ketchup, while the sour cream isn't sour at all and instead has an oddly milky flavor with no real tang. Ketchup and milk in a burrito? That's unappetizing, to say the least.
10. Baja Fresh Mexican Grill's Chicken Baja Burrito
Going to Baja Fresh for a burrito isn't a terrible idea. For starters, they have a wide array of protein options including chicken, steak, pork, fish, and shrimp. They also have a salsa bar with scrumptious options that include mango salsa, 6 chiles salsa, baja salsa, and the classic pico de gallo. If you want their best burrito, pick the Chicken Baja Burrito with pico de gallo. Their chicken is only white meat and is grilled over a fire, while their pico de gallo is both flavorful and spicy. The Chicken Baja Burrito also comes with guacamole and Monterey Jack cheese.
So, if we like it so much, why isn't this burrito higher in our ranking? The tortilla is mostly to blame. Baja Fresh's tortillas are so gummy that they distract you from what's inside. Even Taco Bell has better tortillas, which is really saying something. Moreover, the guacamole at Baja Fresh is inconsistent. Sometimes it's really good but sometimes it's so gross that you'll be tempted to scrape it all out.
9. Taco John's Super Burrito
From the restaurant chain that claims to have invented the idea of Taco Tuesday comes the Super Burrito. This Taco John's creation isn't the best burrito you'll ever eat but it's big, reasonably tasty, and priced fairly cheaply. For a burrito on the go that will fill you to the tip-top without denting your budget, it's an okay choice.
There's nothing fancy about the Super Burrito. It comes with seasoned ground beef, shredded cheese, refried beans, tomatoes, lettuce, onions, sour cream, and hot sauce. All of the ingredients are of decent quality, although the hot sauce is extremely mild and the refried beans are often soupy. That said, you won't be disappointed once you start chowing down.
If you've never heard of Taco John's, this chain started in 1968 as a food truck in Cheyenne, Wyoming. From those humble beginnings in an unlikely location, they now have over 350 locations across more than 20 states.
8. Taco Bell's Burrito Supreme
The best burrito at Taco Bell is the Burrito Supreme. It's so much better than their Beefy 5-Layer Burrito that it's difficult to believe that both items are available at the same restaurant. The Burrito Supreme keeps things relatively simple and the result is something you will be happy about buying. By the end of your meal, you'll be patting yourself on the back for finding a quality burrito at Taco Bell in a sea of iffy options.
Inside the tortilla, you will discover seasoned beef, beans, cheese, sour cream, onions, tomatoes, lettuce, and red sauce. Compared to Taco John's Super Burrito, the Burrito Supreme has better beans and the sauce is a little bit more flavorful.
When shopping for burritos at Taco Bell, stick with the Burrito Supreme or one of their highly-ranked breakfast burritos. All of their other burritos will leave you feeling like you wasted your money.
7. Freebirds World Burrito's Super Monster Burrito
When you want a ginormous burrito that also tastes really good, head to Freebirds World Burrito. To say that their burritos are huge would be an understatement. Their Super Monster Burritos are made with two 14-inch tortillas and might be big enough to feed an entire family. That said, if you're really, really hungry, you might be able to polish one off yourself over the course of an hour or two.
The protein options at Freebirds are all great. When it's available, brisket is the best of the bunch. Otherwise, you can't go wrong with the chicken, steak, or pork. You can also ask for spicy cayenne tortillas when you're in the mood for some extra heat. Their habanero salsa is amazingly spicy but also amazingly flavorful.
If the Super Monster Burrito is somehow not big enough, you can upgrade to Double Super Monster Burrito. It's one of the most breathtaking giant foods you will ever lay eyes upon, so long as you're hungry.
6. Del Taco's Macho Combo Burrito
The Macho Combo Burrito from Del Taco is very similar to Taco Bell's Burrito Supreme and the Super Burrito from Taco John's but it's unquestionably the best of the three. If you like your burrito filled with seasoned ground beef, this is the top choice in the fast food world.
Beyond the tasty ground beef, the Macho Combo Burrito also has beans, cheese, sour cream, red sauce, green sauce, tomatoes, lettuce, and onions. The slow-cooked beans are spectacular and the combination of sauces will have your taste buds doing somersaults. Additionally, the freshness of the tomatoes, lettuce, and onions is worthy of applause.
If you are looking to limit your carbs, Del Taco makes it easy to order your burrito without the tortilla and will serve it to you in a cup instead. That may sound weird, but the Macho Combo Burrito in a cup is still fantastic.
5. El Pollo Loco's Chicken Avocado Burrito
Considering that El Pollo Loco translates to The Crazy Chicken, it's only right to pick a chicken-powered burrito at this fast food chain. Of all the burrito choices on their menu, the Chicken Avocado Burrito is the creme de la creme. This thing is staggeringly awesome.
The Chicken Avocado Burrito starts with chopped chicken and pinto beans. From there, pico de gallo, cilantro dressing, shredded Monterey Jack cheese, slices of avocado, cabbage, and fresh cilantro are added to this glorious mix. All of this is wrapped up inside of a delicious 12-inch tortilla that has been gently toasted to add some texture. Pinpointing your favorite aspect of this burrito will be difficult. The chicken, as is usually the case at El Pollo Loco, is phenomenal. But the avocado slices are also reliably bursting with flavor and the cilantro dressing adds the perfect kick to take the burrito to the next level.
4. Rubio's Coastal Grill's Beer-Battered Fish Burrito
Ralph Rubio is one of the most important culinary figures in recent American history, at least according to some. This native of San Diego, California, is regarded by many as the person most responsible for the popularity of fish tacos in the United States. After a trip to the Mexican state of Baja California, he fell so head over heels for fish tacos that he opened a food stand in San Diego to spread his joy with the rest of the nation. Today, Rubio's Coastal Grill has more than 150 locations and they're still selling extraordinary fish tacos.
If you love fish tacos, you owe it to yourself to try a fish burrito. At Rubio's, you can find a Beer-Battered Fish Burrito that takes everything you love about fish tacos and puts it into the form of a burrito. This majestic meal comes with beer-battered Alaskan pollock, flavorful guacamole, black beans, cabbage, onions, cilantro, a mild salsa, and Rubio's famous white sauce. This is the best fast food fish burrito you will find anywhere.
3. Qdoba's Grilled Adobo Chicken Burrito
As previously mentioned, the steak at Qdoba is a big-time loser while its menu is often more expensive than the competition. However, that doesn't mean that you should avoid Qdoba completely. In fact, their Adobo Chicken Burrito is so fabulous that it'd still be worth the price tag at double the cost.
The reason why this burrito from Qdoba is so awe-inspiring is the grilled chicken, made with stupendous adobo seasoning. The combination of spices makes this the best grilled chicken you'll find inside of a fast food burrito. If you want to enhance the adobo flavor even more, get it with cilantro lime rice, black beans, chile crema, and citrus lime vinaigrette.
The only thing to keep in mind when ordering the Adobo Chicken Burrito is that Qdoba doesn't have stellar guacamole. It's average compared to other fast food guac but still isn't good enough to put on this burrito. Thus, if you're craving a burrito with guacamole in it, you may want to go elsewhere.
2. Moe's Southwest Grill's Homewrecker Burrito
When it comes to Mexican fast food chains, Moe's Southwest Grill has become impossible to ignore even though they've only been around since 2000. Not only are they arguably the top chain of them all, their Overachiever Taco is the best fast food taco you might ever eat. When it comes to burritos, the Homewrecker Burrito from Moe's is neck and neck with the top burrito in our ranking.
Don't worry, as this burrito won't actually break up your marriage. However, don't be surprised if you and your spouse both develop feelings for this legendary Moe's menu item, as every ingredient in this burrito is loveable. Specifically, the pico de gallo, sour cream, beans, and rice are all of excellent quality. The burrito also comes with yummy guacamole at no extra cost.
The most difficult decision when it comes to the Homewrecker Burrito is selecting the protein. The good news is that all of the options (sirloin steak, ground beef, adobo chicken, white meat chicken, pork, and tofu) will leave you with a grin from ear to ear.
1. Chipotle Mexican Grill's Carnitas Burrito
If you want to get your hungry hands on the finest fast food burrito in all the land, you'll need to head to Chipotle Mexican Grill. That's where you can order a Carnitas Burrito that you will fantasize about for the rest of your days. The pork carnitas at Chipotle is by far their best protein — it's even better than their aforementioned steak. From the seasoning to the tenderness of the meat, it will sufficiently blow your mind.
While you get to pick and choose what you add to your burrito at Chipotle, the one thing you must add to it is guacamole. Sure, you'll need to pay extra for it but Chipotle has quite possibly the best fast food guacamole, which pairs perfectly with the flavor of the pork carnitas. While the guacamole doesn't have tomatoes in it, it'll still likely become the standard-bearer you judge every other guacamole against.
Once you've finished adding rice, beans, and whatever else you wish to your Chipotle burrito, it's time to sit back, relax, and take a big bite. Within seconds, you'll enjoy the ecstasy that is their Carnitas Burrito with guacamole.