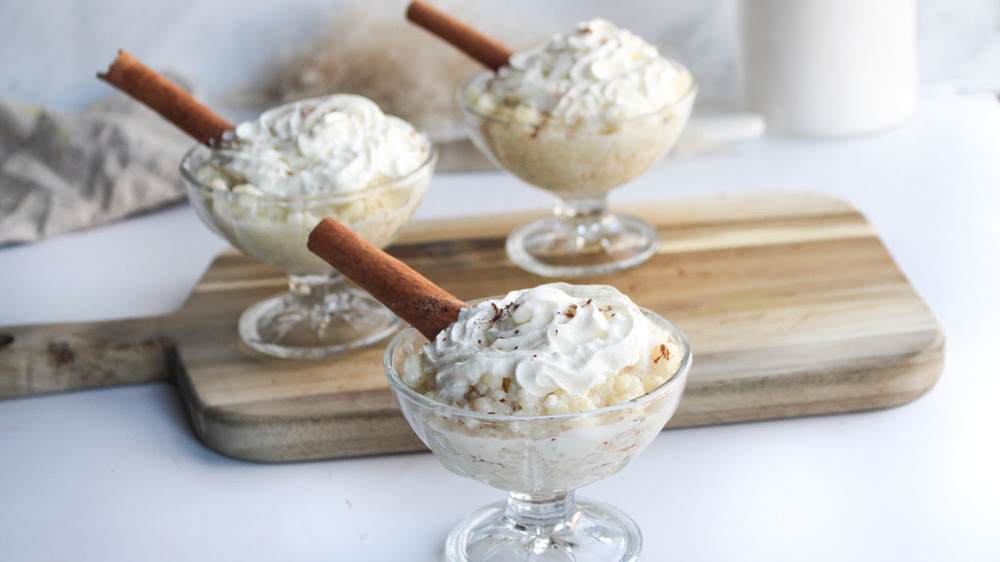 Rice pudding happens to be a time-tested treat made from just a handful of ingredients. It's syrupy sweet and sometimes includes extras such as raisins. Its main ingredient, of course, is rice, along with sweeteners and spices like cinnamon, nutmeg, ginger, and vanilla. Rice pudding recipes vary from country to country and can be boiled or baked.
Recipe developer and creator of The Flexible Fridge Susan Olayinka's mom made rice pudding from scratch while she was growing up. She prefers to whip up a batch when company is over. "The great thing is that you can eat it cold the next day for breakfast — that is, if there are leftovers because there probably won't be," Olayinka said.
Olayinka's version of rice pudding can be easily adapted to an individual's taste preferences, too, so envision what you'd like to add to yours, and get ready to cook. Here's how to make it.
Grab the ingredients for this rice pudding recipe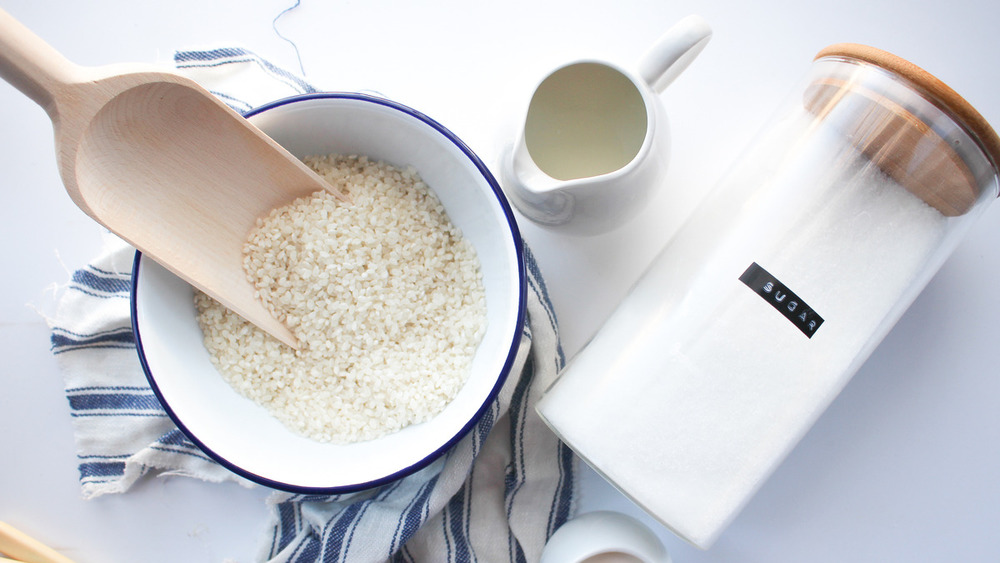 It's impressive that this rice pudding recipe takes just five minutes to prepare then 45 minutes to cook on the stovetop. But trust us, it's worth it. This recipe yields four servings, perfect for the family or when you're having a couple of guests over. All you need is short grain rice, single cream, whole milk, vanilla extract, white sugar, and salt.
"Short grain white rice is commonly found in large supermarkets or in Asian supermarkets under the name 'sushi rice.' If that cannot be found, regular long grain white rice works fine," Olayinka said.
Prep the rice for this rice pudding recipe
Your first step in this rice pudding recipe is to wash one cup of rice with a sieve until the water runs clear. It's easier to use a sieve or colander with small holes that the rice won't slip through while washing and rinsing. Place the sieve in a large pot or bowl and fill it with water higher than the level of rice. Then, use a steeping motion and stir with your hand. You may need to change the water a couple of times in order to get the water to run clear. But if you don't have a sieve handy, you can substitute other tools.
"A cheese cloth or even a T-shirt or tea towel would work brilliantly," Olayinka said.
Begin cooking the rice for this rice pudding recipe
Take out a heavy pot and place the cup of rinsed rice in it. Turn the stove on to medium heat, and pour in one and a half cups of whole milk, one and a half cups of single cream, one teaspoon of vanilla extract, five tablespoons of white sugar, and one-eighth of a teaspoon of salt. Keep the pot on the burner on low heat for 40 to 43 minutes with a lid on it, stirring every ten minutes.
"Whole milk makes the pudding that much creamier and delicious. Traditional recipes also use whole milk," Olayinka said.
Closely watch the rice pudding recipe
Pay attention to the rice as it simmers on the stove. Not stirring it enough can cause the rice to stick to or even burn on the bottom of the pan. The mixture can dry out before the rice has a chance to cook, so ensure it stays at a gentle simmer and stir frequently. If it helps, set the timer on your phone or stove if you don't want to stand at the stove for 40 minutes. It's important that the rice cooks evenly and thoroughly without burning, or you'll have to start all over.
Is your rice pudding recipe ready?
Monitor the rice pudding recipe as it cooks on the stove. As it thickens, it will turn creamy, and the rice will no longer be hard. That's when you know it's ready. Be sure not to leave it on the stove a second longer, because you don't want to scald the mixture. If your mouth isn't watering at this point, it will with that first bite. Grab the dessert dishes and a spoon, and get ready to dive into a tasty treat that many people may remember from their childhood. But you're not quite done yet getting the dessert ready.
Gussy your rice pudding recipe up
This rice pudding recipe can be served warm or cold, but it's always best with a dollop of cream or even a scoop of vanilla ice cream to add some sweetness to it. A dash of cinnamon, a sprinkle of nutmeg, or even a pinch of ground ginger will give it some kick. It's amazing how just a few ingredients can come together to make something so delicious.
"I have kept mine plain so people can customize it to their liking, but you can for sure put raisins, strawberry preserves, dried fruit, or even chocolate chips in it," Olayinka said.