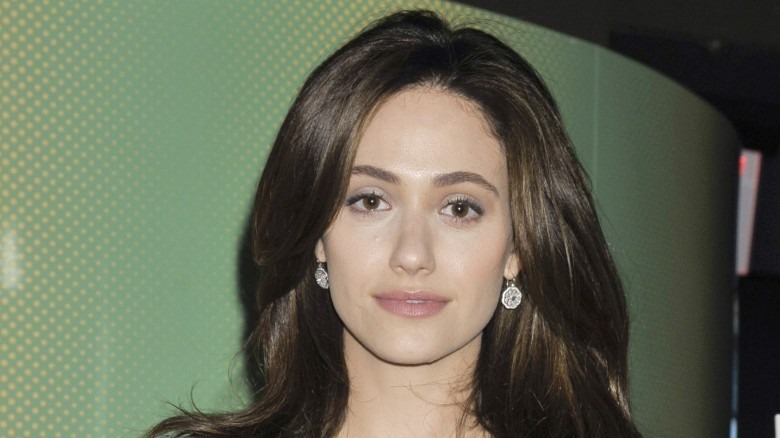 Emmy Rossum plays the tender, tough, and utterly believable Fiona Gallagher in Showtime's hit series Shameless. She was the incandescent Christine in Andrew Lloyd Weber's The Phantom of the Opera. You may know her from those roles, or you may just be drawn to her deep brown eyes and her killer smile. But there is a lot more to this fearless actress than her looks.
In addition to her considerable vocal and acting talents, she is also a tireless fighter for human and animal rights. Fans can expect a lot more great things from Emmy Rossum. Let's take a look at her stunning transformation thus far.
Growing up with a strong single mom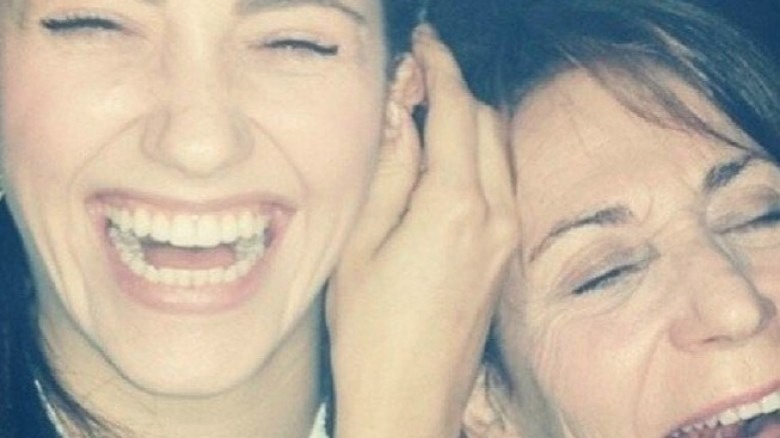 Emmy Rossum was born in Manhattan in 1986 to Cheryl Rossum, a corporate photographer, and single mom. According to an interview with Complex, Cheryl has been a big influence on Rossum's more mature sensibilities. When asked why she never attempted pop music, Rossum cops, "Modern pop music is fun, but it's never something I felt I could do organically or believably. Four-on-the-floor grinding in hot pants in just not in my nature. And don't think that people didn't make me try. Maybe I just have an older sensibility because I was raised by older nannies and a mom who had me when she was 40."
When asked by ScreenerTV how she created her role for Shameless, Rossum is quick to credit her mom, saying, "[My character, Fiona] has my mother — my mother is a single mother — my mother's loyalty, and fierceness, that kind of mama bear instinct that my mother always had for me."
In the Complex interview, Rossum discussed her father, who walked out on the family while her mother was still pregnant. She's only met him a couple of times. When asked how that paternal absence informs the Fiona character, Rossum admitted, "I definitely have feelings of abandonment and self-protection over that, and Fiona does too…We all have that childish hope that somebody who doesn't care about you suddenly will."
Under the influence of much older women
In the 2014 Complex cover issue, Emmy Rossum talked about the nannies who helped out, when she was a kid. When asked her craziest nanny story, she told the story of Gertie, an Austrian woman who was given a prize as a child by singing the best German national anthem. The prize giver? None other than Hitler.
Rossum says, "My mom is Jewish, so that was a little bit awkward, but Gertie was a great nanny. She would tell that story, but she knew Hitler was a bad guy. There's no getting around that. And she was a child — she didn't know any better when she was singing the German national anthem. Clearly, if she was working for a Jewish family, she had no prejudice herself." But, not all the nanny experiences were positive. Since Cheryl only chose nannies that were in their 60s, Rossum lived under the influence of several older women. Some, may have gotten her hopes up unnecessarily, in regards to her father.
She says, "My nannies told me that if you wanted it bad enough, impossible things could happen — like your dad coming back. That was something that was verbalized to me as a kid…it made me disillusioned as a teen when that didn't happen, and when I started becoming known as an actress, and it still didn't happen." In spite of all that, Rossum has become a well-rounded, compassionate woman.
Starting out singing
At just seven years old, Emmy Rossum joined the Metropolitan Opera Children's Chorus, remaining a member through the age of 12, as she mentioned in a Q&A for Variety, with Orphan Black star Tatiana Maslany. When asked what motivated her to start performing, she says that her mother sent her to music school, and "when I went to real school they heard me sing, and sent me over to the opera. Even though I loved music and being on stage, it was more feeling I didn't have at home in my own body in school. I felt immediately more at home in an opera and in a creative environment. Even at a young age, that escapism was more safe for me somehow."
This love of in performing led to an interest in acting, so Rossum began classes at The New Actors Workshop in New York City, working with Terry Knickerbocker, an acting coach who also mentored stars like Sam Rockwell, Josh Charles, Abbie Cornish, Natasha Lyonne, and John Leguizamo. Rossum is quoted on Knickerbocker's website as saying, "One of my favorite things about working with Terry, is his vast knowledge of theater and film. Often when developing a character together, Terry will suggest studying a play with a similar character or watching an old film with a character whose quirks we might be inspired to pepper into what we are creating. Terry continues to impress me with his commitment to character and story. I wouldn't be as fearless or as confident without his guidance."
Always learning
A few minutes of watching an interview with Emmy Rossum, and you know that she's an intelligent and driven young lady. But that's not all. During her time at the Met, she learned to sing in six different languages. Upon leaving the opera at age 12 — and, instead of returning to The Spence School, a private K-12 on the Upper East Side of Manhattan, which she hated — her mom agreed to let Rossum study with tutors online, incorporating classes available through Stanford University. As a result, the whip-smart teen received her high school diploma at 15 years old. By 2008, she was enrolled at Columbia University, studying French, art history, and philosophy.
She has also enrolled in classes at London's Le Cordon Bleu. She learned that she had Celiac disease when she was a preteen, so she enjoys being more than capable of cooking her own food. She asserts that she doesn't think it's cool, she says, "I'm allergic to gluten. I have a mild celiac, so I don't think it's cool." And, as portrayed in her approach to her television and film characters, Rossum has an innate emotional intelligence that she's able to parlay into her work. Rossum is not Fiona, and Fiona is not Rossum, yet, the actress deeply cares for her character. That brilliant craft in approaching her work, will only deepen, as time goes on.
Slaying it on the small screen
Emmy Rossum landed her first acting role as Abigail Williams on As the World Turns in 1997 — the same year she appeared on an episode of Law and Order. She then did a TV movie called Genius, and later, played a young Audrey Hepburn in the made-for-TV film The Audrey Hepburn Story. Her silver screen debut was in Songcatcher (2000), playing an orphan in the Appalachian Mountains of western North Carolina. In an self-taped Q&A from 2008, Rossum says that her mom's favorite movie is likely Songcatcher, both because her mom likes that type of music, and because her mother would probably like to think of her precious daughter as no older than 13 — pretty much ever.
Rossum's performance in Songcatcher earned her a nomination for Best Debut Performance with the Independent Spirit Awards. She went on to land the lead in 2003's Nola, then did a her biggest studio film, working with Clint Eastwood as director and Sean Penn as her on-screen father in Mystic River, that same year. Incidentally, Rossum admits in her Q&A that Mystic River is probably her mom's least favorite — not because it's a bad film, but because of the story arc for Rossum's character, Katie Markum.
Her big break singing on screen
In 2003, when Emmy Rossum was just 16, she set out to do a screen test for Andrew Lloyd Weber's cinematic version of The Phantom of the Opera. As she told the story, in an interview with BlackFilm.com, Rossum had a meeting on a Wednesday with director Joel Schumacher. He asked for a screen test on Saturday, but she had a "family thing", so she said no at first. Little did she know that Schumacher had been casting for the role of Christine for six months — and she was the last person he was going to see. Needless to say, she ended up doing the screen test — and nailing it!
On receiving the news that she booked the role, she said in the interview, "At first I thought it was a practical joke…I was sitting at the breakfast table after hearing, and my mom was reading The New York Times, over her toast. I said, 'Mom, I got Phantom of the Opera,' and she said, 'Oh, that's nice, honey,' and kept on reading about Somalia!" Rossum didn't think she would get the part. Her mom, however, was not at all surprised that she got the role. Rossum turned 17 while filming, but retained a professionalism beyond her age, thanks to her previous experience at the Met. At the opera, she was expected to be professional and conduct herself maturely, because it was a privilege just to be there. She's approached every set that way, ever since.
Feeling at home on stage
Even though Emmy Rossum's film career was taking off, and she was about to embark on the first season of Shameless, she still took time out to participate in Broadway's "24 Hour Plays." In this innovative and exciting theatre project that's been around since 1997, promising young writers, directors and producers are paired with actors to undergo an intensive 24 hours of creativity. The process starts at 10pm the night before the performance, and writers are given several things for inspiration (props, etc), and then write all night. At 9 a.m. the next morning, actors receive their roles and the directors arrive to start rehearsals. In less than 12 hours from that time, the curtain lifts on the performance.
In an interview with ABC, Rossum admitted she identifies with this type of work, saying, "Performance is kind of where I feel like I fit in, in the world. Where I'm surrounded by a whole bunch of circus clowns, just like me, who like playing pretend."
Fighting for equal pay in Hollywood
If you've seen Emmy Rossum's name in the news lately, it's probably because of the equal pay dispute that she raised with Showtime. On the heels of Robin Wright Penn's similar dispute (and success) with Netflix, Rossum said she would not agree to an eighth season until she was promised a salary commensurate with Macy's, as well as back pay for the seven seasons prior, when she was earning less. William H. Macy, in an soundbite with TMZ, said that it's about time that the Equal Rights Amendment was actually observed, and that Rossum "works as hard as I do."
On December 14, 2016, Rossum tweeted, "Playing Fiona Gallagher has been one of the great privileges of my life. I'm so happy to continue [with] my Shameless family! Back to work in May!" Her successful negotiation was widely reported, and thanks to her perseverance, audiences have an eighth season of Shameless to look forward to.
Returning to her first love
Emmy Rossum released an album called Inside Out in 2007. It makes sense — her soulful pipes were nominated for a Golden Globe for The Phantom of the Opera. Inside Out was a very personal album and not pop music, which is what most people expected of such a young person. When asked about her debut album, Rossum said, "I don't find lyrical inspiration from anybody. I really find that from myself." In revealing herself, versus portraying a character, she said, "The idea behind Inside Out is turning yourself inside out and showing people who you really are inside, and that's why the record is somewhat autobiographical…I really wanted it to be pretty honest."
In 2013, she released her second album, Sentimental Journey. Full of standards and other great, traditional songs like "Summer Wind," and "Pretty Paper," as well as the title track. It rose to number one on Billboard's Jazz Albums on February 16, 2013. In an interview with Elle, Rossum said that she grew up with music from the 1930s because of her mom. She told Rolling Stone, "I just wanted to make a record the way that old records were made. They had all their songs, recorded them in one or two takes, and that was the track they used." I hope, even though Shameless has been renewed, that Rossum will find a way to release more music, with that beautiful voice.
Honoring her Jewish heritage
Emmy Rossum's mother Cheryl is Jewish, and while Rossum considers herself more spiritual than religious, she has a great respect for her heritage. In an interview with ShalomLyfe, she says, "My mother instilled in me the Jewish code of ethics and morals. That stays with me very strongly every day. I enjoy having a Shabbat dinner with my close friends, even though it is not something I grew up doing weekly." And, she's none too pleased when someone makes a culturally insensitive remark. Take, for instance, the incident in 2013 when Justin Bieber posted on a Facebook page of the Anne Frank House that he hoped Anne Frank would have been a fan. Rossum was angry, and tweeted, "Anne Frank suffered WW2 and Justin Bieber hopes she would have been a fan? I have no words."
While a feud with "The Biebs" may have taken place years ago (fun fact — they were briefly neighbors), Rossum is trying to make a difference in the world now. She recently tweeted, "On the board of the MJAC (Muslim Jewish Advisory Council) Here's our statement on @POTUS's speech & recent problems," linking to a press release issued by the organization about accountability for denouncing hate crimes, while promoting protection and peace. Rossum has never been afraid to take a stand for what she thinks is right.
Advocating for the world around her
From 2007 to 2010, Emmy Rossum was a YouthAIDS Ambassador, helping with fundraising campaigns, and making public appearances to educate young people about the threat of HIV/AIDS. In 2012, she became the official spokesperson of PiNKiTUDE for Susan G. Komen for the Cure®. She's helped out with environmentalist causes, and she is a big supporter of The Best Friends Animal Society. She's quoted on their website as saying, "I encourage everyone to find their new best friend at their local animal shelter and together we will save them all." The organization did a feature on her in April 2015, and she has participated in their marketing campaigns.
In addition to her work on the board of the MJAC (Muslim Jewish Advisory Council), she is vocal about equal pay for equal work, and in 2009 she marched to fight Prop 8 in California, and has volunteered for many different causes over the years. In a Q&A with Lipstick for Glamour in 2013, Rossum shared about her involvement with an Origins cosmetics charity event, saying, "I've always been most interested in eco charities. I've always been involved with Global Green for years…Origins, which is a great company [is] partnering with Charity: Water to build more water wells in Ethiopia. That kind of turned me on."
Staying fit and healthy
In addition to her gluten-free diet, Emmy Rossum is in great physical shape. She told Shape that one of the ways she achieves that, is to take lots of dance classes. She says, "I love Physique 57. Generally, I take spinning, and I try to do things in groups. I don't like a one-on-one trainer — too much pressure. And I hate push-ups. I hate them with a passion."
An interview with Furthermore revealed even more about this fit star's regimen. For instance, her favorite healthy meal is her mom's roasted lemon chicken (organic, of course), paired with cooked spinach and brown rice. She keeps eggs and garlic on hand at all times, and her favorite soup to make is dairy-free carrot ginger soup. Her splurge meal would be "a black-and-white milkshake, a medium rare cheeseburger on a gluten-free bun and sweet potato fries." I'm guessing, by the shape she's in, that she doesn't indulge very often — or that she has a super human metabolism! To stay healthy, she also tries to get plenty of sleep, and to relax in a bubble bath whenever she can.
Growing to love Sugar, Cinnamon and Pepper
In a YouTube video, Emmy Rossum shared that she had, at the time, two dogs: both boys, named Sugar and Cinnamon. Since then, she has adopted Pepper through her association with Best Friend Animal Society. In an interview with Esquire's Ryan D'Agostino, we learned that she also has a cat, named Fiona G. Kitty. She said, "I found her in Chicago. She was a stray, and she set up shop in my trailer. She was mean. I mean really mean…I took her to a vet and they said she was probably dying of breast cancer…I hate cats. But this cancer cat made me feel bad."
It turns out the cat did not have cancer, but a hernia instead. Rossum's stuck with Fiona G. Kitty, but it seems the cat has grown on her. In People, she said that growing up, she thought she was allergic to cats, and that her first pets where fish and snails — all named after presidents. These days — cat-allergy-free — Rossum lives with three dogs and a cat. And she's crazy about all of them.
Learning about love
Emmy Rossum has a very mature outlook on relationships. She married in 2008, and the marriage ended just a year and a half later. Her former spouse, a music executive named Justin Siegel, sought alimony but didn't win. About the split, Rossum said, "Everyone messes up in relationships and has peaks and valleys in their personal lives. When I realized it wasn't the end of the world and I would keep on standing, I knew it was going to be OK." Rossum was later linked romantically to Adam Duritz, lead singer of Counting Crows, after she toured with the band. They split amicably in 2010.
Now, she's married to Mr. Robot creator Sam Esmail, who actually proposed to her while she was in the bathtub. He presented her with a vintage engagement ring from the 1920s, and Rossum says, "I like that I've inherited someone's story, and I hope that it's a good one." That type of thinking is typical of the actress. She wasn't your usual bride-to-be obsessing about her wedding dress. In fact, though Carolina Herrera designed her gown, Rossum left the design all up to the designer.
She says, "I don't really care what the dress looks like. I don't really care what the plates look like. I don't really care what the invitation looks like. The only thing that's really important to me is that we get married and there's some kind of party." That's basically the approach Rossum is taking to marriage, as well. She says, "I was always more excited by the idea, the concept of marriage and togetherness with the person and unity."
She's just getting started
What's up next from this bright, multi-talented lady? With her obvious acting talent, her strong morals and her phenomenal singing voice, the sky is the absolute limit. With the world as her stage, Emmy Rossum is sure to inspire many others to use their talents, their voices, and their hearts, to create a space in which everyone can truly thrive.