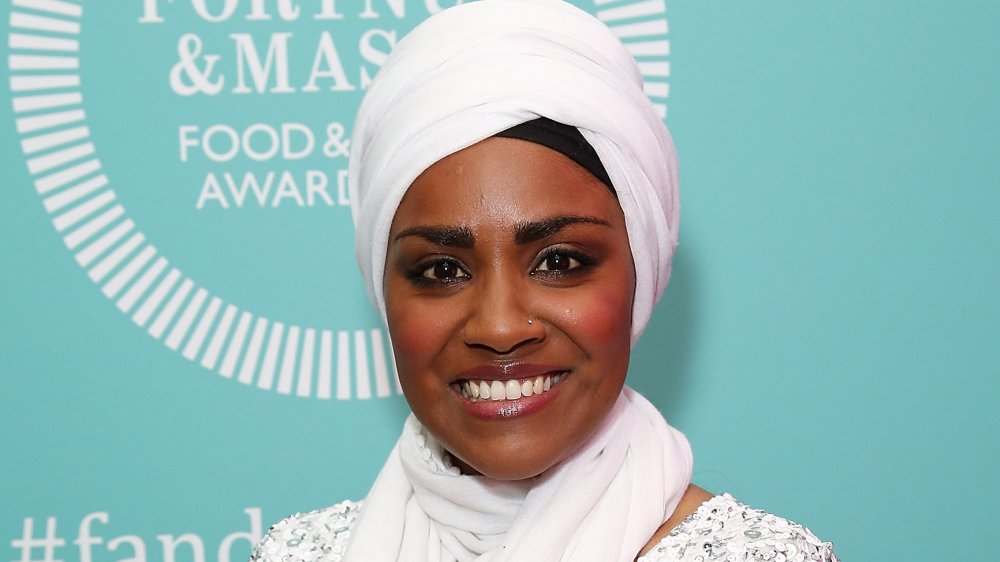 Nadiya Hussain became a household name after winning season six of The Great British Baking Show. If you're a fan of the show, you'll remember watching this shy, nervous young woman, wearing a traditional hijab, gradually find her confidence and voice. Hussain broke boundaries and became a role model by defying prejudices, per The New York Times.
What viewers didn't know was that while Hussain was baking delicious mille-feuille and cheesecakes, she was internally battling debilitating anxiety, racist attacks, and PTSD. But Nadiya Hussain is nothing if not incredibly perseverant. She has gone on to become the most famous and successful GBBS winner to date, thanks to her many television appearances and prolific output of cookbooks, children's books, and novels. But behind the effervescent personality, Hussain is more complex, empowering, and cheeky than you might believe. Keep reading to learn about the untold truth of Nadiya Hussain's struggles and triumphs.
Nadiya Hussain is the most successful Great British Baking Show winner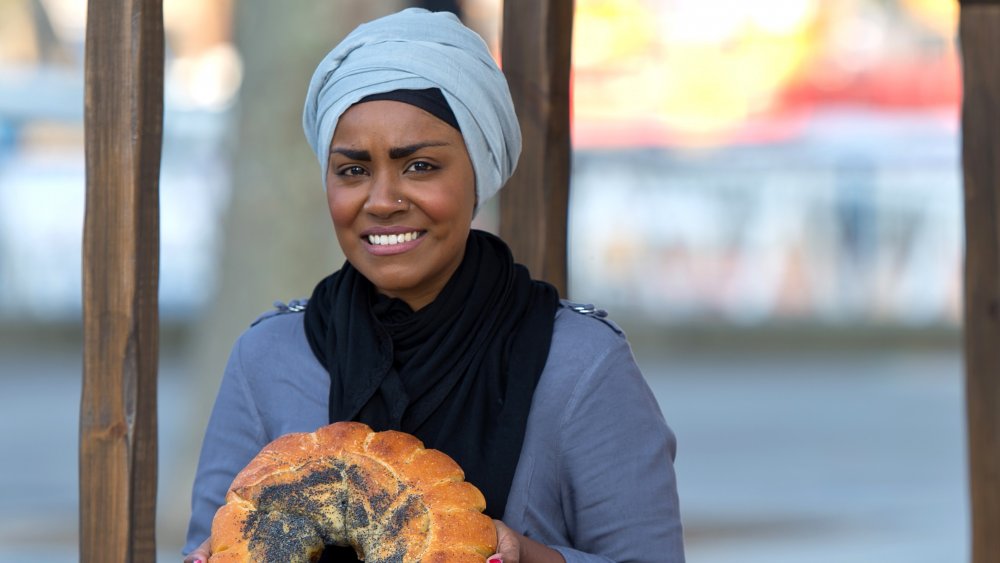 To date, Nadiya Hussain has been the most successful winner of The Great British Baking Show. She's never released her earnings, but it's estimated to be $5 million (per The Cinemaholic). After winning in 2015, she immediately hopped on the PR wagon by appearing on comedian Michael McIntyre's Big Christmas Show. She then signed contracts with the BBC to host food and travel programs, The Chronicles of Nadiya, which followed her around her native Bangladesh as she shared recipes that shaped her love for cooking, according to Kajal. The two-part show was enormously popular, per The Sun, and was particularly enlightening when she guided viewers in the customs of a traditional Muslim wedding.
After a stint as a judge with Mary Berry on Junior Bake Off, she had her first cooking show, Nadiya's British Food Adventure that also had a tie-in cookbook — her second in a year. In the show, she travels throughout the U.K. and samples regional cuisine. Although the show was dubbed by The Guardian as formulaic, it cemented Hussain's reputation as "darling of the nation." She regularly contributed articles and recipes to BBC Good Food, The Times Magazine, The Guardian, and The Telegraph. In addition to her frequent television appearances, she's written four children's books, five cookbooks, three novels, and a memoir. She also has a homeware collection — Make Life Colorful — and a new 2020 Netflix series, proving without a doubt that Hussain is the most prolific of the GBBS winners.
Nadiya Hussain baked Queen Elizabeth's 90th birthday cake
In April 2016 — a few months after winning GBBS — Nadiya Hussain was invited to bake the birthday cake for Queen Elizabeth's 90th birthday celebration. Hussain was justifiably nervous, as reported by ITV. "Every time I tried to ignore the fact I was doing it for the Queen, my husband would very conveniently remind me — 'Hey, hey, you're slacking. It's for the Queen. Get up, you can't be lying down.'" At the ceremony — a huge media event — she presented to the Queen a three-tier, orange drizzle cake, brightly decorated in gold, purple, and lavender fondant.
The Queen wasn't sure where to cut. "Does it cut?" Hussain assured her it did, although she revealed later in an interview she was thinking: "Oh, God, it better cut," according to The Daily Mail. Queen Elizabeth was reportedly referring to an event the previous year when her knife got stuck in a fruitcake. With the cake cut, Prince Philip approached Hussain, and the Queen introduced her. As reported by News 24, the Prince replied: "Yes, I know who she is, but what flavor is the cake?"
Not everyone was impressed by Hussain's creation. "Hideous" and "circus-like" were some of the unflattering tweets she received. Hussain brushed off the criticism: "If I cared about every little thing people say or that kind of negativity," as told by The Mirror, "I don't think I would be able to leave my house." The Queen apparently loved the cake and took the top tier back to Buckingham Palace.
Nadiya Hussain was criticized for wearing a hijab
Although you wouldn't know it from her bubbly personality, Hussain was going through some dark times as the 2015 series began to shoot (via You Magazine). In the first five episodes of season six, Hussain wore a black hijab — the traditional head and neck covering worn by Muslim women. As reported by The Guardian, she was nervous that GBBS viewers would think that "perhaps people would look at me, a Muslim in a headscarf, and wonder if I could bake."
Hussain's facial expressions and witty quips won her many admirers. But when Hussain was declared the winner, The Sun's columnist Ally Ross claimed that she had won only because of the BBC's political correctness and that her success was "ideological warfare" on Great Britain, according to Huffington Post UK. Another journalist from The Daily Mail complained that finalist Flora Shedden was booted off because she was too middle-class. "Perhaps if she'd made a chocolate mosque, she'd have stood a better chance," they offensively remarked.
Hussain was also receiving threats on social media and had to request police protection for her family (per Closer). She was worried she had unintentionally put her children in danger, but her husband, Abdal, assured her "They're such a minority, and it doesn't matter," per HeatWorld. Prime Minister David Cameron made it publicly known that he and his wife had favored Hussain to win, and as reported by The Times, PR guru Mark Borkowski declared "She represents an image of a modern Muslim woman."
Nadiya Hussain has a traditional Muslim arranged marriage
Nadiya Hussain was born and raised in Luton, a town in eastern England, by British Bangladeshi parents. When she was 18, her parents forbade her from attending university because they were afraid it might corrupt her, she admitted on a podcast, per Stylist. "They were in a country that wasn't theirs, and they were scared." At 20, her protective parents arranged a marriage to Abdal Hussain. They were engaged the day they met and were married the next day, according to Good Housekeeping. Hussain later claimed that it was one of the worst days of her life. "One of the unspoken rules is as a bride you have to behave submissively and look downcast," she told The Mirror. "It's something I was always really uncomfortable with."
They each knew their life goals, but they had no idea of their likes and dislikes. Hussain admitted that she wasn't in love with her husband until the birth of their two sons (per Metro). "Love is strange … it creeps up on you and then smacks you in the face." During and post-GBBS, Abdal developed his own huge fan following with women and gay men. Hussain revealed that she had traveled to Thailand to learn to make a particular curry, but people were more interested in seeing photos of Abdal, per Metro. They renewed their vows in 2018, and Hussain baked the cake they didn't have at their first wedding. She's also publicly stated that she wouldn't accept an arranged marriage for her daughter.
The reason why Nadiya Hussain always wears a headscarf
Hussain started wearing a hijab when she 14. Her father had given her a terrible haircut, and she wrapped up her head to conceal it (via The Daily Mail). She experimented to learn the technique, using pins from dresses to fasten the material. Hussain was drawn to religious texts in her school library, and she learned about the importance and significance of a Muslim woman covering her hair. Citing how unusual her choice was to wear a hijab, she recounts that when she visited her native Bangladesh, a relative approached her and asked "Why have you got your head bandaged? Have you injured your head?"
Her headscarves also serve another purpose. "Abdal [her husband] calls them my mood scarves," she told The Daily Mail. "So if I wear black he knows I'm probably not having a very good day, but if I'm wearing something a little bit colorful he's like, 'Oh, are you all right today?'" In the first five episodes of GBBS, Hussain wore a black hijab, which she wore (via You Magazine) because she doubted her baking skills. Then, in week six, "I braved a green headscarf," she said. Her confidence grew and she resolved to never doubt herself again. Hussain still wears headscarves — usually brightly colored. The spike in hate crimes towards Muslims strengthened her resolve to keep wearing them. "I think it strengthens my belief in who I am and the choices that I make."
Nadiya Hussain still receives racist attacks
In a September 2020 interview with Radio Times, Nadiya Hussain claimed that she's experienced racism throughout her life, and during and after GBBS, she dealt with racist attacks on Twitter. Hussain has said that she receives a continual stream of Islamophobic abuse on social media (via The Times): "I'm brown. I'm Muslim. I cover my hair. I claim to be British at the same time, so I get abuse from every angle." Initially, Hussain wouldn't respond to vicious tweets. "I feel like there's a dignity in silence, and I think if I retaliate to negativity with negativity, then we've evened out," she told Radio Times.
Hussain also claimed she's been on the receiving end of racism in the television industry. "I now work in an industry that's very much middle-aged, Caucasian, male, and there I am — a five-foot-one, Muslim brown girl, and it's not my world," she told The Evening Standard. "There's definitely a sense that I should be grateful for what I do." The times she has called out racism, "I've been met with some serious negativity."
However, since George Floyd's death and the rise of the Black Lives Matter movement, Hussain speaks out openly now about racism. As reported by People, Hussain related a painful story from her past in an Instagram post about when she had applied for a job as a hand model to model jewelry but was told that "black hands don't sell jewelry."
Nadiya Hussain suffered PTSD from childhood trauma
As a child, Hussain struggled with deep anxiety that was eventually diagnosed as PTSD, according to You Magazine. She was cruelly bullied in school, but the real source of her PTSD was a deep-rooted memory of an assault in Bangladesh. In an interview with iNews, she struggled whether to include the traumatic incident in her memoir, Finding My Voice. "I wrote it in, then I wrote it out … I had to question why am I putting it in there. Why have I gone from not say something to putting this in the book?"
She'd only recently told her sisters, and she recalled that when she confided in a close school friend, the friend revealed something similar had happened to her too. Hussain realized that what happened to her happens everywhere all the time, and if it's not talked about, it gets forgotten. "And I suppose part of me wanted to forget." She also contemplated what she would do if it happened to one of her three children. "I can't even … just as a mother … I can't. I have no words. I rarely have no words." In the end, she decided that she wrote the book for young girls who seek out a book with someone they could connect to.
Nadiya Hussain never got over being bullied in school
In an interview with The Times, Nadiya Hussain revealed that she was so badly bullied in school that she questioned taking her own life. In her documentary, Nadiya: Anxiety and Me, she claims the bullying centered around her skin, as she attended a mostly Muslim school where lighter skin was "…almost revered." Her bullies were boys; she never fought back at their cruel tactics, like pulling out her hair.
The bullying culminated in a terrifying incident when she was 11, and she found herself trapped in the school bathroom by the boys. One of them dunked her head into the toilet bowl and flushed. She thought she might drown. The incident was so damaging that today she still relives the memory whenever she uses a bathroom. Hussain didn't tell her parents who were dealing with the poor health of her siblings, and sadly, she didn't consider the bullying to be as important. When Hussain confided in a teacher, she suggested she just ignore her bullies.
Hussain claims the extent of the bullying led her to contemplate taking her own life. After planning to take "some tablets," she was interrupted by hearing news that her mother was pregnant with her future sibling. This was a life-saving moment for her. Hussain told You Magazine that the bullying stopped when she was sent to an all-girls school.
If you or anyone you know is having suicidal thoughts, please call the National Suicide Prevention Lifeline​ at​ 1-800-273-TALK (8255)​.
Nadiya Hussain is an accomplished novelist
Nadiya Hussain has written five cookbooks, but she's also an accomplished novelist. In an interview with iNews, Hussain said that she's been writing since she was seven years old. In fact, she's been writing creatively longer than she's been baking (per Refinery29). She published her first novel — The Secret Lives of the Amir Sisters — in 2017, and it's described as a Muslim version of Little Women. The novel was generally praised, but one reviewer in The Guardian dinged her effort as greedy. "Not the good greedy that makes you learn to make delicious things and grab life with both hands, defy expectations, all the things which Hussain has done so admirably."
Despite the reviewer's snark, the book sold, thanks to Hussain's popularity. What hadn't been revealed was that the novel had been ghostwritten by Muslim novelist, Ayisha Malik (via Irish News). The sequel — The Fall and Rise of the Amir Sisters — was well-reviewed, even if one reviewer in The Independent grouchily wrote: "whoever it's really written by." He did praise the novel as "… bold in tackling serious topics, with mental health issues, sexuality, faith and failed ambitions driving the plot." Hussain's third novel — The Hopes and Triumphs of the Amir Sisters — was published in January 2020. It dealt with racism and assault, both of which Hussain has had to come to grips with in her life.
Nadiya Hussain still struggles with anxiety
In the 2019 documentary, Nadiya: Anxiety and Me, Hussain opened up about the crippling panic attacks that have plagued her for many years. As previously reported, her entire life revolves around not falling apart, per BBC. She referred to her panic attacks as "the monster," which is always present: "Some days the monster shouts in my face. No matter where I turn, he will keep shouting at me."
The crippling anxiety resulted from trauma as a child, and it worsened after the birth of her daughter. She was prescribed antidepressants that worked but made her feel "emotionless," according to The Times, and she tossed the pills away. In 2014, she couldn't get out of bed and wouldn't leave the house. Her husband Abdal found a solution by filling out the application for GBBS, and when Hussain passed the practical, she was worried the plan would backfire. During filming, she had panic attacks in the hotel and bathrooms. "It was just shocking how it took over." Even though she was terrified, the technical challenges forced her to focus, and she was cured, but only temporarily.
It wasn't until she attended a cognitive-behavioral therapy session in her documentary that she learned how to control her fears. As clinical psychologist Paul Salkovskis told her, "It's important to remember it is never going to happen to you again" (via NHS Oxford Health). As reported by the BBC, Nadiya: Anxiety and Me was widely praised for its depiction of mental health.
Nadiya Hussain's new Netflix show is groundbreaking
Nadiya Hussain's new Netflix show — Nadiya's Time to Eat — manages to balance a cooking show, educational television, and self-help therapy. Each show begins in Hussain's bright and colorful home kitchen, where she prepares a recipe that's designed for busy parents who don't have time to cook. Hussain shares her shortcuts — like using Spaghetti-O's — that substantially cut preparation time. "When life is chaotic," as she's quoted in Vice, "every meal can be a struggle."
Hussain brings her love for the science of cooking and food production by taking viewers to farms and production plants to show where food comes from (via But Why The Podcast). She then drops in on a household to help stressed-out parents get dinner on the table. "It was really important to go meet people who were genuinely struggling," she told The New York Post.
What really makes Nadiya's Time to Eat stand out from other cooking shows is Nadiya herself. "I didn't grow up watching Muslim women on television. I didn't grow up watching Bangladeshi women of color on television," she said in an interview with The Cut. "To be able to do a cookery show and be this British, Bangladeshi, Muslim woman of color — that's a big deal."