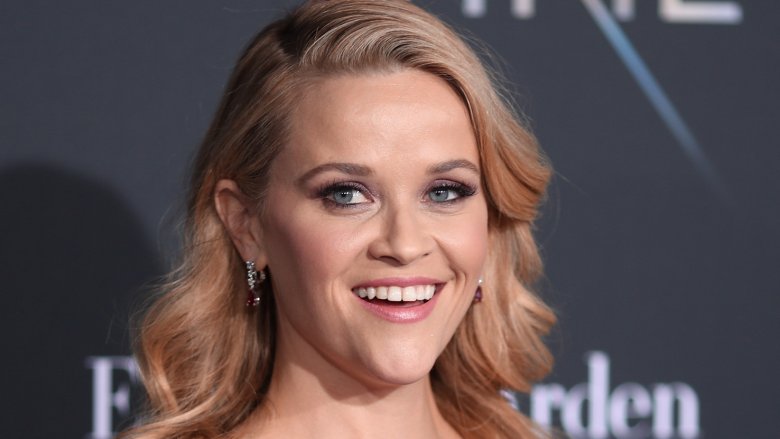 You may not know it, what with all the glitz and the glam and la-di-da of it all, but celebrities do actually eat too. Weird, right? To think that such unknowable, almost ethereal people actually take the time to sit down for a good meal just seems… odd. You kinda just assume they devour starlight or the concept of time or something, don't you?
Well, it's true: A-listers eat food. Some of them have eating habits which sit comfortably on the "normal" end of the spectrum, while others prefer — well, let's just say starlight might have made more sense. These women are some of the most famous on the planet, having appeared in the most successful movies and series of all time, and some of them live on diets that are nothing short of fascinating. Others not so much, but that's our point — there really is something quite remarkable about just how unremarkable they are.
Julia Roberts loves a good cookie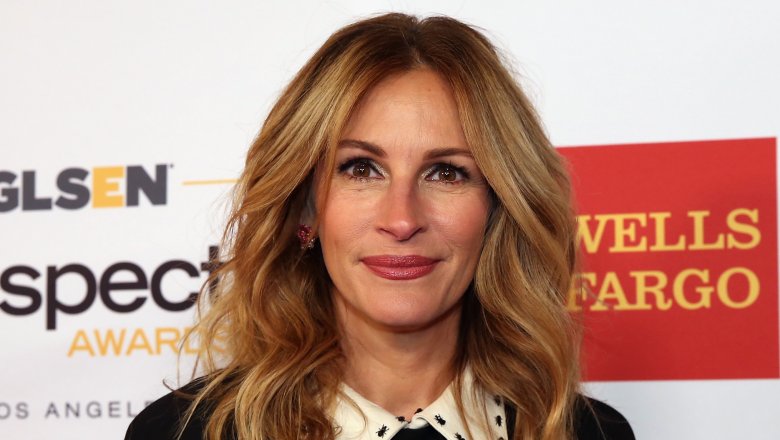 We'll be surprised if many of these actresses have managed to fly under your radar at all, but let's give you a recap just in case. Julia Roberts is one of Hollywood's biggest stars. She's an Academy Award winner (for 2000's Erin Brockovich) and has starred in movies as wide-ranging as Pretty Woman, Notting Hill, Ocean's Eleven and Eat Pray Love. During the '90s and early '00s, she was pretty much the most famous woman on the planet.
Roberts told People Magazine in 2017 that she tends to begin her day with a full breakfast (which usually consists of sourdough toast, avocado, eggs, fruit and coffee) before a light lunch and a dinner which is usually healthy and high in protein — the example she gave was salmon, avocado, and brown rice, with a glass of wine on the side. She also holds a fondness for pasta, jokingly asking why everybody gives it such a bad rap, and adds, "I love a good cookie." Don't we all?
Emma Stone doesn't stress
Emma Stone is a part of the younger cadre of Hollywood A-listers, having found fame in a number of successful movies released in the last decade or so. Among these are Zombieland, The Amazing Spider-Man and its sequel, and of course, La La Land (which she won an Oscar for). All this, too, before even hitting the age of 30. It's little wonder why Stone is generally regarded as one of her generation's best performers.
Stone's approach to food is best described as "liberal." She's spoken openly about her distaste for exercise, and believes it's wrong to deprive yourself of good food. She told S Magazine that "I do have that thing of, 'Oh my God, I'm disgusting! I ate a huge Wagamama lunch, the whole yaki soba, and I feel so fat.' But I'm still gonna eat that stuff, and you know what? You can get nice, loose clothes that cover it all up."
Angelina Jolie eats practically nothing
It's probably not a stretch to suggest that Angelina Jolie might be the most famous actress on the planet. Nowadays, she works as a humanitarian — working to protect refugees, uphold education, defend women's rights, and conserve the environment all around the world — but is also renowned for her turns in Lara Croft: Tomb Raider, Changeling (which, yes, you guessed it: Oscar) and Maleficent.
And her diet is about as extraordinary as her career. Jolie is rumored to consume around 600 calories per day preferring foods which are high in proteins. That means lean steaks, cereals and protein shakes are on the menu. She has also been known to snack on "ancient grains", which consist of quinoa, chia seeds, spelt, millet, and buckwheat. A persistent rumor has also followed Jolie which suggests she begins the day with a spoonful of coconut oil and a handful of cereal — and not much else. Pass the pizza, please.
Emma Watson's health kick falters at the Mexican border
Emma Watson's career exploded (in a good way) from the outset with her recurring lead role in the Harry Potter series. She's also appeared in a smorgasbord of other productions including The Perks of Being a Wallflower, This is the End and, more recently, Beauty and the Beast. She also works as a UN Women Goodwill ambassador and campaigns for gender equality around the world.
According to Business Insider, Watson's diet is dictated by a number of main tenets. The first is a general tendency toward healthiness, avoiding processed foods and trying to include whole grains, proteins, and unsaturated fats. She has a predilection for Mexican food, loves gin and tonics, and holds a weakness for Nutella.
What she does eat she usually cooks herself — having told Marie Claire in 2013 that she dreams of attending culinary school — and is no stranger to the occasional treat. It goes without saying, of course, that this all comes hand-in-hand with a strict exercise regime and an understanding of moderation and yada yada yada.
Jennifer Lawrence keeps it real
Jennifer Lawrence is one of the most prolific young actresses working today. She appeared in Hollywood at the beginning of this decade, securing her role in the zeitgeist with her roles in X-Men: First Class and the Hunger Games saga. Since then, she's also won an Oscar for Silver Linings Playbook — making her the second-youngest actress in history to win one — and has undertaken a significant amount of charity work and activism.
Lawrence's love for junk food is well-documented, and the internet's adoration towards her for her apparent relatability is nothing short of a PR manager's dream. In recent years, she has won digital hearts for speaking up about her taste for McDonald's fries, Cool Ranch Doritos, and pizza. Seriously, she really loves pizza — and really loves letting people know she really loves pizza, too. It's practically her whole brand, actually. An interesting angle to take on your public image, but hey, it works. All the power to her.
Jessica Chastain, vegan icon
Jessica Chastain has been acting on the big screen for ten years now, in which time she's starred in films including Take Shelter, The Tree of Life, Interstellar, and The Martian. She has been nominated for an Academy Award twice, has won a Golden Globe and currently works to improve equality and diversity in the film industry.
Chastain is an outspoken vegan. She was pescatarian (a vegetarian who does eat fish) for 15 years, but eventually realized she was having problems with cheese and shellfish. For health reasons, she switched to vegan, taking on a subscription to a vegan food delivery program that her friend wasn't using. Since then, she's reported that her change in diet has helped her feel, in her words, "more energy than I've ever had in my life" and has even improved her skin. A few problems have arisen with her veganism, however — the main one being the risk of shocking or offending her Italian in-laws.
Naomi Watts lets loose
Since her debut in 1986, Naomi Watts has gone on to enjoy a stellar career in film and television. She's worked with David Lynch on multiple occasions, starring in Mulholland Drive and appearing in the 2017's third season of Twin Peaks, and has taken on roles in such films as The Ring, King Kong, and The Impossible, the latter of which earned her a second nomination for an Oscar (the first was for 2003's 21 Grams).
Watts, like many actresses, keeps to a strict diet and exercise regime prior to and during awards season, in order to keep in shape for the red carpet. Once it's over, however, it's open season as far as eating is concerned. She loves eating out and refuses to deny herself food just for the sake of keeping in shape. She explained to People, "I'm not going to go to Paris and push a salad around my plate. I'm going to Paris to have bread and treats and good wine."
Reese Witherspoon brunches hard
Reese Witherspoon's most well-known credits include Legally Blonde, Walk the Line (her role in which nabbed her an Oscar), Big Little Lies (which nabbed her two Emmys) and Wild. According to Business Insider, who ran a piece on Witherspoon's eating habits, she's quite the fan of fried chicken — understandable, considering her Louisiana roots — frozen desserts, and fruit, which she snacks on during the day.
She also eats brunch every Sunday (which she has with her children) and counts smoothies, fruit teas and coffee among her favorite drinks. She also avoids crash diets, preferring to keep a regular intake of healthy food on the go. Meals tend to be small with snacks in between, and alcohol is a rare treat. Oh, and she also exercises six times a week, but that's not something anyone wants to talk about, right?
Eva Mendes is a good egg
Eva Mendes has a roster of films and shows under her belt which is eclectic to say the least. She has appeared in E.R. (her first role), Mortal Kombat: Conquest, 2 Fast 2 Furious, Ghost Rider, Knocked Up, The Other Guys and Hitch. She is also a successful model and has appeared in a number of music videos for bands including the Pet Shop Boys, The Strokes and Will Smith.
When it comes to eating, Mendes is very much a "creature of habit." Since she thinks of food more as fuel for her body, she tends not to get bored with it. As a result, she has a few key dishes on constant rotation. Breakfast will always revolve around eggs, for example, usually with a piece of toast and some coffee. Lunch always includes grains (such as rice or beans) and she has a fondness for salmon with salad. She'll usually have the same thing for dinner. When she does indulge in a treat, however, it usually takes the form of Cadbury's Mini Eggs and Creme Eggs.
Kate Hudson's acidic antidote
Arguably her most iconic role to this day, Kate Hudson came to fame with her part as the hardcore groupie Penny Lane in Cameron Crowe's Almost Famous — for which she was nominated for an Oscar. She's also appeared in a number of other films including How to Lose a Guy in 10 Days, Bride Wars, and Nine.
Hudson's dietary regime is, frankly, a little bit strange. It's called the alkaline diet, and basically means that you avoid certain foods which increase acid production in your body. That means saying goodbye to meat, wheat, refined sugar, and processed foods. Sadly for Hudson, the science doesn't quite add up with the alkaline diet, with a 2002 study concluding that the effects it has on your body are limited mostly to the acidity of your urine. Still, it means you're taking in a healthy diet by default and keeps you away from the bad stuff, so it's certainly not a bad thing, per se. It could be worse, that's for sure.
Megan Fox is still raw
Megan Fox became a household name after her part opposite Shia LaBeouf in Michael Bay's Transformers series. She has also appeared in 2014's Teenage Mutant Ninja Turtles, and its sequel, as well as Confessions of a Teenage Drama Queen, and How to Lose Friends & Alienate People.
Fox follows what's known as a raw foods diet. Essentially, this means eating raw and vegan food, includes a high intake of superfoods, grains and other such healthy-sounding fare, and cutting processed food, meat and stuff high in saturated fat right out of the diet. Fox still manages to eat five times a day, however, and takes fish oil and silica supplements to complement her eating habits. Throw them all together and you've got a way of life that might not exactly seem like a barrel of fun on the surface, but is guaranteed to keep you slim and healthy nonetheless.
Amy Adams definitely doesn't diet
From a princess in Enchanted to an alcoholic journalist haunted by a lifetime of abuse in Sharp Objects, Amy Adams has played a staggeringly wide range of characters… who look very, very different. So what's going on behind the scenes, and what's her take on food?
In Julie & Julia, Adams was a food blogger who decides to cook all of Julia Child's recipes — and she told Access Hollywood that the role opened up her own foodie world. "I have completely reintroduced butter into my diet. I now cook my eggs with butter and it is just really, really good."
She added that she wasn't a fan of "the lobster stuff," but when it comes to most things, it's pretty much a case of anything goes. She's definitely not a diet person, and even spoke to Allure about how dangerous she sees the unrealistic standards touted by Hollywood every day. "Some of these actresses or public personas who are very public about their disciplined diets, more power to them. I just don't see the point."
When it comes to roles, though, she's not afraid to push it. For her exhausted, alcoholic look in Sharp Objects, makeup artist Kate Biscoe told Cosmo that Adams really did drink a ton of coffee, and enough sodium it made her face puffy. She averaged about 20 (non-alcoholic) O'Doul's every day, and that's dedication to whatever the role calls for.
Viola Davis is handling her pre-diabetes diagnosis
Viola Davis has been wonderfully transparent when it comes to her honesty about what kind of diet keeps her looking so amazing, and in 2018, she freely admitted that trendy cleanses weren't for her. It was on the set of Widows that the makeup artist tried to get them to participate in a 28-day cleanse that banned "chewing food or gulping liquids," because it was too aggressive. Sounds weird? Davis thought so, too — she told Jimmy Fallon that she lasted only 2 days. If that's not super-relatable, nothing is.
Then, in 2019, Davis was talking about something else with refreshing honesty: the diagnosis that she was pre-diabetic. She told Everyday Health that she was shocked. She tried to make healthy choices when it came to food and she exercised regularly, but still had high blood sugar. What changes did she make? She says she went paleo, and was happy to add things like cauliflower pizza and yam noodles to her diet. She didn't give up her desserts, but uses almond flour instead of wheat flour. She adds cinnamon to her beverages now, and is extra-vigilant when it comes to supplements.
And she knows what's at stake: she has two sisters who are diabetic, and an aunt who had her legs amputated before dying of diabetic complications.
Margot Robbie goes to extremes
Margot Robbie might be one of Hollywood's most versatile actresses, and when it comes to her diet and her exercise routine, that's pretty versatile, too.
She told Emirates Woman, "I'm not good at doing moderation. I get miserable if I don't eat. I can't just have a salad every day and half a glass of wine every second day. I can't do it." She added, "I don't have a very good diet. I love beer, fries, burgers, but if I have to go get in a bikini then I'll eat carrot sticks for three days. I'm one extreme or the other."
Staying in shape means a lot of workouts, says Harper's Bazaar — and that includes things like doing 100 sit-ups a day when she was training to play Tonya Harding. And when she's in that mindset, there are some things that she skips when it comes to her diet: saturated fat, fast food, and sugar-heavy drinks are all on the list of things she won't eat when she's prepping for a role. Then, she'll opt for things like porridge, a healthy breakfast smoothie, and lots of chicken and tuna. And wine.
Scarlett Johansson loves to bake
So here's a question: what could Scarlett Johansson possibly eat that keeps her fit and healthy, while still giving her all the energy she needs to step into the shoes of a Marvel superhero?
According to her personal trainer, Eric Johnson (via Harper's Bazaar), her Black Widow prep included fasting for 12 hours each day (sometimes as long as 15 hours), and carb-cycling — which means what she ate was based on the day's training. The focus was on high carbs and low fat or the opposite, and plenty of high-protein foods. One thing that remains constant, though, is his recommendation to eat dark chocolate before each workout, which makes the whole thing sound a bit better.
So what foods are we talking? According to Well+Good, Johansson is mostly vegan. She chooses things like oatmeal, tofu, lean proteins, salads, and plenty of fruit and vegetables. While she says she always practices moderation, that's not to say she completely abstains from the fun stuff. She told Styleist, (via One Green Planet), "I like to cook, major baker. Yea, this past summer I got into vegan baking so I was baking up a storm — breads, cakes, muffins. I love to bake." And she doesn't let herself feel guilty about it, saying, "When you're disciplined, the 'cheat meal' doesn't really exist. You're sort of like, 'I earned this piece of chocolate cake — I'm going to go for it.' You don't even think about it."