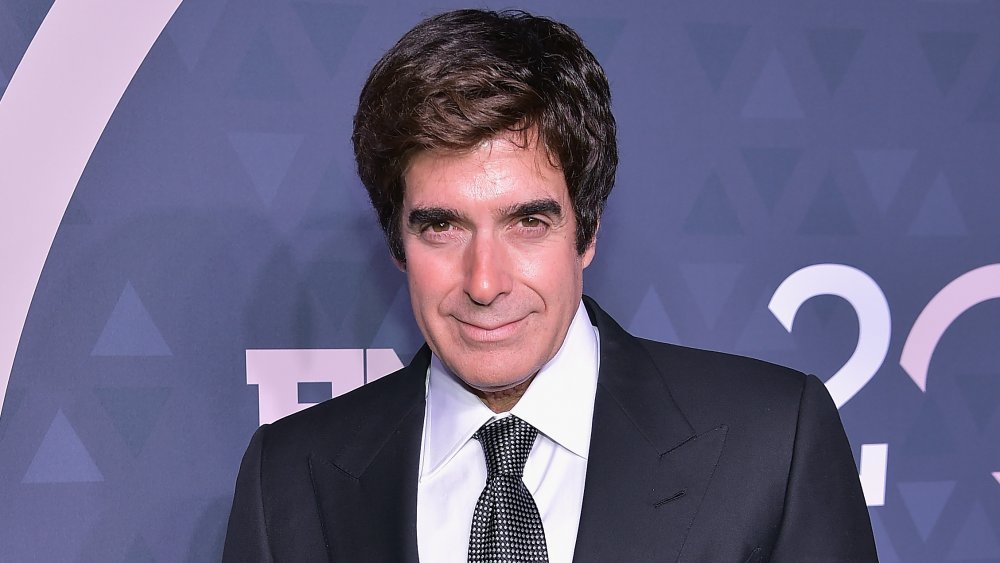 Born David Kotkin, David Copperfield began performing magic at the age of 10, going by the name of "Davino, the Boy Magician." Over the years, he developed his craft and his presence. By 17, he adopted the name Copperfield and began producing television specials soon after. Throughout his multi-decade career, he became one of the world's most famous magicians. He made the Statue of Liberty disappear, walked through the Great Wall of China, and floated over the Grand Canyon. For generations of fans, his name is synonymous with the term illusionist.
For younger audiences, however, Copperfield's name may not ring a bell. Yes, he is still a famous person, but there's no denying his level of celebrity has changed since his heyday in the 1980s and early '90s. That said, Copperfield still has some fight left in him. His public television appearances are few and far between, but he continues to have an impact on the industry, and his name still pops up in the headlines from time to time. And, of course, he's still making magic. So let's look at where he's been for the last several years as we answer the question: Whatever happened to David Copperfield?
David Copperfield's wealth isn't a trick of the light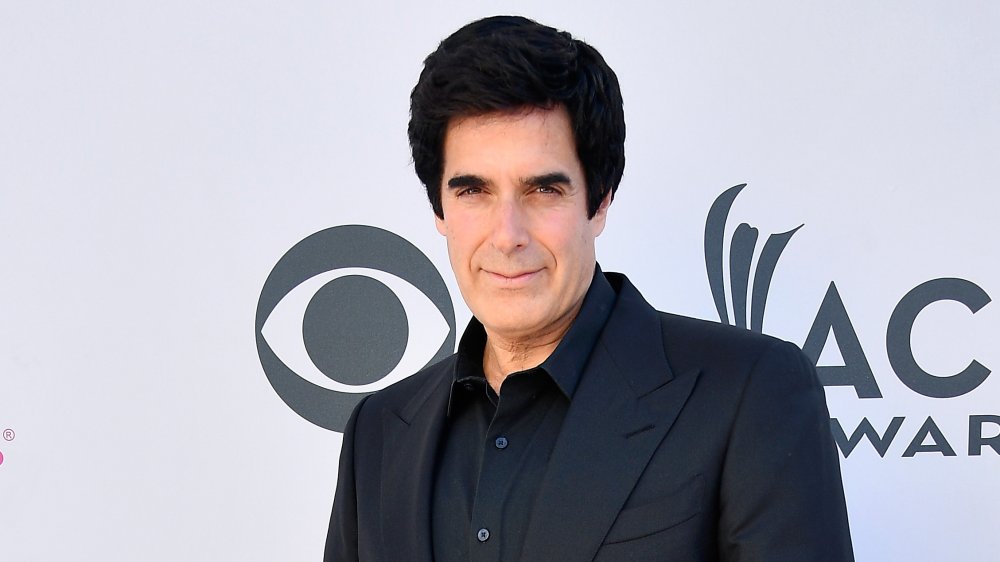 David Copperfield might not be front and center for the average magic fan these days, but that doesn't mean that he's disappeared. And it definitely does not mean his riches have disappeared. In fact, Copperfield landed on Forbes' top spot for money earned by magicians in 2019, a position he has held for four straight years. According to the publication, in his 60s, Copperfield was able to bring in more than $60 million for the year.
To put that into perspective, second place on the list goes to Penn and Teller, who are at less than $30 million. Only five acts made more than $10 million, and Copperfield earned almost as much as the other four acts combined. It may be that his days of making the Statue of Liberty vanish are behind him, but Copperfield's earnings are still high enough to astound people. As Forbes noted in 2019, the magician's net worth is just less than $900 million, income that Copperfield continues to add to with his stage shows and his investments.
A new era of magic for David Copperfield
David Copperfield had little competition in the '80s and early '90s. The most familiar name in the business, he dominated the airwaves with his grand illusions and unique approach to televised magic. But as the 1990s wore on, Copperfield's starlight waned. According to This Was Television, his two mid-90s television specials, Fires of Passion and Unexplained Forces, were middling successes. He then took a multi-year break from TV specials.
In 1997, Fox premiered Breaking the Magician's Code: Magic's Biggest Secrets Finally Revealed, a show which drew huge ratings and lifted the curtain on some of magic's oldest tricks. There was also the rise of modern showmen like David Blaine, called "the Tiger Woods of magic." When Copperfield returned to televised magic with his CBS special, Tornado of Fire, in 2001, he found himself in a completely new world.
His comeback got off to a rocky start. ABC News reported that the magician collapsed and was hospitalized during rehearsal for "extreme exhaustion." A crew member was then "thrown 10 feet in the air by the power of the man-made tornado" in a trial run, as per the Napa Valley Register. The actual show went smoother but was not well received. Essentially a standard stage show interspersed with Blaine-esque street magic, Tornado of Fire felt flat. According to This Was Television, the climax was a "mere endurance trick," and the show only revealed that Copperfield was now "a relic of a time gone by."
David Copperfield brings magic to Sin City
For those who don't travel to Las Vegas to catch the mainstay entertainment acts, it might be easy to overlook them. David Copperfield might not be on their radar, or they may even think that he hung up his collapsible top hat somewhere along the line. Nothing could really be further from the truth. For many years now, the magician has been a headliner in Sin City, running one of the most successful shows in history at the MGM Grand. According to an interview in The Seoul Times, Copperfield performs more than 550 shows each year, both in Vegas and around the world.
As for the show itself, Copperfield constantly revises it to keep it fresh and exciting for returning guests. According to the Las Vegas Sun, his magical act in Las Vegas elevates the typical illusions and includes a fair amount of sentimentality as well. Since many of his fans are old enough to have kids and grandkids now, he incorporates a large amount of nostalgia into his show to improve the viewing experience for his faithful followers and thank them for bringing their families.
A magic museum with David Copperfield's name on it
Over the years, David Copperfield has made incredible contributions to the history of magic. As a result of his meteoric success, he himself has become one of magic's most prized assets. Yet, he is also the greatest collector of historical artifacts from other famed magicians and illusionists in the world.
According to Forbes, Copperfield started the bulk of his collection in 1991 with the $2.2 million purchase of the Mulholland Library of Conjuring & the Allied Arts, then the largest Houdini collection in the world. Not everyone in the magic world was thrilled with that purchase, as one critic suggested that "David Copperfield buying the Mulholland Library is like an Elvis impersonator winding up with Graceland," as per The New Yorker.
Since then, Copperfield has added to his collection. He found the spinning blade that Orson Welles used to magically cut Rita Hayworth in half. He nabbed the rifle from Chung Ling Soo's bullet-catching trick, the same one that eventually killed the magician on stage. He even bought Houdini's Water Torture Chamber in 2004 for $300,000. In total, the prestigious collection tops more than 80,000 items, including posters, books, memorabilia, and full illusions. Inaccessible to the public, except through his periodic exhibits, David Copperfield's International Museum and Library of the Conjuring Arts is now used for research or giving inspiration for the magician's next trick.
A trick gone wrong sent an assistant to the hospital
Even in the familiar and controlled environment of the MGM Grand, David Copperfield is still prone to making mistakes, and some of his illusions can lead to injuries. One such unfortunate event brought the veteran magician back into the headlines in 2008. According to Us Weekly (via Wayback Machine), one of Copperfield's assistants was badly hurt during the show's final trick and was rushed to hospital with serious injuries.
"It was reported that someone's arm was stuck in a fan prop," a fire department spokesperson, told the magazine. While some in the audience thought it was a joke or part of the show, one eyewitness saw how bad it was. "One of the assistants dropped to the floor," they said. "The curtain came down partially. Blood was everywhere, and the other assistants dragged the victim back. Then the curtain closed all the way."
A show representative explained what happened. "During an illusion where David attempts to walk through the rotating blades of a 12-foot high industrial fan, the fan and its platform were being rotated by one of David's illusion technicians," they said. "Just prior to David himself walking through the fan, [the assistant] was accidentally pulled into the vortex of the moving fan blades, causing injury to his arm and face." The assistant suffered multiple breaks in his arm and several lacerations to his face.
A David Copperfield island getaway exists
David Copperfield will always be an entertainer first, but he's also a businessman. In 2006, the magician bought a set of 11 islands called Musha Cay and the Islands of David Copperfield, as per Departures. A few years later, the site was operational and rentable in its entirety. The destination's website claims that up to 24 guests can enjoy the 700 acres of the islands, its 40 beaches and five guest houses.
As of 2020, the reported rental price of the island experience sits at nearly $300,000 per week, according to BahamasIslands.com. Guests have access to everything the island offers, including its boats, private airstrip, and world-class chef. Throughout the property, Copperfield has scattered historical artifacts and items from his personal collection.
"The property is many different things," he said to Departures. "But for me, it's a most perfect paradise—with the ability to transform itself into each guest's own idea of perfection as well." While the islands sit in one of the majestic places in the world, a spot "considered to be the most beautiful place on earth … because of their vibrantly clear waters," there's also a symbolic reason Copperfield chose this location. "I drew a line on the globe from Stonehenge, in England, to Easter Island, in the South Pacific, from the Pyramids of Giza, in Egypt, to the Pyramid of the Sun, in Mexico," he said. "Amazingly, these two lines intersect at a very specific point—and that point is Musha Cay."
David Copperfield landed a record-breaking property
When David Copperfield isn't breaking records for his long-running stage show or his lifetime earnings, he is setting records for property purchases. Already owning a chain of islands in the Bahamas and a four-story penthouse in Manhattan with a pool that burst and flooded the place in 2015, the magician decided to buy a piece of land in Las Vegas, close to where he works for most of the year. For a showman like Copperfield, a regular mansion wouldn't be enough. Instead, he would land the highest-priced property in the history of the city.
In 2016, he scooped up a new home in Las Vegas for a whopping $17.55 million. What that got, according to Forbes, was "31,000 square feet of living space … 1.58 acres … eight bedrooms and nine baths." The home also "features a wine cellar, a movie theater, a full-service spa, three antique arcade exhibit rooms, a golf simulator, and a nightclub with a bar and dance floor." Just 30 minutes from the MGM Grand, Copperfield's record-setting mansion also has an infinity pool, tropical landscaping, and a 6,000-square foot garage.
An audience member battled David Copperfield in court
Like so many illusionists, David Copperfield often involves audience members in his tricks. When they disappear on stage, they don't actually vanish, but they can get injured. At least, that's what some former audience members alleged about Copperfield's famous "Lucky 13" illusion, a trick the magician had used for 17 years. In 2013, British tourist, Gavin Cox, claimed that he fell and badly injured himself as he was being ushered backstage during the trick.
According to USA Today, "Cox testified that he suffered brain and other injuries in a fall while stagehands urged him and others to run during an illusion that appeared to make as many as 13 audience volunteers disappear onstage and reappear moments later, waving flashlights in the back of the theater." Cox and his lawyer held Copperfield liable for the injuries and the over $400,000 in medical bills as a result. The man also pointed the finger at the MGM Grand and a construction company which was said to have left construction dust on the ground where Cox slipped.
Despite three other former participants in the trick testifying that they too had been injured in the "Lucky 13" trick, the jury found Copperfield "negligent but not financially responsible." Since Copperfield's legal team was unsuccessful in closing off the courtroom to the media, however, the magician was forced to reveal the secrets behind the trick and spoil it from being used again in the future.
Imitation isn't a form of flattery in the magic world
For popular magicians in the league of David Copperfield, intellectual property can be as valuable as actual property or even more so. "Each five-minute piece you now see in my show takes two years from idea to execution," he told Vanity Fair. "That is why when someone else steals my creations it is very painful to deal with." So Copperfield has to stay vigilant to ensure his tricks and ideas are kept safe. To complicate matters more, when a theft does take place, it can be quite the challenge to prove it. "I have actually only ever won one case of legal protection for my illusions, and that was in Paris, where a guy stole my flying illusion," he explained.
"French law protects artists much better than U.S. law," he told Wired. "The lawsuit prevented him from performing it again without compensating me." In 2018, Copperfield's company successfully sued a German company for illegally replicating a "highly sophisticated flying object" from the magician's "Live the Impossible" show. In the US, however, the laws are a little more tricky and the protections a little less valid. Other parts of the world are difficult for magicians as well. According to Medium, El Mago Pop, one of Spain's most popular illusionists, has apparently been using several of Copperfield's tricks and sets for a while without any repercussions.
Assault accusations came up during the Me Too movement
In 2018, David Copperfield's name came out in the Me Too movement's deluge of scandals. Former model Brittney Lewis alleged that the magician drugged and assaulted her in 1988 when she was 17 years old. According to her story in The Wrap, Lewis noticed Copperfield pouring something into her drink while at a bar. He convinced her that he was just "sharing," but she claims that she blacked out soon after. She hazily remembers Copperfield kissing her, his bad breath, and being undressed. She also alleges that the magician made her write a letter saying that she was okay.
Lewis originally reported the incident to the FBI in 2007, the same year that Lacey Carroll accused Copperfield of assaulting her. According to the BBC, Carroll's case was dropped three years later after she "was arrested for allegedly falsely claiming she was assaulted by another person." When Lewis' story came out in a 2018 interview with The Wrap, Copperfield pointed back to Carroll's dropped case when declaring his innocence.
"I've lived with years of news reports about me being accused of fabricated, heinous acts, with few telling the story of the accuser getting arrested, and my innocence," he wrote on Instagram. "Knowing that false accusers can negatively impact the believability of others and are a true disservice to those who have been victims of sexual misconduct, I didn't draw attention to it. So while I weather another storm, I want the movement to continue to flourish."
If you or someone you know has been the victim of sexual assault, you can call the National Sexual Assault Hotline at 1-800-656-HOPE (4673) or visit RAINN.org for additional resources.