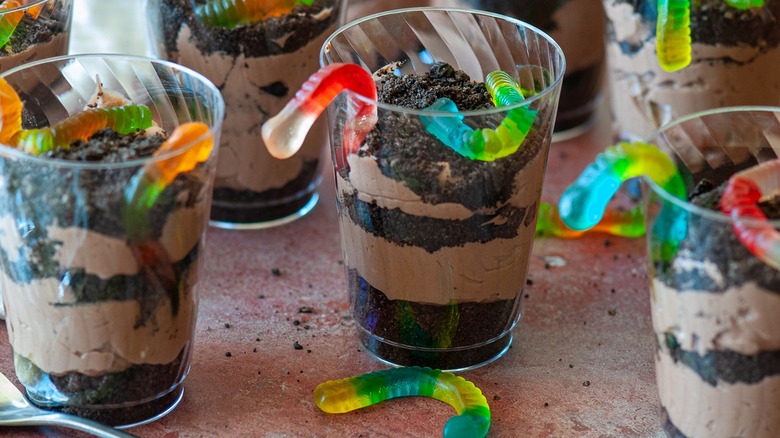 As a kid, there was always that one parent who kicked up lots of fun at school potluck parties when they brought in beloved dirt cakes. Sure, other parents would try to compete by bringing in seven-layer dips or homemade cookies, but nothing would ever compare to this tasty treat. Perfect year-round, dirt cakes have always been a special favorite snack that everyone could agree on, with everyone going back for seconds. From the delicious texture of crushed sandwich cookies, to the smooth creamy chocolatey center, this classic dessert is guaranteed to make every adult who indulges in it feel like a kid again from just the first bite.
Recipe developer Laura Sampson of Little House Big Alaska is all about taking those classic foods and desserts that you loved growing up, and reinventing them for the modern home. So whether you want to introduce a childhood favorite to your own family or need something fun to make for guests, this easy dirt cake recipe is one delightful trip down Memory Lane that is sure to be a total crowd-pleaser.
The essential ingredients you'll need for classic dirt cake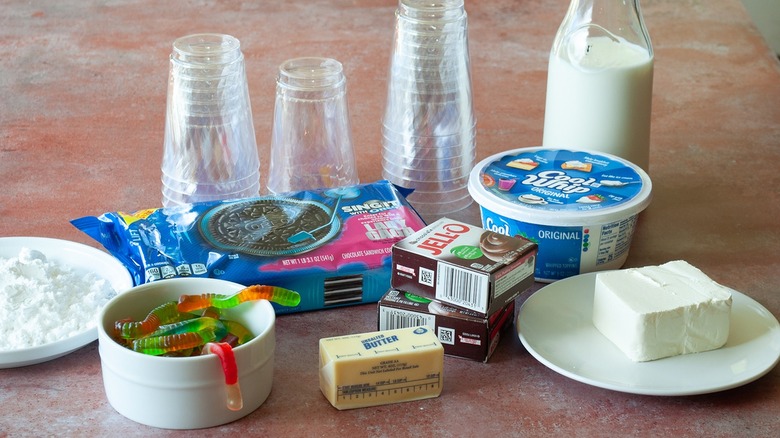 There's a very good chance you already have most of the ingredients at home to make this yummy dessert. You'll need to have a 15 ½-ounce pack of classic Oreo sandwich cookies for your "dirt" layer. To make your delicious layers, make sure you have 2 small boxes of instant chocolate pudding (the 3.4 ounce size), 3 ½ cups of milk, an 8-ounce tub of Cool Whip, 4 tablespoons of softened butter, an 8-ounce block of softened cream cheese, 1 cup of powdered sugar, and of course, your gummy worms. While Sampson recommends 16 worms (about two worms per cup), she notes, "Adding gummy worms is a matter of taste." Don't forget the clear plastic 12 to 14-ounce cups to serve your dessert in!
Once you've pulled all of these yummy supplies out onto your counter, we're ready to create some dirt.
Crushing the cookies
Every good dirt cake has several layers of "dirt." While pretending to eat dirt as a kid was always a fun time, making your dirt layers is even better. Gather your Oreo sandwich cookies, and place them into the bowl of a food processor. Make sure your food processor is on the pulse setting so that you can finely chop the cookies. Be careful not to pulse your cookies too long, otherwise your crumbly dirt layer will have a mushy texture. And don't be too tempted to snack on this bowl of yumminess, as you will need all of this to create your masterpiece!
Making the creamy filling
Next, mix up your pudding and milk together with a mixer or whisk. Then, stir in the Cool Whip until everything is combined. Set this aside while you beat the butter and cream cheese together until it's nice and smooth. Sampson recommends letting your butter and cream cheese come to room temperature on your counter first so that they soften and are easier to work with. Beat the powdered sugar into your butter mixture, and then stir the butter mixture into the pudding mix until everything is integrated. You're getting close to the fun part!
It's time to assemble your dirt cake
Most people would argue that the assembly is the best part of this dirt cake. "Every cup should look slightly different," says Sampson. "That's what makes them fun and interesting!" First, put a layer of Oreo crumbs on the bottom of the cup to cover it up. Then, add about ½ cup of pudding mix. Your next Oreo layer should be about ¼ cup of crumbs, and then another ¼ cup of pudding. You can add in your gummy worms between layers, or on top of each cup hanging over the edge.
A canning funnel would work great here to get the pudding cleanly into the cup, but if you don't have access to one, a cookie or ice cream scoop works just as well. Just make sure to smooth your pudding layers with a spoon to help your crumb layer lay flat, and don't get any pudding on the outsides of the cup. Otherwise you won't be able to see your amazing layers!
When you are all done scooping, spooning, and layering, you will have yourself some good old fashioned dirt cake for all of your family to enjoy. This is such a great surprise for every group of kids if you're looking for something unique to prepare. And our guess is that all of the kids (young and old) will want you to make it again very soon!
1 (15.5-ounce) pack of Oreos
2 (3.4-ounce) boxes of Jell-O Instant Chocolate Pudding
3 ½ cups milk
1 (8-ounce) tub Cool Whip
4 tablespoons butter, softened
1 (8-ounce) block cream cheese, softened
1 cup powdered sugar
16 gummy worms
Put the Oreos in the bowl of a food processor, and pulse to chop finely. Then, set aside.
Mix the pudding and milk together with a mixer or whisk. Stir in the Cool Whip until combined, then set aside.
Beat the butter and cream cheese together until smooth. Then, beat in the powdered sugar.
Stir the butter mixture into the pudding mix until well combined.
Put just enough Oreo crumbs on the bottom of the cup to cover it.
Layer ½ cup of pudding mix, ¼ cup of Oreo crumbs, ¼ cup of pudding in eight cups. Smooth the pudding in each layer with a spoon before adding the crumbs.
Top each cup with the last of the Oreo crumbs
Add gummy worms to hang over the edge and curled on top.