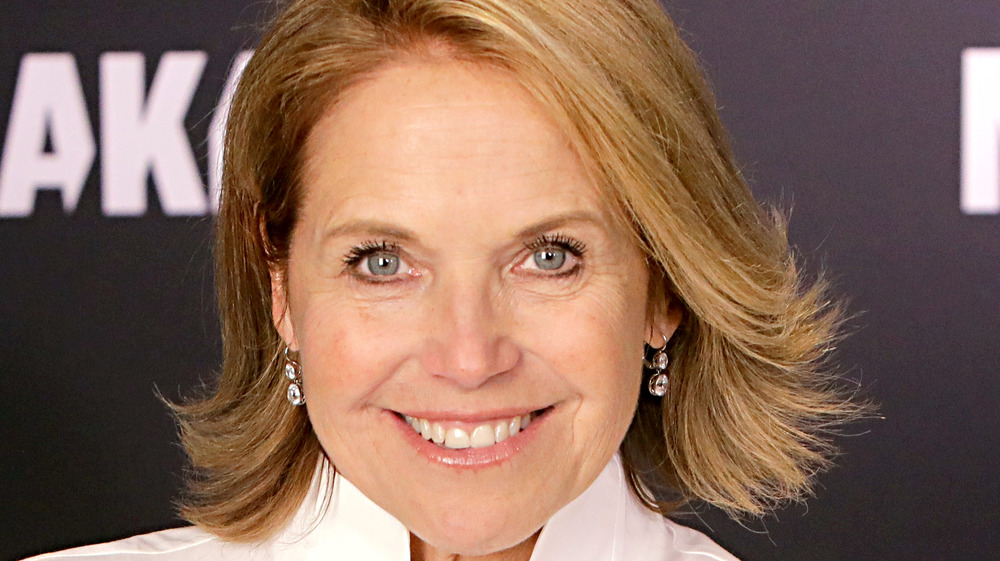 Katie Couric is a news legend with two daughters, a loving husband, and an incredibly high net worth, but her life hasn't been without heartbreak. In 1998, her first husband, Jay Monahan, died from colon cancer at the age of 42), then three years later, her sister died of pancreatic cancer in 2001.
In addition to grieving two incredible losses, Couric was left to figure out how to balance being a single mother with her career and newfound passion for cancer advocacy. Relying on open communication and a devotion to keeping her late first husband's legacy alive, Couric raised their daughters — Elinor "Ellie" Monahan born in 1991 and Caroline "Carrie" Monahan born in 1996 — to become beautiful, successful young women.
The trio has always been incredibly close, even if their relationship has had its ups and downs. As Couric advised fellow moms in a 2012 interview with Working Mother, "Kids really know how to push your guilt button. Sometimes you deserve it, and sometimes you don't." She added, "Remember, if you have a teen, don't take her words personally. If you did, you'd spend the whole day crying!" Now, Katie Couric's daughters are no longer teens and they've got some impressive achievements to boast about. Here's a closer look at Ellie and Carrie's evolution.
Ellie and Carrie Monahan learned about loss early in life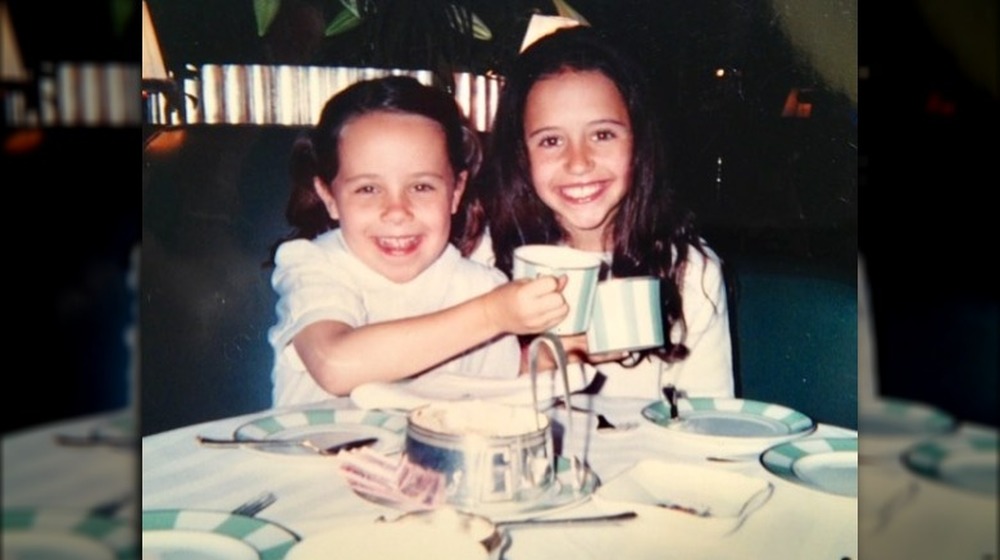 Ellie and Carrie Monahan were just five and one years old, respectively, when their father, lawyer and NBC News legal analyst Jay Monahan, was diagnosed with Stage IV colon cancer. He died the following year in January 1998, and Katie Couric was forced to figure out how to address the illness and loss with incredibly young kids. Opening up about the ordeal to Cure Today, she revealed, "I did a lot of reading about how to talk to your children about cancer and according to everything I read, it was important to be honest and to not guarantee that everything was going to be okay." So she kept it as real as she could when Ellie asked about her dad. "I said, 'Gee, honey, I really hope so. The doctors and nurses are trying so hard to help him and he's trying so hard to get better,'" she shared, explaining, "I just did not want to raise expectations that he was gonna get through this when the prognosis was so bleak."
Following Jay's death, Couric kept the honest communication flowing. "I made sure Ellie went and talked to someone," she said, admitting, "I wish I had done more for Carrie when she had turned an age where she could understand a little bit more." She reiterated the importance of communication to New York Post, noting, "Kids are incredibly resilient, but I believe they need a place to talk freely […] a place they can go to understand their feelings."
Ellie and Carrie Monahan are devoted to keeping their dad's legacy alive
Ellie and Carrie Monahan may have been incredibly young when their father died, but they've never forgotten him. As Katie Couric told Cure Today, "Talking to them and keeping their dad's memory alive was incredibly important to me as they aged," so she established a number of traditions for her girls. Speaking with the New York Post, Couric revealed they always celebrate Jay Monahan's birthday and, over the years, they've "sent balloons up to heaven," "read some of the letters written to the girls after Jay died," and "watched a documentary about Jay by his brother." But they don't just honor him one day a year. "We still have photos of Jay all over the place and I try to keep him alive in our day-to-day interactions," Couric told Closer in 2019.
The girls have also supported their mom's cancer advocacy, which included co-founding the National Colorectal Cancer Research Alliance and Jay Monahan Center for Gastrointestinal Health. As Ellie recalled in a HuffPost op-ed in 2012, Couric "summoned the strength to turn my father's death into something more significant — a mission to ensure that other families don't suffer the same fate." Sharing how her "childhood was punctuated with bake sales and lemonade stands for colon cancer research," she wrote, "Being a part of this work and just witnessing my Mom's commitment has not only helped restore me to 'the dailiness of life,' it has given mine greater meaning."
Ellie Monahan is an incredibly private person
If you don't know much about Ellie Monahan, that's very much by design. The Jeopardy! guest host's oldest daughter loves her privacy and she's quite picky about what she shares with the public, and what she doesn't. In addition to keeping her online presence under the radar (her Instagram, for example, is private), mom Katie Couric told AOL in 2019 that her eldest once demanded she ask permission before speaking about her publicly. "She's actually pretty low-key," Couric told the outlet, revealing, "When she was 16 and I did an interview with a magazine, I told a story about her and she said, 'Mom, I'd really prefer that you not talk about me in public, and if you do, can you just ask me first?' I was like, 'You're absolutely right.'"
Calling Ellie "a private person," Couric added, "But I also think that she knows that if I don't go too crazy — I'm not going to share everything! — everyone is really happy." Explaining why her daughter is happy to make concessions, she continued, "Because of my situation — her dad died when she was 6 years old — I think she understands that people care about her and wish her well and are invested in her in a really nice way. I'm happy that my daughters turned out to be such exceptional people."
Got Milk? brought Ellie and Carrie Monahan into the spotlight
They may enjoy their privacy, but Ellie and Carrie Monahan agreed to join their TV star mom for a Mother's Day-themed Got Milk? commercial in 2013 and, as Katie Couric gushed (via E!), it was a wonderful experience because "we're very very close." Sharing why they agreed to a moment in the spotlight, Couric revealed that the ad hit close to home. Not only because "milk is really a part of our daily routine," but because "I'm sort of a mom and a dad and so I think Mother's Day probably takes on a deeper meaning in our house."
The trio donned pajamas for the photos which show a 21-year-old Ellie and 17-year-old Carrie bringing Couric breakfast in bed with the slogan, "Even when you have the day off, you still need protein. An 8-ounce glass of milk has 8 grams of protein. A glass worth raising, even on Mother's Day. Got milk?" The Monahan girls also shared their breakfast favorites (via People) with Carrie gushing how much she loves her mom's "cereal with lots of fruit and milk in it, and coffee with steamed milk." Ellie agreed, "Yeah, you're really good at making coffee the right way!"
Ellie and Carrie Monahan are financially independent
Katie Couric's estimated net worth hit $100 million as of March 2021, but don't expect her to simply hand it over to her daughters. Rather, Ellie and Carrie Monahan have been raised to be financially independent, even if they did have some qualms. "I've told them they have to find their way," Couric shared with Good Housekeeping in 2012. "They can't depend on me [after college]. I'm hard-nosed that way."
It's something Ellie, who went to college first, learned firsthand. Despite expressing some "surprise" over Couric's decision to pretty much cut her off after graduation, it didn't change her mother's mind. "I said, 'Welcome to the real world, honey,'" Couric recalled, but added, "Of course, if they really needed something, I'd help, but they have to establish their own identities, and that includes their own financial identities. You want them to be independent; you don't want them to be slackers in any way, shape, or form," she explained. "And I know I'm in a very enviable position to even have these issues."
Ellie Monahan is an Ivy League grad with many interests
Ellie Monahan enrolled in Yale University in 2009 and graduated with a Bachelor of Arts in American/United States Studies/Civilization, according to her LinkedIn. While there, she pursued a variety of interests before finding her passion. She first worked as an editorial intern at Glamour, then as a counsellor at Fernwood Camp for Girls, a crime strategies intern at the New York County District Attorney's Office, and finally as an HBO intern in 2012. The Hollywood Reporter notes she made quite the impression during her four-month stay at the network with sources telling the outlet that, despite her famous mom, "she worked harder than everyone else at the cable network and is remembered as one of best interns the program has ever had."
The internship also introduced her to her passion and, after graduating from Yale, Monahan studied screenwriting at AFI. According to her IMDb, she wrote two shorts in 2016, titled Grams and Impaired, then directed and wrote an episode of Liked in 2017. She went on to become a writer's assistant on 10 episodes of Mr. Robot and seven episodes of Amazon superhero drama The Boys. She also penned two episodes for the latter, 2019's "The Self-Preservation Society" and 2020's "We Gotta Go Now." In addition to her love of TV, Monahan is also passionate about social justice and supports numerous Black Lives Matter causes. Her Instagram bio, for example, features links to petitions, Black-owned shops, donation links to various bail funds, and more.
Carrie Monahan is an Ivy League grad with a passion for social justice
Just like her big sister, Carrie Monahan is an Ivy League grad with an impressive resume. According to her LinkedIn, she earned a 4.0 GPA from New York's Trinity School in 2014, then enrolled in Stanford University and graduated in 2018 with a Bachelor's Degree in American Studies and French with a 3.994 GPA. While there, she was awarded the Golden Medal for Excellence in the Humanities, the David M. Potter Award for Excellence in Undergraduate Honors Research, and the David M. Kennedy Prize, which is "Stanford's highest award for an honors thesis." She won the latter for "'A Dream Remembered': Collective Memory and Ancestral Responsibility in Eufaula, Alabama," which the university described as a "genre-crossing, book-length project" and dubbed "a stunning, evocatively written, and absolutely unique accomplishment." In awarding her the honor, Stanford announced that "what makes the thesis so impressive is just how richly yet seamlessly Carrie weaves together the results of her exceptionally ambitious, multi-year research forays […] involving everything from interviews and site visits, to local archival ephemera, to a wealth of historical and historiographical studies and literary sources."
While still at Stanford, Monahan attended creative writing summer sessions at Columbia University in 2016 and returned to the school full-time in 2018 for a Master of Science in Journalism. She graduated in 2019 with honors, of course. She also has "full professional proficiency" in French, taught English at Ecole Maternelle Saint-Benoit in France, and tutored at Harlem Village Academies.
Carrie Monahan followed in her mom's footsteps
The apple didn't fall far from the tree with Carrie Monahan who chose to follow in her mother's footsteps and pursue journalism. According to her LinkedIn, she's been working as a fact check producer at Reuters since February 2020 where she "debunks viral misinformation that is circulating on social media." She also has three writing credits at Reuters, most recently for a December 2019 piece titled "How can Generation Z compete with robots? Focus on the human touch," and has been a research assistant to editor-in-chief Steve Adler since September 2019. Among her accomplishments in that role, she "helped cover the fall 2019 turmoil surrounding WeWork; wrote about neurodiversity in the workplace, the relevance of soft skills in the face of automation and tips for Generation Z workers for Reuters Wealth."
Before that, Monahan was a public relations intern at Room to Read, a research intern at Ark Media, and an essays editor for Stanford University's West Magazine. Her passion for social justice really shone through when she was a communications intern at Southern Poverty Law Center. She helped the civil right organization by answering press inquiries, organizing and analyzing data on racial profiling by law enforcement, and writing the "manual for SPLC on Campus program, used by student clubs across the country." She also "wrote briefings on civil asset forfeiture, edited statements on immigrant detention centers, created [a] step-by-step guide to the deportation process, [and] co-wrote op-ed on labor conditions of poultry plant workers in Georgia."
Ellie and Carrie Monahan were happy about their mom's engagement
In September 2013, Katie Couric announced she was engaged to banker John Molner, who is also the co-founder and CEO of Katie Couric Media. Sharing the happy news with Access Hollywood, she gushed about the positive reaction from fans, saying, "I think they know that I've had some sadness in my life [and] I think they're just happy and excited that I'm embarking on this new chapter and I have to say, it's been very gratifying." Daughters Ellie and Carrie Monahan were also happy and excited, while also acknowledging a change in the family dynamic. "I think they were a little [like] 'Wow,' because it's been the three of us for so long," Couric admitted, but quickly added, "They really think the world of John. He loves them and so I think it's all good."
Couric and Molner tied the knot in an intimate ceremony at their home in July 2014 and, despite their initial surprise, Ellie and Carrie played a major role in the ceremony, as did the groom's kids. As People reported, "Molner's children Allie, 16, and Henry, 19, did readings from E.E. Cummings and Maya Angelou; Couric's daughter Ellie, 22, read a love letter from Woodrow Wilson to his wife, while daughter Carrie, 18, sang the Beatles' 'I Will.'" Couric called it "very moving and emotional." According to the outlet, the sisters also "blasted their mom's favorite Motown hits on an iPhone" and got everyone dancing, which Molner conceded "ended up being a ton of fun."
Ellie Monahan's engagement included an ode to her dad
Jay Monahan's family continues to honor him in everything they do, as Katie Couric proved when she celebrated their would-be 30th anniversary in 2019. Taking to Instagram, she showed just how much she still thinks of her late husband, writing, "I hope you would be proud of the way I've lived my life and know you'd be proud of your girls who have grown into incredible young women." She added, "I think you would like @johnmolner who honors your memory and knows there is room in my heart for you both."
When Couric broke the news of Ellie Monahan's engagement on Instagram in February 2019, she paid tribute to her daughters' father. She shared a snap of the couple and wrote, "Ellie and Mark are engaged! OMG OMG OMG OMG OMG OMG OMG." Revealing the sweet meaning behind the sparkling diamond ring, she shared, "She's wearing the ring her Dad gave to me." Adding the hashtag #happytears, the news legend also revealed that Mark asked for her permission beforehand and added the hashtag #jaywouldbesoproud. She also joked that she would be a monster-in-law.
Sister Carrie was equally ecstatic about Ellie's engagement, writing on Instagram, "OK I KNOW I PULL A LOTTA S*** BUT THIS TIME IT'S TRUUUUUUUUUEEEEEEEE omg omg omg omg ily so much Mawk and one more thing I'm the maid of honor."