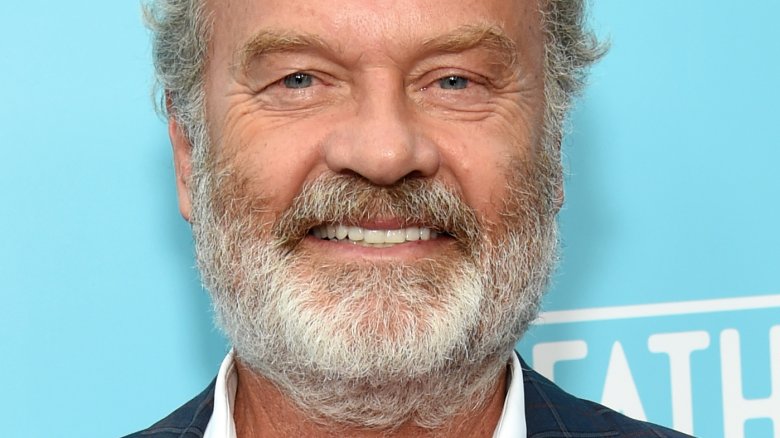 Among the pantheon of notable television actors, Kelsey Grammer easily ranks alongside Jerry Seinfeld and (the now disgraced) Bill Cosby. He spent more than two decades starring as Dr. Frasier Crane in the comedy series Cheers (1982-1993) and its hit spin-off Frasier (1993-2004), a show that followed the life of a snobbish psychiatrist who offered his wit and wisdom to callers on his radio show.
On-screen, Grammer's longtime character desperately sought out the most fashionable events across Seattle in hopes of leaping up the social ladder, and — most notably — got into shenanigans with his pompous younger brother, Niles, and their curmudgeonly dad, Martin. Off camera, however, Grammer's life hasn't been so amusing. The Emmy-winning actor and director has experienced more than a few hurdles in life. Let's flip the script on the famous TV shrink, and examine his troubled past. Here's the tragic real-life story of Kelsey Grammer.
The sad deaths of his dads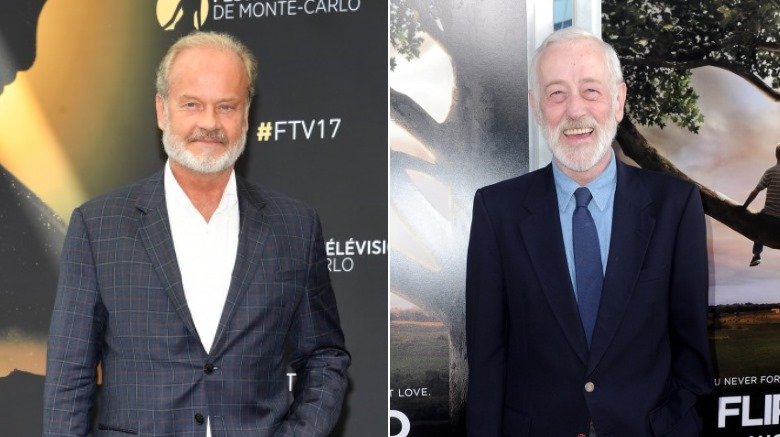 In 1968, when Grammer was just 13 years old, a man broke into his father's home and shot him to death. "I suppose, [the assailant] lit a ring of fire around his house and as my father came down to investigate what was going on, he shot him and, uh, shot him several times and, uh, dad died," Grammer explained on E! biography series Celebrity Profile (via The New York Post). Unfortunately, there would be little justice for the murder: according to People, the killer was "found not guilty by reason of insanity."
Grammer later found a father figure in his TV dad Martin Crane, played by English actor John Mahoney. Even years after Frasier ended, the two remained friends — up until Mahoney died in February 2018 from "multiple health complications," according to TMZ. After Mahoney's death, Grammer mourned the loss on social media. "He was my father. I loved him," the actor tweeted, accompanied by a photo of him and Mahoney hugging.
The rocky road to stardom
According to The Independent, Grammer set his eyes on acting after falling in love with Shakespeare in high school. He began his studies at Julliard, New York's prestigious performing arts school, in 1973, but it wasn't long before misfortune came knocking yet again.
In order to afford the pricey theater school, Grammer was reportedly homeless for a while, spending "months at a time sleeping in Central Park," while working random jobs, including "as a hotel lackey and a builder" per The Independent. Then, just two years into his studies Julliard — amid an unfathomable tragedy involving his younger sister (more on that next) — he was kicked out for "lack of focus."
Things finally started looking up for Grammer professionally after he landed work at the Old Globe Theatre in San Diego, Calif., and in New York Broadway productions, but as more gigs rolled in — you guessed it — so did the tragedies.
His sister's brutal murder
Grammer ran into more bad news in 1975, when his 18-year-old sister Karen was kidnapped, raped, and brutally murdered. According to The Daily Mail, Karen had just gotten off of work and was waiting for her boyfriend to give her a ride home when she was abducted by killer Freddie Glenn "and two accomplices." She was later found dead with 42 stab wounds, per The New York Post. In addition to the tragic slaying, it was Grammer (who was 20 at the time) who had to identify Karen's brutalized body and inform his mother of the news. By Grammer's own admission, it was a tragedy that sent him reeling, plunging him into an abyss of self-destructive behavior and addiction. "I was her big brother. I was supposed to protect her — I could not…. It very nearly destroyed me," Grammer told Vanity Fair of his sister's death.
Over the years, he's seemingly come to better grips with Karen's death and honors her memory by working to keep her killers in prison. He spoke out against Glenn's bid for parole in 2014 (per Vanity Fair), saying that letting him free "would be a betrayal of [his] sister's life." The plea worked.
He struggled with substance abuse
To escape his sorrows, Grammer started drinking heavily and abusing drugs — particularly, cocaine. "My love affair with cocaine, which was my drug of choice, was motivated by a few other things, about not really deserving the things I had got," he revealed to Oprah Winfrey (via The Fix). "Also, I liked it."
But his habits culminated in series of arrests for drugs and drunk driving incidents. Grammer even flipped his car while driving under the influence in 1996. That moment prompted the actor to check into rehab and he's apparently been on a pretty straight path since. "It was fun, I had fun, it just eventually becomes something you can't keep doing … I finally quit blow in 1996, that's when I was done. .. It's a fond a memory, but it's no longer a friend," he explained to Winfrey (via The Fix). But he hasn't totally ditched the bottle just yet, admitting: "I still have a drink sometimes." Considering Grammer started drinking when he was only nine years old, that one may, indeed, be a little harder to shake.
A freak accident involving his brothers
In the words of the Frasier theme song, the blues came callin' again in 1980, just five years after his sister's death. That time, it was a freak accident involving Grammer's half-brothers, Stephen and Billy, who perished while scuba diving off St.Thomas that June.
According to People, after Billy disappeared in the ocean, Stephen went in to find him. However, Stephen suffered a embolism after surfacing too quickly and died. Because Billy's body was never found, it's unclear what happened to him, but the belief is that "he was eaten by sharks." Even sadder is the fact that Grammer has seemingly gotten used to the misfortunes. Speaking to the United Kingdom's i News about dealing with the pain of the tragic deaths in his life, Grammer explained, "There have been a few of those. It's just part of life. Maybe I learned a little earlier than most, but it's just the way it goes."
A troubling relationship
After a series of failed relationships, including his first marriage that ended in 1990, Grammer took up with former exotic dancer Leigh-Anne Csuhany. After a brief courtship, they married, moved into a sprawling Spanish-style villa in Los Angeles, Calif., and conceived their first child. On the outside, the relationship seemed to have all the makings of a perfect love story. On the inside, however, it was chaotic.
According to Grammer, Csuhany was abusive toward him. "She'd spit in my face, slap me, punch me, kick me, break glasses over my head, break windows, tear up pictures of my loved ones, threaten to kill me, kill herself," he alleged in his 1996 autobiography So Far…, per The Daily Mail. The drama prompted Grammer to file for an annulment in 1993 — just nine months after he and Csuhany exchanged vows — "charging his spouse with 'fraud' and being of 'unsound mind,'" per People. He also demanded "custody of [their] unborn child, with whom Csuhany was three months pregnant" at the time, and kicked her out of their home. Csuhany couldn't take it and attempted suicide with pills and wine days later, leaving behind a note that reportedly read, "[Kelsey] doesn't love me." Doctors were ultimately able to save her, but as for their baby…
He lost multiple babies
Sadly, Csuhany received an abortion after she attempted suicide, according to People. Grammer released a heartfelt statement on the loss of their baby soon after, saying he was "deeply saddened" that their child was no more. "I had dreamed of raising the baby in a stable and loving environment," he continued.
He went on to father children with four different women, but when he married his fourth wife Kayte Walsh (with whom he now shares three children, as of writing) in 2011, they had some trouble growing their family. "Kayte and I had a couple of miscarriages before we had our first child. That was devastating," Grammer admitted to i News. "These things are hard," he added.
These days, however, Grammer's reveling in parental bliss — he has a total of seven children, as of this writing. "My youngest son, James, is walking, and talking, and eating all the time," Grammer raved to Closer Weekly in 2018. "And my four-year-old, Gabriel, is starting to figure out stuff. They discover things every day. It's wonderful."
He had a near-death experience
By 2008, the TV star was ready for some much needed "me time," so he set off for vacation in Hawaii. But just when things were getting started, he suffered a heart attack. Though his representatives later downplayed the news to the media, claiming Grammer had only had a "mild" attack, it was far from the truth. In actuality, Grammer's heart had stopped and he almost died. "They had to blast me twice and get me started all over again," Grammer told Entertainment Tonight (via Reuters).
Though he was a hair away from losing his life, Grammer later said on Oprah's Next Chapter that he was thankful for the health scare. "It was a good thing in my life. It was a good event in my life," he explained (via The Toronto Sun), adding, "It was the physical manifestation of whatever lesson was being taught to me, which was you better fix it [your life] now. It took me another couple [of] years, but I did get it. And it was time I thought I had to change a few patterns."